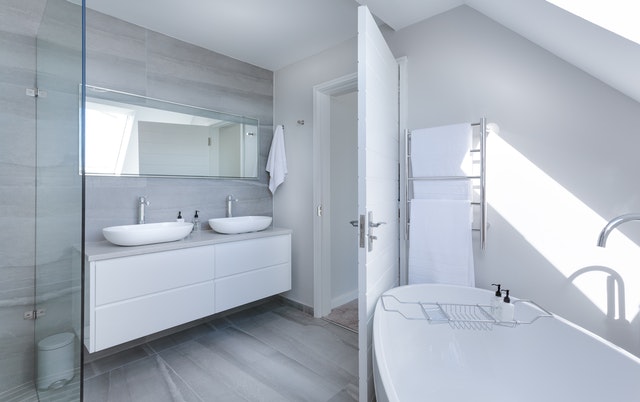 7 Design Ideas to Make a Small Bathroom Look Bigger
Disclaimer
Articles, products, and services offered on this site are for informational purposes only. We are part of the Amazon Services LLC Associates Program, an affiliate advertising program. Amazon.com is compensated for sales resulting from links on our website.
Please review our disclaimer before acting based on anything you read or see.
Small bathrooms can be a challenge to design. You want to make the space look bigger but must include all the necessary amenities. Spending time remodeling a small bathroom is a great way to make it more functional and enjoyable. This post will share design ideas to help you make the most of your small bathroom. Keep reading for color, light, and storage tips to create a spacious feeling in your small bathroom. Get the 7 design ideas to make a small bathroom look bigger.
7 Design Ideas to Make a Small Bathroom Look Bigger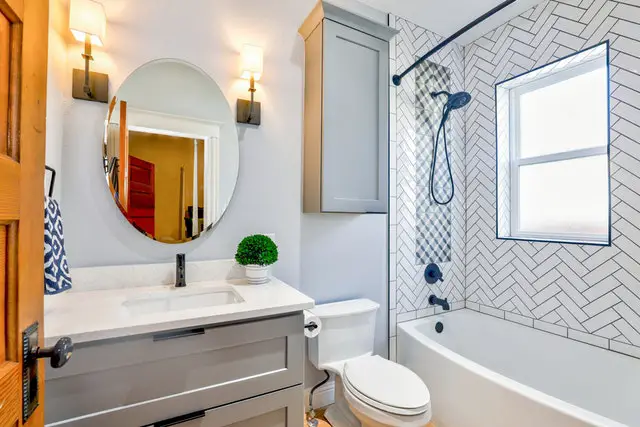 Use a Cohesive Color Scheme
One way to make a small space bigger is to use a cohesive colour scheme. Stick to light colours, like white, cream, or pale blue. Matching the ceiling paint with the walls can create the illusion of more space. A light-and-bright colour scheme in a bathroom with no windows or little natural light will drive off dreary aesthetics that steal space. Complement the subtly coloured walls with warm wood floors and other natural accents.
With every design guideline, there's an exception that proves the rule. Most bathrooms seem larger with a light colour palette, but the inverse can also be true. Painting a small bathroom in a dark colour, such as black, can create cavernous depth that shadows lighter colours.
Shiny, high-gloss paints are the best choices for dark-coloured bathrooms because they'll reflect artificial light to compensate for the lack of natural light.
No matter what colour you choose, the trick is to keep it all cohesive.
Blur the Lines Between Floors and Walls
On the note of cohesiveness, it's time to talk about the lines between lines, floors, and any other structures in the bathroom. When these lines are blurred, it creates a seamless flow that makes the room feel bigger.
One way to do this is by using a large-scale tile design. If you're considering a mosaic tile design for your shower or bathtub area, imagine what it'd look like spread across every wall in the bathroom. Instead of having two small spaces, an all-encompassing tile design makes it seem like the room is one ample, unified space.
Amplify Your Space With Creatively Placed Mirrors
Placing a mirror in the right spot can make your bathroom feel twice as big. It's all about the angle and position of the reflection. For example, Placing a mirror opposite a window will reflect natural light and make the room brighter.
You can also use mirrors to create the illusion of more space by placing them in strategic positions. Try hanging a full-length mirror on the back of your bathroom door. When the door is closed, it'll reflect the sink and make the room feel larger. Additionally, it serves an important function instead of just occupying space.
Another way to use mirrors is to create a focal point. Hang a large, decorative mirror above the bathroom vanity. Not only will it add style, but it'll make the room feel more open by drawing the eye upward.
People who want to go all out can create an entire wall of mirrors. While it's rare for a small bathroom to have an entire unused wall, creating a mirror wall can give the impression that your bathroom is twice its size.
Rethink Your Shower Door
Showers and bathtubs are probably the most space-consuming items in any bathroom. In that case, the shower door or curtain can make or break the bathing area's impact on the room's design.
Many bathroom design experts advise homeowners to get rid of shower curtains once and for all. They're outdated, difficult to clean, and they're rarely subtle.
If you have the option, get a frameless glass shower door. This is easy to do with walk-in showers but still possible with tub/shower combinations.
Even if you don't want to get rid of your shower curtain, you can still make it work in your favour. You can elongate the field of view by changing the shower curtain as high as possible, making the ceilings seem higher, and the room feels less cluttered.
Removing the shower door entirely is a surefire way to open up your bathroom design. However, you'll need to ensure plenty of drainage in the area.
Explore Built-In Storage Options
Most small bathrooms don't have much storage space. This can quickly lead to a cluttered and cramped feeling in the room. The best way to combat this is by finding built-in storage solutions that use every nook and cranny.
Not every bathroom comes with built-in storage options. If you're doing a complete bathroom remodel, you'll have more freedom to pursue these options.
A few examples of built-in storage for bathrooms include:
Mirrored medicine cabinets
Open shelving near the bathtub or shower
Recessed nooks in the shower for shampoo and soap.
A storage tower next to the toilet
Even if your bathroom doesn't have any built-in storage options, there are still plenty of ways to create more space. For example, you can install floating shelves next to the sink, toilet, or bathtub to keep necessities on hand but out of the way.
A narrow ledge along the entire length of this bathroom is the perfect perch for a mirror, toothbrush, and other essentials.
When planning storage solutions for a small bathroom, it's always best to think vertically. Tall cabinets and shelving towers provide more holding power for less space on the floor.
Do More With Less
When designing a small bathroom, explore options for smaller-than-average appliances. For example, a corner sink takes up a fraction of a full-size vanity's space. When paired with the creative storage hacks above, it also provides the same user experience as long as you get the right bathroom sink height.
Another space-saving sink idea is a wall-mounted faucet. This type of faucet is installed directly into the wall, which gives you more room on the counter for other things.
Consolidate Your Toiletries
The more toiletries and bathroom products you have, the more cluttered your small bathroom will feel.
Get rid of anything you don't use regularly. This includes outdated products, expired, or just taking up space.
Once you've decluttered your bathroom, invest in reusable bulk bottles. By moving all your toiletries into designated containers, you achieve a more cohesive aesthetic and avoid the nuisance of organising mismatched cosmetic bottles.
Use Space-Saving Tips to Get More From Your Bathroom
Maximising space in a small bathroom can be a challenge, but it's not impossible. With a bit of creativity and some help from professionals, you can make your bathroom work better for you. We hope these design ideas have inspired you to start your project. If you need more help, don't hesitate to reach out for advice or hire a contractor specialising in small-space renovations.