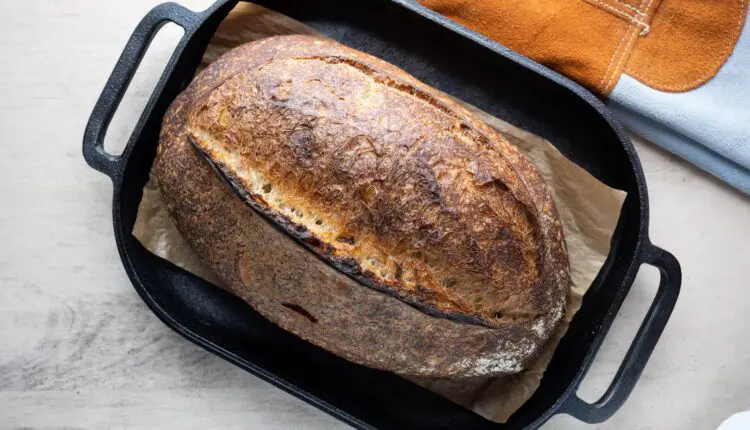 Best Dutch oven for Sourdough Bread | Updated & Latest Products
Disclaimer
Articles, products, and services offered on this site are for informational purposes only. We are part of the Amazon Services LLC Associates Program, an affiliate advertising program. Amazon.com is compensated for sales resulting from links on our website.
Please review our disclaimer before acting based on anything you read or see.
If you're a sourdough bread enthusiast, having the right Dutch oven can make all the difference in your baking results. The Lodge EC6D33 Enameled Cast Iron Dutch Oven is today's best option. Its cast iron construction ensures even heating, and its enamel coating prevents sticking, making it perfect for baking bread. This review guide will look at this Dutch oven and other top contenders to help you find the best Dutch oven for your sourdough bread baking needs.
Best Dutch Oven for Sourdough Bread: Top Picks at a Glance
I have made a list combining the functionality and price of the Dutch oven for sourdough bread. The top picks are as follows:
Top 6 Dutch Ovens Reviewed
If you want to check out Dutch ovens before buying them, we agree that you need Google, and everything will be in the palm of your hand. With all the information available, how soon can you decide? 
We know this can be challenging for you, so this is where we come in. We did the work and thoroughly researched and completed our checks. As a result, we came up with six (6) of the ultimate Dutch ovens that will best partner with you in making the Best Sourdough Bread.
Product Features:
Material: Cast Iron
Coating: Glass Enamel
Color: Blue Gradient
Shape: Oblong
Dimension: 9.06" x 5.71" x 5.71"
Weight: 9.46 lbs.
Add Ons: Perforated Non-stick Silicone Liner
Temperature
Durability: Oven safe up to 260 C / 500 F
Warranty: Product warranty not specified on manufacturer's page
Hassle-Free Baking: No-Kneading, No-Shaping, 5-minutes effort to bake professional quality bread.
Proven Bread Science: This product takes pride in its thoughtful design from the Netherlands, with its liner made in France and Dutch oven made in China.
Product Description
This cast-iron Dutch oven has been regarded as revolutionary and the world's easiest artisan bread kit because it makes baking bread so easy. The LoafNest method simplifies the entire baking process as it involves No-Kneading, No-Shaping, No-Mess, and No-Cleaning up.  
LoafNest boasts of its Proven Bread Science, which is safe and trustworthy. It is BPA, PFOA, Lead, and Mercury Free. Additionally, it is designed in the Netherlands, the liner is made in France, and the Dutch oven is made in China.
It is also very easy to use and fuss-free. Not to mention, it saves time. This requires only 5 minutes of your time, and you get your tasty artisan bread in minutes. Its perforated liner can last up to 2000-3000 uses when used properly.
Pros
Uncomplicated Baking: Customers swear on how easy the process is to make bread using the LoafNest. You can easily make one despite your busy schedule.
Delicious & Crusty: Bread comes out clean from the pan with a beautifully baked crust.
Perfect for Beginners: This Dutch oven makes amateurs feel like skilled bakers. This is a total game-changer.
Value for Money: A worthy investment as it can last up from 3,000 to 5,000 uses.
Excellent Customer Service: Even the customer service experience is well commended for exceeding expectations in assisting and addressing customer concerns. 
Cons:
False advertising claims: One of the main things that gather negative feedback is the impression that the entire product is made In France, particularly the Dutch oven itself. The description shows that the liner is made in France, while the Dutch oven is made in China.
Hefty price tag: A lot of people also consider this overpriced. It works well but could do better with a more practical price range.
Size concerns: Others find the Dutch oven too heavy or small. Should this be the concern, a better option could be the Instant Pot Electric Precision Dutch Oven or Le Creuset Enameled Cast Iron Oven in various colors and sizes.
Product Features:
Material: Cast Iron
Coating: Enamel
Color: comes in various color options
Shape: round
Dimension: 11.60" x 14.10" x 7.00" (other sizes available)
Weight: 13.1 lbs.
Add Ons: 45% larger handles for a more secure grip
Temperature Durability: Oven safe up to 260 C / 500 F   
Warranty: Limited Lifetime Warranty
Transpicuous enamel surface: Watertight and airtight features are perfect for sealing in flavors or food storage
Le Creuset enameled cast iron: Incomparable heat retention and distribution capabilities.
Product Description:
The Le Creuset Enameled Cast Iron Dutch has an advanced light-colored enamel interior that makes it easier to check on the food and even more wear and tear-resistant. Its colorful exterior is made of enamel which endures cracking and chipping. It also has tight-fitting lids that ensure steam is kept and maintained.
The enamel surface adds increased permeability, making it best for cooking or even storing and marinating food with acidic condiments. The oven also has ergonomic knobs and handles for easy handling. It requires no seasoning, is ready to use, and is easy to clean.
Pros
Traps the heat inside: This cookware keeps the temperature well, making cooking easier and the food really good.
Great investment: Most people agree that this is a great investment because cooking with this is no comparison with other Dutch oven brands
Highly reliable: Cooking consistency allows you to prepare more good meals for your family
Easy to clean: Performs well and cleans up well. 
Completely airtight: The well-fitting lid allows heat to be kept inside, making the bread moist and roasting well cooked. 
Cons
Transit concerns and returns: There are many complaints regarding chips and cracks (minor damages) in the cookware upon receipt. This is consistent feedback on different review pages and the returns process.
Wear and tear: Some were also unhappy about Dutch oven bottom enamel chipping off and cookware finish discoloration after multiple usages.
Substandard customer service: Customer service is claimed to be disappointing in addressing concerns and complaints. This was raised one too often that it is quite sad for a particularly great brand. This seems to be the complete opposite of the excellent customer experience you get from LoafNest: Incredibly Easy Artisan Bread Kit.
Warranty issues: There are claims of false advertising on the lifetime warranty.
Impractical choice: Too expensive for a Dutch oven that does what other brands do. The Lodge Enameled Cast Iron Dutch Oven could be the best option if customers want a more practical version.
Product Features:
Material: Cast Iron
Coating: Enamel
Color: 3 color options
Shape: round
Dimension: 14" x 13" x 10"
Weight: 21 lbs.
Add Ons: 5 in 1 functionality can be used in the oven or plugged into an electric outlet
Temperature Durability: Oven safe up to 260 C / 500 F
Warranty: The manufacturer's warranty can be requested.
Precision Control Dutch oven: All-around Dutch oven precision with its touch control panel
Self-basting grids: Designed to collect and direct heat and moisture into the meat.
Product Description
This product takes pride in its 5-in-1 functionality: braise, Slow cook, sear/saute, cook, and warm food. It has precision control through its 5 cooking modes that can easily be adjusted with a press of a button.
The Instant Pot Electric Precision Dutch Oven's versatile cookware can be used on the stove, the oven, and at its electric cooking base.
This Dutch oven's lid also has a matching self-braising grid on the underside, which keeps food evenly moist. It comes with silicone protective pads and handles covers meant for safety and is dishwasher safe.
Pros
Precision heating control: People are amazed at the consistency and precision of the cooking controls.
Efficient cook timer: Cooking timer controls make it safe and convenient. Food does not burn when you accidentally forget about it.
Very convenient: One nice consistent feedback is that it is hassle-free and fuss-free to use, particularly with its cooking controls.
User friendly: Very easy to adjust the temperature and timer with its touchscreen control panels. Even an amateur cook can manage with the help of its preset cook function. This can easily be selected to your choice with a touch button. No more burning food because heat is adjusted based on the cook function (i.e., Saute is on default temperature of 400 F, you can set this to 10 minutes).
Cons
Cook base wear and tear: There are also a lot of complaints about the electric cooking base being faulty after being used only a couple of times.
False advertising claims: While the product is also good for baking bread, it doesn't do this ON the electric cooking base. Bread must be baked after the dough has risen using the Dutch oven inside a baking oven and NOT on its cooking base. Better choose the Lodge Enameled Cast Iron Dutch Oven that bakes sourdough and other artisan bread real nice or the Emile Henry Ceramic Bread/Potato Cooker.
Product Features:
Material: Cast Iron
Coating: Enamel
Color: 8 color options
Shape: round
Dimension: 13.25" x 11.60" x 6" (available in other sizes)
Weight:                  13.52 lbs.
Add Ons: comes with 6 pot protectors
Temperature Durability: Oven safe up to 260 C / 500 F
Warranty: Limited lifetime warranty discussed in the manual
Exceptional performance: Has incomparable, even heat preservation capabilities expected in a Dutch oven
Kitchen multitasked: It can be used to marinate, roast, bake, broil, braise, saute, simmer, fry, and everything.
Product Description:
The Lodge Enameled Cast Iron Dutch Oven has great form and functionality similar to French brands but costs less. One great thing about purchasing this is the 6 pot protectors it has. These keep your Dutch oven's enamel from chipping and prevent moisture build-up.
This product also boasts exceptional heat retention and stable heating. It has cast-iron loop side handles secure grip when moving it around. The cover traps heat, moisture, and nutrients, an essential consideration when considering the best Dutch oven for sourdough bread. Additionally, its enamel cast-iron classic doesn't stain and react to ingredients.
Pros
Top-performing: Looks good and performs well even with regular use
Extremely durable: Great commendations on how this brand holds up and lasts for years. Since Lodge has been an established brand since 1896, repeat customers attest to the longevity of this cookware.
Value for money: Great Dutch oven that outdoes other premium brands for a much lesser price of less than a hundred dollars.
Excellent option: Many customers claim that this is a great alternative to the expensive Le Creuset Enameled Cast Iron Oven.
Cons
Production issues: There were a lot of concerns focusing on where the product was made. The website clearly states that the Lodge Enameled Cast Iron Dutch Oven is made in China. However, some customers claim it says this is made in the USA for some reason. Much negative feedback revolved around this alone and barely on how the product functioned. If this is a great concern for a customer, a better choice could be Le Creuset Enameled Cast Iron Oven made in France and Portugal. Another option is the Emile Henry Ceramic Bread/Potato Cooker made in France.
Product Features:
Material: Clay
Coating: flame ceramic
Color: 3 color options
Shape: spherical
Dimension: 9.4" x 9.4" x 6.3"
Weight: 5.2 lbs.
Add Ons: pot can be flipped while cooking
Temperature Durability: Oven safe up to 515 F
Warranty: 10-year warranty against manufacturing defects
Flame Ceramic technology: Made from Emile Henry's famous flame ceramic
Spherical shape: Distributes heat equally, which cooks vegetables, meat, or bread perfectly.
Product Description
The Emile Henry Ceramic Bread/Potato Cooker can withstand extreme temperature changes and thus can go directly from the freezer to the hot oven. Heat is also well distributed and kept inside the pot, cooking food well while preserving natural flavors.
This cooker can be turned over to cook the other side better. This makes it a deal not just for baking or roasting but also designed to be great while cooking vegetables. It traps not just the heat but even the nutrients well. It takes pride in being a unique pot made with superior quality French stoneware that's best for no-knead bread.
The Emile Henry Ceramic Bread/Potato Cooker promotes slow cooking, essentially "healthy cooking," as it brings out the best flavors. It has a highly resistant glaze, making cooking easy even with a small amount of fat. This cooker is also 30% lighter than other Dutch ovens.
Pros
Consistently baked bread: Most reviews speak highly of this cookware yielding great-tasting bread with a crunchy crust
Leveled up baking: It makes sourdough bread taste like a real artisan kind and is also perfect for baguettes, French bread, and other kinds of bread.
Safe heating capability: It can be preheated even when empty
Versatile cookware: Makes excellent bread and cooks meat and vegetables well.
Cons
Product deterioration: There is significant feedback on the lid cracking while cooking and other breakage issues like the bottom falling out.
Fragile material: Since this cookware is made of ceramic, it can easily break when dropped, unlike ones made of stronger material. Dutch ovens made from cast iron like Lodge Enameled Cast Iron Dutch Oven or LoafNest: Incredibly Easy Artisan Bread Kitis excellent selections.
Cracks in extreme conditions: Customers also talked about the top cracking and breaking halfway through cooking.
Faulty instructions: There were multiple unfavorable feedbacks on the "milk procedure" indicated in the materials. While this was supposed to seal the ceramics, customers complained of ruined interior finish, and some claimed it made the bottom drop out. 
Product Features:
Material: Cast Iron
Coating: Enamel
Color: 21 color options
Shape: round
Dimension: 16.9" x 11" x 7.3"
Weight: 15 lbs.
Add Ons:                
Temperature Durability:   Oven safe up to 515 F
Warranty: Limited Lifetime Warranty
Known as the "gold standard in Dutch ovens," hence considered a collector's item by many
No-slide fitting lids: Has built-in lid stabilizers for the most secured lid fit.
Product Description
The Le Creuset Signature Enameled Cast Iron Dutch has cast-iron material that ensures optimal cooking quality through heat retention and distribution. It's made of durable enamel that is easy to clean and resistant to staining, chipping, cracking, or even dulling. The sand-colored interior also makes it easy to monitor the cooking progress.
It has a tight-fitting lid that traps heat and allows the steam to circulate, making the food moist and the meat succulent. The oven's ergonomic handles and knobs make it easy to lift and move the pot around.
This oven has been known to last for generations with proper care and handling, the kind you pass on to family. Additionally, it's compatible with all cooktops like stoves, ovens, and even induction cookware. It's also a microwave, oven, freezer, and dishwasher safe.
Pros
Known Durability: Considered a heavy-duty Dutch oven that will last for years providing good food
Excellent reputation: This brand has been considered the gold standard for generations, hence already being tried, tested, and trusted by many.
Aesthetically beautiful: Not only great for cooking but also makes a great addition to any kitchen or dining table.
Beginners' dream: Provides a great cooking experience even for amateurs
Worthy investment: Known for its first-class manufacturing standards, customers consider this better than other Dutch ovens, half its price. 
Cons
Substantially bulky: This is a really heavy piece of cookware. This makes it hard to move around in the kitchen, especially when you add in the weight of the food in it.
Quite costly: Considered one of the most expensive Dutch oven brands, not easily affordable by many
Wear and tear: Tends to discolor in the long run
Slow to heat: This is not meant for quick meals as it heats up rather slowly. Not the type you use when you are in a hurry. However, an alternative could be Instant Pot Electric Precision Dutch Oven.
What to look for in the Best Dutch Oven?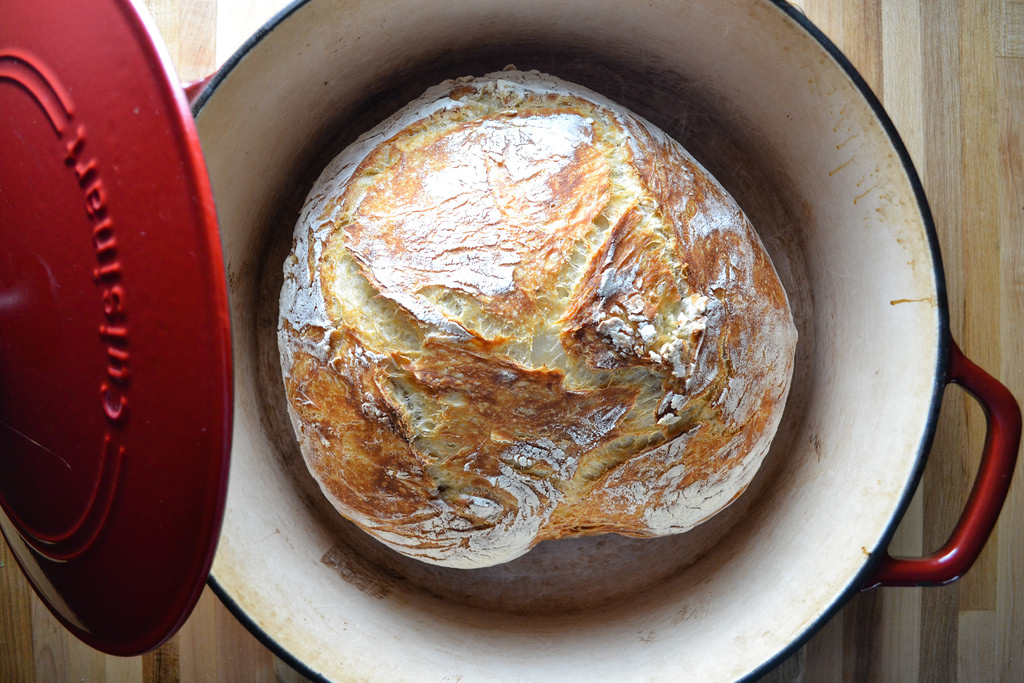 If you want to take your sourdough bread to the next level, consider investing in a Dutch oven. Trust us. It makes the biggest difference, not to mention the most significant one. Here are some points to consider in buying the best Dutch oven:
Consider it an investment 
Dutch ovens are one of the pricier kitchen tools, and they get more expensive when the best quality materials are used. Hence, it is wise to carefully choose the kind you need to ensure it lasts you for a very long time.
You don't want to keep buying one until you find the perfect one for you. Tests prove that the more expensive ones are more reliable than, the cheaper ones. This shows that though it need not be very expensive, the brand still matters.
Go for one that does the job well
Baking Sourdough bread can is easy as it can also be tricky. While Dutch ovens can help solve this problem, you want the one that helps you yield great sourdough bread without the hassle. Cast iron Dutch ovens have great heat retention.
This material can maintain a steady temperature keeping moisture in, which makes great sourdough bread. Since this is an excellent heat conductor, this would also be perfect for making stews and pot roasts.
A Heavy Dutch oven is good
It shouldn't be too hard to spot the best Dutch oven for sourdough bread. It should feel heavy to hold if it has thick walls and a bottom. The lid should also be tight-fitting but easy enough for you to open as needed.
Also, choose the pot's handles to make it easy to securely hold the Dutch oven. These things ensure heat can be locked inside to let the magic happen while cooking. 
The Dutch oven should be big enough 
Dutch ovens are available in various shapes and sizes. Ideally, it should hold at least 6 quarts or more and is at least 8 inches wide. This should make your kitchenware flexible for many dishes, especially baking sourdough bread, which expands as it cooks.
Light-colored cooking surface 
Choose a light-colored cooking surface to make it easier to monitor browning and allow you to cook food quicker. A dark cooking surface makes it harder to monitor browning. Though it can get stained with constant use, proper care can allow it to last through time.
Key Considerations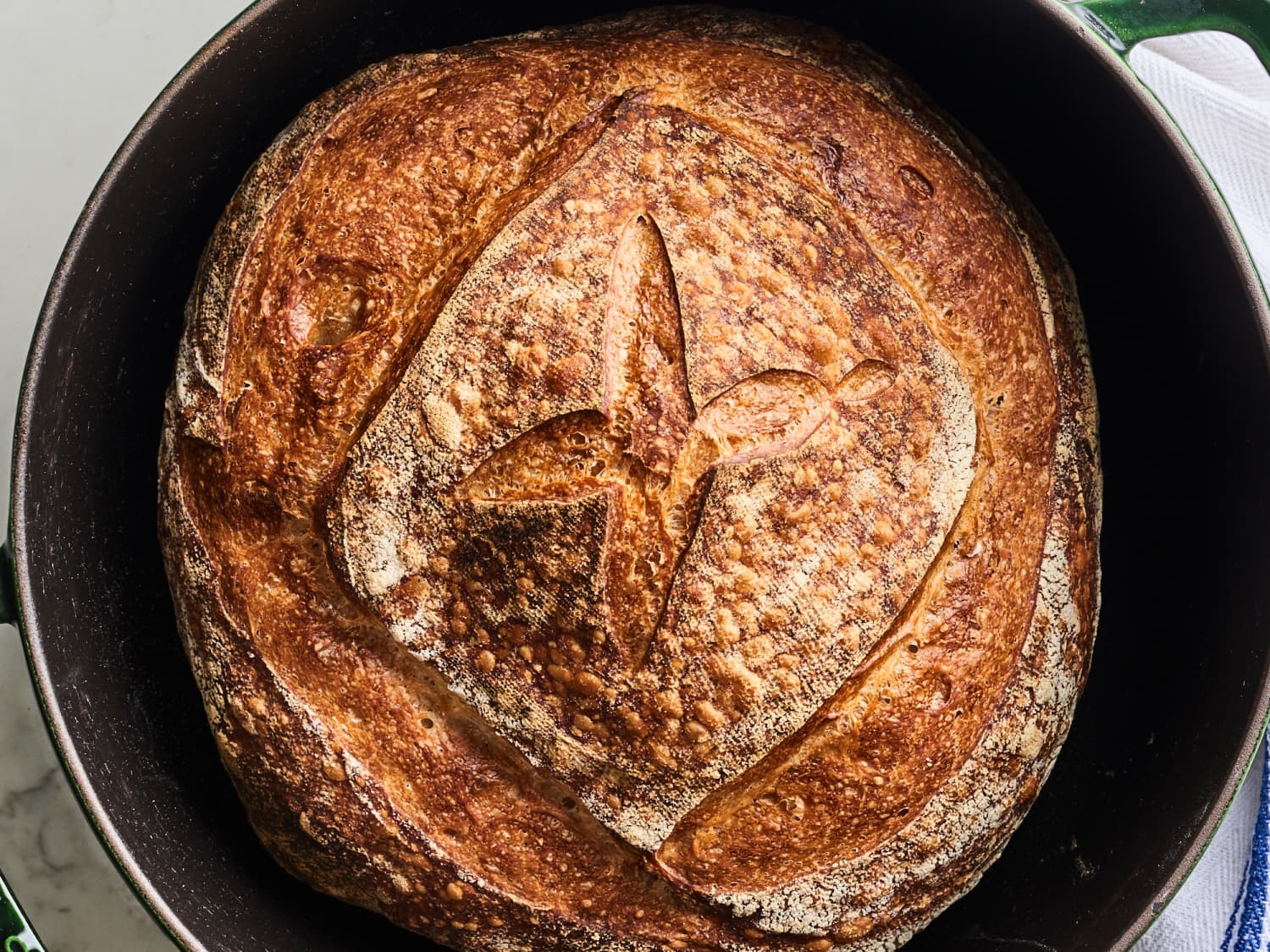 We wanted to make it easier for you, so we listed down 3 key essentials when buying the best Dutch oven for sourdough bread that does the job well:
Size and Shape Matters
Consider the size and choose it well. Think about the size that will suit your cooking needs. You also have to think about the size of your sourdough bread as it grows bigger when baked. Sourdough bread expands to at least four times its size once baked. Get one that's rightly tall and big.
Along with the size is the shape. Think about the shape of your sourdough bread. The size of your Dutch oven should allow your bread to grow without restriction.
The dough should be free to expand, as it should. You do not need to buy different Dutch ovens if your bread comes in different forms and sizes and just need to get one that fits them all.
You also need to consider using it not just for baking sourdough bread but also for its cooking capacity. A Dutch oven is a versatile cooking tool. It will be a practical purchase if you get to maximize its use. 
Consider the Material 
A Dutch oven could be made of different materials. Some of these are: 
Ceramic – can be used on a stovetop or in the oven. They are great for baking and even pot roasts. However, remember that since they are made of ceramic, they tend to crack or break from extreme temperatures.
Cast Iron – is also called bare cast iron. This type of Dutch oven retains heat and maintains a consistent temperature for a long time. This makes it perfect as a slow-cooker and for baking.
Enameled Cast Iron– It has cast-iron features but is better as it has an enamel coating that covers the cast iron on the surface. It also has excellent heat retention, which traps the steam, making the bread and other dishes moist.
It comes in different colors and can be pretty expensive compared to others. However, it is well worth it as the Dutch oven of this make can last from one generation to another.
Stainless Steel: Dutch ovens also come in stainless steel. However, it does not retain heat well like the other Dutch ovens. It also does not come in a tight-fitting lid that's supposedly good for keeping the steam in. While this is one option that can be considered, it is best to invest in one that might be a bit pricey but well worthy of the investment.
Brand 
Considering the brand is also considering the quality. There are a lot of brands to choose from. Some even come with multiple features and conveniently come with an electric plug. Some can cost you an arm and a leg, but some can be reasonably priced. It pays to check the reviews and do your research. Choose one that does the job and is guaranteed to last. 
Overall Features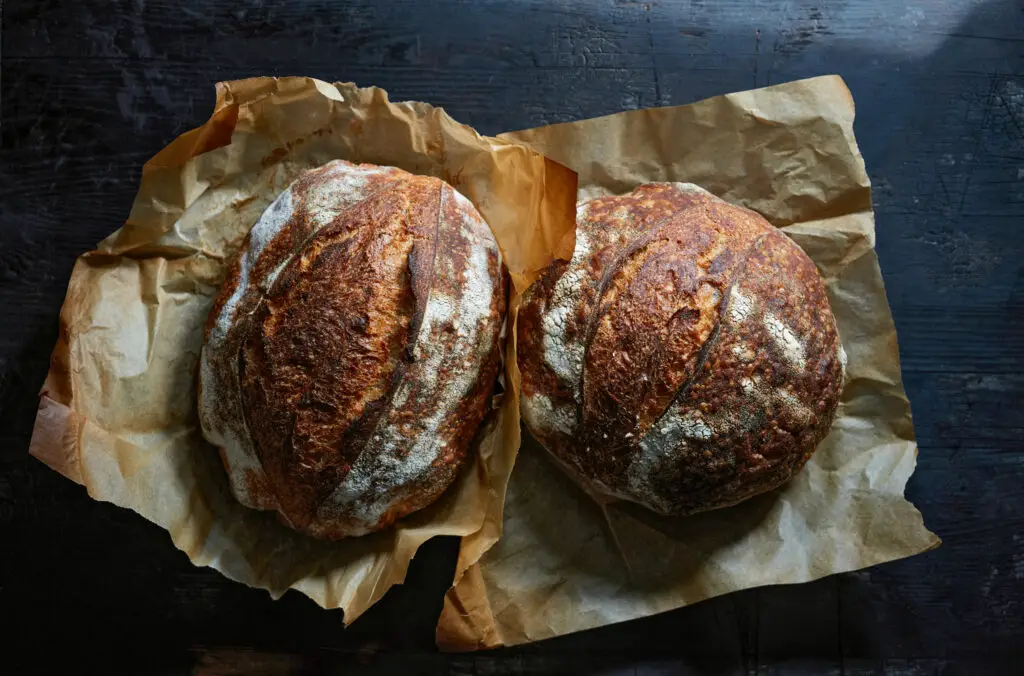 A Dutch oven is an extremely versatile piece of cookware. It certainly has evolved and has come a long way from the period when Dutch traders sell cast-iron pans. Some improvements have been added, sure. However, the fact remains that the best Dutch ovens are still those made from cast iron. 
It is important to know what to look for and what features to consider to make sure you get your money's worth.
There are so many brands out in the market offering various Dutch oven options. It is imperative that you know what you want and needs and thoroughly review this. After all, Dutch ovens do not come cheap.
Dutch ovens have several features that could be unique to the brand or common to all.
Here are some of them:
Cast Iron Material
You might have read much already about cast-iron Dutch ovens many times. This is not surprising, simply because this is the best. However, other materials it could be made of, such as stainless steel, ceramic cast iron, and ceramic alone. 
The combination of enamel and cast iron is mostly what most expensive brands are made of. Its heat retention property is one of the reasons why this product can be quite costly. This also makes it a valuable cooking asset in any kitchen. 
Optimal heat distribution
This is one feature that defines Dutch oven cookware. Depending on what type of material it is made of, it is known to be excellent heat retention, perfect for baking sourdough bread and even pot roasts.
Instant Electric Dutch oven 
A Dutch oven is known as stovetop cookware. However, newer features include an electric functionality that allows you to plug it into an electric outlet and start cooking. The cast-iron cooking pot is removable, making it suitable for the stovetop, the oven, and its electric cooking base.
Colorful Enamel exterior
A lot of popular Dutch ovens nowadays come in colorful enamel covering. Besides being aesthetically presentable in any table setting, this is mostly resistant to wear and tear. It also withstands chipping and cracking. Not to mention, it can go from the freezer directly to the stovetop or oven. 
Cooking surface 
The interior is just as important as the exteriors of cookware, if not more. While some cooking surfaces are made with a dark glaze coating, sand-colored enamel interiors are best for checking food and preventing burning. 
Last Words
While science is behind making this nutritious and tasty sourdough bread, a good Dutch oven will help you step up your game. Take your pick on the best Dutch oven for sourdough bread that we lined up for you. And if you have any questions, don't hesitate to reach out!