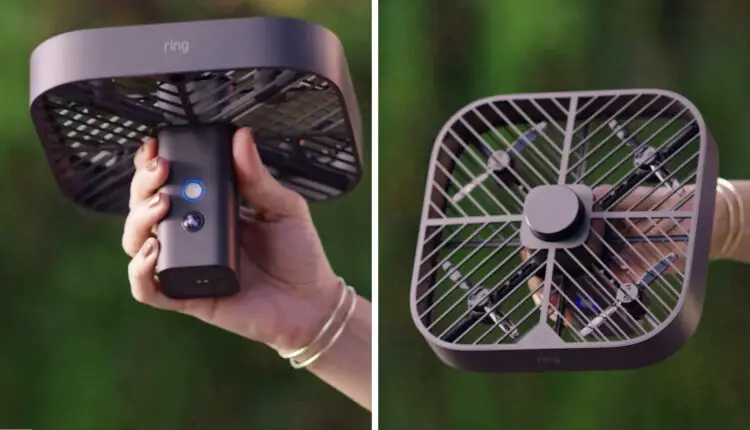 Best Flying Security Camera | Top 6 amazon Flying Security Camera
Amazon has recently launched a new product which is a flying security camera. Since it's a newly launched product, its performance is yet to be vouched. However, the idea behind it is achievable with already existing drones.  The question now is; which can be the best flying security camera? Our answer is the DJI Air 2S Fly More Combo with 5.4k Video and 3-Axis Gimbal. It has an intelligent flight mode feature that allows it to avoid obstacles indoors. It also has excellent camera quality and long-distance feed. 
However, the DJI Air 25 Fly More is not the only option for flying security cameras. There are others at different price ranges and features. Get to know more about them by continuing to read this article!
What is Flying Security Cameras?
You may not have heard of this project yet since it has been just a few days since it was released to the public. However, it's the newest and most promising security camera technology of today. So, what is it, and how is it different from others? 
The New Device
Recently, Ring, Amazon's subsidiary for smart security, launched an autonomous indoor security device. It is a drone that flies inside using a predetermined path. This single device can record footage from multiple viewpoints. The name of this device is the Ring Always Home Cam.
Since its acquisition, Ring devices have provided Amazon with more reasons to encourage customers to buy more devices for the Amazon ecosystem. They can do this by further integrating Alexa virtual assistant to make switching from one device to another a lot easier. 
However, along with this are issues regarding privacy. This became a major issue, especially after Ring decided to work together with police departments in solving crimes. As a result, lawmakers are scrutinizing how Ring handles footage and what their employees can access.
The Always Home Cam device has built-in privacy and security features that cannot be controlled manually. This way, you can securely see your feed. Plus, when it is not flying, the device is locked in a dock, and the camera is blocked for more privacy. It also has a humming sound when it's in motion to signal those around it that it's recording.
The device has similar features to a traditional drone. But, one of the main differences is that it's connected to the Ring Alarm. This is a smart home security system of the company, and when it detects suspicious activities, it will automatically fly over to the location to see what's going on.
Moreover, the device is also an obstacle avoidance technology. This prevents it from bumping into walls or people. The propellers are also equipped with casings to further prevent accidents. 
The introductory price for the device is $250, and it will be on sale in the last quarter of 2021. 
Other Updates
Along with the newly launched flying security camera, Amazon also announced other upgrades and new products. One of the products with new upgrades is the Fire TV Stick. It is 50 % more powerful than the previous version and now has an enhanced 1.7GHz quad-core processor that allows Netflix to load faster. 
The Amazon Echo is also promised to get an upgrade soon. This is not a surprise given that it's the crown jewel of Amazon's product, and it has a smart speaker market share of 53%. It is also expected to have over 11.6 million users in the UK alone. 
Takeaway
The global consumer spending on smart home products is expected to go on a 15% downtrend in 2021 due to the pandemic. However, this new product is expected to make a good impression on many customers because of its features and potential but, knowing whether this will be true or not is something only time will be able to tell.
Moreover, the technology behind the new product is not entirely new. It's a drone that is integrated with other Ring devices. You may be asking whether it's possible to simply buy drones and use them as flying security cameras. 
The answer is technical, yes, as long as the drone you will be buying has the right features. For example, if it has an obstacle avoidance feature, smart maneuverability, and remote feed feature, it's possible to use it as a flying security camera. Just make sure that you are well versed in flying it, especially indoors with many potential obstacles.
Comparison Table of 6 Flying Security Cameras
[amazon table="10254″]
6 Best Flying Security Cameras Reviews
Here are some of the best flying security cameras in the market today: 
Key Features:
Remote control
Plastic material
Micro SD Media
2.7k video resolution
12 MP aerial photos
Batteries are included
Bluetooth enabled
250 grams weight
30 minutes flight time
3-Axis motorized gimbal
Compatible with iOS and Android
Includes 3 spare propellers
What is the Product Best For? 
This is the best product if you want a compact drone at an affordable price.  
Review
As its name suggests, the DJI Mavic Mini has a compact design, and it is also lightweight, given that it is made with plastic. Its camera quality is very nice, given that it is in an affordable price range. The device has a 2.7K HD video and 12 MP photo feature. It also has a 3 axis gimbal that allows it to be stable despite the ever-changing environment. 
Moreover, another feature that makes this device a good choice is its battery capacity. When it's fully charged, you can fly the devices for up to 30 minutes. The battery also has a smart feature that allows it to consume energy at an efficient rate. 
Aside from that, this device is compatible with almost all of the latest mobile devices. This means that you can easily see the feed. Its operation is also made simple thanks to its remote control, which is already included in the package. 
Pros
Easy to operate
Affordable price
Nice camera quality
Wide compatibility
Lightweight
Compact build
Long battery life
Cons
Made of plastic
Flight stability could be better
Final Words
Get this if you want an affordable drone with a wide range of features. But, if you want something durable, it would be best to consider other options. 
Key Features:
Remote control
4 K HD video resolutions
Gray color
Batteries are included
Lithium Polymer battery
31 minutes battery life
Ocusync 2.0 wireless communication
249 grams weight
12 MP aerial photos
4x zoom
Quick shots
Compatible with iOS and Android
What is the Product Best For? 
This is the best product for those who are looking for a lightweight device with powerful performance. 
Review
The major selling point of this device is how light it is, weighing only 249 grams. But, despite its lightweight and compact build, it has powerful features.  This device is equipped with a 12 MP camera that allows you to capture impressive images. It also has 4k video capability and a 3-axis gimbal that gives you consistent, stable images in any environment. 
The camera on this device also has a 4x zoom, so no need to get too close to capture a clear image of your subject. This also makes it safer and more convenient when you maneuver it. Not only that, but this also has a Quick Shot feature that allows you to take professional-level images in just a few taps. The battery life on this device can last for 31 minutes, which is already long, considering how small it is. It is also resistant to up to level 5 winds, so if you are using it outdoors and the weather is windy, you don't have anything to worry about.
Pros
Easy to use
Excellent camera quality
Long battery life
Compact build
Convenient photo-taking feature
Reasonably priced
Highly compatible
Cons
GPS accuracy can be better
Not beginner-friendly
Final Words
The DJI Mini 2 has many upgrades compared to its predecessors, which is a very good thing. However, it requires a lot of calibration and technical know-how for you to fully enjoy its features. If you have experience in flying drones, then this might be a good choice for you. But, if it's your first time, try looking for more beginner-friendly options.
Key Features:
Hand Gesture Control
4K HD picture resolutions
2.9k video resolution
90 degrees adjustable camera
120 degrees FOV lens
1 hr. flight time
30 minutes battery life
Intelligent flight feature
Auto Return Feature
Batteries included
Wifi communication technology
90 days warranty
What is the Product Best For? 
If you are looking for a flying security camera for beginners that is affordable and has a long flight time, then this might just be what you need. 
Review
The Ruko F11 Pro is equipped with 4k HD pictures and 2.9k video quality. This allows you to get high contrast and vivid colors when you use it as a security camera. It is also equipped with a 120 degrees FOV lens and 90 degrees adjustable camera. This helps broaden your view so that you can capture more. 
Moreover, one of the best-selling points of this drone is its battery life. It has a 2500 mAh intelligent battery that allows the device to fly for 30 minutes. But, the difference between this one to the other drones in this list is that it comes with an extra battery which allows you to get 30 minutes of additional flight time. Although you can also have extra batteries for the other devices, you need to buy them separately to be more expensive.  This is also very beginner-friendly. It has a beginner setting so that you can use its advanced functions without any hassle.
Pros
Easy to operate
Long flight time
Beginner-friendly
Excellent image and video quality
View angle view
Affordable price
Comes with an extra battery
Cons
Stability could be better
Fast charging features for batteries are not available
Final Words
This device package has excellent value for money, making it an ideal choice for those who are looking for entry-level drones to use as flying security cameras. 
Key Features:
Remote Control
4k HD video resolution
Batteries are included
18.5 km max range
½-inch CMOS sensor
Quad Bayer image sensor
3-axis gimbal
Ocusync 2.0
Spotlight 2.0
ActiveTrack 3.0
34 minutes battery life
iOs and Android Compatible
What is the Product Best For? 
This product is the best flying security camera of choice if you are looking for a mid-range price product that offers advanced camera features. 
Review
The Mavic Air 2 camera has a lot of power despite its tiny package. It can capture 48 MP photos with its camera. It's also equipped with a CMOS sensor and a 3-axis gimbal. These features provide the device with stability, especially when in 4K HD mode. 
This device is also equipped with intuitive shooting functions. This makes aerial photography a lot easier and more fun. These features are the Spotlight 2.0 that locks the camera on the subject even when it's flying freely. It also has the ActiveTrack 3.0 feature that makes sure that the subjects are centered at all times.   Not only that, but it also has OcuSync 2.0. This feature allows the device to transmit video even if it is 6.2 miles away. This also has better flight ability compared to its predecessors. It has obstacle sensors to ensure that it does not get damaged while it's flying. This also makes it easier for beginners to operate the device.
Pros
Easy to use
Long flight time
Excellent camera quality
Safe flight 
Plenty of accessories available
Compatible with most devices
Beginner-friendly
Cons
The price is at the higher end of the spectrum
Difficult to activate
Final Words
Overall, this is a powerful device that provides you with excellent image and footage capabilities minus the steep learning curve of operating a drone. It's also among the only few devices on this list with a feature that enables it to sense obstacles and deflect them.
Key Features:
Remote control
4k HD video resolution
560 grams weight
Lithium polymer battery
4,900 ft. max range
2-axis Gimbal
EIS technology
Sony image sensor
100 degrees FOV
80 degrees adjustable lens
5x zoom capacity
52 minutes flight time
What is the Product Best For? 
This is the best flying security camera if your top priority is image stability.
Review
There are plenty of reasons to love the DEERC DE22 GPS drone. But, the most noteworthy feature on this one is the 2-axis gimbal and EIS stabilization. This allows you to have ultra, clear and smooth video when using it, even if it gets shaken.  
Another noteworthy feature of this device is its 4K resolution. With this, you are assured of getting high-quality footage. Plus, it has a 5x zoom capacity, so you can get more details about your subject even if it's far away. 
In terms of a motor that allows it to fly, it also has one of the best qualities out there. It is equipped with a brushless motor that allows the drone to fly at 43 km per hour. In addition, the motor is also wind resistant making it more stable.  Not only that, but you will also appreciate its intelligent flight mode. This flying security camera has an image tracking and GPS feature. This provides it with added stability over the subject and ensures that the device is safe and stable while it's on air.
Pros
Beginner friend
Easy to fly
Excellent image feed
Convenient controls
Reasonably priced
Easy to assemble
Stable flight and footage
Cons
Unresponsive customer care
Not very durable
Final Words
If you are looking for a flying security camera that offers steady flight and footage, this one should be your top choice. It has plenty of features that help ensure its flight and footage stability that will satisfy you.
Key Features:
Remote Control
5.4k HD video resolution
Lithium polymer battery
Inch image sensor
Quick Shots
Master Shots
Focus Track
Spotlight 2.0
ActiveTrack 4.0
7.5 mi. max video transmission
Environment sensing
OcuSync 3.0
What is the Product Best For? 
This product is your top choice if you want the best flying security camera with premium features and you don't mind paying its hefty price tag.  
Review
This is one of the most expensive options on this list. But, its premium feature makes its price reasonable. This flying security camera is equipped with a 1-inch image sensor. Together with that, it has a 2.4 um pixel that is capable of 4K video. This means that in terms of camera quality, this one is almost second to none. 
This flying security camera is even better because it has features that ensure the camera subject is always in the center. This is thanks to the ActiveTrack 4.0, Spotlight 2.0, Point of Interest 3.0, and FocusTrack features.  Aside from that, it has a long FHD transmission at 7.5 miles. Even at this distance, you will be getting a 1080 image feed that is clear, ultra-smooth, and highly reliable. You also don't have to worry about it when disconnected from the controller because it will automatically fly back home.
Pros
Easy to control
Excellent picture quality
Amazing video quality
Long battery life
Beginner-friendly
Value for money
Premium features
Cons
The price is quite high
Focus Track feature is not usable when recording in 5.4K
Final Words
Overall, this is a powerful flying security camera at all angles. However, it is much more expensive than the other option on this list, but you should go for it if you don't mind that. 
Buyer's Guide: Factors to Consider When Buying Flying Security Camera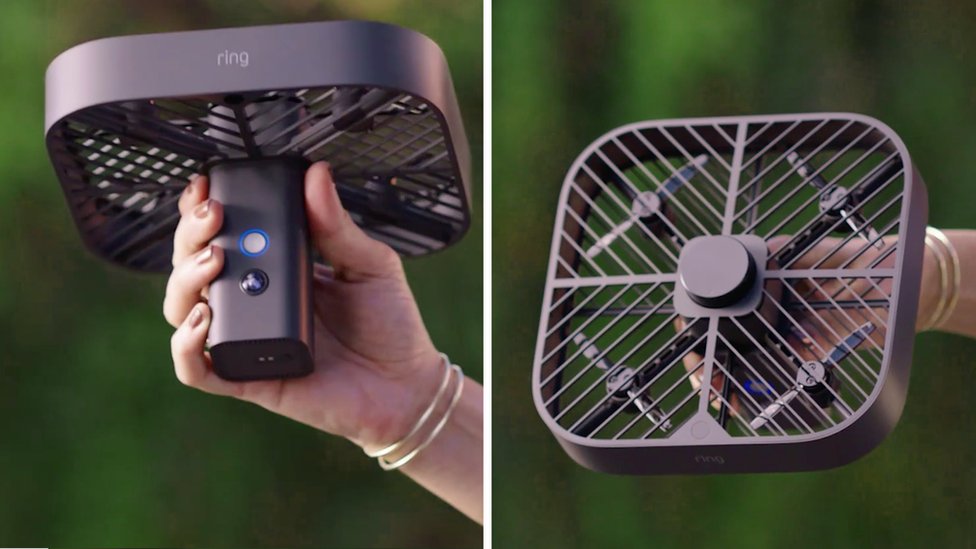 There are a lot of drones out there that have the potential to be used as flying security cameras. However, how exactly will you know whether you can use it as such? These factors will help you decide: 
Camera Resolution
There are plenty of drones that are equipped with cameras. Some drones are equipped with pre-mounted drones, while others are not. Drones with pre-mounted cameras are often more expensive, especially if the cameras have high video and photo resolutions.
However, if you already have a portable HD camera, then going for quad copter drones that it is compatible with can be a good idea. 
Flight Time
The flight time is based on the average flying time based on a single battery charge. However, it's rare to find drones that have more than 30 minutes of flight time. This is mostly because if they are equipped with batteries that have more capacity, they will become heavier, affecting their ability to fly. 
Ideally, go for a drone with longer battery life. But, most of these drones are often expensive, so going for those that offer extra batteries might also be a good alternative. Do note if your drone will be doing flips and tricks that will consume more energy, which can significantly affect the overall flight time. 
Sensor
You will find that opting for drones with sensors will make it more efficient as a flying security camera. Drones can have many different types of sensors. For example, some drones have GPS sensors. This often allows the drone's location to be pinpointed. It is also a common sensor among drones with return home capabilities.
Other drones also have temperature sensors. But, more advanced drones, such as some DJI models, are equipped with a return home feature that enables the device to automatically locate its landing pad. 
However, drones with multiple sensors are often more expensive. But, ideally, the drone that you will be buying to use as a flying security camera must at least have an obstacle avoidance sensor to make sure that it does not bump the way indoors. 
Controller
The whole idea of using drones as flying security cameras can access the feed even if you are away from home or your workplace. This is why it is best to pick a drone with a transmitter that works on wifi. This way, you can access the feed remotely. 
However, take note that most drones operate at a 2.5 GHz range. This is the standard among all drones, so make sure to double-check the access and range capabilities before deciding to buy one. 
Image Stability
The camera can shake when drones are in flight due to the propeller's vibration and other factors. As a result, you might not get the best quality footage or end up with a shaky result. This is why when choosing a flying security camera, it's best to opt for those equipped with stability features. 
One feature that will tell you that a drone has excellent stability is if it has a Gimbal. This is a device that enables the camera to rotate smoothly. It also stabilizes it while it's rolling, panning, or titling to provide you with smoother footage while the drone is on the move. 
Budget
You can get a decent drone as a flying security camera for $250. However, these are often inferior in terms of camera quality, stability, and battery life. Also, expect advanced features such as GPS and return home to be included. 
If you want a wider range of features included in your drone, expect to pay more than $1000. Some are even more expensive than this, especially those with more advanced features.
Conclusion
Indeed, the DJI Air 25 Fly More has a lot of premium features that justify its price. However, the other drones on the list also have the right features for flying security cameras, so they are worth considering. By the end of the day, make sure that your decision fits your needs, budget, and drone flying ability to avoid costly regrets.