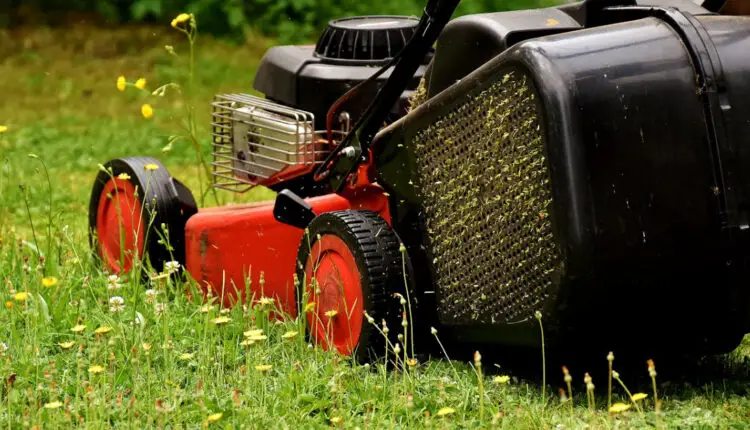 Best Lawn Mowers for Thick Grass | Top 6 Picks With In-Depth Reviews
A properly maintained lawn can add to the curb appeal of your property and promote its health. You need the best lawn mower that will make cutting your lawn an enjoyable and effortless process. A lawnmower is, especially, a worthwhile investment if you want to leave your thick grass perfectly manicured. In this guide, I will review the seven best lawn mowers for thick grass in the market.
There are different lawnmowers in the market that promise to give your lawn a brand new look without breaking a sweat. But how do you find the right lawnmower that suits your type of grass and lawn size without causing any issues?
Below is a comprehensive guide of the best lawn mowers in the market that are designed for mowing thick grass. From our review, the American Lawn Mower Company 14" lawnmower is our top choice for the best lawn mower for thick grass, and it is with good reasons. This mower has a 14" wide deck and gives a superb performance for thick grass with its scissor action cut.
Read on to know our other picks.
Top 6 Lawn Mowers for Thick Grass At a Glance
6 Best Lawn Mowers for Thick Grass Reviews
Highlighted Features:
Brand: American Lawn Mower Company
Power source: Self-propelled
Steel: Reel
Material: Alloy steel
Weight: 20 pounds
Adjustable blade height: 0.5" -1.75"
Cutting width: 14 inches
Maximum cutting height: 4 inches
Wheel size: 8.5"
Durable cushioned T-handle for maneuverability
Powerful cutting action without pollution
Tool-free assembly
If you are in the market for an affordable lawn mower for thick grass, this mower from the American Lawn Mower Company may be worth considering. It can effectively cut different types of grass such as bluegrass, fescue, mixed weeds, crabgrass, and rye.
This mower is equipped with four rotating blades with a cutting width of 14 inches for effective cutting of thick grass. Better yet, the blades are made of alloy steel, which renders the mower durable and long-lasting. This lawnmower can cut grass up to 4 inches, thanks to its adjustable blade height of 0.5" to 1.75".
However, being a reel lawn mower, this type can be difficult to handle and requires more physical effort to cut. Nevertheless, this reel lawn mower is lightweight and easy to run. This is because the rotating blade comes with ball-bearing that makes it easy to smooth the blades. Furthermore, it has a rear roller bar that makes the lawnmower stable during use.
Better yet, it is cost-effective and requires little to no maintenance. It requires very little cleaning after each use to keep the mower in tip-top shape. Also, you will be required to sharpen the mower at least once every 3 to 5 years. The other advantage of this lawn mower is that it is environmentally friendly compared to its gas-powered counterparts. Therefore, you can rest easy knowing that it is pollution-free. It is also much quieter than traditional mowers.
Pros
Adjustable blade height
Ideal for small-size lawn
Eco-friendly
Affordable
Doesn't require maintenance
Lightweight and easy to operate
Quiet operation
Cons
The coverage may be limited
Not perfect for big size lawn
Final Verdict
You can never go wrong with the American Lawn Mower Company if you are hunting for a lightweight, affordable, environmentally-friendly, and easy-to-use mower for your compact lawn. Although this mower may require some effort, it is an excellent choice to keep your thick grass even and well-manicured without breaking the bank.
Highlighted Features:
Dimension: 29.2" x 20.7" x 19.5"
Power source: Battery powered
Operation mode: Manual
Material: Plastic
Weight: 40.5 pounds
Cutting width: 20"
Cutting range: 1 ¾"- 3 3/8"
Number of height adjustments: 5
Wheels: 7" front wheels, 10" rear wheels
Innovative Smart Cut technology
Bagging and mulching capabilities
Compatibility: Greenworks G-MAX 40V Li-Ion system
This is yet another Greenworks lawn mower model for curing thick grass on our list. This cordless, walk-behind mower is nicely designed and packed with useful features to handle thick grass in mid-sized areas.
What we love most is the fact that it is a cordless electric unit. It comes with a lithium battery with a run time of 60 minutes when fully charged. Of course, this will depend on the grass condition on your lawn.
Impressively, there is an extra port if you want to extend the runtime. If you are worried that this unit may not get the job done on your type of grass, you will also be pleased to know that it has an innovative Smart Cut technology. This means that the mower can adjust the runtime or power depending on the type and thickness of your grass. In addition, the push-button start makes cutting your lawn a stress-free process. The unit weighs 40.5 lbs. and the cutting deck measures 20". This unit offers excellent maneuverability with its 7-inch front wheels and 10-inch rear wheels.
Pros
Suitable for mid-sized lawns
Exceptional cutting ability
Comes with powerful 5Ah Lithium-ion batteries
Good-quality
Easy to operate on all terrain
Allows adjustability based on grass condition
Lightweight design for better maneuverability
Cons
It may require two batteries for very thick grass
The handle may be fragile
Final Verdict                       
If you have a mid-sized lawn, you may prefer this cordless electric mower from Greenworks. It has an easy push-button operation that will get you started cutting your lawn without breaking a sweat. You can also add another battery to this mower to mow a larger area or thicker grass.
Highlighted Features:
Brand: Snow Joe
Dimension: 26.8" x 28.3" x 50.4"
Power source: Manual
Operation model: Manual
Weight: 30 pounds
Material: Alloy steel
Cutting width: 20"
Cutting height: Up to 2.44."
Height adjustment positions: 9
5 durable, sharp steel blades
Dual-wheel design
Requires no gas, oil, or electricity
A reel mower is an excellent choice if you want a quiet and low-maintenance lawnmower and the Sun Joe MJ502M model is no exception. This mower comes with 5 sharp steel blades with a 20" cutting width to handle thick grass in your lawn quickly and more efficiently.
This mower is also designed for precise cutting as the 5 steel blades are sharp and highly durable. Apart from accurate cutting, you will also have an easy time using this lawnmower. It comes with a dual-wheel design that ensures maneuverability each time you operate the mower.
You can easily adjust the cutting height of the mower to 9 positions to suit your preference. In total, you can get a grass height of 2.44 inches. The Sun Joe MJ502M is very convenient to use, and you won't need oil, gas, or electricity to run it. Nevertheless, it requires very minimal upkeep to keep it in excellent shape as compared to conventional models. Plus, it features a catcher to collect grass clippings more quickly.
Pros
Precise cutting
Sharp and durables blades
Dual-wheel design
Easy to maintain
Quiet design
Powered with a push
9 height adjustment positions
Cons
Can't handle most types of grass
Catcher is flimsy
Final Verdict
Although reel mowers may not be very popular, the Sun Joe MJ502M lawn mower is what you need to keep your grass at the ideal height. Its sharp blades will deliver precise cutting, and it can cover 20 inches in one pass. However, you should note that it may not work for every type of grass.
Highlighted Features:
Dimension: 21.97 inches x 15.91 inches x 8.07 inches
Power source: Battery powered
Operation mode: Automatic
Weight: 21.2 pounds
Cutting width: 7 inches
WiFi and app-controlled
Includes rain sensor
Slopes to about 20 degrees
Patented AIA technology for easy navigation
Battery compatibility: Worx 20v and 40V tools and outdoor power products
7" offset 3-blade cutting disc
Built-in sensors
Do you hate the task of mowing the lawn yourself? If so, you need a good quality robotic lawn mower like WORK WR140 Landroid lawnmower. This WiFi and app-controlled robotic lawn mower can be programmed to cut up to ¼ acre in size. Then, you simply need to measure the lawn with the app, set the charging base, and allow the mower to start work.
This model stands out from other robotic models because of its patented AIA technology. This technology makes it possible for the mower to maneuver small and narrow spaces, which may otherwise be difficult. It also can tackle obstacles when it bumps into them.
Alternatively, you have the option to customize the cutting pattern and omit areas where you don't want the Landroid to reach. This robotic mower can also detect when it is raining. In this case, it will return to its charging station to continue charging as it waits for the grass to dry. Another unique spec of this model is the cut-to-edge feature. It has 3 blades with a 7" offset cutting disc that can cut the edges of your lawn. As a result, no grass will remain, and you will just need to do less trimming. Additionally, it can slope to about 20 degrees.
Pros
Fully-automated operation
Allows customized mowing schedules
Mows to the edge of a lawn
Comes with rain sensor
Built-in sensors to tackle obstacles
Easy to navigate in narrow pathways
Battery is highly versatile
Cons
There is a need to set up the app before an operation
The app program may not be compatible with every device
Final Verdict
The Landroid robotic lawnmower is a fully automated app-controlled lawn mower that can cut your lawn without requiring your effort. This model comes with built-in sensors, allowing it to mow your lawn on auto-schedule depending on the condition and size of your lawn. It is worth considering if you want to come home to a well-manicured garden.
Highlighted Features:
Brand: Snapper
Dimensions: 59" x 21" x 42"
Operation mode: Manual
Style: 48V push lawn mower
Weight: 58.9 pounds
Material: Alloy steel
Cutting width: 20"
Height adjustable positions: 7
48V MAX 5.0 lithium-ion battery
3-in-1 design; bag, mulch, or side-discharge capability
Intelligent load-sensing technology
1 rapid charger
Snapper is a reputable brand that manufactures quality lawnmowers. One model in their collection is the Snapper HD 48V cordless lawn mower with a run time of 90 minutes.
To ensure this, the model comes with a 48V MAX 5.0 lithium-ion battery that is powerful enough to provide accurate cutting for thick grass in your lawn. Better yet, the kit comes with a 1 rapid charger and 1 lithium-ion battery.
The mower boasts a 20" steel deck and 7 height adjustment positions. Remarkably, it features intelligent load-sensing technology that gives you optimum power for the different levels so you can have exceptional performance.
This mower features a 3-in-1 design that allows mulching, bagging, and side-discharging capabilities. This functionality will give you great value for your money. If you have limited storage space, you will be glad to know that this mower does not take much space. This is because of its vertical storage capability that ensures easy storage, so you save space.
Pros
Adequate run time
3-in-design
Ideal cutting height
Easy to store
Maximum power for greater efficiency
Comes with a battery and charger
Quick and easy to assemble
Cons
You may need an additional battery
Issues with adjustment levers
Final Verdict
Consider this lawnmower if you are in the market for an adjustable lawn mower that will effectively cut thick grass in your lawn. Equipped with a powerful 5Ah lithium-ion battery, this mower will work hard to ensure that you have a clean lawn. Plus, it can mulch, bag, or side-discharge the grass.
Highlighted Features:
Brand: Husqvarna
Dimensions: 23.22" x 17.77" x 27.62"
Operation mode: Automatic
Power source: Battery powered
Style: High cut
Weight: 20.7 pounds
Cutting width: 8.7"
Cutting height adjustments: 2-3.6"
Ideal for: Small to medium-sized lawns
Bluetooth-powered 
Plus, Lift, and Tilt sensors
Motor has noise-reducing design
If you are fascinated by robotic lawnmowers, then you might want to check out the Husqvarna Automower lawnmower. Designed by industry leader Husqvarna, you can expect nothing less than outstanding quality and performance from this lawnmower. This mower can cut up to 0.4 acres of lawn, making it a good choice for small and medium-sized lawns. It is Bluetooth-powered, and you can use the app to start, configure, and stop your mower effortlessly. Setting up this mower is very easy, and you can do it as a DIY project.
Pros
Built-in sensors for seamless operation
Very easy to assemble
Quiet operation
Weatherproof
Quick and easy to adjust the cutting height
Simple to maintain
Great for smaller lawns
Cons
It can lose charge before getting to the charging dock
It can get stuck on uneven surfaces
Final Verdict
With the help of robotic technology, you can enjoy a pristine lawn 24/7. The Automower® 115H uses an intelligent cutting cycle that ensures healthy grass and perfect conditions for all your outdoor spaces! This machine is great on small to medium size yards; it has 17° slopes with maximum cut heights up 3.6 inches in order to deliver high-quality results even when there are not ideal weather conditions like rain or snow outside (or both!).
Read More: Best Self Propelled Lawn Mower Electric Start
How to Choose the Best Lawn Mower for Thick Grass
Before you make your final selection of the best lawn mower for thick grass, there are several factors that you need to consider.
Type of Lawnmower
With different types of lawnmowers on the market, picking the best one for your needs is crucial.
Walk Mower- This mower is best if you want more versatility.
Self-Propelled Mower– If you plan to mow uphill, a self-propelled mower will be a great choice for you. For this model, you just need to steer it in the right direction without pushing it. This mower guarantees better traction and control when mowing thick grass on slopes or hills.
Front-Wheel Drive– Choose front-wheel drive if you want more maneuverability when mowing on level ground. It lets you reduce traction on the front wheels, allowing you access around obstacles and in corners.
Rear-Wheel Drive- This type of mower works best when mowing uphill or sidehill. It lets you push down on the handle when mowing uphill to prevent the front tires from losing traction.
All-Wheel Drive– It is also known as power reverse, all-wheel-drive mowers are designed for steep hills, sidehill, downhill, and any non-lawn areas.
Robot Mower- If you hate the task and hassle that comes with mowing, a robot mower may be ideal for you. These mowers can do the work for you in no time.
Power Options
When choosing the best lawn mower for thick grass, you need to select the power option based on your preference and needs. The lawnmower power options include:
Electric Lawn Mowers: Most lawnmower brands in the market are powered by electricity. Electric mowers are smaller in size and are best suited for small and medium-sized lawns. Due to their small size, they are easy to store and come at an affordable price.
Gas Lawn Mowers: If you have a large garden and are looking for a powerful mower, a gas-powered unit would be worth considering. Although more expensive than electric models, this lawnmower has more power and can cut thick grass faster. It also does an excellent job on rugged cutting conditions and can easily maneuver around large objects.
On the downside, gas lawn mowers require regular servicing and maintenance. What's more, the price is high, and it varies with your power requirements.
Battery Lawnmowers: Other lawnmower models run on batteries. Battery lawnmowers are an ideal choice if you are seeking after mobility and long-range. Better yet, they can get the job done on both small and large lawns, depending on the battery size.
Type of Cutter or Blade
Lawnmowers for thick grass are equipped with different blades or cutters, and your option will be based on how you want your lawn to appear.
Cylinder Mowers: These lawnmowers are designed with cylindrical blades at the front of the mower. These blades rotate vertically and give a precise cut, making them best for manicuring flat lawns. However, they may not be perfect for overgrown or rugged terrain.
Rotary Mowers: Rotary mowers are equipped with a single blade that is located underneath and rotates horizontally. Unlike cylinder mowers, rotary mowers are very versatile and can cut rougher and longer grass.
Hover: These mowers are easier to push in unevenly-shaped surfaces since they hover over the ground. Although they are cheap and suitable for unevenly shaped lawns, they may not do very well for larger yards.
Function
You need to consider when making your buying decision is what a mower does with the grass. Generally, mowers can mulch clippings, bag them, or discharge them.
Mulch clipping is repeatedly cutting grass clippings. Mulch mowers shred the grass clippings very finely before pushing the clippings back into the garden as mulch. The returned grass clippings are rich in nitrogen and help to improve grass health.
On the contrary, mowers that bag collect the clippings and give your lawn appearance. However, you will need to dump the clippings after mowing, which can be inconvenient for some people. The other option is side-discharge mowers, which come in handy when mowing non-lawn areas or areas with tall grass.
Some models are two-function, meaning that they mulch and bag, while others are three-function, meaning that they bag, mulch, and side discharge.
Cutting Width and Height
You should decide the cutting width of the mower based on your lawn size. The cutting width of a lawnmower is typically how wide it can cut. If you have a large lawn, opt for a mower with a larger cutting width to reduce the mowing time.
The perfect cutting width for a smaller lawn is 28-35 centimeters (up to 14")
The perfect cutting width for a medium-sized lawn is 35-40 centimeters (14-16")
Perfect cutting width for a larger lawn is 40 centimeters and more (16" and beyond)
Also, the mower's cutting height is crucial to consider as this will determine how high the grass will be cut. You may also want to opt for lawn mowers with adjustable cutting heights so you can choose an excellent option for your situation.
Frequently Asked Questions
What type of lawnmower should I purchase?
When in the market for the best lawn mower, you should consider one that matches the size and type of your lawn. If your lawn is less than half an acre, then a walk-behind mower with a small deck may work best for you.
However, if you want to mow a large lawn, consider a mower with a more expansive deck to help you complete the task quickly and easily. Plus, it will give your grass a thick and more visible pattern.
Is an electric lawn mower suitable for thick grass?
Yes, an electric mower can cut thick grass, but only on flat terrain. Unlike a gas-powered model, an electric mower may lack the power and ability to mow uphill or on sloppy grounds. Also, it may be a suitable choice if you want to mow tall, thick grass or even weeds.
What lawnmower do manufacturers recommend for thick grass?
Well, several lawn mowers in the market can get the job done on lawns with thick grass. Nevertheless, a top choice is the American Lawn Mower Company lawnmower, which has 14" of rotating blades, features scissor-like motion, and is quiet and easy to maintain.
Can lawnmowers damage my lawn?
A lawnmower is designed to give your lawn a beautiful appearance. However, several mowing mistakes can ruin your lawn. Some of these mistakes include;
Mowing too often
Not mowing your lawn often enough
Cutting the grass too low
Bagging the grass of your lawn as this robs it the vital nutrients
Use dull blades to mow
Mowing wet grass
Is a self-propelled mower better than a push mower?
Yes, unlike the traditional push mower that requires physical effort, a self-propelled mower uses technology to help propel the mower forward. This makes it easy to operate, and it can get the job done in no time without sweat.
How long should a lawnmower last?
Generally, a good lawn mower should last anywhere from 8 to 10 years. To ensure durability for your unit, ensure that you perform the necessary maintenance as per the manufacturers' instructions.
Which robot mower is best for thick grass?
Based on our research, the Worx WR140 Landroid M Lawn Mower tops the best robotic lawn mowers for thick grass. This fully-automated mower can be customized based on your yard's size and conditions and comes with useful built-in features.
The Husqvarna Automower robotic lawn mower is also a wonderful choice since it comes from a reputable brand and is equipped with the right technology to ensure unmatched results.
How often should I mow my lawn?
The frequency for mowing your lawn should depend on factors such as; how quickly your grass grows, the weather condition, the amount of fertilizer used, and how often you water your lawn.
Some people prefer to mow their lawns every weekend to maintain a clean look. However, you should be careful as mowing too often can damage your lawn. Besides, some benefits come with leaving your grass to grow a bit taller.
Conclusion
We hope that our review of the best lawn mower for thick grass on the market will aid you in making an informed buying decision. The best lawn mower for you is one that fits and has the power to mow your target area. Other than the size of the lawn, consider things like the terrain, type of grass, and the features that may be useful for your needs.