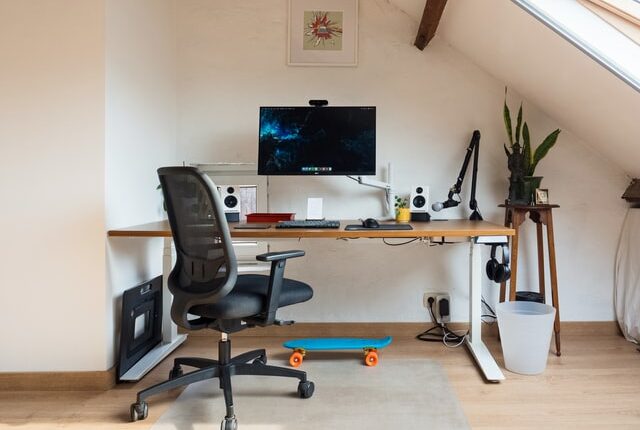 Best Office Chair & Stools for Hardwood Floors | In-Depth Review Guide
Disclaimer
Articles, products, and services offered on this site are for informational purposes only. We recommend using caution and seeking professional advice. This site provides general information. We are part of the Amazon Services LLC Associates Program, an affiliate advertising program. Amazon.com is compensated for sales resulting from links on our website.
Please review our disclaimer before taking action based on anything you read or see.
Hardwood floors are very expensive, so it's understandable why you would want to keep them in pristine condition. One small scratch from office chairs can affect the overall look of the space. However, that does not mean that you have to sacrifice comfort while working. In these cases, the best thing you can do is buy the best office chair for hardwood floors. 
Office chairs with specialized wheels make them less damaging for hardwood floors. However, choosing the best one can be quite difficult with tons of options out there. If this is your case, then this article will be helpful for you. Here, we will share the best office chair for hardwood floors list curated after careful consideration. 
Why Trust Home Affluence Reviews
We spend thousands of hours researching, analyzing, and testing products to recommend the best picks for most consumers. Our review process is made in good faith to benefit your purchase. We only make money if you purchase a product through our links, and all opinions about the products are our own. Read more.
Our Top Choice
After careful consideration and comparing the different office chairs on this list, we have found out that the Steelcase Series 1 Office Chair is the best office chair for hardwood floors. This is because it comes with a hardwood floor caster variant, making it less likely to cause damage. It also has many adjustability features and a flexor system that provides a lot of back support. 
Sale
Steelcase Series 1 Work Office Chair - Licorice,...
Back mesh and Connect seat fabric are 100% polyester
Wheels for hard flooring
Ergonomic chair – this stool height model includes adjustable seat depth, fully adjustable arms, adjustable lumbar, pneumatic seat height adjustment, recline tension adjustment, flexing back with mesh upholstery and upholstered seat, black base and frame finish
What to Look for in the Best Office Chair for Hardwood Floors?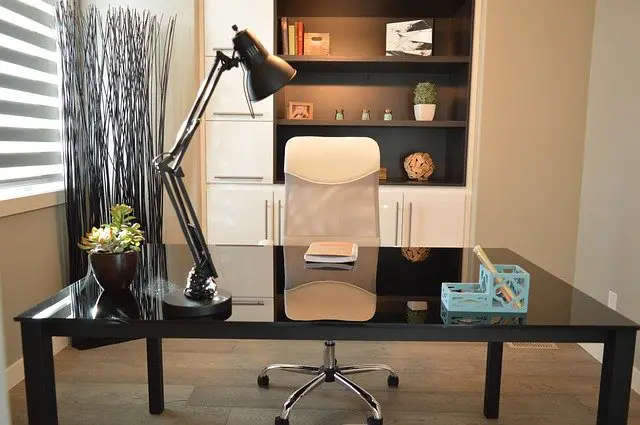 When spending for the best office chair for hardwood floors, there are several things that you should consider. Here are vital factors to watch out for. 
Polyurethane, or Rubberized Wheels
This is the first and most crucial factor to consider when buying an office chair for a hardwood floor. Standard metal wheels on office chairs can damage hardwood floors. It can cause scratches which are very costly to fix. 
In this case, you need to pick an office chair with polyurethane or rubberized threads instead. These types of wheels create less friction, reducing the chances of scratches and markings on your floor. 
Better yet, you may want to consider dual or roller-blade casters since they spread the weight evenly. Hence, they are safer and are unlikely to ruin your wooden floor. 
Desk Size Compatibility
You have to ensure that the office chair you intend to buy is compatible with your desk. Most office chairs will fit without any problem if you have a standing desk. 
However, this may not be the case if you have a standing desk. In that case, saddle-type chairs that have a wider range of seat height adjustment might be the best option for you. This will allow you to sit every time you feel tired standing comfortably. 
Comfortable Cushion
You spend a lot of time sitting down when working. Unfortunately, the human body is not designed to stay in this position for an extended time. Other than feeling numb, sitting for extended periods can cause health issues. 
This is why it is important to look out for an office chair with generous cushioning. Nevertheless, you want to ensure that it is soft enough to offer utmost comfort but not too soft that it will not offer any support. 
Furthermore, it would be nice to pay attention to the cushion's fabric. Leather covers look nice, but they are high-maintenance and tend to crack over time. Ideally, you should go for either polyester covers or mesh, durable and breathable fabrics. 
Costas 
Costas with any product, always consider the cost of the office chair to find one that suits your budgetary needs. While this is not the most important factor, it will still inform your choice of office chair for hardwood floors. 
Generally, the cost of office chairs for hardwood floors tends to increase if the chair has important features that render it ergonomic. For instance, you can expect to pay more if the chair allows seat, back, and headrest adjustability.
Key Consideration When Buying Office Chair for Hardwood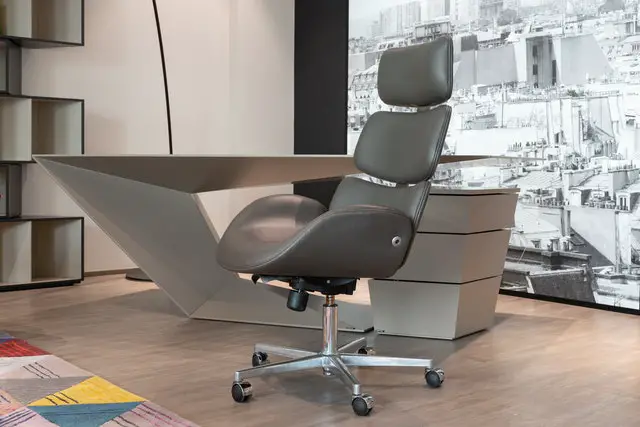 The following consideration can help make choosing an office chair for a hardwood floor easier: 
Type of Casters
If you are using your office chairs on hardwood floors, the type of casters are key considerations. It is recommended to buy casters based on your floor type.
For instance, chairs designed with hardwood casters will be an ideal option for your hardwood floor. On the other hand, carpet casters are excellent for carpets and soft floors. 
Aside from the type of caster, you should also consider the size and durability of the wheels. Bigger wheels can accommodate heavier weight, which means they are more durable.
Durability
Durability is also another important consideration. Many buyers will prefer buying the cheapest office chair without paying attention to the build quality. While some office chairs for hardwood floors may be cheaper upfront, they may not last you for very long. Office chairs with a high-quality built can last a long time, making them great value for money.
To check for the build quality of the office chair, it is highly recommended to look at the material used, especially on the frame. Aluminum and steel frame bases are the best options. On the other hand, you should think twice about hard plastic and nylon bases, especially when the chair is on the heavier side because these materials can easily give out. 
Comfort
The office chair must allow you to sit in a healthy position and have adequate support to be comfortable. This is why it's best to go for chairs with cushions and padding because sitting for a long period can be painful. 
Ideally, your office chair seat cushion must be at least 3 inches. Mesh backrests are also ideal if you tend to be sweaty because they have breathable material. 
Back Support
Back support should be another consideration since you will be sitting on your office chair for an extended period. 
It would be good if the chair you choose had lumbar support, which helps you maintain good posture and minimize the risks of aches and pains. It would also be nice to adjust the lumbar support to fit your height and preference. 
However, a stool-type office chair can be the best option if you have a standing desk. Just make sure that the seat is ergonomic to have adequate back support.
Overall Features of Office Chairs for Hardwood Floors
These are the standard features that you find on most office chairs for hardwood floors:
Soft Casters
First and foremost, the most common feature for office chairs for hardwood floors is soft casters. Unlike steel, these are less likely to cause damage on the floor when you make sliding motions. Soft casters are often made with polyurethane materials. However, there are instances where the casters are coated with rubber allowing them to have more stability. 
Weight Capacity
It is a good idea to check the weight capacity of the office chair you intend to buy to ensure that it is made for your weight. Otherwise, using a low-weight capacity than your weight can cause the casters and chair base to break with ease.
Generally, it is advisable to go for a chair that exceeds your weight. This way, the chair will be useful even when your weight increases or when someone else uses the chair. 
Lumbar Support
Most office workers that work on their computers for an extended time are likely to suffer from chronic back pain if they don't use the right chair. With this in mind, it is best to go for office chairs that provide lumbar support. This helps minimize the pressure build-up on your back to avoid pains and aches. 
It also offers better comfort, especially if you sit for several hours on the chair. Furthermore, it would help if lumbar support is adjustable, making it easy to customize it to your needs for utmost support and comfort. 
Adjustability
Another shared feature of office chairs for hardwood floors is adjustability. It is best to choose chairs that allow you to adjust the backrest height and recline of the office chair. 
However, office chairs with adjustable headrests and seat tilt features are not common. The same case also applies to adjustable armrests that have pivot adjustments. But, these features are extremely important if you want to feel as comfortable as you can on your office chair. 
Backrest and Headrest
Since users sit on office chairs for an extended period, it's common for them to have a backrest. You will notice that these backrests are equipped with lumbar support to allow users to maintain a healthy posture despite sitting for a long period. 
Headrests on office chairs also help prevent neck strain after sitting for a long period. This feature is quite common on many office chairs, but only a few of those are adjustable. 
Cushions and Padding
Cushioning and paddings are also quite common on most office chairs, and this should not be an exception for this designed for hardwood floors. However, the difference is in the quality of cushions and paddings used. Low-quality cushions and paddings tend to lose their shape in a short time. As a result, it will not provide the support that it should be. 
Ideally, you should go for office chairs with thicker cushioning and padding. It is also nice to have cushions and pads on the headrest and armrest portions of the office chair for extended comfort. 
Swivel Mechanism
The swivel feature on an office chair allows users to move freely from one area to another without the need to stand up. Most of the time, you will notice that office chairs have 360 degrees swivel. Well-built office chairs can swivel without becoming unsafe or unstable. 
Wheeled Base
Most office chairs are mounted on a wheeled base. These bases commonly have three arms, four arms, or five arms. The more arms it has, the more stable it is and safer. 
Office chair wheeled bases are also made with either steel or plastic material. Steel is more durable and sturdy, but they tend to be more expensive. The shipping cost for this type of office chair is more expensive since it is significantly heavier. 
Review of 6 Best Office Chair for Hardwood Floors
Key Features:
Dimensions: 23.75" D x 27" W x 41.25" H
Weight: 29 pounds
Weight Capacity: 400lbs
Form Factor: Upholstered
Material: Textile
Black base and frame finish
Upholstered form factor
Back mesh
100% polyester
Adjustable seat depth
Adjustable lumbar and arms
Hardwood castors
Flexor system backrest
Recline tension adjustment
Proprietary cushion design
The Steelcase series one office chair is an ergonomic chair designed to offer the utmost comfort for the user. What makes this chair an excellent option for hardwood floors is its smooth wheels that glide on floors effortlessly. It also has a lightweight build, making it less likely to cause scratches. 
Since everybody has different preferences, you can appreciate that this office chair has plenty of adjustability features. This way, you can customize it according to your body needs and preferences for the armrest, lumbar, seat height, and recline tension. 
This office chair also has a comfortable seat cushion of 100% polyester. This means it is less likely to show cracks over time, unlike seats covered with leather. On top of that, the backrest uses a mesh material. This breathable material prevents you from getting sweaty and sticky even after sitting on the chair for an extended period. 
Pros
Easy to assemble– It comes with an easy-to-understand manual, and there are not many parts to be assembled. 
Excellent back support– The backrest and lumbar provide adequate support to mitigate the back pain. 
Easy to adjust– All the adjustment features are easy to use with a simple press of buttons and lever adjustment. 
Sturdy– Although it is a lightweight chair, it feels very durable. 
Classy look– This chair is all black from wheels to the backrest, making it look very chic. 
Cons
Lacks seat angle adjustment– If you prefer to sit straight; you might need to use an angled pillow because this chair does not have the feature to adjust the seat angle. 
The armrest moves all over the place– While the armrest is adjustable in various directions, it lacks a locking mechanism, causing it to move around. 
Key Features:
Dimensions: 25.98" D x 25.39" W x 44.88" H
Weight: 37.7lbs
Weight Capacity: 275lbs
Furniture base: Swivel 
Wheels: Blade casters
Swivel base movement
HD ElastoMesh
Soft PU coated Armrest
2D headrest
Adjustable headrest
Adjustable armrest
Nylon wheelbase
Integrated coat hanger
Smooth hydraulics (Class-4)
5-year manufacturing warranty
The ErgoTask Draft Chair is available in two color options; black and white. The blade wheels are smooth and not as abrasive as steel, making them okay for hardwood floors. The wheels are also BIFMA certified, so they are proven for their sustainability, performance, and safety.
This chair has ElastoMesh, a breathable material that provides optimal airflow in terms of comfort. This will prevent you from feeling sticky or sweaty after sitting for a long time. The seat portion is also curved so that it comfortably adapts to the natural shape of the user's bottoms.  
Aside from that, this office chair also has a comfortable headrest. The headrest height is adjustable, and you can also change its angle. With these, you can get ample neck support no matter your position. 
You will also appreciate the small attention to detail included in this chair. For instance, a built-in hanger lets you hang your bag or suit jacket without getting wrinkled.
The adjustment controls of most of the features on this chair are strategically located under the seat. They are easily accessible, so you don't have to crouch down to make the changes that you want.  
Pros
The excellent wheels-This chair features smooth Blade wheels for quick and safe maneuverability. Aside from being smooth, the wheels are also silent, which is a great bonus. 
Easy to assemble –It can be assembled within minutes, and it does not take much effort. 
Very breathable– The mesh back can help your body stay fresh even if you are seated for an extended period. 
Sleek Look– This office chair has a stylish design that easily fits in any modern office. 
Responsive customer care – The brand is pretty responsive when inquiries. 
Cons
No tailbone support– You need to use a pillow if you want tailbone support. 
The headrest is not adjustable– It might not be comfortable for shorter people because the headrest is not adjustable. 
Key Features:
Dimensions: 17.5" x 16.2" x 9.8"
Weight: 16.81 pounds
Weight capacity:
Produced in Europe
Designed by Per Die
NEAT-certified
Rectangular shape
Natural ash color base
Black revive fabric
Adjustable height
3-piece assembly
Soft edges
Help increase calorie burn
Functional Design
Varier has a positive, long-standing reputation for creating durable chairs, and this tilting saddle tool is no exception. Varier Moving Titling Saddle is more unique than the other office chairs on this list. This is because it's the only one without a backrest or a wheeled base. 
This type of office chair, in particular, is highly suggested for standing office desks. It has a slightly convex wood base designed to allow your body to move. This base can gently tile, allowing you to change your position and strengthen your back and core muscles. Think of it as staying active while you are seated. 
Upon first glance, this stool might not look like the most comfortable office chair in the world. However, it does have soft edges that allow you to put your feet firmly on the ground. With this, the center of your body's gravity shifts from your back to your feet, minimizing potential pressure build-up that can cause back pain. 
The seat cushion on this chair is also pretty comfortable. It has thick padding, so your butt won't hurt much even after sitting for a long time. 
All parts of this chair are produced in Europe. This chair also has a NEAT certification, which can help increase energy expenditure. 
Pros
Easy to assemble– It only has three main parts, and there's a comprehensive manual that will guide you through the process. 
Sturdy– It is made with durable individual parts, making it quite sturdy
Small footprint– It does not consume plenty of space in a room, and it can be easily kept under a table. 
Lightweight design– It is easy to carry from one room to another. 
It looks great. It can look good in any office aesthetic. 
Comfortable saddle design– The saddle is flexible, which is very comfortable. 
Key Features:
Dimensions: 25" D x 27" W x 52.5" H
Weight: 65 pounds
Weight capacity: Up to 300 pounds
Furniture base movement: Glide
Material: Textile
Plastic outer back
Adjustable armrest height and width
Variable backstop
Adjustable seat height
Adjustable lumbar and lower back firmness 
Adjustable back force
Five-arm base
Aluminum base
Dual -wheels caster
Passive seat edge angle
Here's another option from Steelcase that you might want to consider. With this model, you have two caster options; standard and soft. The standard has a 2 inches hard caster, which is inappropriate for hardwood floors. You can request the soft casters are 2 and ½ inches wide and are most suitable for hardwood floors. 
The Steelcase Leap office chair also has plenty of adjustable features. For example, you have a 4-inch range adjustment for the armrest height and a 30 degree in and out pivot ability. You can also adjust the seat depth for up to 3 inches. 
However, unlike Series one, the back portion of this chair is made with plastic instead of mesh fabric. Although it is not as breathable, it is certainly more durable than the series one. 
Moreover, the plastic outer back enables the LiveBack feature on this office chair. This portion moves with the shape of the user's spine for more support. This chair is also equipped with a variable backstop with five-position options to get the utmost comfort. 
Pros
Two caster options– Consider using the soft casters for hardwood floors. 
Plenty of color options -You have plenty of colors to choose from. Whether you want the classic black and white color or something more quirky, like yellow or red, this office chair has the color variation for you. 
Easy to assemble– The instruction manual included is easy to follow. 
Easy to adjust– Most of the adjustment controls are under the chair and are easily accessible.
Plenty of back support– It is equipped with several features that add back support.
Nice fabrics– The fabric on the seat and armrest feels nice on the skin. 
Cons
Noisy– It makes a creaking noise when you lean back, so be sure to assemble it properly. 
Feels cheap– It is mostly made with plastic, so it feels a bit cheap. Nevertheless, the plastics used are sturdy and durable. 
Key Features:
Weight: 58.7 pounds
Weight capacity: 250 pounds weight capacity
Furniture base movement: Swivel
Material: Textile
Nylon frame
Steel undercover
Pneumatic seat height adjustment
Mesh material
Lumbar feature
Recycled content
Waterfall seat cushion
20 inches seat depth
29 inches armrest width
19 inches back width
WorkPro Quantum 900 Series Mid-Back Chair has dual-wheel casters. The wheels on the standard variant are not necessarily soft, but they are easily replaceable, which is why this model has made it to this list. 
This is worth considering for office use because of its comfort and back support. First, it has a mesh material cover on the backrest for more breathability. The cushion and padding on the seat are also pretty generous. Secondly, this office chair has a sturdy lumbar feature that gives a lot of support to your lower back. 
This office chair may suit you if you want a lightweight chair. It is made with a nylon frame that is less sturdy than steel frames, making it a lightweight chair. This feature makes it easy to assemble. At the same time, since its lightweight, it will not cause much damage to the hardwood floors when dragged around. 
Pros
Easy to assemble– The manual comes with well-marked pictures, making it easy to follow. 
Excellent back support– The back design is made to provide utmost back support, mitigating the risks of back pains. 
Breathable material– The backrest is covered with mesh material, making it breathable so that you don't feel sweat even after an extended period of sitting. 
Easy to adjust– The adjustment levers are very accessible so that you can adjust the seat according to your preference. 
Spacious– The chair is pretty spacious, and you won't feel like you're squished or restricted. 
Cons
Squeaking noise– It can make some squawking noise after some time. However, adding lubrication and cleaning it can do the trick. 
No product warranty– The damages on this chair are not covered by the warranty. If the warranty matters to you, you can opt for the NEUHAUS ErgoTASK Draft Chair with Headrest, which has five years of warranty coverage. 
Key Features: 
Weight capacity: 300 pounds
Seat material type: Wood 
Frame material: Wood
Fiberglass reinforced nylon base
Self-sealing polyurethane seat
Saddle shape chair
One-touch seat height
One-touch seat tilt adjustment
Pneumatic seat adjustment
Back adjustment
¼ inch rubberized wheels
Made in the USA
Three years warranty
Lifetime guarantee on the cylinders
Unlike the Varier Move Tilting Saddle Stool, which does not offer any back support, the Perch Saddle Stool comes with a backrest for ample back support. What's more, it is ideal for hardwood floors since it comes with asters specially made for this kind of surface. This means that you don't have to make an effort to look for suitable casters.  
Aside from having wheels compatible with hardwood floors, this chair also provides ample back support thanks to its polyurethane seat and backrest, which is fully adjustable. You can adjust it back, forward, up, and down.  
The seat on this chair is unique. It closely resembles a saddle. This form-fitting seat will take your weight to feel comfortable staying on your feet when you are using a standing desk. The seat height can also be easily adjusted. You can also adjust the title according to your preference for utmost comfort. 
Pros
Designed for hardwood floors– This saddle stool has a rubberized coating that allows easy gliding without scratching the floor. 
Easy to assemble– It only has a few parts to be assembled, and the instruction manual is clear.
Sturdy– The chair is made with excellent materials that render it durable. 
Excellent wheels– The caster has a rubberized coating, so the wheels have more stability, and it does not damage hardwood floors. 
Great seat adjustment– The adjustment system is easy to use and access. 
Cons
The saddle is too small– Your butt might hurt after some time because the saddle is too small. However, if you prefer a wider seat, you might want to consider the Varier Move Tilting Saddle Stool. 
The saddle material is slippery– The seat surface is very smooth. Hence, you might want to cover it with a cloth that would provide you with more stability. 
Frequently Asked Questions
Do office chairs damage hardwood floors?
There are some types of office chairs that can cause damage to hardwood floors. These office chairs are mostly steel wheels since they can cause scratches on the hardwood. Heavy office chairs that tend to be dragged carelessly can also cause damage after some time. 
How to protect hardwood from office chairs? 
There are several ways for you to protect your hardwood floor from damage. The best way is to opt for office chairs with soft casters since they are less likely to cause scratches when dragged around. Casters with rubber coatings can also be helpful. 
You might want to use a chair mat for an added layer of protection. These are designed to cover the space where your chair moves around. This will enable your office chair to glide smoothly without damaging the hardwood directly. 
It will also help to practice pushing office chairs without wheels along the hardwood floors. The dragging motion can leave scratches on the floor, especially with furniture with no wheels or an uneven base. 
What kind of chair mat is best for office chairs? 
If you are using a chair mat to protect your hardwood floors from your office chair, you need to pick one that has a rubberized back. This will prevent the mat from moving around so that the office chair with wheels can easily glide. Moreover, the chair mat must cover the whole space where the chair will be moving around. 
How do you get scratches out of a hardwood floor?
Suppose your office chair caused some scratches on your hardwood floor. In that case, you can try cleaning the surface, buffing out the scratches, and using a wax stick to cover the scratch. 
However, if the damage is too severe or not confident with your skill levels, it is best to call a professional. This will prevent you from making mistakes that will be more costly to fix. 
Are soft casters noisy? 
If you want a soft caster that is not noisy, choosing those with annular ball bearings or precision-seal ball bearings is highly recommended. These are the type of caster that does not typically have a lot of noise. 
However, note that there can be several reasons why the caster is noisy. For example, it might not be properly installed. In some cases, it might be noisy because it is not of good quality or it lacks lubricant. 
What is the best office chair for hardwood for sitting long hours?
Suppose you are looking for an office chair that can help you feel comfortable even after sitting long. In that case, the Steelcase Series 1 Office Chair or the WorkPro Quantum 900 Series Mid-Back Chair might be a good option for you. 
These two office chairs have soft caster options. On top of that, these have a wide range of adjustability features and ample back support. It's just that the WorkPro Quantum 900 series does not have a headrest. 
Is a mesh chair better? 
Mesh is a better option in an office chair if you sweat easily. It is a highly breathable material, and it encourages good airflow. 
Conclusion
There you have it; those are the best office chairs for hardwood floors. Each item on this list is less likely to cause damage to hardwood floors because their bases are made with soft caster or other smooth materials. On top of that, these chairs offer plenty of adjustability and comfort features to prevent you from suffering aches and pain after sitting for a long period. 
However, by the end of the day, the choice is yours. But hopefully, this list and guide will help make the decision-making process easier for you.