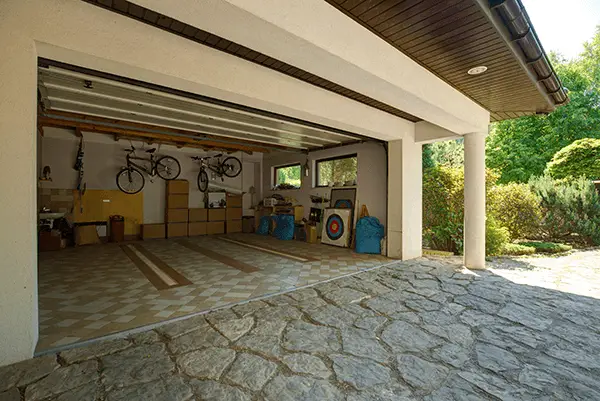 Garage with Basement | Ideas, House Styles, House Plans
Disclaimer
Articles, products, and services offered on this site are for informational purposes only. We are part of the Amazon Services LLC Associates Program, an affiliate advertising program. Amazon.com is compensated for sales resulting from links on our website.
Please review our disclaimer before acting based on anything you read or see.
Garage with basement! Sounds interesting, right? If you don't have a parking place, figuring out where to park your car might be a big pain. It doesn't matter if you live in Texas or Oregon. The problem would be the same. Numerous circles around the block that brings interminable walks with shopping bags are just a few of the drawbacks of not having a parking spot.
As a result, it is usual for one- and two-family homes to incorporate a garage area. In reality, many regulations stipulate that a specific site area should be for automobile parking. It does not have to be a garage in this situation, but rather a suitable location for this function, even if it is outside. There are two popular possibilities in any event when installing a garage for a single-family home.
Garages generally provide stairs access to the main level of the house, making them particularly appealing storage locations.
Homeowners who can keep their clutter under control may find that you may use their garage for car storage. If you have a three-car garage, you can utilize one for your car and the other space for storage.
What else should you know about this?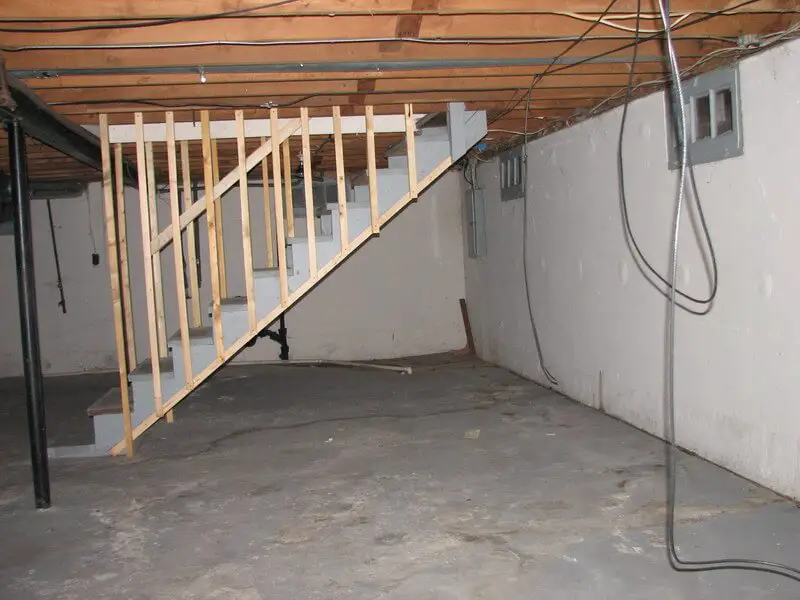 Because garages relate to the house, some homeowners deduct space from the garage to make room inside the house. When the back of the garage adjoins a room and is not blocked by a hallway or other installation, the best results will come.
Garages with insulation store heat in the winter and keep you cool in the summer. Because they are on the same level, these garages often have a similar temperature as the rest of the house. A beautiful basement can provide more living space to a home, significantly boosting its useable square footage.
Basement floors are usually accessible from within the house, so people won't have to brave severe weather to get to their belongings.
Cement blocks are commonly used in basement construction to offer noise isolation. This may transform them into the perfect music and television room and a home theatre.
It's simple to divide the basement into several spaces, such as a laundry room, a playroom, or a study.
What is a Garage Basement?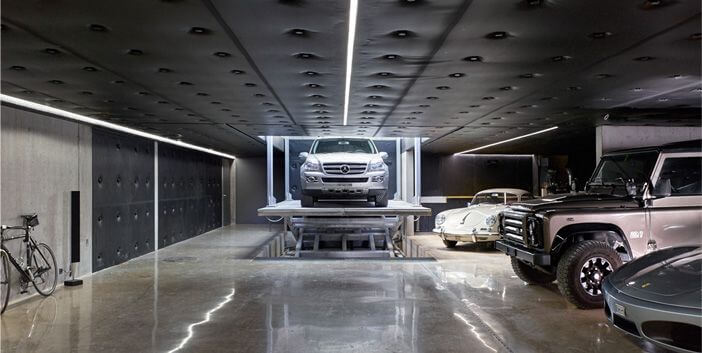 Many individuals desire to install a basement in their garage since it is the finest location for storing fruits and vegetables. You may also make the basement into a suitable workshop by installing storage racks or a bench machine and tool shelves.
However, the basement can be used for more than just saving money; you can also turn it into an entertaining space by adding a bar or billiards to the inside.
You should be familiar with the following features while building the basement room in the garage:
You'll need to consider high-quality moisture-proofing for the basement. Water from the ground should not enter the space, so purchase waterproofing materials.
The waterproofing layer may not be sufficient in some circumstances. Therefore, you can prepare yourself to use the drainage post system equipment.
The basement needs ventilation. It helps keep the desired temperature and produces a comfortable indoor environment. Moreover, if the ventilation system is not used, a mouldy fungus will develop throughout the appliance cellar's operation.
Vegetables with conservation are not authorized to be stored in such settings.
Warm the garage cellar's walls, ceiling, and floor if you plan to use it as a workshop or a restroom. This treatment gets rid of moisture and stops the fungus from growing. As a finish, only fire-resistant materials should be utilized.
Advantages of Garage Basements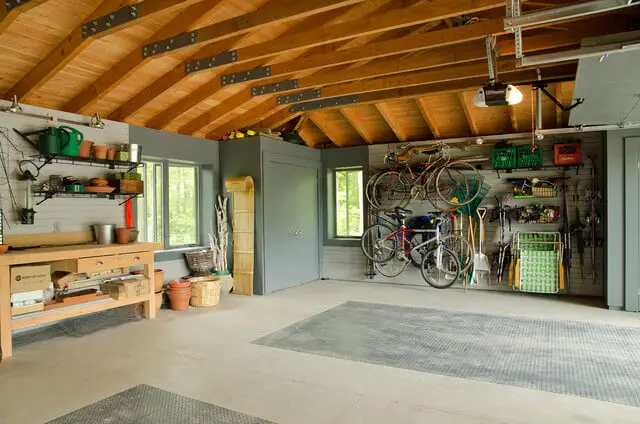 The biggest benefit of an underground garage is that it does not affect the buildability of the house. In most circumstances, the basement is not considered when calculating the building's value. As a result, a home with a basement can be utilized to its full potential.
Green and social areas require space.
You will have more free space because you are not on the ground floor, which you can use for plants or create a social space. It can be used as a living area, a second dining room, or a playroom for the children.
It's a distinct structure from the house.
It creates physical and psychological isolation from the house because it is on a different floor. In many circumstances, this separation is beneficial; it is a structural barrier that might benefit the owners of this home.
Use the land to your advantage.
You will have this advantage if you buy a lot and want to build your own home. Some properties have a slope, which you can use to build your garage in the basement. A similar thing happens when the ground is soft and you need a large excavation.
Garage Basement vs Floor Garage
| | |
| --- | --- |
| Garage Basement | Floor Garage |
| Adding more space to the property with a finished basement can significantly increase the living square footage. | Garages typically offer access to the property's main floor, making them particularly appealing storage locations. |
| Basements are usually accessible inside the house, so tenants won't have to brave severe weather to get to their belongings. | Homeowners who can keep their clutter under control may find that they can use their garage for its original purpose: car storage. If you have a two-car garage, you can utilize one for your car and the other for storage. |
| Cement blocks work in basement construction to offer noise isolation. As a result, they can change into the ideal music and television room or home theatre. | Because garages are immediately adjacent to the house, some homeowners deduct space from the garage to make room inside. The best results are great when the back of the garage adjoins a room and is free by a hallway or other installation. |
| You can easily divide the basement into numerous spaces, such as laundry facilities, a playroom, or a study. | Heat is stored in insulated garages in the winter and kept cool in the summer. Because they are on the same level, these garages often have a similar temperature as the rest of the house. |
Garage Basement Disadvantages
Because of their underground location, basements are vulnerable to water intrusion, especially if your construction is in a flood zone or where the water table is high.
Basements are frequently dark since they have fewer windows and their location is beneath the home. So, you must install appropriate lights to address this issue.
Bathrooms that are cold, damp, and dark are great breeding grounds for mold, moisture, and insects.
Gardening and similar equipment activities can also be difficult to store in the basement unless there is direct access to the yard via a special door.
Basement temperatures are generally lower than those in other parts of the house. People who live in chilly climates should consider converting their basement into a living space or bedroom by installing heaters.
Of course, homeowners with a basement and a garage have ample extra storage space and can utilize both locations in various ways (even for attic space).
Building Permit Application, Forms, and Information
It would help if you had your first Official identity.
Sing a handwritten application form.
You must pay fees, and you must provide proof of payment.
Proof of alignment, as well as the official number in use.
Certificate of Soil Use Zoning
Storage Solutions When There's No Basement or Garage
Use shelves from the floor to the ceiling height to maximize space and allow you to organize and store more items. Place the items you use the least or save as souvenirs. So, don't browse through very often on the most inaccessible shelves. Instead of putting everything in a bag, put everything in boxes and label them with the name to make them easier to find.
If you store clothes in the basement during the off-season, you could install a closet or mount some brackets to the wall that hold a tube. This leaves enough extra space between the bars and the wall to hang height hangers.
Frequently Asked Questions
Is it safe to have a basement under the garage?
Garages and basements work to store tools and secure locations away from children's reach.
Can you have living space under the garage?
The garage and storage room in the basement and the space under the roof are non-habitable spaces in the home under consideration.
Why should you not have a basement under your garage?
It all relies on the depth of the garage's underground location. A ramp of this length should not be less than 6 meters long.
Can you add to an existing basement?
If pillars support the structure, you can build a new foundation wall using deep piles to give it the best support.
Can you put a basement under a slab house?
To accomplish this, you must install specific pipes beneath the ground.
Can you have a two-story basement?
In this case, a basement is not the room's main purpose. The homeowner has taken advantage of that extra space by adding walls with sliding doors.
What does a built-in garage look like?
The garage is a small project, but it demonstrates the method.
Is it better to have an attached or detached garage?
Housing that is semi-detached. They are typically rows of houses with common elements such as gardens, swimming pools, and garages, while some properties have separate garages without direct access to the house.
Is home insurance cheaper with a detached garage?
The price can be significantly lower if you park your car in a private garage.
Is it possible to put a basement under a garage?
It is a surface suitable for auxiliary house uses such as garages, storage rooms, cellars, or pantries.
What do you do with empty basement space?
There are so many options…
Yoga and Meditation Room: Yoga is hotter than ever, and you know you've wanted to try it.
Music Room: If you're a musician, your basement can be a great practice space
Guest Quarters
Home Theater
Play Room
Party Space
Game Room
Wine Cellar
Exercise Room
Man Cave
Income Property/In-Law Suite
Why is under garage unexcavated?
The structure needs to have more strength to work fine.
What is the cheapest way to finish a basement?
Occasionally, it will be possible to excavate to gain meters vertically.
How do you maximize space in a small basement?
Add Recessed Lighting. The feel of your basement space can change dramatically with the right lighting.
Keep Colors Light & Bright
Create Vertical Lines
Use Your Windows & Mirrors.
Consider Industrial-Style Ceilings
Install Sliding Doors
Store It Under The Stairs.
What is the best flooring for the basement?
Hard materials like tile and concrete floors and soft materials like carpet are basements.
Last Words
You can use basements frequently as a great space for a building, housing equipment such as the furnace, water heater, breaker panel or fuse box, parking, the air conditioning system, and utilities like the electrical distribution system.
A drive-under garage is typically found at the bottom of a sloping driveway. You're driving under the house to park since it's sloping and below ground level.
Drive-under basements cannot count against your home's square footage, making them easier to construct. To stay healthy at home, have more space for your belongings and keep an eye on the kids while they play in other areas of the house, you may want to consider adding a small office or den. Studies show that these little rooms can help reduce household noise, so it's easier to focus when working from home. 
The expensive construction, the odour that comes to your house, and potential safety concerns like fire in homes or electrical failure are also disadvantages.
Every homeowner has a different idea of what makes their home perfect. They have to choose whether the garage should be built on the ground floor or in the basement, and this is just one small decision that can make all of the difference in how you live your life every day.
Some people want their garages secluded from sight so they don't feel like it's an eyesore when guests come over–perhaps these homeowners would prefer building a garage outside or underground? Others might wish for more space inside if children are living at home and need access to cars frequently; why not build some extra bedrooms upstairs with enough room underneath them as well? The plot's circumstances will primarily dictate it. 
That is why, regardless of the benefits or drawbacks of one or more conceptions of this area, the site choice must be with an eye toward where we want future housing.
Many rules stipulate that a specific property section be set aside for car parking. This scenario doesn't need to have a garage per set. However, even outside, a location may be utilized for this purpose.
Regarding aesthetics, there are several options for adapting a room like this to the overall structure. They can employ a mix of facade materials or even design the floor and basement garage doors.