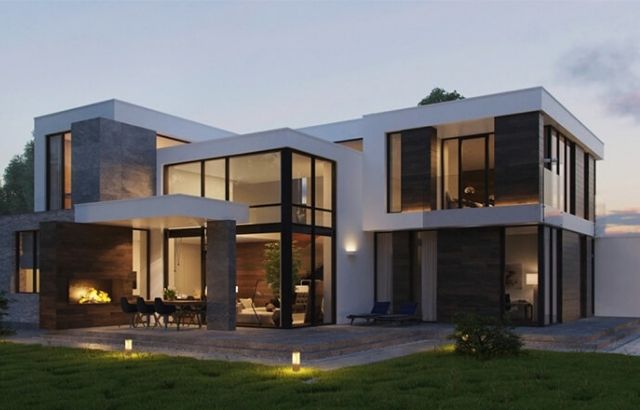 Home Design Interior and Exterior | 33 Astonishing Modern Designs
With a minimum of materials and great ideas, you can have great interiors for your home. However, you can also have great concepts for the outdoors. Factors such as the climate, the environment surrounding the property, and the size of the patio are fundamental factors. Do many people wonder what kind of designs can best suit my needs? Let's look at the 33 Home Design Interior and Exterior each of these high-impact architectural proposals.
From plaster, bamboo, concrete, glass, wood, and other materials can achieve fantastic combinations. There are proposals from the most conservative to the most art nouveau. You can even create scenarios that look entirely natural by combining your ex with modernity. Let's see each of these proposals and choose the design you like best to apply in your home.
13 Images for Home Interior Designs
Sober interiors with a relaxing atmosphere result from a combination of wood, concrete, and minimalist details. The secret is not to overload the place.
Metal and glass work wonders. The living room, dining room, and kitchen have no physical barriers, so it is very considerable to have this sector a dominant visual aspect of the house.
This interior design has been flourished since it has been introduced. Many homeowners prefer it due to its round shape stair, especially the metal types and high-quality tiles used in the floor. 
Wide spaces for marble, glass, and large spaces to make an impressive visual game. All this combined with large windows that allow you to enjoy the climate in a cozy way.
The combination of top quality materials with the inclusion of plants and natural lights always gives a touch of freshness. You can have a spacious interior that transmits a lot of calm and elegance at the same time.
The combination of leather with the color black gives a classy touch, elegance, and sobriety at the same time. These types of combinations become more powerful when you include glass and metal in your interiors.
Contemporary architecture offers us the most impressive combinations. You can have great spaces full of compatibility, combining plaster and wood. Prepare your interiors for any season.
If you live in the mountains, combine glass and wood to blend in with your surroundings. Minimalist spaces with a lot of light represent a great option for innovation in interior spaces.
If you want a more informal space, like this living room, turn down the charm and choose more relaxed fabrics and prints. And when it's a more fun space, like a formal living room, bring up the more sumptuous fabrics like a velvet sofa and add some metal finishes. The highlight of the modern urban look is that you can merge different interface elements to find a popular yet tranquil feel.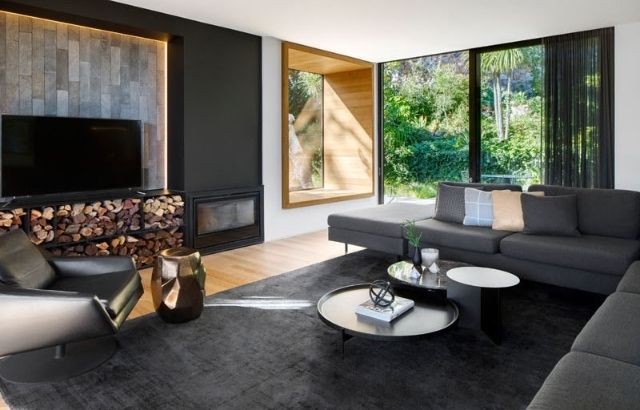 Inside the house, several dark elements are followed throughout the space. However, the use of wood adds warmth and lightness to the interior. Space also has a wood-framed window stool and entrance to a small outdoor patio on the right.
The wood offers a lot of versatility and sobriety if combined properly. However, you can add more classes if the leather is part of your interior decoration. Natural plants also give a lot of freshness.
We are once again in the presence of minimalist interiors. The combination of natural elements is a great option. It also combines wood and natural lighting with glass for imposing spaces.
Forget the thatched roofs, pink flamingo tiles, and cheese wood carvings. Homeowners in warm climates increasingly want the look of relaxed, subtle luxury.
20 Images for Home Exterior Designs
You can take advantage of the space on your front for the most sophisticated finishes. Try the cube style designs to make the most of the vertical space.
You can add minimalist materials to your exteriors and take advantage of glass's performance for a perfect finish and great compatibility with nature.
The natural spaces can be embellished with a simple decoration, but at the same time very fine and accurate in its colours. The ocean is conducive to the use of white wood, glass and other elements.
Another important exterior is the use of the gardens. You can combine wood as an element of interaction with nature and obtain excellent results.
Stone, cement, wood and water can provide excellent landscape combinations. Take advantage of each of these and feel like you are on a tropical island.
Another interesting material is wire or cloth mesh. They give a touch of subtlety to your space and at the same time give some privacy. Pergolas give a natural lighting that is to be envied.
In any space, wood will always give you elegance and functionality. Therefore, this idea of exterior spaces invites you to think about the materials to be used and how they are compatible with the environment.
This other exterior proposal stands out for its use of materials such as stone, concrete and wood. The combination of these is powerful if the spaces of each one are respected. Let nature occupy its corresponding places.
In some exteriors, the use of lighting is essential. That is why it is important to see this proposal and understand this combination with nature.
In this exterior, the protagonist is the glass. You can achieve very wide spaces just by knowing how to position your doors and windows.
In this proposal of exteriors, the lighting to attenuate the height of this house stands out. The important thing is not to overload the place and enhance the natural element that surrounds it.
It doesn't matter if your land is not flat. You can obtain large spaces in harmony with nature. All this can be attenuated by combining wood with glass.
This space highlights the use of stones to decorate the ceilings. A very avant-garde proposal, considering the environment in which it is located.
This type of exterior is characterised by the use of balconies and the separation of the spaces of the house, taking advantage of the glass windows. It provides a lot of elegance and freshness.
In this exterior, the minimalist proposal is highlighted. That is to say, many functional spaces, independent each one of them, giving to its inhabitants, multiple options to enjoy the building, accompanied by a wise illumination and natural materials.
Prestressed concrete will always look great when combined with the right material. Wood and glass are key players.
For this exterior, we wanted to highlight the height of the building and there is no better material for this than glass. The pool at the end of the fall gives it an unforgettable art noveau style.
Respecting the natural spaces is essential for a magnificent art. Therefore, this proposal made an excellent work with the pool that gives a classic and elegant touch.
Today's architecture knows how to make good use of reduced spaces. Therefore, glass and wood can be your best allies when it comes to making spaces independent.
This proposal predicts the splendor of the use of glass to make houses look bigger than they really are.
Final Words
All these proposals represent magnificent alternatives to use the materials of your preference. All the exteriors and interiors we have offered you can give you an idea of what to do in your home. You can carry out any proposal to the letter as well as take some ideas that are within their limitations. So we invite you to see each of the proposals we will continue to bring to you.