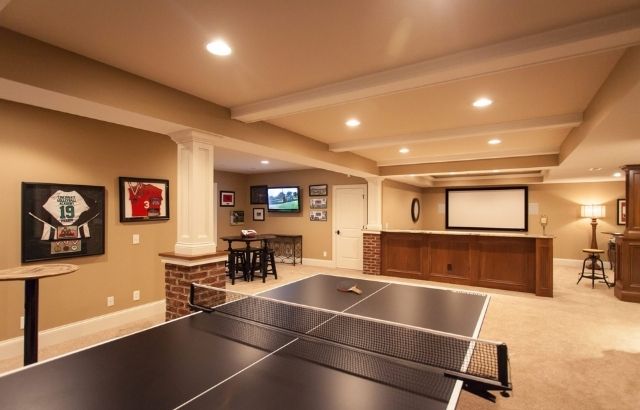 How Much Does it Cost to Build a Basement | Cost, Managing & Finishing
Disclaimer
Articles, products, and services offered on this site are for informational purposes only. We are part of the Amazon Services LLC Associates Program, an affiliate advertising program. Amazon.com is compensated for sales resulting from links on our website.
Please review our disclaimer before acting based on anything you read or see.
You may own a property and have the ability to add a basement to it. However, you have no reason not to go ahead with this wonderful upgrade. Despite this, you probably ask yourself the same question repeatedly: how much does it cost to build a basement? A basement may be built for anywhere between $26,000 and $80,000. A basement typically costs $33 per square foot to construct, which is less than the $86 to $208 per sq ft cost of additional a room. Costs for excavation, leveling, materials, labour, size, design, and finishing affect the building of a cellar.
Nowadays, basements are a perfect way to put together additional space for various purposes, for example, a game room, a home theater, a subway garage, or simply storage space. Sure there are some costs involved. However, this project is not as expensive as you might think. Using a basement construction cost calculator would be the ideal thing to do in this case.
In particular, if you know what to look for when starting this process, a basement can easily add value to your home. It is a long-term investment with many benefits that one cannot simply ignore.
The cost to build a basement home depends entirely on how much labor goes into its construction. This price can range from $25 to as little as $3 per square foot.
However, it all depends on the materials you choose. The labor costs, the amount of excavation and grinding needed, and a few other factors.
How to Manage the Costs of Finishing a Basement
The first thing to analyze is how you will use your basement. Based on this, you can calculate the basement construction cost. To manage the average cost to finish a basement, we must follow some simple steps.
Learn To Build A Basement Under An Existing House.
Make an estimate
In this case, you need to make a list of the features you need. Then add some things that you would like. When you have decided the amount you are willing to spend, consider the square footage that your basement will have. Then meet with a contractor. Such a discussion will help you distinguish between the most realistic improvements and the most unrealistic ones' unnecessary upgrades that will ruin your budget.
We will often see a tough battle of slab vs. basement cost, with the basement being slightly more expensive.
Hire the right professional
If you want to have an additional living space, it is best to leave the professionals' basement finishing. However, if you want to choose a good contractor, you need to do your research first.
Avoid Unnecessary Expense
To avoid unnecessary spending, request quotes from more than one contractor. It will help if you read the verified reviews of each professional—all this, as well as the materials they suggest.
Suppose you ask for references from previous clients. You need to find out if their projects were completed on time and within the original budget. Finally, check with your local building department or state consumer protection agency. Ensure that potential contractors are properly bonded, licensed, and insured.
It is ideal to note that the cost to dig a basement new construction can be much higher than any other remodeling works necessary for the house.
What is the Most Expensive Part of Finishing a Basement?
Many times we find that the previous owners of a building have done partial basement finishing. This, in general terms, may be just the push you need to complete this work.
Your project may range from a small facelift to a massive renovation. It depends on how much work and what your goals are.
When finishing a basement, there are several factors that we could categorize as "Costly" some of them are:
Cosmetic upgrades
At this point, the owner can expect to spend between $1,000 and $5,000 on small upgrades in the form of carpeting, lighting, or other floorings.
Foundation overlays
It is always important to analyze the type of foundation we have to have living spaces at the end of the job.
When placing the wall and floor coverings, it is possible to spend a little more money. However, generally, the total cost of this goes from $ 2000 to $ 8000. Everything will depend on the amount of drywall to hanging and building new walls or openings.
Housing Additions
Housing additions for guests or prospective tenants can generate a high expense. Its advantage is that it will pay for itself over time. In this case, the owner should first hire an inspector to ensure there is no moisture of any kind in the basement.
Otherwise, this could result in a leak not being caught, and the moisture could cause dangerous mold growth.
A complete basement finishing project for a home costs approximately $30,000 to $60,000. This seems like an excessive expense. However, it will pay for itself in a few years of renting the space. Having a fully furnished rental apartment in your basement is also a great benefit when selling the home.
Structural Changes
This includes everything from lowering the floors to building the basement wall to adding rooms.
In general, basements tend to have low ceilings since the initial intention is to use the space for storage. This is why homeowners may want to add additional height by lowering the subfloor.
This is one of the most expensive and time-consuming processes costing anywhere from $10,000 to $15,000, all this, depending on the desired effect.
In general, you can expect to spend more on your home's basement finishing project if upgrading to a fully furnished rental apartment. However, this change will immediately turn the space into an income-generating asset. So you can't overlook that project as a possibility. Often, landlords opt to remodel a little more to keep expenses manageable and proceed when time and money allow.
How can I Change my Basement Budget?
Chances are you are looking for a way to finish your basement with a biased estimate. If so, you probably want to complete the entire project yourself.
However, if you don't know what you're getting into and what the building codes in your area allow. This situation can end up costing you several tens of thousands of dollars more in the long run and endless headaches. The most important step in saving money on your basement remodel is to make sure you spend it wisely.
Long before you invest money in a basement conversion of any kind, you should go to the building superintendent to find out what is and is not allowed in your area.
At this point, the building official will inform you if your plans are within the scope of the residential building code. They will also tell you what the zoning ordinances are and inform you of any permits needed before work can begin.
You or a professional should also address the possible repair work that is needed. This could include:
Cleaning the entire space
Removing and treating mold and mildew
Performing waterproofing work
Adding a backup sump pump
Installing a dehumidifier
Ideally, seek a professional's help; especially if you are not 100% sure you can handle the job. When everything is completely clean and dry, you can be sure that your project's final finish will be worth it. Plus, you won't have to redo any of the work in the future.
What is the First Step to Finishing a Basement?
The steps to remodeling or installing a basement from scratch are not as simple as you might think. To successfully finish your basement, you must follow the following steps.
Apply for a permit
Before starting your project, you will need to obtain a permit is essential for the job. 
You may be able to finish your basement without a permit. However, this could cost you over a much longer period, much more to sell your home—or failing that. If something was to happen and you cannot document it, the job is ready.
If you wish to have a permit, it is necessary to visit your local government's website. Permit information can often be found at the Building Department.
Take care of the moisture
This step is imperative because you never want to install drywall in your basement without first checking for water damage or moisture damage.
But that doesn't mean you can't finish a damp basement. All you need to take the proper steps to waterproof your work area first. However, this is not the right thing to do.
There are many ways in which moisture in a basement can be addressed. This can range from using a dehumidifier to a sump pump and full basement waterproofing. However, your decision will depend on the seriousness of the matter.
If the issue is minor, it may generate an additional expense to your project of at least $250-600. If it is a major issue that requires professional waterproofing, it may cost you between $1,900 and $6,400.
Choose your materials
There are many things that must be taken into account when starting this type of project. It is best to consider them ahead of time, as many materials may cause you to spend most of your estimate.
When making the list of materials to be used, the following aspects must be taken into account:
What type of insulation you will use.
What the wall materials will be
Roof style
Soil type
Where utilities will be located
Paint colors
What is your trim style
These are the main things to consider. However, as your project progresses, you will discover some new ones.
Gather Your Tools
To finish a basement, you will need to make use of many tools. Some are simple, and you probably already have them, such as a hammer or a level.
However, there are others that you don't, which is why if you don't own a certain tool, you can try renting it from a local home improvement store or tool bank.
How much does it Cost to Build a Basement: FAQs
What is the cost of 1000 square feet of basement construction?
The cost to build a basement home of at least 1000 feet can be a bit steep. The final price can range from $25,000 to $35,000.
How much does it cost to add a basement to a house?
A basement can be added to old buildings home for $20,000 to $150,000. A typical scenario you will encounter is a home with a partial basement and a small crawl space. You can expect to spend around $50,000 for partial frost installations.
Is it cheaper to build a basement or a second story?
It would help if you priced it both ways, but the unfinished basement will probably be less expensive. The lower basement also has the advantage of having its direct entrance, so if you ever wanted to rent it out. The finished basement will probably be less expensive.
Conclusion
Nowadays, adding a basement to our home can be quite an issue. It is important to take care of both Crawl spaces and slabs, and it is very easy to say that you can do this job on your own. However, if you do not have experience, it is necessary to leave this in the hands of a fully trained specialist is not so complicated. It is always important to leave this type of work in the hands of those who know and enjoy the final finish. Hope you have learned how much does it cost to build a basement.