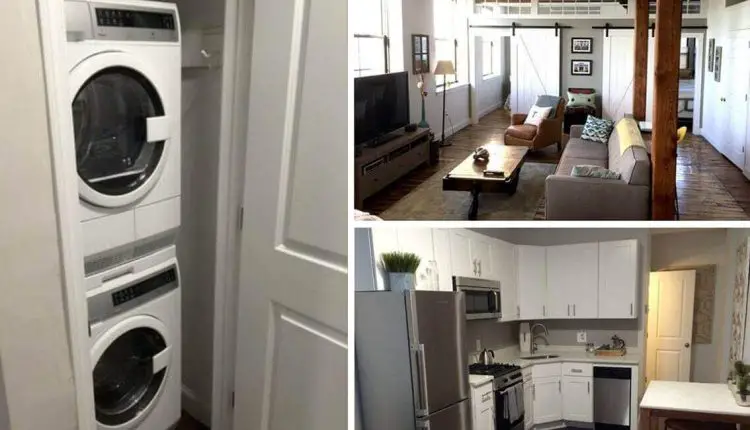 How to Add a Laundry Room to Your House | Vital Points Noone Tell You
You always want to have comfortable spaces, so it is essential to know how to add a laundry room to your house. Often in remodeling, more attention is given to other parts of the home, such as the kitchen or living room. The laundry room should not be neglected or ignored either. It is an area that will be widely used, so a pleasant and correct distribution is required. Of course, everything always depends on the available space when creating this laundry room at home. Sometimes you have a large house. But, there are also other much smaller ones in which everything is relatively compact. That is why each meter has to be used in the best way, and there are options, both for large houses and small apartments.
For multiplying the functions in a reduced space, a laundry room must meet a few planning measures. Washing, drying, storing, and sometimes ironing is a question of organizing the room to make the most of its volumes. Resolutely practical, a laundry room is a small technical room hidden in the heart of the accommodation. But how do you organize yours?
Where to add a Laundry Room to your House
At home, you will have the choice to position the laundry room as you please. If you plan a large volume in which to multiply activities, the basement will seem more suitable. This solution will also avoid the annoyance caused by the noise of washing machines. But if you want to set up a standard laundry room, at least ten square meters will be needed.
You can then set it up near the bathroom to take advantage of the water connections, taking care not to be adjacent to a room for noise reasons. For these same reasons, you can also choose to develop it in the continuity of the garage. This solution also makes it possible to keep the laundry room out of the home's heated space and prevent unnecessary wastage of heat.
Finally, it should be noted that it is possible to divide the laundry room into several spaces, particularly for dwellings on several floors, by providing, for example, a room dedicated to heating, another for cleaning equipment and a last for the laundry.
In renovation, small budgets will have to deal with the existing configuration. If no space could do the trick (wardrobe, small desk, and large cupboard), the best solution will be to mount a partition and a door at the back of an existing room near the water supply.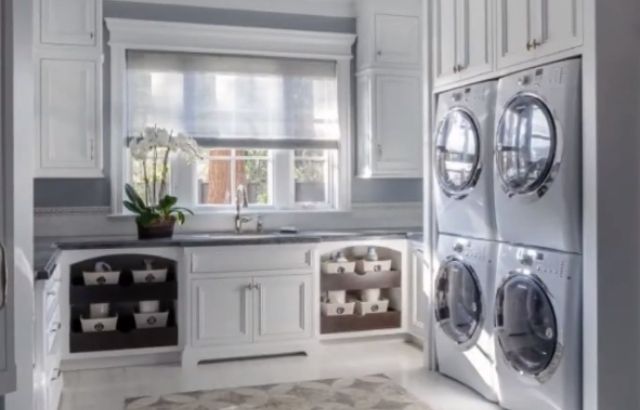 How to Add a Laundry Room to your House: Technical Precautions
For all the devices in a laundry room to work and help you see clearly, the premises must be connected to the water and electricity network. When arranged in the basement, the laundry room will often coexist with the boiler room to have a front-row seat to access water. But installation in the heart of the accommodation, limiting excess plumbing, will be achieved by bringing it closer to a body of water for which the water supply and drainage system has already been provided.
Regular ventilation should also be provided for comfort and hygiene, especially if the room is closed and the plan to dry clothes. Spaces without windows must therefore be connected to the ventilation system of the home. Finally, if you plan to practice certain domestic activities such as ironing or sewing, it is essential to provide adequate light in the room. This can be affected by installing a ceiling light and a few auxiliary lamps if necessary.
How to Add a Laundry Room to your House: Accessibility to the Laundry Room
A laundry room must deal with two contradictory qualities: it must be accessible but also discreet. Accessible because it is about avoiding crossing the whole house at the slightest dirty sock. Discreet because it must avoid being noticed both by the noise and by the unsightly elements it contains. If you choose to offset your laundry room by installing it, for example, in the basement or near the garage, you automatically eliminate any inconvenience related to noise. When the laundry room is located in the heart of the accommodation, it is much easier to make it the focal point of your domestic activities.
Still, you must ensure that the machinery does not interfere with your daily comfort. Ideally, you should be able to insert it between other rooms to buffer against noise pollution, such as your kitchen and bathroom, for example. But if the only solution is to arrange it near rooms that impose silence, such as bedrooms, for instance, it will always be possible to reinforce the sound insulation of the walls concerned.
What Functions and What Equipment is Needed in a Laundry Room?
If the laundry room's primary function is to be a Laundromat, this first task involves different applications from simple washing up to drying through storage and ironing. If the room is small, it will first be to place the washing machine and dryer in a column (and choosing models with the front drum opening). And to save space, you can opt for a single machine, combining the two functions. As far as possible, the clothesline should be placed in a draft, favoring foldable or retractable models.
You can hang the dryer from the ceiling in the smallest spaces, provided you make sure you have easy access. Finally, for ironing, it will be a question of having enough space and good light. Note that retractable solutions are possible for most of these functions, making it possible to switch from one task to another in the same space. If you have the possibility, it is also practical to provide a sink to access running water in the room directly.
Furthermore, a laundry room can also serve as a boiler room and have more or less impressive machinery (boiler, hot water tank, and possibly energy reserve). It will then be advisable to hide behind a partition or a masonry wall, both for visual and sound comfort. Finally, the room can sometimes store household appliances (vacuum cleaners, brooms, and products), pharmaceuticals, or linen. At this point, it will be necessary to dedicate specific storage solutions to each of its functions.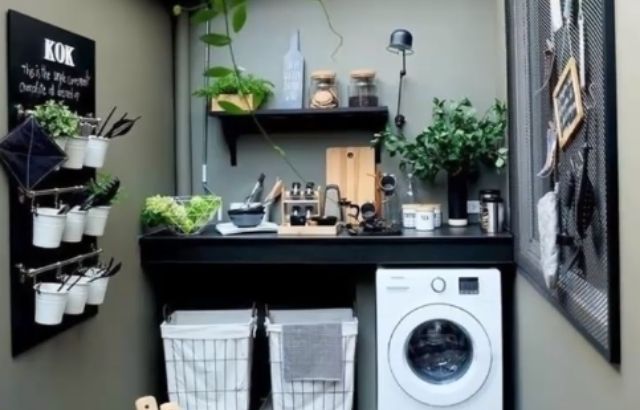 How to Furnish a Laundry Room?
Apart from shelves and storage, a laundry room can more or less do without furniture since most of its functions require equipment rather than furniture. Most of the time, it will mainly be about saving space by cleverly concentrating different uses in a small space. As in a dressing room, you need to use all the available volume, especially in height where you can store and hang the laundry.
Unless you practice specific tasks such as sewing, for example, a table and chair will not be necessary. Though you will still have to provide a flat surface (possibly retractable) on which to fold the laundry. If the room allows, the installation of a small sink is highly recommended. Finally, all that remains is to arrange the objects and decorative elements essential for your comforts. Such as light fixtures, baskets, curtains, and everything else which will make your laundry room functional.
Frequently Asked Questions
How much does it cost to add a laundry room to a house?
The average cost required to add a laundry room to a house is between $4000 to $6,000. On the other hand, converting a closet to a laundry room ranges between $2000 to $5,000.
Where should a laundry room be placed?
A laundry room can be placed in the kitchen, bathroom, or basement.
Where do you put a washer and dryer in a small house?
In a small house, you can put a washer and dryer in the closet or garage.
How do you turn a closet into a laundry room?
Whenbuilding a laundry room in a closet, do make use of the following steps:
Pick a closet that's against a bathroom or the kitchen. This will make it easier to line-in the plumbing and the electrical wiring for the washing machine and dryer.
Measure the inside dimensions and ensure that the washer and dryer will fit inside the space.
Empty the closet.
Protect the floor from possible leaks using a floor protector.
Install the water and drain lines.
Install the proper size power outlet.
Put in the washing machine, dryer, and other laundry tools you may need.
How much space do you need for a laundry room?
You would need a space of at least 9 feet wide by 11 feet long for a laundry room.
Last Words
In conclusion, washing, ironing, and folding clothes are often hated household chores, and you are no exception. But, if you manage to do them within a pleasant space, everything may become much more bearable. As a result, these pretty and simple laundry room ideas. As well as steps on how to add a laundry room to your house highlighted above. Hope this article will help you immensely.
Read More: How to Trim a Cabinet