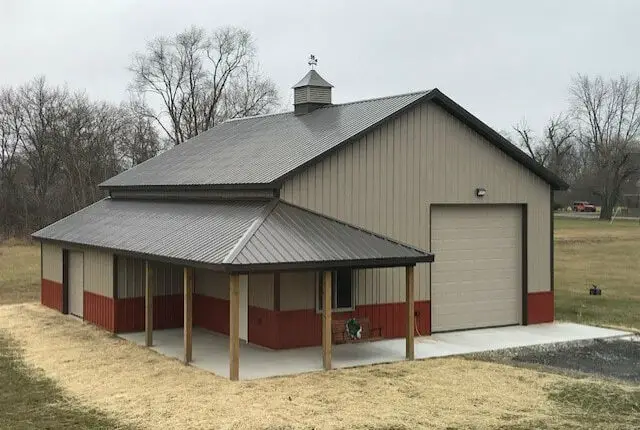 How to Attach a Lean to an Existing Metal Building | 6 Step Guide
Disclaimer
Articles, products, and services offered on this site are for informational purposes only. We recommend using caution and seeking professional advice. This site provides general information. We are part of the Amazon Services LLC Associates Program, an affiliate advertising program. Amazon.com is compensated for sales resulting from links on our website.
Please review our disclaimer before taking action based on anything you read or see.
How to attach a lean to an existing metal building? A metal lean-to is a cost-effective solution to add a second component to a new or established structure. It adds useable space beside another facility by hooking in at the facade or below the facade of the other structure. Lean-tos feature just one slope and rely on the surrounding building for partial support.
They are made by "lying" rafters upon a structure to produce an additional roof. A lean-to expands the size of the original structure by creating a protected, enclosed section for a range of uses—from a shaded area to an enclosed expansion.
This shields whatever is kept beneath it from the environment as well. Come along as we highlight how to attach a lean-to an existing metal building.
Furthermore, effective use of steel to achieve acceptable bay sizes is critical when constructing a lean-to extension. A strong economy of scale also compensates for this. And the price is a good predictor of if a lean-to can be attached to an existing structure.
It's critical to assess the current outer wall's structural capabilities. This goes to facilitate the extra lean-to addition's weight. It will also show whether or not additional structural components should get added to the outside wall.
When it comes to fitting lean-to components to an existing structure, it's typically more cost-effective to contrast rather than match or re-skin the original structure to fit the changing extension.
What you should know before Extending your Steel Structure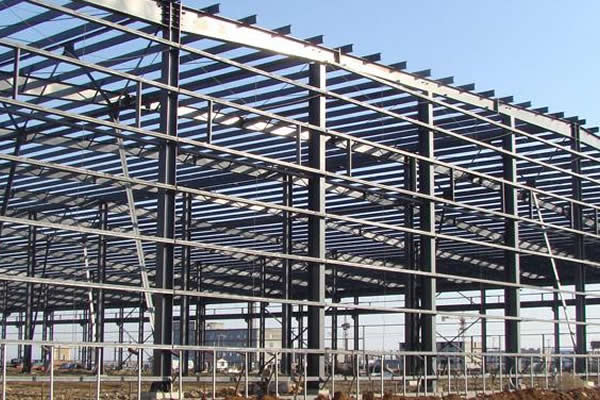 You must consider a few things while you enlarge your present steel structure. Thankfully, many factors you must examine before beginning the growth process are well-known.
When you initially decided to add a steel structure to your present location, you also had to consider these items. What is achievable for your construction project is influenced by location, local factors, and land.
Geographical location
The first step in choosing to expand is to make sure your existing site is suitable for your purposes. You can keep the same consumer base if you stay in the same place. You'll also avoid the headaches and business interruptions accompanying relocating to a new location.
Considerations of a local nature
All expansions need permits to comply with municipal restrictions when you initially plan to increase. The procedure is the same as with your previous addition. Before you begin work on your big venture, ensure it conforms to all HOA and local rules.
Land
Is the property you have large enough to accommodate the money you'll need to complete your construction feature? Are you still happy with your apartment's location, neighborhood, and facilities? A metal addition is the best choice if that's the case.
If your site, municipal standards, and land needs are satisfied, we may discuss your options for extending your space.
How to Attach a Lean to an Existing Metal Building
Lean-tos are easy to build and may be a cost-effective method to create a covered, enclosed space. Connecting a lean-to to an existing structure extends the shelter's utility.
This works by increasing the existing building's footprint without incurring high costs. The kind of substance used to create the original structure impacts the ease with which a lean-to may get attached.
Because of their stiffness, metal structures are the hardest to construct, but you may succeed by following these steps:
1st step:
Find the position of the lean to connect to the current structure. The best location for the lean-to would be beneath the existing building's overhanging roof. Any rainwater will flow off the primary top and reach the lean-to at an inclination to avoid gathering and overflowing the lean-to.
2nd step:
Make blocks out of the 6-inch thick timber that spans the width of the lean-to.
3rd step:
Determine how high the lean-to will get linked to the current structure. The roof inclination and slope of the lean-to will determine its height using a charcoal pencil; mark the elevation on the existing building's wall.
4th step:
Bore holes in the timber for the steel bolts and fix it to the current metal structure at the height you established in Step 3. In most cases, one bolt at one-foot intervals will be enough. The tip of the lean-to will be fastened to the structure using this piece of timber as a base.
5th step:
Attach the second length of timber to the tip of the lean-roof to its tallest point.
6th step:
Connect the timber on the lean-to to the boards on the current building's wall using the staple gun. The pairs of chipboard will bind the lean-to to the existing structure.
Frequently Asked Questions
Can I attach a lean-to an existing metal building?
Yes. The above tips on attaching a lean-to an existing metal building will aid you in this.
What is the total duration of a lean-to?
A lean-to structure should survive at least ten years and up to 25 years. Many individuals, however, have ignored this marking and are now having problems with their solarium or lean-to. Care must guarantee regular and comprehensive upkeep to increase the lifetime of a lean-to.
On a steel structure, what is a lean-to?
A steel lean-to is a cost-effective solution to add a second component to a new or established structure. It provides a more useable area next to another structure. This connects to the other properties or behind the different structure's exits. Furthermore, a lean-to roof may extend around a building's front and flanks.
Is it possible to add on to an established metal structure?
Yes. Steel building expansions are both affordable and straightforward to install. Almost every steel structure may get enlarged. This provides more area for growing businesses or expanding sports facilities.
Metal structures are also suitable for warehouses since they may develop and evolve with the company's growth. If you've ever used metal enlargement, you know how easy, cost-effective, and long-lasting they are. Almost every steel structure may get enlarged to accommodate commercial, storage, or dwelling space.
How simple is it to add a steel construction add-on?
Steel construction add-ons are a cost-effective solution to increase your living area.
Metal extensions are an excellent alternative for more space in commercial businesses, storage areas, factories, and workshops.
Metal extensions are as practical as they are long-lasting since they enable you to stay in your existing location while expanding your living area. They're made to last a lifespan and can resist any weather.
They're also three times quicker than traditional construction methods. Furthermore, they are very cost-effective and simple to scale up if your company needs further expansion in the future.
Is a lean-to a long-term solution?
Yes. A lean-to structure is a fixed construction that cannot get relocated about the land after it has gotten built.
Is it possible to enlarge my metal houses?
Yes. Depending on your wishes and requirements, there are many options to enlarge your present Metal Structure. Would you want to expand your current building's width, length, or height? All of these are possible. However, the procedure differs somewhat for each. This is how it goes:
Increase the width
Increasing the breadth of your existing building is a very premium approach to expanding your area. You may go broader if your present building's roof line is high.
It seems to have the possibility of attaching lean-tos to one or both ends. You may also add extra bays. A lean-to will increase your roofline on the corners with a new case linked to your previous frame.
Your existing walls will get preserved as a result of this. Alternatively, the walls may get scrapped and replaced with doors if you want to open up the bay.
Increase length
Another approach to growth is to add length. The procedure is a little different this time. You won't be able to immediately connect to the original frame if your present structure is post and frame.
And you'll have to begin by replacing the end wall of your current structure with a newer end wall. Another alternative is to join the auxiliary frame of the latest addition to the main frame.
And you may make your structure as lengthy as you need it to be. As long as the foundation is in place, you may add further bays to the rear.
Increase the height
Do you have visions of the Skyscraper? Adding elevation is more complicated since it necessitates using particular framing methods. For this job, you may need to create a new framework in the base of the existing walls. Before bays and end panels can be built, certain roof joists may need to be eliminated.
Conclusion
Constructing a metal expansion is a premium and rapid way to expand your facilities to hold your expanding company. Connecting a lean-to has made the procedure more straightforward than ever before.
You may further turn your space into precisely what your company requires with the best quality metals in the industry and the most skilled and devoted crew. Because of the metal structure's adaptability, you may get the precise style and comfort you want.