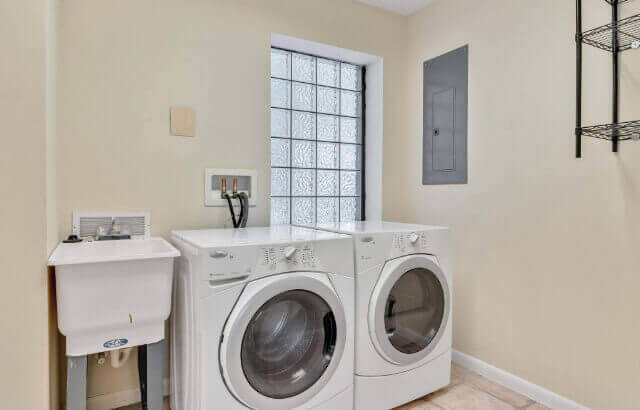 How to Build a Laundry Room in Your Garage | Step By Step Expert Guide
Disclaimer
Articles, products, and services offered on this site are for informational purposes only. We recommend using caution and seeking professional advice. This site provides general information. We are part of the Amazon Services LLC Associates Program, an affiliate advertising program. Amazon.com is compensated for sales resulting from links on our website.
Please review our disclaimer before taking action based on anything you read or see.
It is becoming more and more fashionable to place a laundry room at home. Although at first glance we may think that it is a room for large houses, the truth is that there are more and more solutions for small houses, where you can integrate something so functional and so helpful in the best way. The kitchen is usually the room where this laundry area is usually placed. However, you can always choose to move it to less common spaces to share this area's limelight. For example, you can learn how to build a laundry room in your garage, so it becomes a perfectly valid alternative. 
The Advantages of Building a Laundry Room in your Garage
Building a laundry room in your garage can offer you many privileges. First, this initiative will keep the laundry away from the heating in the apartment and minimize noise. It will also allow you to reduce your hassle during your maintenance activities. Then, when the season is not conducive to drying outside your home, you can easily wash and dry your clothes in the same room. You will also have the possibility of adding furniture for ironing. Also, the clothes lying around can go directly into small baskets in your garage. This will prevent unnecessary trips or searches for laundry when washing. Here are some of the advantages of the layout in detail:
You can multiply your maintenance activities in a small space (washing, drying, ironing, storage);
You can set up a table in your garage and layout the cleaned clothes, as well as give them an iron without having to drag the clothes from one room to another;
It also places equipment (hangers, clips, steam generator) in small cupboards in your garage;
Liquids used for laundry or products with harmful characteristics can be stored here to ensure the safety of children;
The arrangement of household washing appliances in the garage will allow the whole household to access them and disturb you less;
For clothes that cannot be tumble dried, you can provide a clothesline to dry them in the garage;
You can also place an ironing table above the dryer or the washing machine.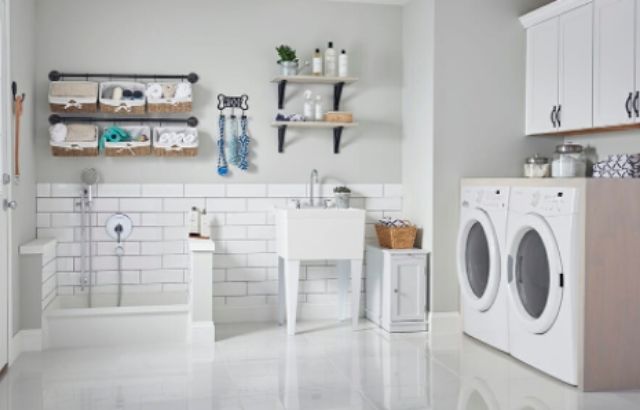 Factors to Consider when Building a Laundry Room in your Garage
The choice of building a laundry room in your garage depends on several elements, namely:
Availability of water for all washing activities;
Access to electricity for the operation of domestic machinery;
A space large enough to contain essential machinery and equipment.
All these conditions combined will allow you to opt for a garage that is both accessible and discreet to operate your activities in peace and without incurring other expenses related to plumbing.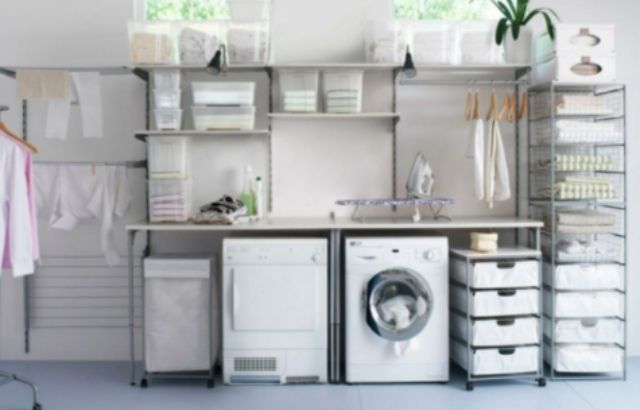 How to Build a Laundry Room in your Garage
Are you running out of space at home? Don't you know where to put your washing machine and dryer? Do make use of the following steps to build a laundry room in your garage:
Define the ideal location
Bring water and electricity
Insulate the laundry room from the cold
Install a worktop and storage
Now we will discuss the steps in detail.
Step 1: define the ideal location.
Do you want to install a laundry room in your garage? For that, you have to find the right place. Ideally, the laundry room should be directly linked to the connecting door leading to the house. Why? For more comfort, of course! When it's really cold outside, walking through the entire garage to run a machine is not very pleasant. Also, by placing your laundry room between the house and the garage, you will create a sort of airlock to protect the home against the cold. If your garage's confirmation makes this impossible, the ideal location may also be on the garden side to enjoy direct access to the washing lines outside.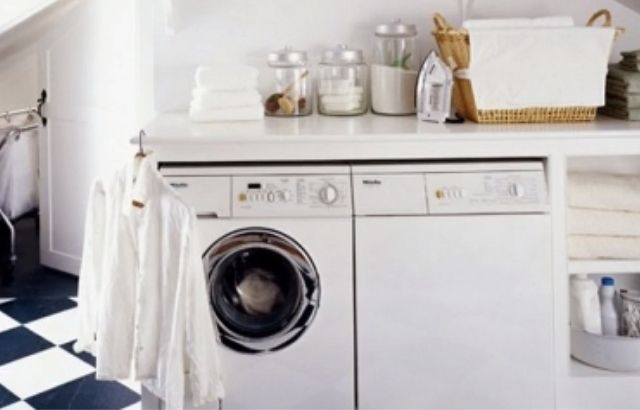 Step 2: Bring water and electricity.
For making a laundry room in your garage, water will have to be brought. Generally, a water supply is not very complicated to install. A simple hose coming from the house or the garden can solve the problem. On the other hand, provision should also be made for the evacuation of wastewater. Indeed, specific slopes must be respected for an excellent direct flow. If you view the outside sewer, it is often possible to connect the washing machine to the network bypassing the drain through the garage wall. Getting access to electricity is also generally much more straightforward since the garage is already powered in most cases.
Step 3: Insulate the laundry room from the cold.
Suppose nothing prevents leaving the washing machine and dryer placed in the garage corner; you should add comfort to the laundry garage layout. In that case, it is best to separate the spaces with an insulated partition. Without adequate insulation, the water inlet pipes and the washing machine can freeze. Also, without insulation, machine noise can quickly become unpleasant. If your laundry room forms an airlock towards the house, closing the space will limit heat loss each time the garage is opened/closed.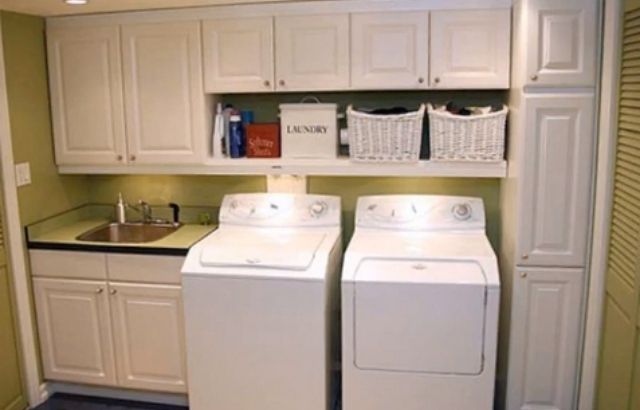 Step 4: Install a worktop and storage.
To store laundry and other stain removers, creating high cupboards will allow you to benefit from dedicated storage spaces. Setting up a work plan will also add comfort to folding the laundry at height. You can also add a sink to wash your hands more efficiently and wash lines or a more dedicated ironing area.
What should you Equip your Laundry Room in the Garage With?
This room must contain a certain number of appliances and equipment to facilitate your laundry maintenance activities. When making your selections, be sure to choose machines of good quality and tuned to your needs so that you can use them for a long time.
Washing machine
The washing machine is the first essential appliance when building a laundry room in your garage. This machine will allow you to ensure the function of cleaning your clothes before any other complementary activity. To choose the right machine for your laundry room, you need to consider several criteria, namely:
Leaching notes and wringing efficiency;
Water and electricity consumption;
The size of the appliance and the space available in your garage for its fitting;
The nature of your textiles;
The number of users;
The cost of the machine;
The location of your garage so as not to opt for a too noisy machine.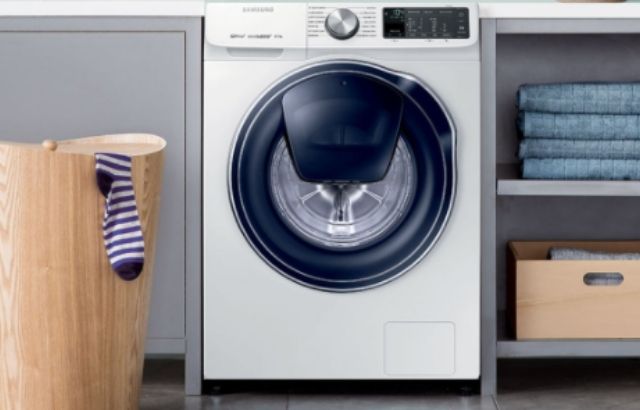 The clothes dryer
Besides the washing machine, you must also have a dryer. This is the household appliance intended for working with wet and wrung-out fabrics after cleaning. You will find various categories, namely:
Vented clothes dryers;
Condensing dryers;
Heat pump dryers;
Washer-dryers.
When you have a small garage, you can hang the dryer from the ceiling or get a single machine that cleans and dries clothes to save space. You can also install a clothes horse for drying certain outfits.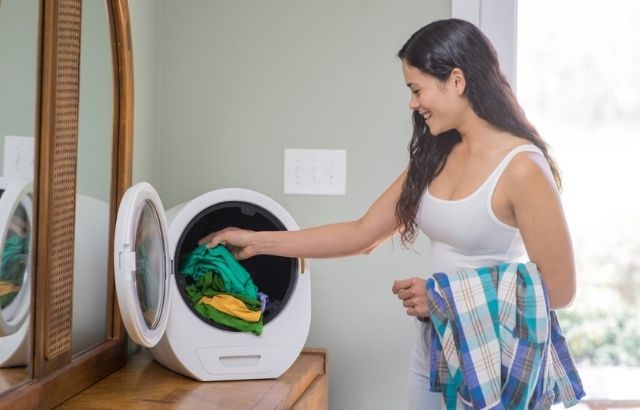 A Steam Generator
The steam generator will allow you to iron your clothes when they are cleaned and dry. You can put it away in a cupboard as soon as you finish your activities. You must choose a suitable quality appliance to benefit from its speed and autonomy during your ironings.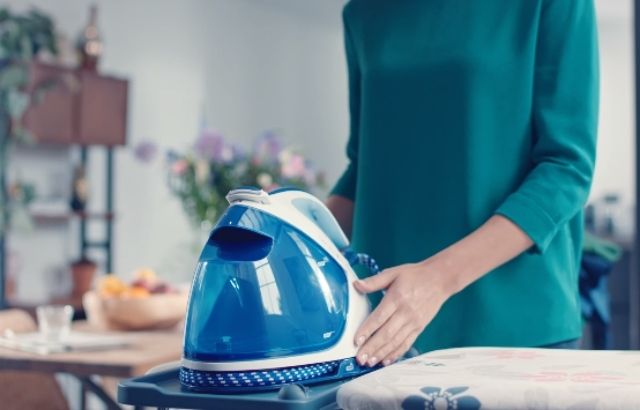 Some Furniture
An ironing table, baskets, and a cupboard are some other elements necessary to allow you to store your things and work on the spot in your garage without going back and forth.
Note that you must also think about the best way to arrange your furniture and appliances to clutter up your garage and install as many materials as possible. You can place some equipment on top of others or hang lighter ones on the wall or ceiling.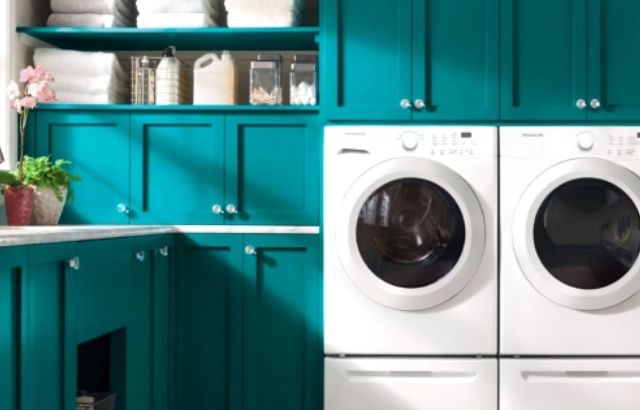 Lighting
If you do not have access to natural light in your garage, it is best to place led lighting that gives good lighting and uses little energy. 
More Accessories
If you are lucky enough to have a lot of space in your garage, you can add a washbasin or just a sink, which is very useful when washing by hand or rinse something. 
Frequently Asked Questions
Can I build a laundry room in my garage?
Yes. As earlier highlighted, washing is part of our daily routines, and that is why it is essential to have spaces that meet those needs most practically and efficiently. This can be easily achieved upon building a laundry room in your garage.
How much does it cost to build a laundry room?
Building a laundry room would cost between $4000 to $6,000.
Can you turn a garage into a room without planning permission?
Usually, no planning permission is required to convert your garage into other living space for your home, provided that the work is internal and does not involve building expansion.
Does converting a garage to a room add value?
Yes. Converting a garage to a room adds value to your property by up to 10%.
Is converting a garage a good idea?
Yes. Converting a garage is a good idea because it adds valuable extra living space to your home.
Last Words
In conclusion, laundry care remains an essential domestic activity to maintain good hygienic conditions at home or to always appear clean and presentable in your clothes. Therefore, installing a laundry room is the perfect solution to easily take care of your outfits without having to worry much. It will allow you to bring together in the same room all the devices necessary to clean, dry, or iron your clothes, namely: the washing machine, the dryer, the steam generator, etc. To achieve this, you must follow the correct instructions so that the installation does not interfere with your home's comfort. This article offers some tips to help you build a laundry room in your garage.
Read More: How to Add a Laundry Room to Your House