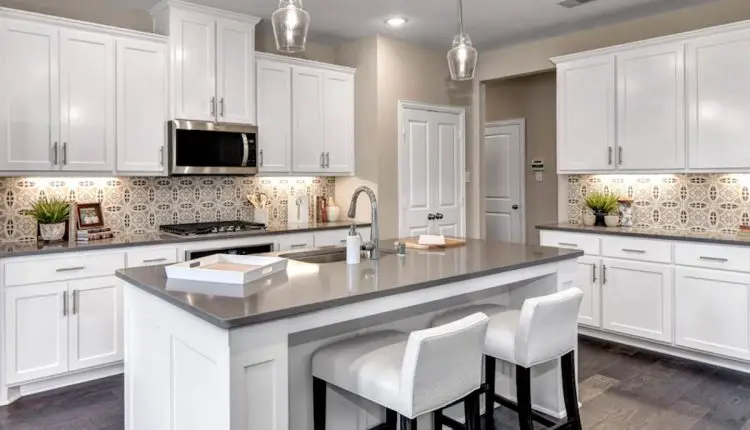 How to Choose the Perfect Kitchen Backsplash | DIY Guide By Expert
Disclaimer
Articles, products, and services offered on this site are for informational purposes only. We recommend using caution and seeking professional advice. This site provides general information. We are part of the Amazon Services LLC Associates Program, an affiliate advertising program. Amazon.com is compensated for sales resulting from links on our website.
Please review our disclaimer before taking action based on anything you read or see.
All the kitchen accessories are essential, but the most important is the kitchen backsplashes. The purpose of the backsplash is primarily functional as it protects the walls behind the sink from water damage from accidental splashing. In the kitchen, backsplashes cover other parts of the countertop beside the sink area. Moreover, if left uncovered, these items can easily stain the wall and make it prone to mold and mildew. On the other hand, backsplashes protect the wall's seal from moisture and stains, so you don't need to worry about issues related to mildew, mold, and colors. So if you want to know how to choose the perfect kitchen backsplash, we will guide you in detail.
How to Choose the Perfect Kitchen Backsplash
You might think that the only option for the perfect kitchen backsplash is only the best choice, but this is not the case. There are a variety of other styles, patterns, and colors you can opt for. I love the subway tile for the kitchen backsplash, but there are hexagon tiles, penny tiles, and tiles with square format available on an affordable budget.
Suppose you plan to remodel your kitchen countertops with matching backsplashes. In that case, you should not break your budget on the expensive backsplash tiles because there are certain areas in which you have to invest for must and certain other areas in which you can save your money.
Selecting the tile for your kitchen backsplash is the initial step of the whole process. After choosing the tile, you have to make a grout joint, size nail down the layout, and the color of the grout.
You can remodel your layout according to your space and add a border of the mix and match the color of the similar tile.
You can also select the color of the grout according to your personal choice with a bolder look and contrasting colors.
Yes! Kitchen backsplash design is an important issue you should consider and plan at a very early stage.
One of the critical factors that you should consider is the scale of the tile that is to be used in the backsplash of the kitchen, as the small scale has a traditional look while the larger plate has a contemporary look. It is better to add some percentage to the square feet to cut the tile for average to about 15 %. It will be better for you to keep in mind the practical; considerations while choosing a backsplash for your kitchen. Though different materials have different aesthetics and prices, you should opt according to your needs.  
Types of Tiles for the Kitchen Backsplash
When you plan to have a kitchen remodeling, your brain thinks about choosing the material for the kitchen backsplash. Well! There are many different tiles available in different colors with a more classic and modern look, designs, and styles.
Stone slab tiles
If you have countertops made of stone slabs in your kitchen, then you must opt for the stone slabs for the backsplash. Most people like the stone slabs with the different patterns if the countertops and the kitchen cabinets are white.
Read More: How To Restore Metal Kitchen Cabinets
Mosaic tiles
The kitchen backsplashes are made of a wide variety of materials like ceramic, porcelain, and clay. Cork mosaic tiles are best for floors and walls, made of 100 % bamboo. 
Glass tiles
Don't you think that the glass backsplash in your kitchen would be a good option?
The reason is that the glass is 100% resistant to water, so it is excellent to opt for a glass backsplash if you have a high level of moisture, steam, and splashes in your kitchen.
The glass tiles come in various colors with a natural translucent look that provides the dazzling shiny effect like no other material can provide. In the majority of cases, the glass splash also comes with scratch-resistant properties. However, as glass is transparent and you can easily see any uneven look of the grout beneath the grouting surface, it is good to have a professional installation. 
Therefore, if you have a lot of water and steam use in your kitchen, you will not try to have a glass tile that is 100% resistant to prevent the problems like moisture. According to the research reported by the national kitchen Bath association back printed glasses are a refresh and advanced option that functions well in a contemporary kitchen.   
Stainless steel
Stainless steel backsplashes are most commonly used in the kitchens of restaurants but are also liked by most homeowners around the country.
These tiles are available in different sizes and shapes with intricate embossed designs too. Although it is not so impressive backsplash material sold globally, it is the most durable and easy to clean material.
Learn More: How To Prevent Water Spots On Stainless Steel Sink
Peel and Stick tiles
If you have adhesive walls in the kitchen, you should opt for peel and stick tile designs for backsplash. They are available at low prices and easy to install, as they are considered best for easy DIY projects and can save you money. You can also easily replace your backsplash if you get bored with the color and design you regularly use. These sheets are available at hardware stores. 
Most Popular Backsplash for your Kitchen
The white subway tiles are considered as best for kitchen backsplashes. They are usually found in a classic look with a staggered joint pattern, as white tiles are a brilliant way to provide your kitchen an elegant look. The white backsplash color gives you a fresh and modern look and never goes out of fashion.
The backsplash should match your countertops.
Your kitchen's backsplash should complement your countertops to some extent, but it doesn't need to be matched to it strictly. Most of the time, the kitchen backsplashes and the countertops are in different colors and designs but can contrast colors and uniquely complement each other. This factor mainly depends on the space available in your kitchen. The main chance of matching backsplashes is when you have the granite countertop in an upward direction with a clinical white look.
How to Choose the Perfect Kitchen Backsplash: FAQs
What type of tile is best for a kitchen backsplash?
Ceramic or porcelain tile is for the kitchen backsplash is the most popular and widely used option because it is very resilient, most economical out of other options. In addition, they often come in complementary sizes with larger field tiles for the floor. 
Should the backsplash be lighter or darker than the countertop?
When you compliment your design elements and architectural features, colors don't have to match, but they should coordinate. For example, your backsplash tile doesn't have to mirror your countertop's color but should blend, harmonize, and support the remaining features in the kitchen.
How do I choose a kitchen backsplash?
While choosing the kitchen backsplash, consider the size of the available area. To get an accurate measurement of the backsplash, multiply the width of the sheet by the height of the wall to determine the square footage, which will tell you how much material you'll need? In addition, you should know about the kitchen's focal points like ate area above the range and the sink.
What is the most popular backsplash for the kitchen?
Tile is the foundation of the backsplashes of your kitchen. For years, the basic material for the backsplashes is tiling, whether they are ceramic, porcelain, or natural stone.
Are subway tiles out of style 2021?
Today the subway tile is still in trend, with its simple sophistication almost guaranteeing the trend's longevity. Subway tiles are classic and timeless, very versatile; that's why they are great.
Should your backsplash match your countertop?
It can be tempting to choose the same materials and colors for your countertop and backsplash, but this option looks uninspired. Ultimately selecting a well-coordinated backsplash and countertop is essential to the design of your kitchen; it is usually best to choose your countertops first.
Read More: How To Become A Kitchen Designer
What is the most popular cabinet color for 2021?
The most popular cabinet colors for 2021 mix wood tones, black, sea green, wood finishes, blue and green, and mutes shades.
Are kitchen backsplashes out of style?
Minimal backsplashes are out and for good practical reasons. Spills and splatters don't necessarily have good aim. A ceramic tile or glass backsplash that goes all the way from the counter to the cabinet is much easier to keep clean and looking nice.
Should backsplashes be matte or shiny?
A glossy subway tile can look brighter and more polished, often leading to a more formal look. It also hides water spots and fingerprints better than its less shiny countertop.
Conclusion
So it is evident from the above facts and figures that whether you have a glass tile backsplash, subway backsplash, or a stone backsplash, you should opt for the material that easily complements your aesthetic sense of your kitchen in every manner. But it a true that kitchen backsplashes should be practical, good-looking and can also prevent your kitchen walls from damage due to water and moisture, and can be easy to clean. Hope you have learned how to choose the perfect kitchen backsplash.
Learn More: How To Remove Kitchen Cabinets Without Damage