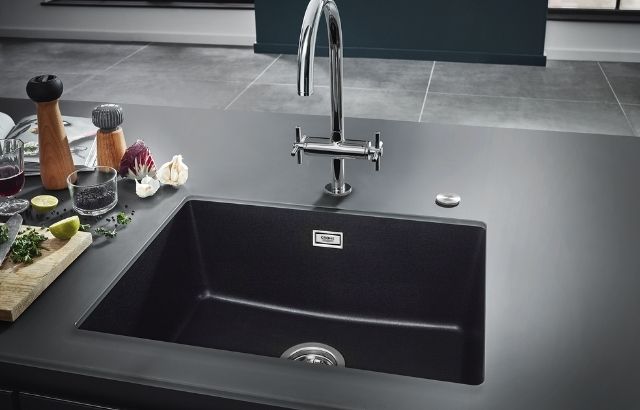 How to Clean a Composite Granite Sink Franke | A Step By Step Guide
This article's primary objective is to educate us on how to clean a composite granite sink Franke and other subtopics discussed.
All fragranite sinks are made from stain-resistant materials, provided they are appropriately cleaned and with a suitable cleaning agent. Studies have shown that stains on granite sinks are much more common in hard water areas, as lime deposits form on the sink's surface, and if it is not correctly cleaned, stains from tea and coffee, etc., appear on the sink. Therefore, the stains are responsible for the limescale and not the material itself. Bleach is not recommended and is ineffective because it only brightens the stains, not removes them.
How to Clean a Composite Granite Sink Franke
Composite Granite Sink Franke has become extremely popular in home kitchen remodels and newly built homes due to its sleek and elegant appearance and durability. However, the internet is full of questions like "how to clean a granite composite sink, Franke." Many people are confused about properly cleaning and caring for a granite composite sink, complaining that there is a constant, white haze on the surface.
Before understanding how to clean granite sinks properly, it is essential to know that a granite composite sink is typically made from a granite and resin mixture. As an all-natural stone is somewhat porous, it will absorb any liquid left on it. This brings me to the most critical step in the proper cleaning of a granite composite sink:
Instructions
Always clean the sink after each use. This seems annoying, but simply wiping off any water and drying the sink will prevent hard water and soap scum from building up and leaving a white haze or "stain." If you have hard water and allow it to sit on the surface, it can create mineral stains that are extremely difficult to remove.
It is also important to immediately wash off any food or liquid that may stain a granite sink or is acidic. For example, if you pour red wine down the drain, make sure all the drops are well washed away. Acidic substances are harmful to granite and will cause the stone to etch and kill over time. This fact leads me to the next rule of thumb for cleaning a granite composite sink: never use any cleaner with acidic ingredients, such as vinegar, lemon, or orange. 
When these cleaners have etched the stone, the marks will resemble rings of water and are not stains, but the damage that has been done to the stone. This damage can be repaired by a professional, but it is much easier to take preventive measures to keep the damage at bay. If you take the time to clean your composite granite sink after each use, cleaning it should be easy.
You only need a mild organic granite cleaner, pH balanced that will clean the sink and condition the stone by filling the porous surface. By conditioning your granite composite sink, you are helping prevent future stains. As with any natural stone or granite sink, the goal is to avoid using harsh chemicals that will cushion and etch the surface with frequent use. If preventive measures are taken, harsh chemicals are never necessary.
Cleaning Franke Stainless Steel Sinks
Franke stainless steel sinks are made of AISI 304 steel. This quality material makes Franke sinks attractive and resistant to stains, rust, and corrosion. Inox Cream is a product specially created by Franke for the care and maintenance of this material. It is easy to apply polish that can protect or restore shine to your sink. Just pour some on a damp cloth, rub it gently on the surface and let it set. At that point, rinse with water and polish with a dry cloth.
The Scratches on stainless steel surfaces, except for very deep and unsightly ones, do not always spoil the appearance. In fact, over time, the formation of small marks gives an attractive look to your products. However, if you want to repair a deep scratch, use a 3M Scotch-Brite cloth and white Inox Cream by applying enough paste to cover the scratch and scrub the area with the cloth following the texture of the surface. Once the scratch appears to be removed, rinse off the excess paste and wipe the surface with a dry cloth. 
Any rust stain that appears on a stainless steel surface comes from external sources. Suppose you want to remove rust stains from your products. In that case, we recommend using oxalic acid-based cleaners which are durable and easy to use: Made from 80% quartz, bonded using high-quality acrylic resins, and treated with our sanitized formula for scratch, heat, and fade resistant, antibacterial sink that will serve you for years to come. Another thing: do not use steel screens to clean stainless steel.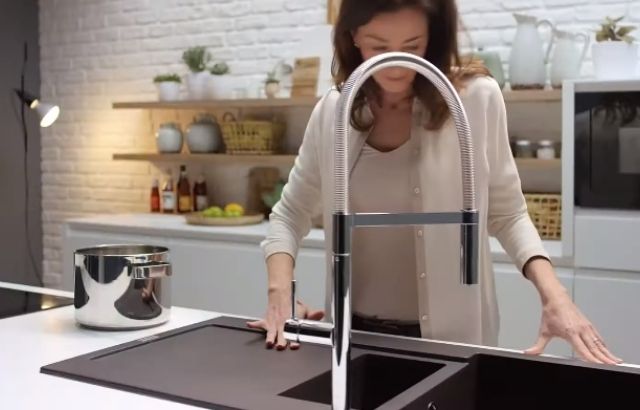 Things to avoid:
Bleaches containing hypochlorite
Silver cleaners
Food residues such as citrus juice, salt, vinegar, mustard, pickles, and mayonnaise are left on the surface for extended periods. These foods can cause corrosion
Powerful acids such as photo developing fluids or denture cleaners. In case of contact with the sink, immediately rinse with clean water
Use of steel screens
Cleaning and Maintenance of the Fragranite Sink
Despite being resistant, even fragrant, like any other type of material, it needs some special care and attention to keep it intact and beautiful for a long time, which tends to protect it from everything that could damage it. Although, in theory, the sinks in fragrance should be easier to clean than those in stainless steel, this is not always the case, and those made with dark colors tend to be covered with an unsightly whitish patina, while those of light color almost always form stains.
Limestone is the number one enemy of faucets because it opacifies and makes them rough. In some areas, the water is particularly hard, and it might be advisable to install a softener. But let's move on to the actual cleaning and maintenance of the fragranite sink.
After each use, for daily sanitation, clean the tub with a mixture of dishwashing liquid and baking soda in a ratio of 1 to 1. Baking soda, which is a natural detergent, by the way, will significantly slow down the formation of stains at the bottom of the sink. Most manufacturers use a mix of 80% granite particles and 20% bonding agent.
Now
The same mixture of dish detergent and sodium bicarbonate is very effective for removing limescale and the most stubborn traces of grease from the sink. Still, in this case, to make it more effective, it must be passed over the entire surface to be cleaned with a sponge moderately abrasive rubbing with a pinch of energy but without exaggerating.
After cleaning as indicated above, rinse with plenty of warm water, then dry with a microfiber cloth, as the water that stagnates could cause the formation of limescale stains. For the moment, we have seen the normal daily cleaning, but to keep the fragrant sink shining, it must be accompanied by a deeper weekly descaling operation.
Here's how.
An excellent method is to spray an anti-limescale product over the entire surface dishes and leave it to act for a few minutes, and then rinse with plenty of warm water. At the end of the cleaning, remember to always dry well with a soft microfiber cloth. 
For a sink that is as good as new, especially if the dark type, after removing the limestone layer, wipe it with a veil of Vaseline for food use or olive oil.
If you prefer natural remedies to chemicals, then choose white vinegar, which, however, takes longer to act and, therefore, must be left on for no less than four hours before being removed. To prevent it from evaporating during installation, place sheets of baking paper on top.
Then some foods can stain the sink. If this happens, remove the stains immediately with very hot water from the bowl and a drop of dishwashing detergent, while if the stain is ink, remove it immediately with an alcohol-soaked cloth.
Finally;
Let's see what happens if the drain is blocked and how to prevent this problem. Periodically remember to pour a cup of baking soda mixed with coarse salt and a glass of vinegar down the drain. Leave it on for at least 10 minutes, and then pour hot but not boiling water over it. As you can see, a few attentions are enough to keep your sink in fragranite unaltered for a long time.
Remember to never use too aggressive detergents and cleaning products and not even too abrasive sponges such as metal ones. Never pour muriatic acid, caustic soda, and the like into the sink, as it could suffer irreparable damage while bleach, if and when needed, must always be used diluted and never pure; otherwise, you can use the gel version, which is more delicate.
Never use ammonia to clean the fragrant sink, as it stains, and never place hot pots. And pans on the sink, as it could remain irretrievably marked.
How to Clean the Blanco sink
Blanco's proprietary silgranit granite composite materials contain 80% real granite sand mixed with a high- strength binder. And are therefore very resistant and extremely scratch-resistant. These sinks are also equipped with the patented "Hygiene + Plus" silgranit is far easier to clean. And maintain than natural stone-Blanco claims "40% greater cleanability" than other materials. This unique recipe, patented by BLANCO, is integrated with SILGRANIT® PuraDur®. It gives the granite sink antibacterial properties and is also dirt-repellent. This provides security in all cases and makes thorough cleaning easier.
Cleaning these sinks is simple and straightforward. Stains, grease residues, and normal signs of wear can be quickly removed with water, a scouring pad, and a little washing-up liquid. Silgranit sinks are smooth to the touch and easy to clean because they do not accept dirt. To clean most stains, water and a rag are sufficient; stronger and longer-lasting stains may also need a cleaning agent, but cleaning is easy compared to other sinks. 
You don't have to worry about a glossy white sink either. It will keep its light tone for years and will simply not stain, even if you pour coffee or red wine into it. 
Now;
Cleaning a Silgranit kitchen sink doesn't take a lot of time and effort. And it will stay like new for a long time. The basin should only be wiped daily with a microfiber cloth. And you should find some time once a month to clean it more thoroughly. It's that easy! After each use, you should rub your Blanco sink made of silgranit PuraDur dry with a microfiber cloth. This prevents limescale stains and maintains the beauty of your sink in the long term.
Blanco recommends using its special care product Blanco activ or a commercially available heavy-duty detergent for more stubborn soiling. Unsightly lime deposits can result in detergent or Essigbad in SILGRANIT® Pura dur® sink soaked overnight. And then wiped with a sponge. It is important to remove limescale stains from the sink from time to time. As these can absorb liquids such as tea, coffee, or red wine that are more easily colored after drying out.
How to Clean a Composite Granite Sink Franke: FAQ
How do you remove hard water stains from granite composite sinks?
In the case of stubborn stains on the granite, we recommend some products. You can use a degreasing cleaning product, dish soap, white vinegar (best for lime), or a mild bleach solution. For rust stains, we recommend using the Inox-Crème Franke Cleaner. Always make sure to thoroughly remove all cleaning products when you are done.
Can you use bar keepers friend on the granite composite sink?
To help you choose it according to your needs, follow the guide! You can therefore find a built-in sink that will go perfectly with the bar keeper's friend. It is recommended to choose laminated material for the decoration – it has a large palette of colors. The countertop's shade can be chosen more or less the same as other furniture in the kitchen, or, conversely, contrasting. 
What can I use to clean my composite sink?
To do this, use organic granite cleaner, pH balanced that will clean the sink. And condition the stone by filling the porous surface.
Last Words
We have read and understand how to clean a composite granite sink, Franke. If you have applied these small precautions, then your sink has a longer life. Then those who do not use a suitable and daily cleaning to preserve the surface of the sink.
Read More: How To Clean Blanco Sink