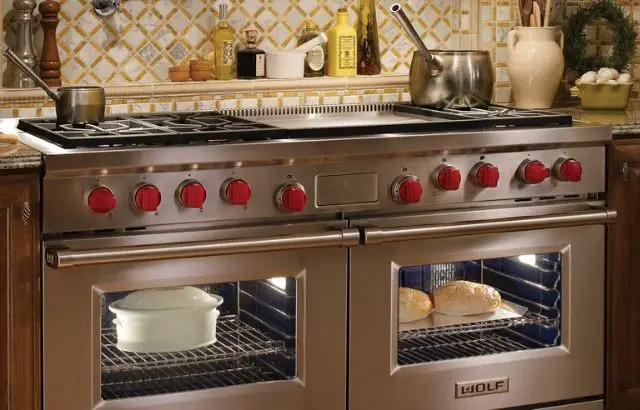 How to Clean a Wolf Stove | Simple 4 Step Guide By Expert
Disclaimer
Articles, products, and services offered on this site are for informational purposes only. We are part of the Amazon Services LLC Associates Program, an affiliate advertising program. Amazon.com is compensated for sales resulting from links on our website.
Please review our disclaimer before acting based on anything you read or see.
Having a Wolf stove in your kitchen is a masterpiece. However, there's a process to clean these types of cooking facilities. So, you're probably wondering how to clean a wolf stove?
Proper cleaning of its elements will not only keep it looking great, but it will also perform well. Learn how to clean Wolf gas stove parts with the right materials and techniques to maximize performance.
On the other hand, Wolf's Customer Care and Support services can be beneficial in some instances. If you consult with an appliance consultant, you can get much more information on your appliances' proper maintenance.
How to Clean Wolf Gas Stove Elements
Although various models vary slightly in shape, the way to clean Wolf gas range burner caps, porcelain lids, knobs, and grates are the same.
Wolf suggests hand washing all items and avoiding the dishwasher to ensure proper look and functionality.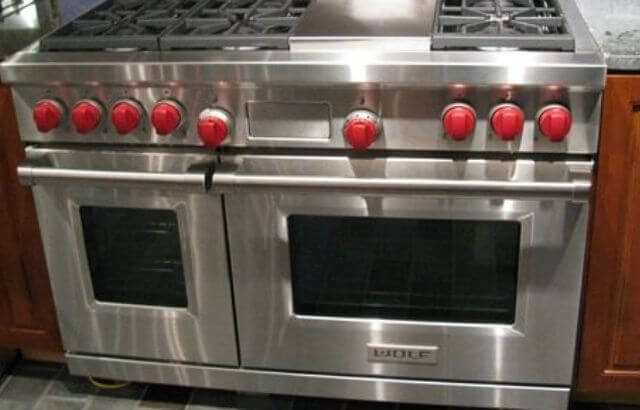 What will you need?
Clean cloths
Warm water
Dish detergent
Steel wool soap pad 
Slow abrasive cleaner or degreaser.
Step-1: Remove and wash the wolf gas stove burner caps.
Remove the burner caps for a separate wash. That will ensure that each component gets clean.
To perform a good cleaning, the first thing you should do is:
Remove the grates to get the burners.
You can separate the burner caps from their base by simply lifting them off. 
Wipe the lids with a clean cloth, not too hot water, and dishwashing detergent, making sure the burner ports are pure.
Dampen a cloth with not too hot water and soap. Then wipe near the burner bases. It is necessary to avoid soaking the lighter or scrubbing it vigorously to avoid damage.
Finally, dry the burner bases and burner caps thoroughly before replacing the burner caps.
Wolf's service center can be a great option to answer more questions that you may have.
Step-2: Clean the porcelain burner tray of the Wolf gas stove
It is ideal for making use of porcelain burner pans to avoid damaging your pans and other appliances.
It is always necessary that Black porcelain burner pans are clean.
Therefore, when cleaning the gas range burner pan, use only soap and water or mild cleaners to avoid scratches.
If your stove has a grill, remove it for better cleaning of the porcelain pan.
You can also clean the Wolf Range iron separately if desired.
Most Wolf Range porcelain pots can be removed, and many others cannot. Regardless of your stove model, the cleaning procedures and materials remain the same.
Follow these steps for cleaning Wolf range porcelain cookware pans:
Wipe off any remaining residue or food particles.
Dampen a clean cloth with not too hot water and dish detergent and wipe the porcelain pan.
For stubborn stains, use a steel wool soap pad, a mild abrasive cleaner, or a mild degreaser. When using gentle cleansers, apply them to the cloth and not directly on the porcelain mold.
Rinse cleaners with water that is not too hot.
You will need to use a solution of white vinegar and water to clean hard water.
Dry your porcelain pan thoroughly.
Step-3: Remove and wash wolf gas range grates.
Wolf range grates lift out easily for separate cleaning. Remove the grates and wash them with not too hot water, soap, and a cloth or sponge.
Can I clean the kitchen grates if they have food stains on them?
The short answer is yes. So it would help if you scrubbed with a paste of baking soda and water to remove stubborn food debris.
Rinse the grates, making sure they are scorched before replacing them. Don't forget to clean the wolf oven door.
There are some electric ovens for which it will be necessary to use any Fume Free Oven Cleaner.
Step-4: Remove and clean wolf gas stove control knobs.
Understanding how to clean Wolf gas stove control knobs involves removing them from the valve stem. 
Pull each knob outward to remove it. Clean each hole with a damp cloth, dish soap, and water.
Avoid soaking the knobs or using abrasive cleaners, as this may cause scratches or remove marking labels.
Remove the knobs before pushing them directly onto the valve stems.
It is always ideal for self-cleaning ovens to do your research and read the wolf self-cleaning oven instructions.
If you want to clean wolf stove top stainless Steel, the procedure is the same.
First of all, you must take into account the Factory Certified Service. This could be useful in any breakdown.
Why is it Necessary to Clean my Kitchen?
The kitchen needs to be clean. The kitchen is the space where not only your food is, but also microorganisms. All this is because these organisms are hidden from view. Remember that they have the potential to infect everything you put in your mouth.
As a consequence, the dirty kitchen can cause food poisoning and diarrhea. If you spend a few minutes of your time removing all those germs and bacteria that roam around, you can be safe.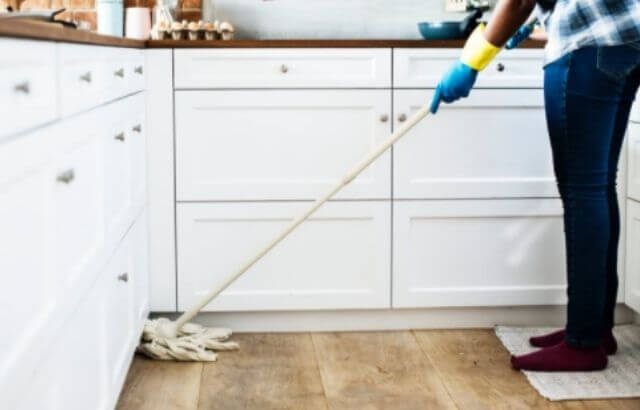 Reasons to Keep my Kitchen Clean
Don't just clean for aesthetics.
Cleaning and maintaining order in your kitchen shouldn't only be an issue of appearance. Safety is also very important.
The kitchen may be dangerous. According to statistics, seven out of ten domestic accidents take place in this area.
The reason is that you run the risk of electrocuting yourself, being burnt when cooking, cutting yourself with a knife, tripping over food or water on the floor, and even burning the oven.
You may prevent any incident by keeping everything tidy and kept in its proper location.
Take care of your appliances.
Cleaning your kitchen is also suitable for your appliances, as they will last longer and be as efficient as when you bought them.
Dust, grease, and moisture are the main enemies of appliances. The continuity with which you clean your kitchen will depend a lot on how much you use it.
There are many appliances that you should clean days after days, such as the coffee maker, blender, and others, and some that deserve a cleaning at least once a week, such as a stove or a microwave. Remember that they can accumulate terrible odors.
That's why it is always necessary to clean a wolf stovetop or your extractor hood at least once a week.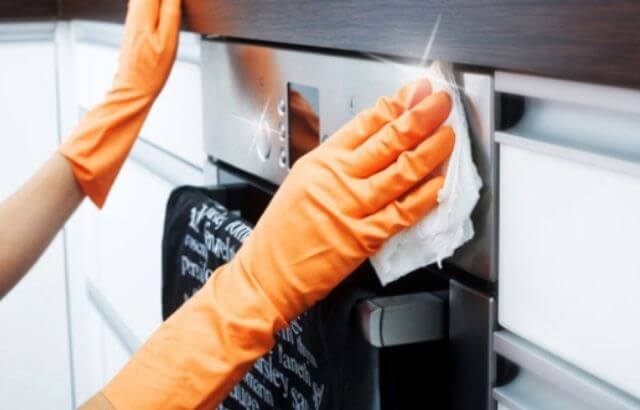 You'll save some money.
Another positive result of keeping your kitchen clean and organized is savings. Two simple steps are enough: storing and organizing.
For the excellent preservation of food, it is necessary to be well stored and organized. That will make you save some money after all.
Other reasons why to take care of my kitchen
However, another compelling reason to take care of your kitchen may be for the elegant style it brings to the rest of your home. If you have a line of Wolf appliances, you can dazzle with your kitchen.
Nobody likes to arrive and see that your kitchen is a mess, that's why you should take care of it. 
Routine cleaning every two days can help you maintain order and take care of your kitchen and the appliances you have in it.
We know that this is not such an easy task, but it is possible.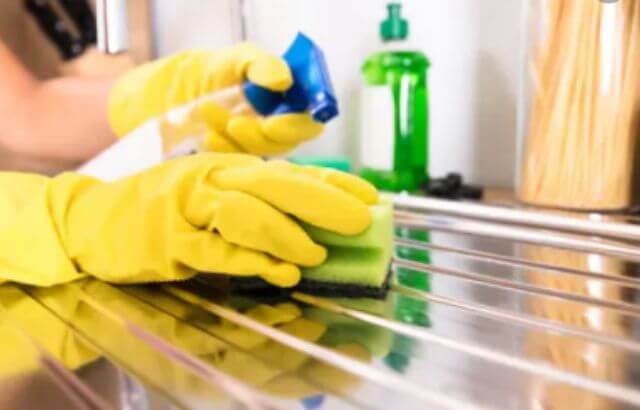 How to Clean a Wolf Stove: FAQ
How do you clean the inside of a Wolf stove?
The trick to cleaning the grates of the Wolf range may surprise you. You will need to wash them with soap and warm water. You will also need to use a non-abrasive sponge or cloth. 
Alternatively, make a paste of water with baking soda to gently wash the grids. This is also intended to remove the stubbornest food debris. Rinse and dry thoroughly before replacing the grates on the stovetop.
How do you clean Wolf appliances?
Use a razor blade to lift baked-on food from the oven cavity and window gently. Therefore, it is always ideal for cleaning the wolf oven regularly, for having less work.
However, if you have a dull spot, spray with a mild abrasive cleaner or spray degreaser and scrub with a pink or blue non-scratch Scotch-Brite pad.
How do you clean a Wolf stovetop stainless steel?
To clean Wolf's stainless steel or carbon, follow these steps:
It would help if you used a microfiber cloth with a little water and stainless steel cleaner solution to remove food stains.
It is essential to avoid using an abrasive or metallic cleaner or cloth, as these materials can remove the carbon finish.
Also, do not use cleaning products containing bleach or ammonia.
Conclusion
The Wolf brand's elegance has created a distinctive pattern that is unmatched, which is why many people often look for products in this range for their home in today's market.
While proper cleaning and maintenance can ensure that your Wolf range performs optimally, failures can still occur.
However, cleaning your stove regularly is the best way to keep its peak performance and look its best.
Even a Wolf range needs professional service from time to time.
You may not have time to do this type of work in your home due to work, children, or any other reason that may arise. That is why it is essential that you can contact a group of specialists for this work.
Read More: How High Should Range Hood Be From The Stove