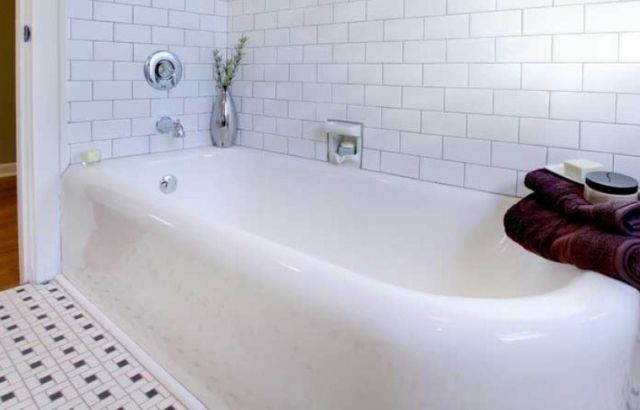 How to Clean the Non-Slip Bath Tub | The Proper Way to Do It
Disclaimer
Articles, products, and services offered on this site are for informational purposes only. We recommend using caution and seeking professional advice. This site provides general information. We are part of the Amazon Services LLC Associates Program, an affiliate advertising program. Amazon.com is compensated for sales resulting from links on our website.
Please review our disclaimer before taking action based on anything you read or see.
You know we have so many accessories that we use in our bathrooms; if you have outdated bathtub nonslip stickers and their residue, we have many options to complete the task so all these should be clean and fully hygiene. So today's post is all about how to clean nonslip bath tub.
Here, I will share my experience and the tips of other experienced persons too. As this process goes on, the main emphasis realizes which products you are dealing with. You should pay more attention to the residue at the bottom of your tub than you thought. So keep reading for cleaning and maintaining tips to remove anti-slip from tubs.
So if you have finally decided to design your lovely bathrooms, go on with these useful tips and steps. 
Best Bathtub Cleaners
Things you will need.
Sponges or old soft pieces of fabrics
Barkeeper friends
Telex
ROG 
Tub and tile cleaner
Water and rubber gloves
How to Clean the Non-Slip Bath Tub
First of all, you should ventilate your room by opening all the windows and protect your hands by wearing rubber gloves so that your hands may not get an infection due to washing liquids.
If you are used to washing and clean the day to day dirt and the foam of soap of your nonslip bathtub, it will be easy for you to reach the right source of the hard and robust stains.
Now spray the heavy amount of Telex on the whole surface at the bottom of the nonslip bathtub.
Give sufficient time to Telex to sit on stains of the tub.
Now wet the sponges or old pieces of fabrics and rub the tub's surface with soft hands.
Now rinse off the whole tub with water and repeat the procedure as required. 
Hard stains will not go easily, so follow the following tips:
Use the R.O.G. 3 on the hard stained area of the tub.
It gives enough time to the cleaner for soaking, like 15 to 20 minutes.
Now use the sponge or soft cloth for scrubbing.
Repeat the process till you will fully satisfy with the appearance of the stains.
Sprinkle the barkeeper friend cleaner on the stained surface.
Rub the wet cloth only on the treading areas and not on the surroundings of the tub.
Although Barkeeper friend cleaners are the very best options for the porcelain tubs, they can cause discoloration by the passage of time, in Kohler's opinion.
In the end, when you finish the process, rinse off the whole tub with water by checking all the stains have gone out or not.
More ideas and tips:
You should keep your children and pets out of your bathrooms, away from the cleaning chemicals, as they are harmful to their health.
The best remover for cleaning nonslip bathtubs is T.R.R. toilet ring remover, which is easily available in the drug stores? Learn to remove black spots in the toilet bowl. It can easily be applied with a damped sponge or cloth. You should repeat the procedure until all stains are wiped away from the tub surface. In the end, rinse offs the area with water.
How to Clean Non-Slip Bath Tub Strips
To clean the nonslip bath tub strips, take a water hose and spray on the strips; this will help remove the dirt that you are trying to clean and remove the cleaning mixture.
Mix 1 cup of bleach in 5 gals of water in the separate bathtub and the bathroom's soak mats in it for 2 to 3 hours. Then scrub it with a scrubbing brush. You can also use the washing machines for this purpose; don't forget to add bleach to them. Then rinse with cold or warm water; it's up to you.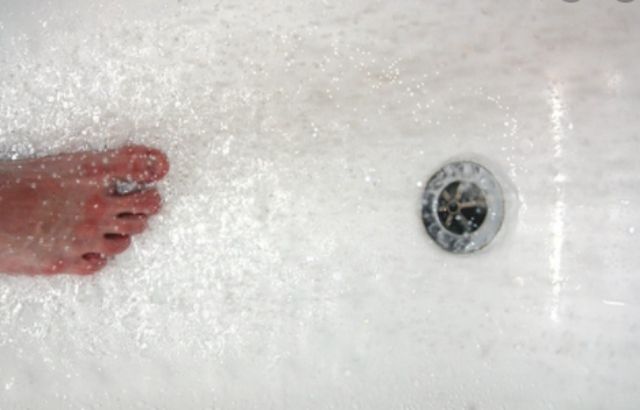 How to Clean Nonslip Mats for Bath Tubs
You can also use the stickers for bathtubs by cleaning the surface with the cleanser.
Now with the help of alcohol, clean the surface, and remove all soap foam and residue.
Arrange the tramps in the desired position.
Remove the material at the back of one tramp at one time.
While working on the center outward, press the tramp firmly on the surface. Wait till it is done.
Similarly, you can also go for affordable nonslip stickers for a shower by investing in a new bathtub and shower.
Purchase non-abrasive tape for your slippery shower and bathtub.
Use the rubber mat for your shower and tub, and it is better to use nonslip products for your bathrooms.
For most of the bathroom surfaces and fiberglass acrylic materials, anti-slip spay are the best options:
Cleaning anti-slip stickers and residue is another task. 
But it can be easy if you have the required products in your hand, like vinegar and baking soda. This mixture helps clean the nonslip stickers.
Benefits of Cleaning Nonslip Bath Tubs
There are so many benefits of nonslip bathtubs and stickers
They are more stylish than bath mats made of rubber.
They do not get mold easily, and also the process of cleaning is not complicated.
The bath mats can cover the limited area compared to bath strips that help cover more bathrooms and showers.
To use the nonslip stickers, then nonslip bathtubs are the permanent solution.
Non –slip bathtubs and stickers can easily fit in your bathrooms.
When less able people use the stickers permanently, they are not willing to use nonslip bath mats.
Nonslip bathtubs and stickers are best for hotels and guest houses.
Modern bathroom fittings and showers are not slippery, so you do not have to be afraid while bathing and can take a shower with confidence. Want to add a shower to a half bath? Here is a great piece for you.
These products are of such a high quality and can stick to your bathrooms or have a money-back guaranty.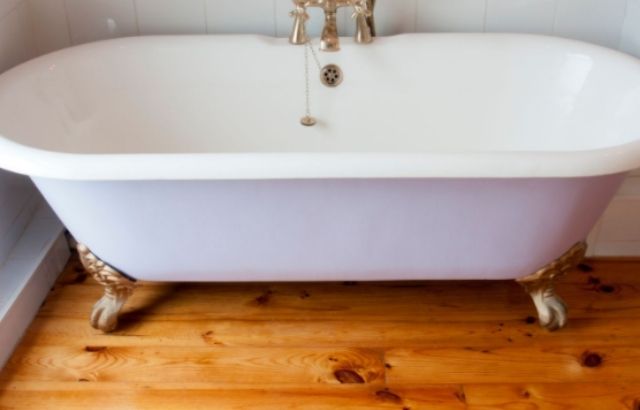 Disadvantage of Slippery Bath Tub
Millions of people who are above 60 in the U.K. have lost their lives due to falling in slippery bathrooms.
It is proven by the facts and figures that people above 65 years have one fall per year. In England in 2009, 3593 people died due to falling in bathrooms.
To avoid these types of mishappens, you can go for the best cleaners, scrubbers, sprays, sponges, non-slippery mats, stickers, and products available in the market and on Amazon.com.
Therefore if we agree to use such products and make some important changes in our bathrooms, like non-slippery mats and rugs, the risk of falling may reduce. 
Keep in mind making your rooms dirt and clutter-free, and well ventilated so that product fumes may not harm your dear children and pets.
How to Clean the Non-Slip Bath Tub: FAQ
What is the best bathtub cleaner?
The best bathtub cleaner for hard water is Clean Had water stain remover; for soft water is the Bucko Soap Scum and Grime remover.
Best for Mould is RMR-86 Instant mould and Mildew Spray. Best for soap scum, which is anti-bacterial.
The best spray is C.R.L. Bath cleaner.
How do you clean the textured bathtub?
Create a thick paste out of baking soda and water to clean the bathtub's textured bottom. Then use a clean sponge to massage in a circular motion on the bathtub's bottom. Use Mr. Clean Magic Eraser if you want to let your bathtub air dry. To clean really unclean tubs, 3 cleaning erasers will be sufficient.
How do I get stains out of the bottom of my bathtub?
Take one part of the hydrogen peroxide and two baking soda parts to make the perfect bathtub cleaner. Scrub the paste on the hard stain; give it time to absorb the mixture, approximately one hour. After this, rinse with water and wipe it. If the stains are hard, repeat the process as required.
Conclusion
To conclude this topic, falling in the bathrooms and showers might be extremely dangerous, painful, and worse. Most people don't have sufficient accessories like nonslip bathtubs and bath showers; thus, thousands of people fall in washrooms. Check this guide to clean the stone tile shower.
From the above discussion, it will be easy for you to understand how to clean nonslip bathtubs.
So if you follow our suggested tips and suggestions regarding cleaning procedures, steps, products, and bathroom stickers, it will surely decrease the risk of slipping in the shower place or bathrooms, thus saving your life.
Read More: How Long Does It Take to Remodel a Small Bathroom