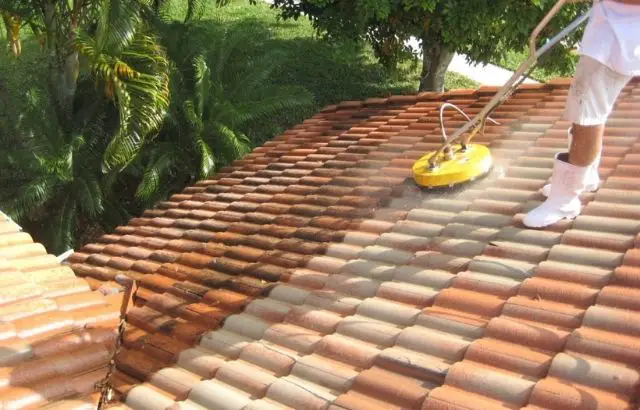 How to Clean Roof Tiles | DIY Methods With Recommended Tools
Disclaimer
Articles, products, and services offered on this site are for informational purposes only. We recommend using caution and seeking professional advice. This site provides general information. We are part of the Amazon Services LLC Associates Program, an affiliate advertising program. Amazon.com is compensated for sales resulting from links on our website.
Please review our disclaimer before taking action based on anything you read or see.
This article is meant to educate us on how to clean roof tiles and various relevant topics discussed in the articles.
To extend a roof's life, it is essential to carry out annual maintenance consisting of washing, defoaming, and treating the coating. To clean the top of your home yourself, follow our articles for recommendations.
How to maintain your Roof Completely
Plan the application of treatments according to the weather. Ideally, the weather will be dry. Also, avoid periods of strong wind or high heat conducive to the evaporation of products. If cleaning in winter, wait for the foliage to drop altogether.
Preventively spray an anti-foam and algaecide liquid about once a year.
To limit the appearance of moss and mold, prune trees near the roof, and prune vegetation along exterior facades.
On a tiled roof, waterproof the surface with a water repellent product to improve waterproofing. For more effectiveness, apply the treatment in several layers.
Respect the dosages and action times of the products (some agents require rinsing).
Choose organic treatment products that respect the environment over polluting chemicals.
For cleaning a roof made of terracotta tiles, never use bleach because it increases the tiles' porosity and weakens them.
To strip a surface with Kärcher, position the jet in the direction of the water flow, and move from top to bottom.
For particularly aggressive products, use a mask to protect yourself from odours that sometimes cause headaches or dizziness.
Equip yourself with a protective harness connected to a safety point if the roof slope is marked. Work in pairs for safety.
How to Clean Roof Tiles
A well-tended roof with clean tiles is an attractive sight and helps maintain the entire building's value. However, cleaning the roof tiles is difficult due to the elevated location and cannot be carried out as quickly as cleaning the facade. The following eight tips should make it easier for you to clean the roof tiles so that your house becomes an eye-catcher in your neighborhood.
Step-1:
Do not rely on the high-pressure cleaner if you want to clear your roof of moss, leaves, and other dirt. Instead, make an effort and first remove the coarsest dirt manually, such as a ladder, broom, or scrubber. This increases the chances that later cleaning with high pressure will be more effective and that your roof will be cleaner.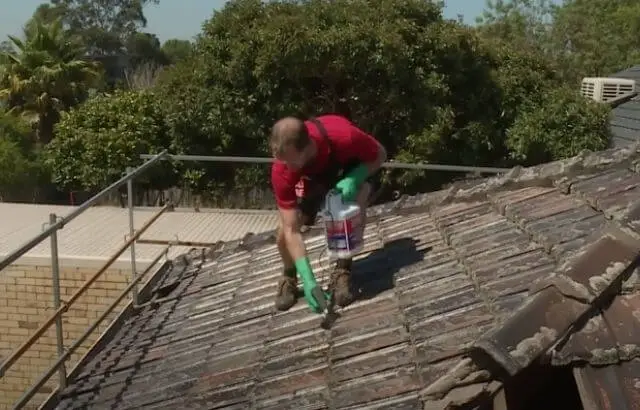 Step-2:
Moss cushions are among the most common problems with dirty roofs, which unfortunately cannot always be easily removed with a broom. If you have noticed a strong moss infestation, manual pulling out is still the most effective way of removing it.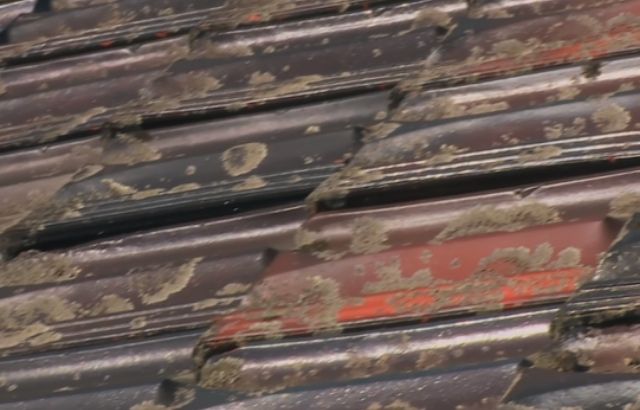 Step-3:
To delay a new infestation with moss for as long as possible after cleaning the roof tiles, special protective coatings are available in the hardware store. When purchasing it, it is essential to pay attention to water vapour's permeability, so not every protective varnish is equally suitable for sealing the bricks.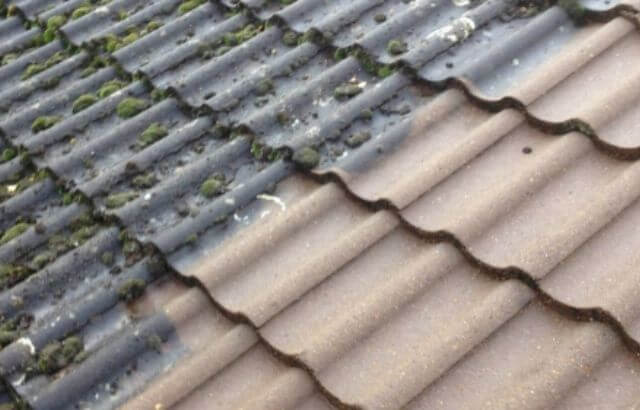 Step-4: 
A high-pressure cleaner only makes roof tiles effective if you encourage the dirt to drain off in the right direction. Therefore, always work with the heater in which the moss and dirt should flow away, instead of merely holding the water jet on the brick without specifying the direction.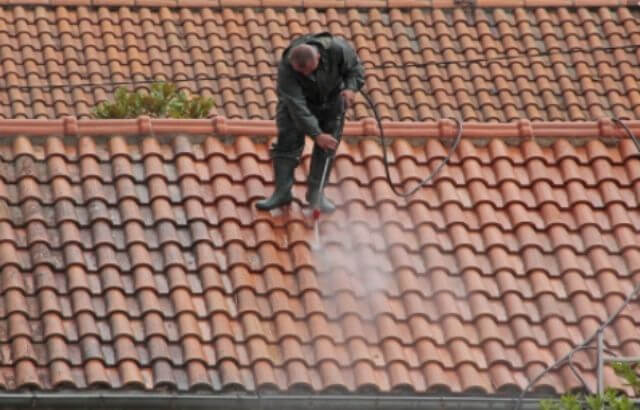 Step-5: 
If you have recognized algae on your tiles in addition to moss, the simple water jet to clean the roof tiles is not sufficient. Instead, work with unique substrates waiting for you in specialist shops and address the algae problem. Whether you apply the cleaning agent manually and use it to clean the bricks or whether you can connect to a high-pressure cleaner depends on the technical device.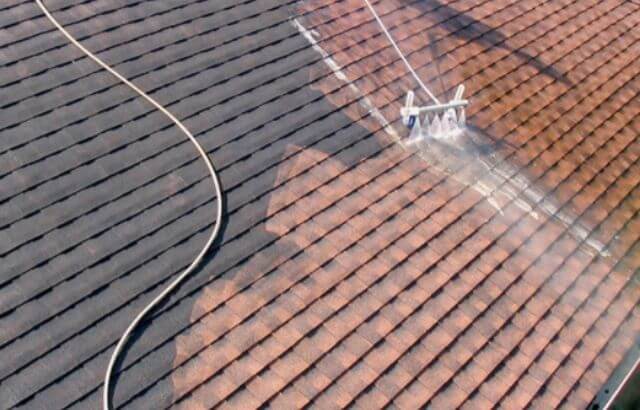 Step-6: 
To apply protective roof paint, do not wait until the individual shingles are completely dry after cleaning the roof tiles. Most products from specialist retailers are designed so that the paint can still be applied to the damp bricks. The protective coating does not necessarily have to be involved with a brush; spraying on is also possible and ensures that the colour is evenly distributed.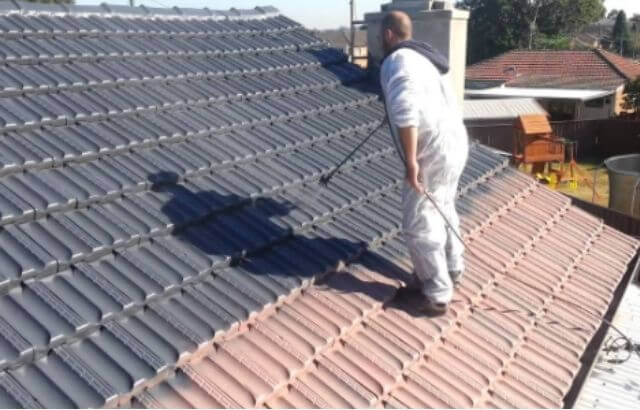 Step-7: 
Don't hesitate to clean the roof tiles out even if you have planned on applying a protective coat of paint as a last resort. Modern protective products from specialist retailers can withstand rain and other precipitation forms just a few hours after being applied. Cleaning on a sunny day is possible, even if bad weather is expected in the evening.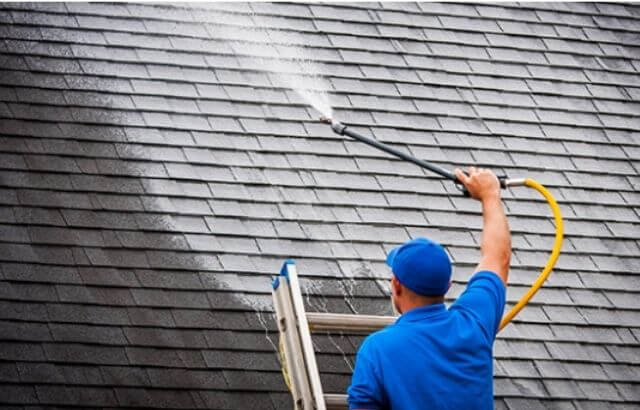 Step-8: 
If you are unsure when handling the ladder or challenging to reach large roof tiles, you should seek professional help cleaning the roof tiles. This may cost a bit more money than cleaning yourself, but it offers you the security of an optimal completion without the potential risk of injury.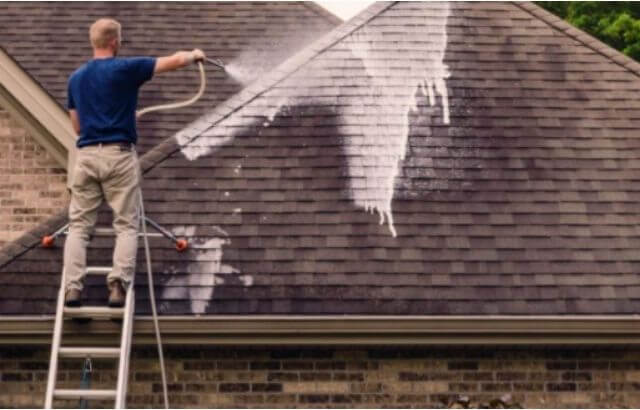 Tips for Cleaning Tile Roofs
Tile roof cleaning is usually done because mold, mildew, algae, or fungus have started to grow. 
Spray with hose/pressure washer 
While you ought to never utilize a powerful weight washer, the ordinary nursery hose or low-pressure washer eliminates organisms without any problem. To dodge granule evacuation and water harm, keep splash inside a couple of feet of shingles and shower descending.
Sale
Wet & Forget Mildew Removal, 48 oz, Blue, 48 Fl Oz
Xtreme Reach Hose End Outdoor Cleaner attaches to garden hose; jet tip sprays up to 30ft to remove green and black stains caused by moss, mold, mildew, and algae on roofs and siding; fan tip provides quick application to driveways and decks; no rinsing
Spray dry surface on a cool day to avoid rapid evaporation of product; do not rinse; apply when rain is not forecasted within 4-5 hours; apply when the temperature is above 55° F
Cleans over time with the wind and rain; green stains clean up within 1-2 weeks; black stains or heavy; stubborn stains can take several months; long-established stains may take 6-12 months; surfaces can stay clean up to 1 year or longer
Rub gently with a brush
Using a soft bristle scrub brush will remove dirt and most mold, but it should be done very gently. Applying too much pressure will scrape the granules and damage the shingles. 
Sale
Amazer Scrub Brush Comfort Grip & Flexible Stiff...
Quality & durable bristles: Amazer scrub brush boasts extra-tough fibers for easy scrubbing of large areas. Efficiently clean hard-to-clean dirt around your bathroom or kitchen
Comfortable grip: The ergonomically shaped handle makes it easy to apply pressure as you scrub without straining your body. The dual tone design features rubber grooves that make it more comfortable to hold
Apply to all surfaces: The scrub brush head features strength bristles for hard and soft scrubbing of tubs, tile walls, carpet, floor and so on
Mix a Bleach Solution
There are chlorine and oxygen bleach solutions on the market. Chlorine bleach can harm shingles if not applied properly. Oxygen bleach is safer and less toxic.
Apply copper sulphate
Copper sulphate can be sprayed on roof mold, allowed to settle until mold turns brown, and then swept up with a broom. After removing mold, spray the ceiling with water and be sure to rinse the metal gutters.
Regardless of how you clean your roof, be sure to take safety precautions, as moisture and everything that grows on it creates a slippery surface.
Materials used for Cleaning a Roof
Cleaning a roof can be done without a lot of materials and products. The products will allow you a significant gain and a better result, but you can very well maintain your roof at a lower cost with a lot of elbow grease.
The essential elements are:
Scale
Shoes allowing a good grip
Gloves
A safety harness
A stiff brush
Some water
A garbage bag
Elbow grease and patience
For deeper cleaning
An anti-foam solution
A water repellent
A mask and glasses for the use of these products
A Kärcher type sprayer.
Best Rain Gutter Cleaning Tools
For this type of cleaning, several essential tools are essential: 
Stairs
Heights are dangerous; everyone knows it. Choosing the right type of ladder can be the difference between being safe and exposing yourself to a life-threatening fall. As a general rule of thumb, use a stepladder for one-story homes and an extension ladder for a two-story house. 
Ensure your ladder shows no signs of damage like rust, dents, or anything that could cause it to collapse while you work. Additionally, be sure to position it on solid ground and have someone hold it if necessary. Consider purchasing aluminum ladders, as they are light but sturdy.
Sale
Little Giant Ladder Systems, SkyScraper, M15, 8-15...
Dimensions - Max A-frame height: 15' | Min A-frame Height: 8' | Storage Depth: 8" | Storage height: 8'7'' | Weight: 66 lbs.
Take this ladder where no other 15-foot A-frame can go, including tall staircases, stadium seating, theaters, and other sloping or uneven surfaces.
Replace much more expensive power lifts, scaffolding systems with a ladder that is much easier to use, store, and maintain.
Palettes
There are a wide variety of trowels on the market to help you clean your gutters. To facilitate your work, select a pallet designed for gutters, as these best fit your gutters' measurements and are made of materials that will not cause damage.
Pressure Hose
To remove debris as quickly as possible, choose a hose with adjustable pressure. This tool sprays a generous stream that will remove residue immediately.
Tool Daily Deluxe Pressure Washer Gun, with...
ATTENTION: Not Fit GardenHose, WaterHose or YourFaucet Directly". Max pressure is up to 5000 PSI. Max flow rate is 8 GPM. Max Temperature of water is rated to 60℃ / 140 F. Pressure washer guns have M22 fitting, compatible with M22 14mm and M22 15mm fitting. M22 14mm fitting is compatible with Generac, Simpson, Briggs Stratton, craftsman, karcher, Ryobi pressure washer. M22 15mm fitting is compatible with Sun Joe, Campbell, MI-T-M, AR Blue, Stanley, Cleanforce, Simoniz, Excell power washer.
If hose has M22 14mm fitting with 14mm inside diameter, please connect to hose directly. If hose has M22 15mm fitting with 15mm inside diameter, please connect the brass coupler to gun and hose.
Replacement pressure washer gun has three lengths to use. Three Length: 40 inch, 25 inch, 8.8 inch. Pressure washer wands are compatible with almost gasoline powered and electric powered pressure washers.
Gloves and Safety equipment
Washing your gutters with your exposed hands is not very smart. Rodents, birds, mold, and sharp edges are just a few of the things that debris in your gutters can hide. Wear work gloves to protect your hands; you can even wear latex gloves under these for an extra layer of protection. Remember to also protect your eyes by wearing safety glasses, and wear a dust mask to protect yourself from mold spores.
Guardian 00815 BOS-T50 Bucket of Safe-Tie - 5...
Safety Kit: Safe-tie Bucket is primarily designed for the safety of roofers and other crew members to help prevent accidental falls. It is perfect for restraint applications in construction work, roofing, thatching, and high-rise window cleaning tasks.
Comfort: Safe-Tie Bucket undergoes rigorous testing standards to ensure optimum performance every time. Full-body harness with 5 adjustment points, features anti-slip back placard for user comfort. The bucket allows a maximum free fall of only 6 feet
Shock Absorber: Lifeline assembly comes with an integrated shock absorber that eliminates the need of additional shock-absorbing lanyard. This also means lesser dead weight transferred to the dorsal D-ring which helps in reducing fatigue and increasing comfort for the user
Vgo... 3-Pairs Synthetic Leather Work Gloves,...
MULTI-PURPOSE APPLICATIONS - Ideal for the auto industry, utility workers, regular construction, logistic, warehousing, driving, forest, ranching, landscaping, gardening, picking, camping, hand tools and DIY light duty works, Mechanics, outdoor activities
PALM/BACK - Faux leather palm filled with 5MM foam padding for abrasion-resistant. Lightweight, breathable & level 5 dexterous stretch spandex
TOUCHSCREEN COMPATIBLE & ERGONOMIC FIT - Touchscreen capable thumb & index fingertips for smartphone control. 3D pre-curved finger & 45° angle cutting for better fit & comfort. 45° angle cut at the finger junctions and pre-curved fingers ensure a tailored fit with amazing flexibility, breathability & comfort
Plumbing Snake
When cleaning gutters, many beginners limit themselves to just the central gutters and forget about one essential piece: the downspout. It's a fact that unless you use a leaf filter, your downspout could also have a buildup of debris that could clog it if neglected. Now, how can you unclog a long, closed pipe with a plumbing snake? This is a drill machine that you can insert into your downspout to help break up any solid mass inside so that you can rinse it out later.
DrainX Pro Steel Drum Auger Plumbing Snake | Heavy...
Features a lasting and durable steel drum housing with grip handle for easy use, for decades of money saving service
1/4" Dia. Steel Snake with spiral head designed for 1-1/4" through 3" drain pipes. It is not recommended to use this drum auger to clear a toilet clog as the snake may damage the porcelain. In addition, the 1/4 diameter snake may get twisted inside the large diameter of the toilet drain. The diameter of the tip 9/16 of an inch or 0.56 inch.
This hand-driven drain auger will clear your househould drain clogs easily without calling a plumber
Vacuum or a leaf blower with extension
This way, you can vacuum or expel the leaves and other debris that clog them, speeding up the cleaning process. These tools' shortcomings are that they do not work for homes with more than two stories since extensions of this length are not readily available in stores. They are also not very efficient at cleaning wet debris because these tools do not generate enough force to lift heavy debris.
Sale
Cordless Leaf Blower, Electric Leaf Blower...
SnapFresh Brand Story; SnapFresh is a new generation brand founded in 2018, focusing on making the use of tools easier; All the design, development, and production of SnapFresh are committed to letting everyone use our tools in a simple way; Our brand exclusive battery suits for different types of SnapFresh tools; All our products come with spare parts, which will save your time to buy various spare parts and battery
Super Battery Life and Fast Charger ; This cordless leaf blower is equipped with a 20v/2.0ah lithium-ion battery and a fast charger, which takes 1 h to fully charge, you can observe the battery level through the power indicator at any time; This battery blower can work for 30-min under full power in gear 1 and 15-min in gear 2
Get Started Easily ; Snapfresh is committed to making tools easier, this battery leaf blower can be assembled in 1 minute, all parts are clear at a glance; All function controlled in 1 button, our electric blower provides 2 speeds for your choice, let you switch smoothly between blowing leaves and blowing dust in your car
Hose with a high-pressure nozzle and extension
There are various options to extend your garden hose so that you can use it to clean your gutters on the first and second floors alike. Attach a high-pressure nozzle to your extension, and go from the furthest point of the downspout to the downspout to get rid of all the debris. Taking precautions on the pressure you apply, as some gutters can be damaged if the jet's force is too high.
Buyplus High Pressure Power Washer Wand – 27"...
Buyplus power pressure washer wand is a normal power washer sprayer nozzle with 2 spray tips, one is jet stream, one is fan spray.(ATTENTION: no electricity and no power, working pressure depends on your water system pressure, NO extra pressure.)
The hydro jet power washer wand with foam cannon can be used for car washing, boats washing, home cleaning , garden watering, window cleaning, plant watering and more!
This magic high pressure wand is easy to use, no more bending, user friendly for most people. It fits all ¾" standard garden hoses and other sizes with standard 1" female hose connectors.
Clamps and Pliers
If you prefer a less messy way to clean your gutters, you can pick up the debris using one of these particular tools. These consist of a pincer mechanism placed on an extendable rod, which allows you to collect the garbage and place it wherever you want. Some of these tools come with mirrors, so you can be sure how much debris is left in your gutters as you pick it up. Additionally, accessories such as ropes and stabilizers can be added to these implements so that you can use them in two-story houses.
Sale
WORKPRO 7-piece Pliers Set (8-inch Groove Joint...
8-inch groove joint, 8-inch and 6-inch slip joint, 7-inch linesman, 6-inch and 4-1/2 inch long nose, and 6-inch diagonal pliers. Covered slushing oil for rust protection. Wipe these pliers before using then store them in a dry environment.
Drop Forged Polished Steel: Heat treated durable body construction
Hardened Cutting Egdes: Long-lasting, increased cutting ease and performance
Rotating cleaning system
If your gutters are a mess, they're filled to the brim with organic debris that you can barely identify, and you need the most powerful tool on the market to clear them without dying in the attempt; you need a rotating cleaning system.
This may turn out to be the most expensive cleaning implement you will ever buy, but no wet mass of leaves and branches will resist it. This tool works with brushes and rotating blades that remove all kinds of trash from your gutters. You can use it for houses of one or two stories high, and you can also connect a hose to have the cleaning action of the water.
Last Words
We believe this article has helped us a lot with cleaning roof tiles, cleaning the roof, the recommended product used in cleaning roof tiles with other necessary details discussed in the articles.
Read More: How To Cut Colorbond Roofing Sheets