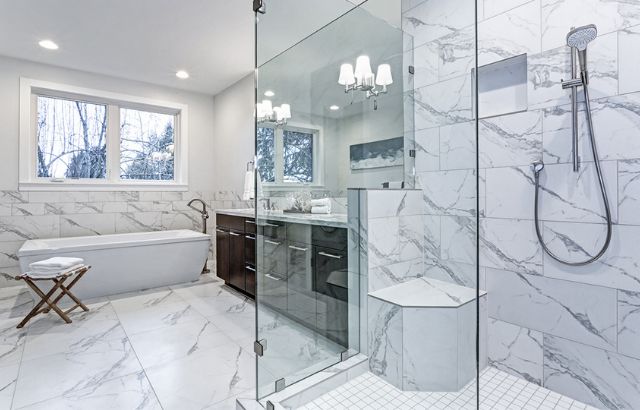 How to Clean Stone tiles in Shower | Follow These 4 Steps
Disclaimer
Articles, products, and services offered on this site are for informational purposes only. We are part of the Amazon Services LLC Associates Program, an affiliate advertising program. Amazon.com is compensated for sales resulting from links on our website.
Please review our disclaimer before acting based on anything you read or see.
Cleaning the tiles in the bathroom or kitchen can be annoying, but getting rid of bacteria and dirt is essential, especially in more humid areas. We recommend natural satisfaction if you want to remove the dirt on your tiles without using elaborate chemicals. In this guide, we will share the steps with images on how to clean stone tiles in the shower.
Summary of what to do in short:
Mix equal parts vinegar and water and put it in a spray bottle. Spray it on each tile, let it act for a few minutes, and wipe the tiles with a cloth to remove them. This mixture can also remove the scale that forms in the shower.
Another good idea is to combine ½ cup of baking soda, a tablespoon of liquid ecological soap (the one you use for washing dishes can also be useful), and a quarter cup of hydrogen peroxide. Apply it on the tiles and let it work for about 10 minutes. Discard the remains with a sponge and rinse them with water to leave them shiny.
The joints of the tiles are where most dirt accumulates. If what attracts you is to leave this part like the jets of gold, it is necessary to take a brush and get it in satisfaction of bleach with bicarbonate. Then you have to brush, but this has to be carried out more patiently. So, let's check this out in the shower!
Now, let's discuss the process in detail;
What are the things required to clean stone tiles in the shower?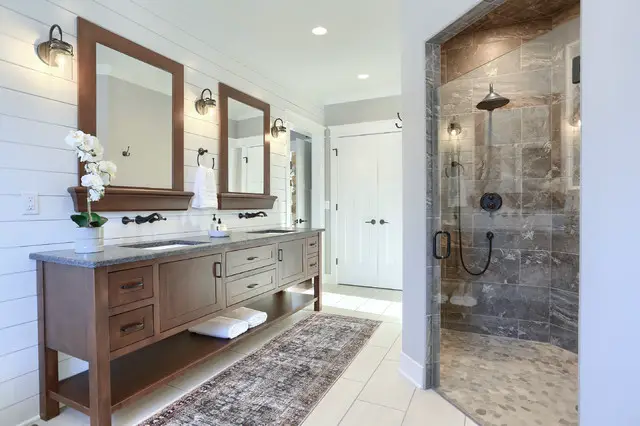 Your bathroom and especially your shower can look spectacular if you follow the advice given by home affluence to clean the stone tiles in your shower. The first thing you need to do is to have the suitable materials to do the job:
The most important thing is to have a brush to pass it over the floors and a sponge to wash it all over the shower. The idea is to remove all traces of soap and residues in the area. It is also essential to have a cleaner that is not abrasive to give more protection to your tile and lasts over time.
You can also use a tile or mild acidic cleaner such as a stain remover.
How to Clean Stone tiles in Shower (Details with Image)
You must follow each step to preserve your tiles and give your bathroom the best look:
Scrub the shower floor with a pumice stone.
Mix together baking soda and vinegar to make a paste.
Use a scrubbing brush to clean the shower walls and tiles.
Rinse off the cleaning solution and dry with a towel.
Step 1: Scrub the shower floor with a pumice stone.
The pumice stone, although usually used to remove dead skin, is a great help in removing stains that form in the bathroom. Its abrasive power discards tartar and leaves the area looking more hygienic. The only thing you have to do is soak the stone in not-too-hot water until it softens.
Step 2: Mix together baking soda and vinegar to make a paste.
This paste that you will achieve by mixing baking soda and vinegar will help you remove the toughest stains.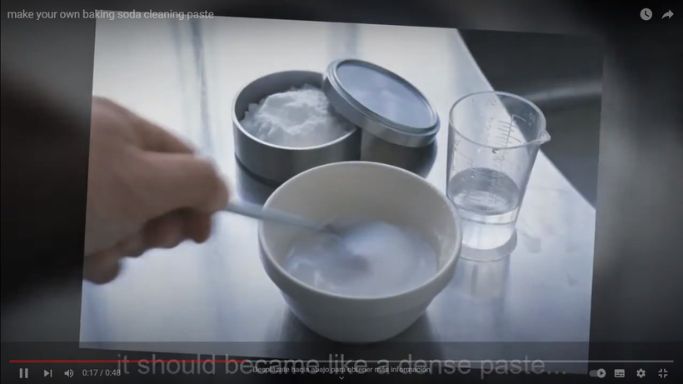 The best way to use it is directly and in abundant quantities on your tiles. Some people use old toothbrushes to scrub stubborn areas. Some research says you can leave the mixture for about 30 minutes for its grease-removing power to kick in more efficiently.
Step 3: Use a scrubbing brush to clean the shower walls and tiles.
Clean the walls with a brush to remove all the stubborn gunk. Many people even use dishwasher-style soap that kills 99% of germs.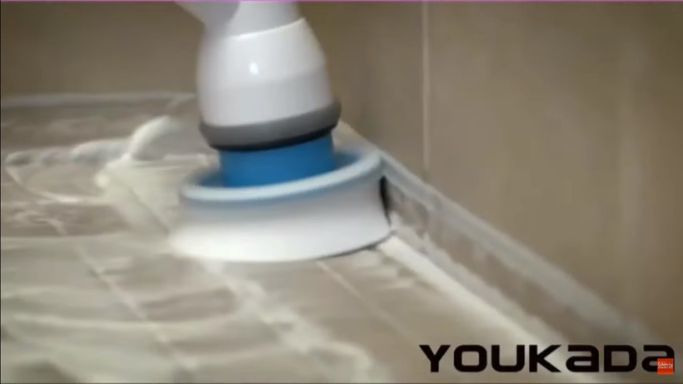 You can scrub the entire shower and nearby shower areas with a hand brush. After drying the shower thoroughly, you will notice that the appearance will improve and become brighter.
Step 4: Rinse off the cleaning solution and dry with a towel.
The last step is to use a towel or microfiber cloth to dry the entire area. This will make the surface very clean and not allow dust and residue to adhere.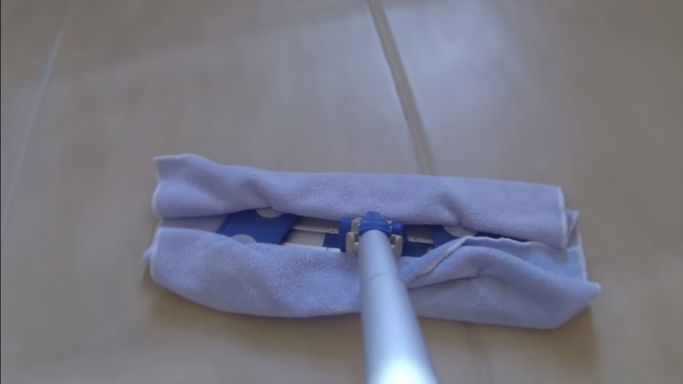 All you have to do is to be well all over the bathroom and shower area.
Expert opinion
One of the essential points is that people on Reddit and some social forums talk about using hot water to wash the shower. However, concrete research points out this is more effective than using room temperature or cold water. Mixing the vinegar well with the baking soda is the most important thing. You can use some soap used at home as a dishwasher to complete the process satisfactorily.
Another essential aspect is drying the entire area after rinsing your tiles. This is very beneficial because it gives your bathroom and shower a stunning look. Also, it is durable so as not to compromise the joints (this is because water can seep under the tile).
Conclusion
The Home affluence team recommends you thoroughly clean your shower and bathroom at least every three months. Everything will depend on the family's use of this area of the home. As you can see, you don't need a lot of materials to do it.
Remember that you can use baking soda and vinegar; some even use bleach. However, you can see the rest of our blog articles to learn more about this material's impact and bleach or similar materials on your tiles.
Sources
Abney, Sarah & Bright, Kelly & McKinney, Julie & Ijaz, M. Khalid. (2021). Toilet Hygiene – Review and Research Needs. Journal of Applied Microbiology. 131. 2705-2714. 10.1111/jam.15121. Retrieved from https://www.researchgate.net/publication/351110917_Toilet_Hygiene_-_Review_and_Research_Needs
Effects of Types of Washing and Peeling in Relation to Pesticide Residues in Tomatoes. Journal of the Brazilian Chemical Society. 26. 10.5935/0103-5053.20150179.
Rash and Son, C. (2019, August 26). 5 tips for cleaning stone showers. Retrieved November 5, 2022, from https://rashandson.com/5-tips-for-cleaning-stone-showers/
Reichert, L. (2020, January 18). The do's and don'ts of cleaning stone in your shower – houzz. Retrieved November 5, 2022, from https://www.houzz.com/magazine/the-dos-and-donts-of-cleaning-stone-in-your-shower-stsetivw-vs~90056680
Simple Green, S. (Ed.). (2022, August 15). How to clean natural stone shower. Retrieved November 2, 2022, from https://simplegreen.com/cleaning-tips/rooms/bathroom/showers-stone/