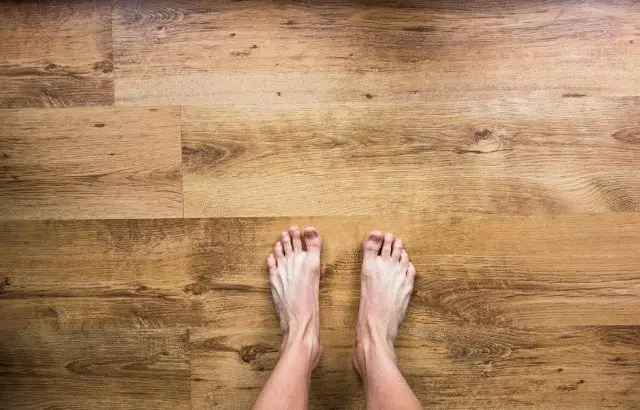 How to Clean Unfinished Wood Floors | A Step By Step Guide
Disclaimer
Articles, products, and services offered on this site are for informational purposes only. We recommend using caution and seeking professional advice. This site provides general information. We are part of the Amazon Services LLC Associates Program, an affiliate advertising program. Amazon.com is compensated for sales resulting from links on our website.
Please review our disclaimer before taking action based on anything you read or see.
Well! Home decor and interior decoration are an evolving industry these days. The main reason is that now people have realized the importance of having a well-decorated interior. Yes, there are different techniques that you may use to make your house beautiful and impressive. For example, wooden floors are a great practical addition that might be valuable for your homes. You can get a professional's services to clean the unfinished hardwood floors as they are the experts. But it does not mean that you cannot do it yourself at home. Yes, if you plan to be your boss, here are some useful tips and tricks on how to clean unfinished wood floors.
Wood floors can live a long life only if they are cleaned and maintained effectively. So the question arises in most people's minds that why is it important to clean the finished and "unfinished floors"? 
Read More: How To Remove Orange From Wood Floors
Cleaning wooden floors are essential to keep them long-lasting and durable, whether the floors are finished or unfinished.
If you want them to remain beautiful and shine bright, it is necessary to clean them after every six months. The best time to do this job is right after the wear and tear of summer and during the fall season. 
Importance of Cleaning the Unfinished Wood Floor
Everyone knows the importance of cleaning the untreated wood floors because they give the perfect way to highlight an elegant home. If you use strong chemicals and spirits, it may lead to strip and stain in its real grain. Similarly, too much warm water rinse given to unfinished floors will affect their color. 
It becomes tough to make the best choice, especially when you find a wide range of variety of cleaning products on the market. So, here we have enlisted the best options.
So if you have unfinished floors in your homes, with a little know-how to use the products, you can save your money and time. To prevent your floor from damage, you should not make cleaning mistakes for sure. Moreover, while dealing with chemical products for cleaning, you should take safety and preventive measures.
Read More: How To Remove Glued Down Wood Flooring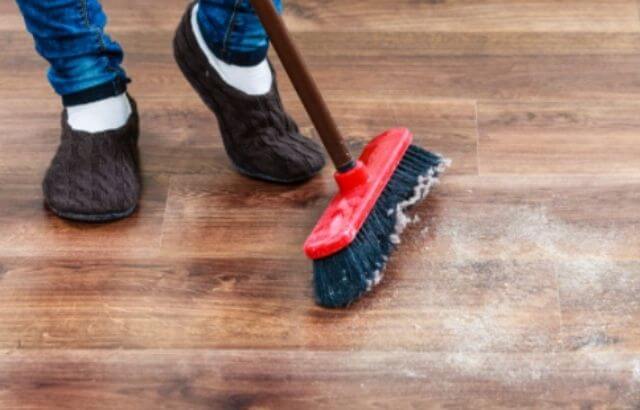 How to Clean Unfinished Wood Floors
Everyday cleaning:
It is imperative for routine cleaning to keep dust and dirt away from unsealed wooden floors, like if you have a 'no shoe policy,' you may avoid dust indoors. The best way to ignore damage to the wood surface is to make the cleaning process regularly.
Wood vacuum, with a bare floor setting: This is the most common, effective, and most straightforward method to clean old wooden floorboards and to keep dirt and debris away from them.
You should test the beater bar first in the unremarkable area if you are not sure about its intensity.
But brushes should be the right choice because some designs are best for the unfinished wood floor setting.
So it would help if you chose a static dust mop or soft bristle model for best results.
Do not forget to make light strokes on the unsealed wood floors because they are very sensitive because they are unsealed and unfinished.
It would be best if you were sure about rubbing sounds, as small shocks can accumulate in the brush's bristles and leave stains.
When you are mopping your unfinished wood, you should use the cleaning products and liquids very carefully.
There is no need to use water in high quantity; use a damp cloth.
Recommended cleaners:
If you are dealing with the cleaning of unfinished wood floors, you should choose the right cleaners. 
Most of the professionals opt for vinegar because it is safe in every manner to use for cleaning unfinished wooden floors.
White vinegar is acidic and can be powerful if not used in diluted form. 
A cup of vinegar mixed with water is best for cutting the stains on lines of the floorboards.
The main disadvantage of vinegar is its foul smell and its potent fumes. 
It is better to buy odorless vinegar or to mix it with any essential oil.
Another hardwood floor cleaner is Murphy's oil; mix one tablespoon of soap to a ½ bucket of water to make the solution. Rinse the floor with water so that to avoid the formation of the residue.
Now dry the floors with a clean cloth, rather than dry them in the fresh air.
Deep cleaning for unfinished wood floors:
Two chemicals are beneficial for cleaning unfinished wood floors. These include the mineral spirits and Trisodium Phosphate. Both substances are excellent cleaners for your floors and give them a natural look and shine.
Mineral spirits:
It is in a liquid form that contains petroleum and is best for removing paints from brushes and other tools.
If you use it for cleaning purposes, cleaning chemical, removes the strains without damaging the floors.
Rub it with a clean cloth on the surfaces of floors to get better results.
Do give it a finished look by rubbing the towel on unfinished wooden floors.
Trisodium Phosphate
Trisodium Phosphate is available in crystallized powder form in most hardware shops.
To use this chemical, use a scrub brush, and then rinse it with warm water.
To prevent it from permanent damage, absorb the excess chemical from the wooden floors.
Your floors should be free of debris and dust when dealing with these chemicals.
You should do the spot test of chemicals and then use it in the actual area. 
Use of steam mop:
The most trustable method to clean the unfinished wood floors is to use steam.
If water goes directly on the unfinished wood floors, it may damage the surface. So it is better to use a steam mop for unsealed wood floors. While cleaning the unfinished wood floors, safety has its importance. Be careful, especially when you have pets and children near you.
You can choose bona on unsealed wood floors because it is safe and ideal to use for hardwood floors.
Bona ticks are great as floor cleaners and can be readily available in hardware stores.
It is best to remove all types of dirt, debris spots, and grime.
It is an excellent cleaning product of a highly reputed company for cleaning wood surfaces.
It is a water-based cleanser, which is proven to remove debris, dust, and grime. It also works to remove stains and blemishes without damage.
You can apply it on the surface, without mixing with any other ingredient, and then clean it with Bona pads.
Learn More: How Many Coats Of Water-Based Polyurethane On Hardwood Floors
How to Clean Unfinished Wood Floors: Necessary Safety Precautions:
It would help if you were very careful while handling these chemicals because both are volatile and flammable. Always keep it away from sparks and the open flames. So safety measures should be kept in mind while dealing with either of the chemicals.
Your working area should be well ventilated to avoid toxic fumes.
Wear a respirator when handling these products.
Keep these chemicals away from children because this can leads to respiratory disorders.
Protect your hands with thick gloves. You may choose the appropriate size for your hands as they come in different sizes.
These chemicals are potent, thus can irritate your skin. 
Follow the directions given in the leaflet that comes with chemical products, and if you have any questions regarding their use, you should consult the manufacturer.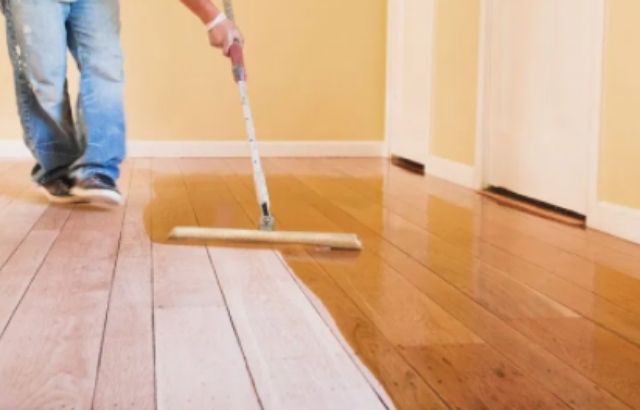 How to Clean Unfinished Wood Floors: FAQs
Can you use Murphy oil on unfinished wood?
Some chemicals used in the cleaning of unfinished wood floors can cause discoloration and warp of wooden surfaces. Opt for the cleaning agents with a natural source. For example, murphy oil soap and mineral oil is the best option that will clean and remove dirt, grime, and grout, without worrying about the toxic fumes.
Can you use vinegar on unfinished wood?
Yes, you may use vinegar to clean unfinished floors. When you plan to remove the stains, fingerprints, grime, and other dirt particles, white vinegar is the best option. Add one tablespoon of vinegar to the water and put it in the spray bottle. Then spray it on the unfinished wood floors, and wipe with the clean damp cloth.
Learn More: How To Clean Cherry Wood Floors
Can I leave my wood floors unfinished?
Yes, I can leave my wood floors unfinished by leaving them naked and raw. But if you installed them in the prescribed manner and sanded them adequately, you will not get splinters in them. Thus your unfinished wood floors will look as durable and beautiful as the finished ones.
Conclusion
To end the topic of how to clean unfinished wood floors, I would say that no issue how modern the world has become, but some techniques will always stay classic and unique, like the rustic beauty that your unfinished floors have forever. Though the unfinished floors are challenging to clean, you can quickly do the job if you choose the right cleaning methods and the proper products and knowledge. But if you do not opt for suitable materials, it can harm and damage the surface, and you will need the extra cost for repair. So the above tips and suggestions for how to clean unfinished wood floors might be beneficial to you.