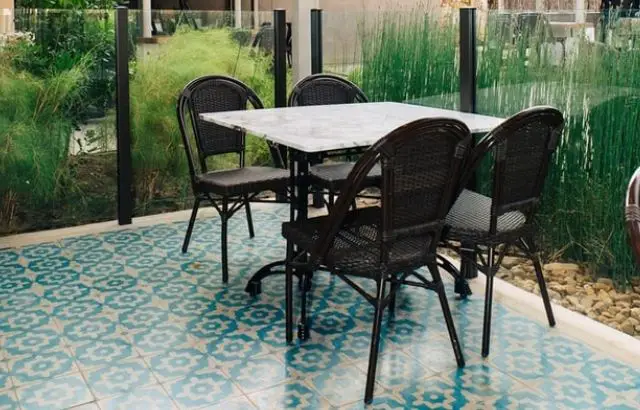 How to Clean Vinyl Strap Patio Furniture | Awesome Tip From Valid Source
Disclaimer
Articles, products, and services offered on this site are for informational purposes only. We recommend using caution and seeking professional advice. This site provides general information. We are part of the Amazon Services LLC Associates Program, an affiliate advertising program. Amazon.com is compensated for sales resulting from links on our website.
Please review our disclaimer before taking action based on anything you read or see.
Do you have Patio furniture in your home? Then you must be familiar with the dirt and mildew that come on the patio furniture. Nowadays, people like to sit in their garden mostly for sunbathing or for other recreational events. Over time, vinyl patio furniture gets dirty due to sun-baked dirt. To clean such furniture becomes hazardous, and one question comes to mind how to clean vinyl strap patio furniture? 
For cleaning, you will need some tools, tricks, and tips. But I have one question, do you know what vinyl strap patio furniture is? Patio furniture is any furniture you use in your house's garden or outdoor, covered with vinyl straps. Instead of buying new furniture, you can deep clean your old patio furniture. 
Types of patio furniture:
Wooden furniture
Vinyl Strap furniture
Bamboo furniture
Metal furniture
Plastic furniture
Glass furniture
Concrete furniture
Rattan furniture
Rope furniture
According to their choice, people choose furniture—all of the above types of furniture used as a patio/ outdoor furniture. Most people prefer wooden, metal, vinyl strap, and bamboo furniture to sit outside because they are comfortable to sit and durable. But if you live in a high-pressure airy area, then any furniture you buy will lose. But concrete furniture will still be there in such a situation. And the worst furniture in this weather is glass furniture. While choosing patio furniture, you must have to see everything.
Tools Require to Clean Vinyl Strap Patio Furniture
To clean, you will need some tools. If you have these tools with you it's great. In case, if you don't have these tools we had recommended the best ones below. You can get them right now and start cleaning vinyl strap patio furniture.
Garden hose with a spray nozzle
Sale
INNAV8 Water Hose Nozzle Sprayer - Features 10...
THUMB CONTROL DESIGN: This nozzle was designed to operate effortlessly simply by pushing the switch up with your thumb to turn it on and control the water flow. Stop overtaxing those fingers by squeezing trigger handles, this nozzle will have zero strain on your fingers and will prevent Arthritis pain.
ERGONOMIC PISTOL GRIP: The soft rubberized no-slip grip makes this sprayer comfortable to hold for long periods of time. Don't get your hand burnt when grabbing one of those bare metal nozzles that were left in the sun on a hot summer day neither should your hands freeze in pain when holding them on a cold winter day. This molded rubber nozzle with its ergonomic design has an insulated grip and is comfortable in hand.
10 WATERING PATTERNS: Whether you need a high-pressure jet to clean a hard surface or a soft delicate shower to water the garden, this nozzle has you covered. It has spray pattern options for every watering need, including fan, mist, soaker, jet, and you can change the pattern easily with a twist of the head disk.
Dish soap
Dawn Ultra Dishwashing Liquid Dish Soap (4x19.4 Fl...
50 percent Less Scrubbing
Contains 3x Grease Cleaning Power (cleaning ingredients per drop vs. Dawn Non-Concentrated)
Our NEW More Powerful Formula helps you get through more dishes with less dishwashing liquid.Phosphate-Free
Clean fabric cloth
Sale
Bucket
Rubbermaid Roughneck Heavy-Duty Utility Bucket,...
BUILT TO LAST: Heavy duty wire bails offer extra durability
PRACTICAL DESIGN: Bucket features twin spouts to guide water flow from either side of bucket
CONVENIENT STORAGE: Square shape provides for easy storage
Soft-bristled scrub brush
Sale
Bleaching agent if stains are hard to remove
Sale
XR Brands Anal Bleach with Vitamin C and...
Clean Stream Anal Bleach: Improves skin tone by lightening and correcting excess pigmentation in your most intimate areas. Feel more confident in your own skin and attain the results that you've always wanted to look and feel your best.
Formulated with Vitamin C: This natural skin lightening vitamin inhibits enzymatic pathways that stops the formation of melanin, the natural pigment that gives your skin its color, including those of your dark marks, age spots and other hyper pigmented concerns that you have with your skin. Other natural ingredients such as ginseng, green tea extract and aloe aid in creating a soothing and hydrating formula.
To Use: Wash and allow skin to dry. Rub into desired area until absorbed. Only a small dime size amount required. For best results use the whitening cream twice a day until desired effect is achieved.
Patio furniture cleaner
Sale
How to Clean Vinyl Strap Patio Furniture Step by Step
Spray the whole furniture from up and downside with a spray nozzle or pressure wash with clean water. It will help in dislodges all dirt quickly.
Now put Dishwasher liquid in hot water in a bucket, and mix it with hands nicely. It will help in raising suds in the water.
Now with the help of a soft-bristled brush, dip it into the sud water and start cleaning straps and metal rods by rubbing.
Remember, one important thing to clean is its downside. All dirt gathers on the downside. So it would help if you cleaned the downside deeply. 
If stains are hard to remove, then use patio furniture cleaner. It's a readymade cleaning agent who will clean all dirt fastly and easily.
After finishing rubbing, pour clean water on the furniture and renise it nicely so that all surf comes out and gives a shiny look.
Take clean and dry fabric cloth and dry furniture with a cloth.
Then put into the sunbath to completely dry.
Tips and tricks
Don't rub too hard. Otherwise, all paint from straps will be off. 
If straps paint is already off, then take off the old one and put new belts on the patio furniture.
In case, you can't afford a vinyl cleaner, make it in your home by putting ¼ vinegar into the semi-hot water's 2 litres. 
If you are cleaning with bleach, then put gloves on your hand. Otherwise, your skin will burn or crack.
Clean regularly to avoid any hazardous.
If the rain comes then after rain wipes it with dry fabric cloth.
Cost
Its cost is variant. The minimum price for the powder coat is $40-$250.
But the company or painter will charge you for everything separately. 
| | |
| --- | --- |
| Table | $40-$125 |
| Chair | $50-$70 |
| Patio Couch | $40- $100 |
How to Clean Vinyl Siding
Have you ever clean your exterior like you clean interior? People worldwide put vinyl siding wall on the exterior to protect from moisturizer and any damage with water. As time pass this vinyl siding becomes dirty, and all dirt becomes stubborn. To clean your exterior vinyl siding, you have to follow some strategies.
Divide whole work into parts: it will help you to complete your work fastly.
Don't rub hard: while cleaning, you are not rubbing it hard. Otherwise, the paint will come out. It's better to use a soft brush instead of a hard one.
Safety Tools: While cleaning, you must be safe yourself with tools. Like if you are cleaning from the upside, then put on a safety belt. If you are using and hard smell, the material must put the mask to protect your lungs, cover your hair nicely, cover your hands with gloves, and wear goggles to protect your eyes.
Avoid sunburn: If you see the sun is scorching today, don't clean in direct sunlight. Try to clean early in the morning.
What do you need for cleaning?
Amazon provides the best vinyl cleaners at a cheap rate. Three packs only in $44.99. 
Sale
30 SECONDS Outdoor Cleaner - Rapid Results, Cleans...
CLEANS STAINS CAUSED BY ORGANIC GROWTH: 30 SECONDS Outdoor Cleaner rapid cleans stains caused by algae, mold, mildew and moss
EASY TO USE: Just spray on to the surface you would like to clean, and hose off! No more pressure washing
SAFE FOR LAWN AND PLANTS: When used as directed, 30 SECONDS Outdoor Cleaner will not harm your lawn, trees, shrubs or landscaping
Soft Brush
Water hose
Soft cloth
Sponge
Divide In Parts
First, you have to divide all sides into parts. Then start cleaning from upside first. So that all dirt drops down. If you start cleaning from the downside, then all your effort will fail when you go upside as all dirt again comes down.
After cleaning upside, start cleaning corners, as corners pick dirt fastly. If you are living in an industrial area, then sorry, your siding will always be greasy and oily as these siding absorb dust and grease fastly.
Now clean up walls then down walls.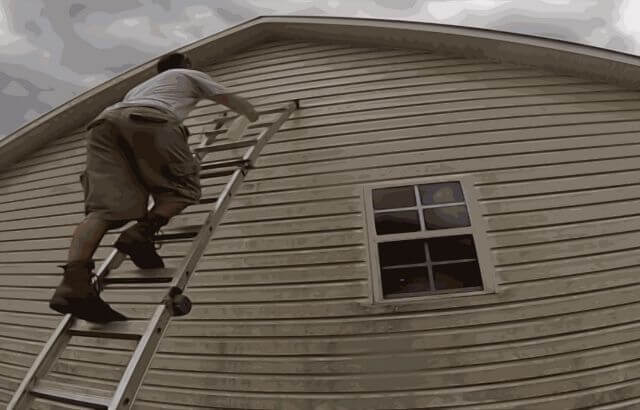 Brush to clean:
Use a soft brush for rubbing. If vinyl siding gets damaged, you have to put a new one. If stains are hard to remove, then dip the brush in vinyl cleaner. It will help a lot in removing hard stains.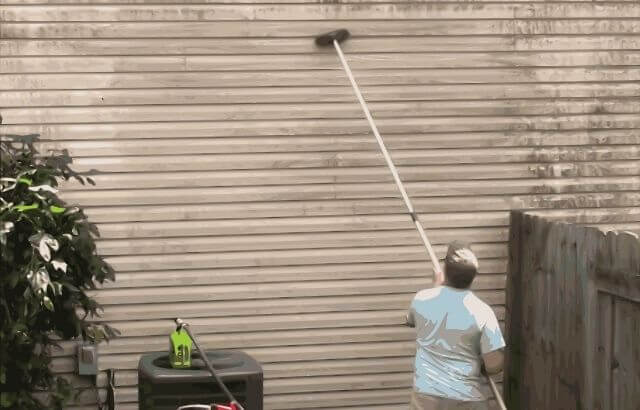 Use a water hose: 
According to company rules, you can't use pressure water as it can break the wall. The company recommends a water hose to spray water for rinsing. 
But if you are familiar with pressure level, then wash on low pressure.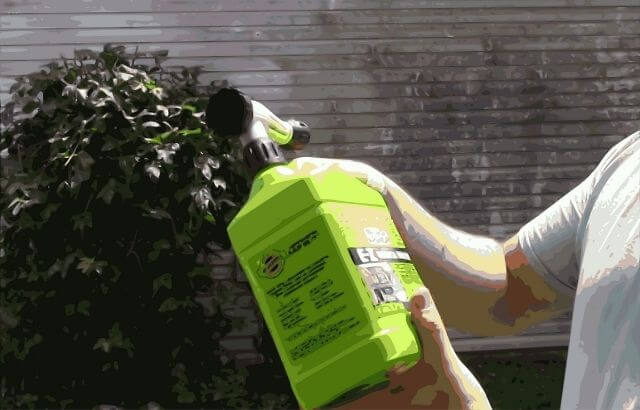 Dry Cloth: 
After washing with water, now take clean and dry fibre cloth or any soft cloth you have and softly rub all around to wet-dry it. 
Why Vinyl siding gets dirty
Due to air pollution, all dust come and stick on to the siding. 
Suppose your Exhaust is not working correctly. Then your siding will get greasy. If you have any car wash near you or you are living in a busy industrial area, the vinyl siding will get black grease.
Frequently Asked Questions
How do you replace vinyl straps on patio furniture?
If vinyl straps get broken, or all paint is off, it's very easy to replace. You need one scissor, measuring tape to measure its width, and nail or glue.
When takeoff strips, you will see holes on both sides at rods. 
Take a new strip; take estimate how long you will need to wrap around the rods. Then cut according to the measured size. Now put screwed nail to fix the vinyl strap on patio furniture. And wrap it two times to make it strong.
Now take the strip to the other rod and do the same procedure on the 1st rod.
Now repeat these steps till the end.
Can you spray paint vinyl straps on patio furniture?
Yes, you can spray. But see if the strips are okay. Don't spray on dirty strips; it will result in a yellowish finish.
When you are going to spray, 1st put primer, then coat it with spray paint.
One tip must use flexible paint spray.
How do you refinish powder coated patio furniture?
When you have powder-coated furniture, you must know powder paint is equal to 3 or 4 coat of paints. You can follow any way either you can take out older paint and put a new one. Or leave it old coat and put the new one on the vinyl patio furniture.
How much does it cost to have patio furniture powder coated?
Its cost is variant. The minimum price for the powder coat is $40-$250.
But the company or painter will charge you for everything separately. 
| | |
| --- | --- |
| Table | $40-$125 |
| Chair | $50-$70 |
| Patio Couch | $40- $100 |
How do you refurbish patio furniture?
Nobody likes to have old furniture. But what's if you refurbish the old furniture into new furniture? How cool is it? 
You can use patio furniture cleaner to cleaning the patio furniture,
If you are using wood furniture and its stains can't take off. Then put color vanish cleaner and clean all around the furniture. Then pour water with a hose.
Take wood oil and a soft sponge brush to oil full furniture from the upside and downside.
Could you put it in sunlight to dry? 
When it completely dries, take brown color liquid and brush to apply this color to patio furniture. 
You can double or triple coat this color. On each coat, you will get different brown shades.
Could you put it in sunlight, dry it, and enjoy it?
Article Summary
To summarize, now you can answer this question of how you can clean vinyl strap patio furniture. Whatever you clean, you will know as a master in your home if you follow safety rules and tricks. Because you clean those things, most people avoid and went to change the furniture. It would help if you cleaned furniture daily. It's not that if you are not using furniture, then why you clean? It's that you have to clean everything regularly to avoid this immense work.
Read More: How to Install a Wall Hang Vanity?