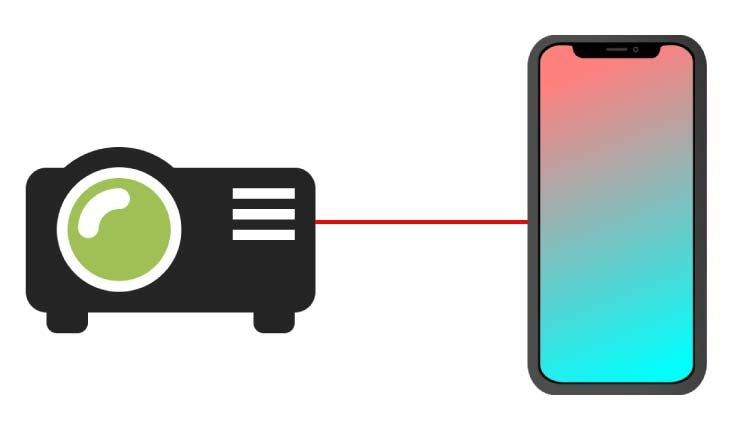 How to Connect Smartphone to Projector | Step by Step Guide
Disclaimer
Articles, products, and services offered on this site are for informational purposes only. We recommend using caution and seeking professional advice. This site provides general information. We are part of the Amazon Services LLC Associates Program, an affiliate advertising program. Amazon.com is compensated for sales resulting from links on our website.
Please review our disclaimer before taking action based on anything you read or see.
Whether you have an Android, or an iPhone, connecting a smartphone to a projector is way easier than you think. The best way to do it depends on the kind of connectivity your projector offers. Let's learn how to connect smartphone to projector.
Mainly, there are two ways to connect a smartphone (iPhone and Android) to a projector, wirelessly or using cables. 
I connect my iPhone to my LG HU85LA USTprojector, which is awesome, by the way. These are some of the top-quality ultra-show throw protectors that you might like.
We will make this article very simple and understandable. Let's discuss both methods.
Connecting a smartphone to a projector using cables: Quick plug and play option using cables and wires has always been a feasible option because the steaming speed will not be compromised, unlike wireless connections that need wireless networks to link a smartphone to a projector.
How to Connect Smartphone to Projector
Let's connect iPhone to a projector using cables
For iPhone
An HDMI cable with a 19-pin connection will allow an iPhone's superb audio and video quality. Thanks to the HDMI, we need only one cable for both audio and video signals. 
Most of the guys, including me, use the lightning to HDMI adapter by Apple for iPhone because Apple constantly updates security and software on their smartphones. 
Follow the steps mentioned below for a secure connection.
All the latest iPhone models have a video output option. If you are unsure, google your model and find out where it is.
Using the HDMI 1 port, connect the Lightning to HDMI adapter to the smartphone and the projector.
All the modern projectors will automatically search the source within 10 to 20 seconds, and the screen will be projected. If your projectors fail to recognize the source, find and click the input selection button (SOURCE).
If it is still not working, restart your smartphone and the projector. 99% it solves the problem.
Now let's connect Android to a projector using cables.
For Android 
It is super easy to connect Android to a projector. Google your model to check if it has a video output signal option. If it has, follow the steps mentioned below for an HDMI connection.
A lot of smartphones, including mine, have a mini-HDMI port that can be directly linked to a projector using an "HDMI adapter for the projector."
B-C type smartphones can also use such HDMI adapters for the connection. Only a single HDMI cable will be used for video and audio signals. 
There is an app on the Google Playstore named "EZ CAST." Download that, click the "connect" option once the connection between your smartphone and projector has been secured.
How to Connect Smartphone to Projector Wirelessly
Though I may not like a wireless connection due to the input lag, it creates while gaming, people use it because it is more feasible and convenient. 
"Apple TV and Chrome Cast" are some of the devices that are extremely popular nowadays to secure a wireless connection. Let's connect iPhone to a projector wirelessly using Apple TV.
For iPhone
Apple TV secures a connection between the device and the projector.
Apple TV only works for iPhone. You would need a WIFI router connected to the internet to connect your smartphone wirelessly. 
Once the connection is secured, just cast your screen from phone to projector with a single tap. For that, you would need an HDMI cable to connect your Apple TV and projector.
Select the menu on the projector and select the HDMI option. 
Now, get the Apple TV remote, go to settings, and select the configure WIFI options in the networks.
Now select the airplay option from your iPad or iPhone, and turn ON the mirroring to cast your screen onto the projector. All done.
For Android 
We will be using the easiest way, which is a chrome cast device. With the help of this device, we can connect our smartphone or computer to a projector wirelessly. 
Like the Apple TV, we would need to connect the chrome cast and projector using an HDMI cable.
After the connection, press the input source button on the projector (S). Now select either HD1 or HD2 on the screen. Select the right input (HDMI-1 or HDMI-2 input). 
Go to the Google Play store and download the Google Home app. Go to the app and finish the setting. 
After that, it will automatically scan after that (select office from the list). Connect your working WIFI network and tap next.
If you want to see Netflix, open it and select the sharing icon at the top right corner. Now select the TV name from the pop. All done. 
Enjoy the widescreen view.
Connecting Smartphone to Projector using Analog Connections
We used analog connections in the older LCD projectors back in the day. There are two ways to create an analog connection.
Use a composite cable/RCA that requires separate plugins for both video and audio.
Use an adapter to connect the smartphone to the VGA port, just like connecting the monitor to the PC.
If your phone doesn't support MHL and HDMI adapters, you need a wireless connection.
Nowadays, almost all modern projectors have built-in video streaming services to save you from trouble. Just Google your model or ask the manufacturer.
Steps and processes may differ from projector to projector, but the basic concept is the same.
I am getting audio but no video (or vice versa). What should I do?
Check if the project is on the correct input channel and the lamp is powered on. 
Make sure both your phone and the projector are unmuted.
Maybe your adapter isn't compatible with your smartphone, which is why it is causing issues. Double-check that. 
A lot of times, the cable is the problem. Buy a new cable. 
Restart both your phone and the projector. 99% of the time, it solves the problem.
Conclusion
The best way to connect a smartphone to the projector is via an HDMI cable or a USB. It will not disrupt the steaming or create any input lag while gaming.
Wireless connections are also feasible and convenient for lazy ass guys like me, but I will not play games using this connection.