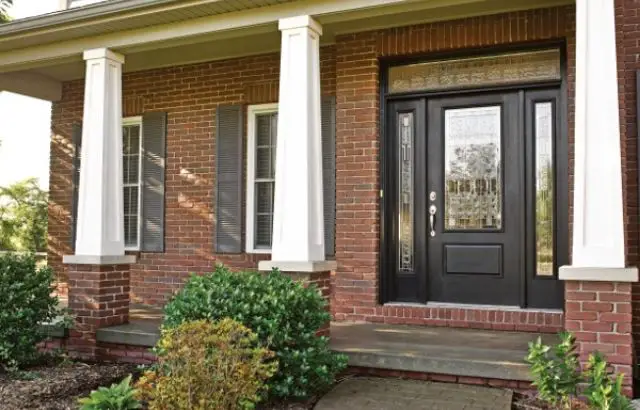 How to Cover Sidelight Windows | A Step By Step Guide By Expert
The sliver of a window bordering the front door is aesthetically pleasing; it increases the door's perceived size, giving it more presence on the home's façade. As nice as it looks like an architectural feature, a sidelight panel is difficult to cover when privacy is desired at the front door. That's why we bring you how to cover sidelight windows.
By learning about the possibilities of covering narrow windows and using some decorator tricks, a homeowner can address the sidelight with a practical cover and enhance the entryway.
How to Cover Sidelight Windows
Curtains and blinds
Innovations in blind manufacturing allow cordless blinds that fit in small spaces, such as sidelights, up to 11 inches.
Venetian blinds allow access to light and view through slats that can be tilted for total privacy while letting light into the lobby.
Honeycomb curtains provide possibilities to control light and heat with a fabric or full shade.
Sidelight shutters and sidelight curtains are available in cordless systems to protect children and pets from strangulation hazards.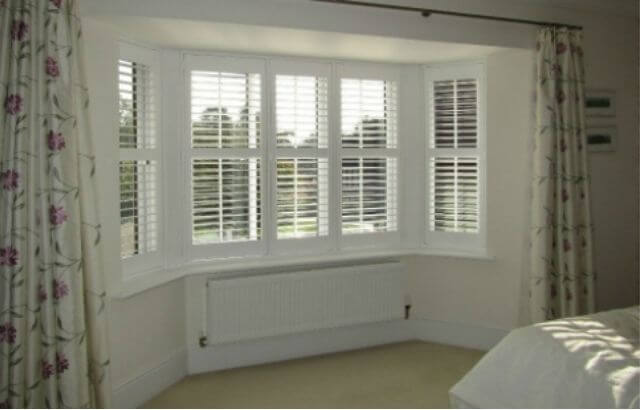 Paint
The glass can be painted with glass craft paint to create a canvas for the household's artistic member.
Glass paint allows light to pass into the area but provides total privacy, if needed, depending on the paint's color and design.
The paint on glass is removable, immediately removed on a sheet once dry, and the art is changed to suit the season or vacation.
The geometric drawings, made with painter's tape, are a project for all levels.
Synthetic paint finishes, such as faux leather or sponge, are suitable for painting on windows.
Even fancy lead lines are peeled off and glued to the glass to mimic leaded glass.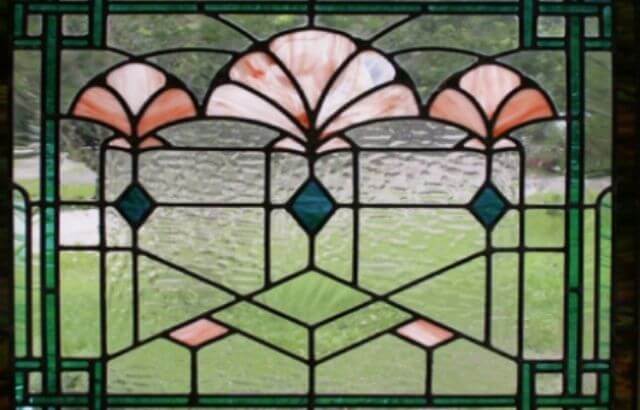 Fabric
Sheer, semi-transparent or opaque fabric in a design or pattern that complements the room's décor is suitable for the ruffled top and bottom header design of a French door curtain; a style that is well suited to a small sidelight.
Hardware
Swing arm hardware, mounted outside the window frame, allows a curtain to be maneuvered away from the window for light and swung back for total privacy.
Small tension rods can also be attached to the sidelight frame at the top and bottom.
Window film
Decorative sidelight window film applied directly to the window surface provides UV protection while increasing privacy.
This product is available in plain colors, tone-on-tone decorative patterns, such as a geometric diamond, traditional colorful designs, such as a green ivy trellis, or large full-color artistic reproductions adapts to any decorating style.
Installation is the responsibility of the owner of the house. It can be easily removed. The sheet can also be cut to an exact size, allowing it to be customized.
Front Door Window Covering Ideas
The little windows next to doors known as "front door windows" sometimes provide decorative challenges.
Before making a decision, take into account the degree of privacy and natural light penetration offered by different sidelight covers.
In order to complement your interior color scheme and design style, consider sidelight window coverings as well.
To see the inside window coverings from the street, go outside your house. On the internet, you may get trendy design ideas.
To create a visually appealing exterior, sidelight window coverings should blend nicely with any other window treatments.
Depending on your goals, vertical window decoration may be highly successful.
Window Film
Window film provides a decorative accent to entrance door sidelights.
It is available in various colors and patterns (mosaic, stained glass, and floral, etched glass, foil) to suit any decorating style.
Window films are also intended as a protective barrier against harmful UV rays.
It is usually self-adhesive and easy to apply without the need for troublesome adhesives. Also, window films can be easily adjusted for an exact fit and provide a privacy level that varies depending on their transparency level.
Tinted window film allows an unobstructed view of the outdoors while protecting prying eyes and UV rays.
Curtains
Installing curtains over the sidelights of entry doors adds texture, color, and privacy to a home's interior. It is necessary to use a flat fabric panel in some cases.
Puckering the drapery fabric over the curtain rods at the top and bottom of a sidelight provides a neat appearance, and the rods hold the fabric firmly in place.
Lightweight drapery fabrics (lace, linen, sheer cotton) provide limited privacy but allow natural light to filter into the house. Otherwise, you may want to inquire about some French door curtain models.
Heavier fabrics (canvas, denim, tapestry, tweed) are more opaque; they block natural light and provide more privacy. 
Choose soft fabric vanes that suit your privacy and natural light needs and enhance your existing color scheme and decorating style. You will then have your finished curtain panel.
Paint and Frost
Painting the front door sidelights adds an attractive and personal touch.
Clean the windows with a household window cleaner and rag to provide a clean surface for the paint to adhere to. 
Inexpensive acrylic craft paints are available in a variety of colors and are easy to use.
They are not easy to apply, so they are perfect for painting seasonal images. Acrylic ink intended specifically for painting on glass is permanent.
Another option is to freeze the sidelights with a translucent glass spray to provide privacy and allow light to filter through the panels.
Blinds
Louvers allow you to control the amount and direction of light penetrating the front door sidelights.
Wood blinds with 2-inch slats provide a unique look but are more expensive than less expensive aluminum blinds. 
Inexpensive synthetic wood blinds convey the look of wood grain without the high price of natural wood.
Cellular or honeycomb curtains provide an optional cover for sidelights.
They are affordable and available in a variety of color options. Cellular curtains can also be adjusted from the top or bottom to cover any part of a sidelight you desire.
Before doing anything else, you must check the Privacy Policy for your residential area.
Why should you cover your Windows?
It helps prevent sun damage and fading.
Home furnishings, as well as carpets and flooring, can last a lifetime if you take care of them. Because of the fabrics and yarns used in rugs and upholstery, these items are susceptible to ultraviolet radiation even if they are not exposed to direct sunlight.
Window treatments are the best way to protect the interior of your home. Even a good quality clear window treatment can filter out much of the UV rays that enter your home, minimizing damage and maximizing your light.
Privacy
Without window shades, your home could be open for anyone to peek inside, whether it's a nosy neighbor or just someone passing by your home or driving by.
The right window treatments can increase the privacy of your home, making you feel safer and more comfortable, especially at night, when the darkness outside makes it much easier to see inside your well-lit home.
Security
Just as window treatments bring a sense of privacy to your home and protect you from the sun, blinds, shades, or drapes will also help keep your home secure.
Most burglars will peek into a home to see if you have anything worth stealing before breaking in.
If you keep your windows covered, you can minimize their ability to explore your home. Also, keeping curtains drawn when you are away, even for a while, keeps people from knowing if anyone is home.
How to Cover Sidelight Windows: FAQ
How do you cover a window but still let light in?
Faux wood blinds, sheer curtains, and day/night honeycomb curtains, when closed for privacy, can also work quite well. There are some light-filtering curtains, including woven wood curtains and bamboo curtains made of biodegradable materials with a great lifespan.
What can I use to cover my front door window?
If you want to avoid clutter by applying window film or even paint, curtains are the best window treatment option for privacy on glass doors.
This keeps the glass clear to look out when you would like to. You only need to select the curtains, the lattice rods and fix them.
How do you make sidelight window curtains?
Choose a modern fabric. Choose a fabric that you like and that matches your home. 
Measure. Start measuring the sidelight window. 
Cut the fabric to all sizes. 
Fold all four sides. 
Attach hook and loop fasteners. 
Admire your work.
Conclusion
Many people want privacy in their homes, which the clear windows on the sides cannot provide.
However, there are several methods to improve this. You can make use of curtains, paint, and a host of other things that will keep you private. However, many of these things are not 100% secure.
On the internet, you can find various effective DIY sidelight window treatments.
Today we leave you with an article with the information you need to cover your sidelight windows. You can leave this to the professionals. If you consider that you can do this job on your own, just read our article and follow our steps. Your success will be resounding if you apply any of our methods.
Read more: How To Close Blinds For Privacy