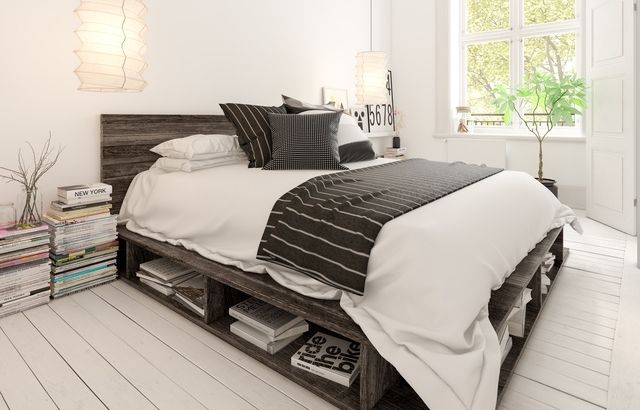 How to Decorate a Bedroom with Slanted Walls | 10 Simple Steps
Disclaimer
Articles, products, and services offered on this site are for informational purposes only. We recommend using caution and seeking professional advice. This site provides general information. We are part of the Amazon Services LLC Associates Program, an affiliate advertising program. Amazon.com is compensated for sales resulting from links on our website.
Please review our disclaimer before taking action based on anything you read or see.
Whoever has an attic or more than one room with slanted ceilings knows how hard it can be to decorate these spaces. For now, you may be putting things in these rooms or just ignoring them. And we're here to tell you that these slanted spaces can be beautiful bedrooms in your home. Let's learn how to decorate a bedroom with slanted walls.
It can be hard to use decorating ideas for a room with a sloped ceiling and angled walls. Because of how it is set up, the room looks smaller than it is. Tall furniture might go out of style. Instead, measure each piece carefully to ensure nothing hits the ceiling or a wall. "How do you put art in a place that doesn't have flat walls?"
There are benefits to having sloped walls in a bedroom. The building stands out from the rest because of its unique design. It also makes the room feel cosier, which can be missing in big, open spaces. Think outside the box when decorating a room with angled walls. Try to think outside of the box. Lastly, don't try to get around the sloped ceiling. Instead, work with it. Let's look at how to do this in more detail.
How to Decorate a Bedroom with Slanted Walls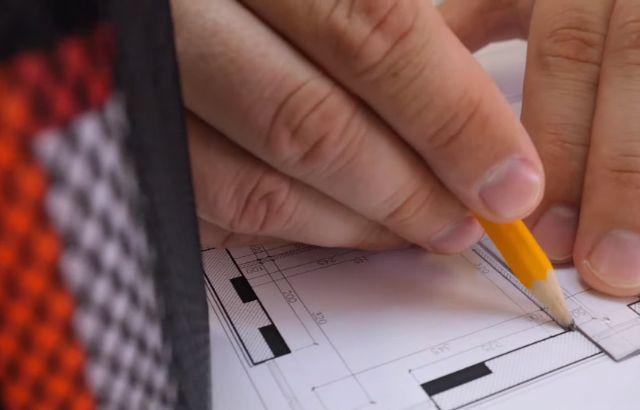 Decorating a slanted ceiling room begins with accepting the room's existing ambience and enhancing it with design. Attic rooms with sloping ceilings can be small and cramped, while vaulted ceilings can house the entire living space of your loft.
Instead of attempting to impose an entirely new aesthetic on the space, this strategy uses the existing proportions. With their dramatic appearance, slanted ceilings offer the ideal opportunity to make the ceiling the star of the show!
Follow these steps
First, put eyes on skylights and windows
Fix Light and Airy Colors
Make Cozy Nooks and Peripheral Storage
Decor Proportionately
Place your bed under the sloped ceiling
Add a Window Seat
Add Texture to Your Room
Light It Up
Show off slanted ceilings with lots of lighting.
Add some movable furniture.
Skylights and Windows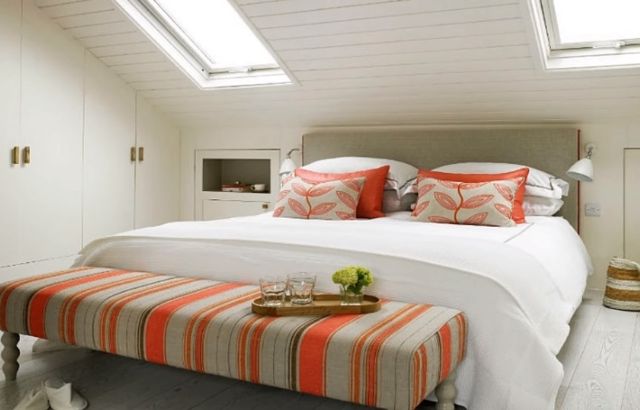 Increase the number of windows and skylights to maximize the numerous advantages of sloped ceilings. This is the easiest and most effective way to combat the oppressive appearance of the sloped ceiling.
Gain illumination with these beauties 
Modern skylights produce an awe-inspiring effect by bringing the night sky indoors and allowing it to remain visible well into the evening. In addition to the skylights, use a combination of ambient and task lighting to keep the room open and airy. Adding floor lamps and pendant lighting enhances the allure of the slanted ceiling.
Light and Airy Colors
The most effective way to prevent eye irritation is to use a simple and neutral colour palette. Before making a decision, consider the room's dimensions and the dramatic effect of the sloped ceilings. A two-tone colour scheme and a painted ceiling look nice in small attics with slanted walls. A single black fence can add visual appeal to space by painting the remainder of the room white.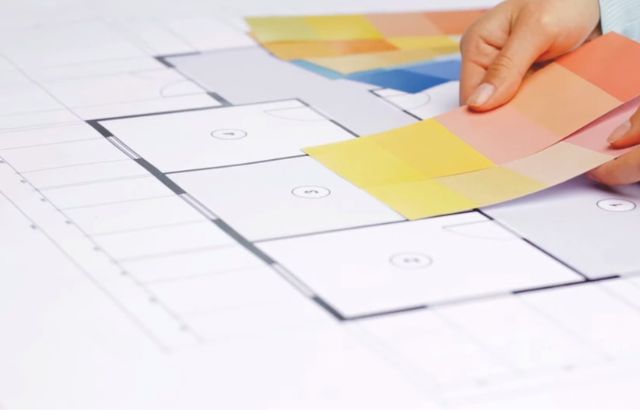 Pick the right combination for your bedroom.
You can emphasize angular features and sloping additions created by slanted ceilings with the use of vivid hues and simple stripes. Remember that a tone-on-tone approach to wall colour is equally as appealing as all-white walls. If you use too many colours in a single area, you will generate visual chaos and fragmentation.
Cosy Nooks and Peripheral Storage
There is no such thing as an excessive number of cabinets and shelves in a space with a sloped ceiling. To compensate for the lack of wall-mounted storage, place clever bookcases and excellent storage units around the room's perimeter.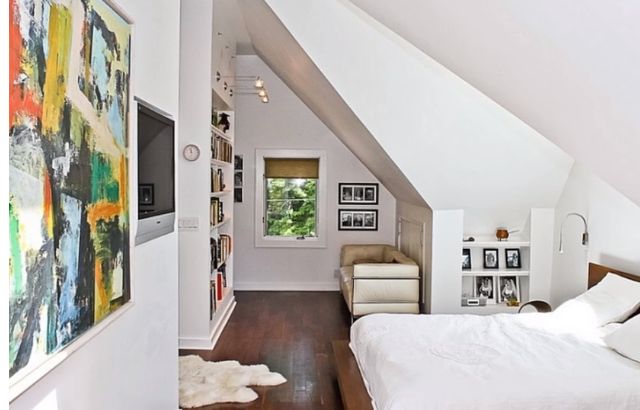 Take advantage of your bedroom space.
This not only creates the illusion of an additional "room within a room," but it also reduces the slope of the slanted walls, making the area more aesthetically pleasing. Even if it's not the attic, the cosy reading and relaxing window nook is a perennial favourite in rooms with a sloped ceiling. This timeless masterpiece never ceases to amaze.
Decor That Is Proportional!
Low-ceilinged rooms are ideal for inexpensive decor due to their restricted space. Even if the ceilings aren't slanted, decorating a room with low ceilings presents a unique set of challenges that you can often overcome with this straightforward strategy and lighting.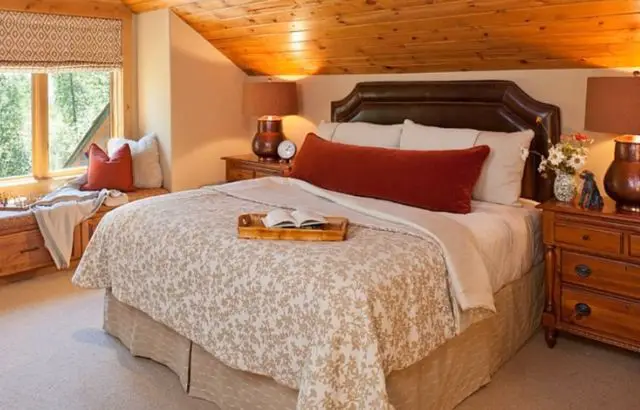 You can add patterns and textures to your bedroom.
The decoration of a large loft with a sloping roof and a double-height ceiling is both fashionable and practical if it is elevated slightly above the norm. In these homes, the popularity of large pendants and floor lamps is growing. Utilize the additional vertical space afforded by the sloped roof by constructing a spacious mezzanine.
Place your bed under the sloped ceiling.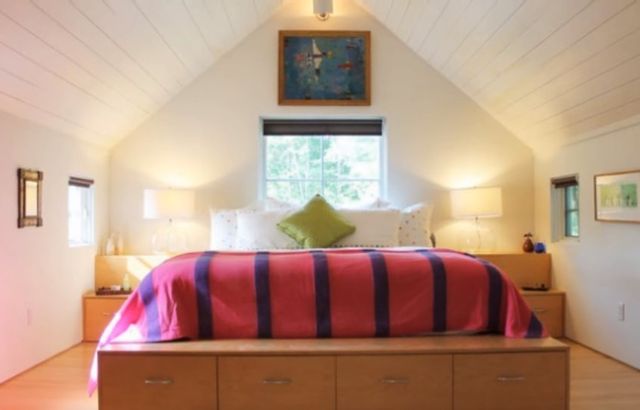 If your bed is not too low, it will fit beneath the sloped ceiling. Using the headboard or the long side of your mattress can achieve this effect if your roof is sloped.
You can add style if you want with these ideas.
Former home of fashion designer Louisa Pierce Next to the bed, two built-in closets have been installed beneath the sloping ceiling. These cabinets also include nightstands in the style of a nook. If you use a headboard with storage, a nightstand is unnecessary.
Add a Window Seat
Even if your bedroom has a slanted wall, the goal is to make it as comfortable as the rest of the house. Due to the limited space in the room, a bookshelf, coffee table, and reading area may not be feasible. You must be creative to maximize your space without making it appear cluttered. A window seat is a clever way to add cosiness to a bedroom with slanted walls.
It is an ideal location for reading, meditation, work, and storage. It also serves as the room's focal point. Either remodel the window area or add an armchair to achieve this look. A built-in bench is advantageous because it can be used for storage and does not obstruct the view from the windows.
To guarantee that each household member has a designated space, you should have a plan before you begin searching for a home.
Add Texture to Your Room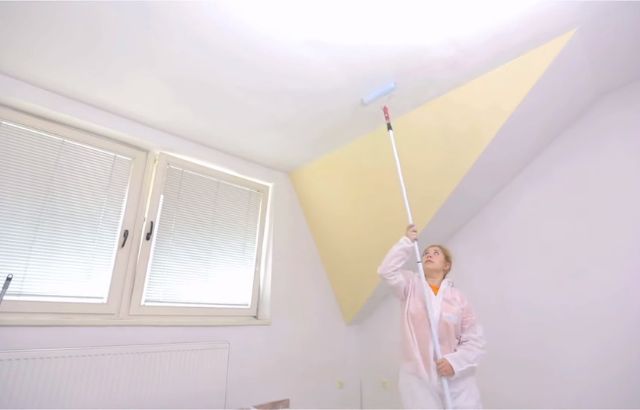 In contrast, florals and stripes may be excessive in a small bedroom with a slanted wall. A dull setting lacks the same appeal. Textured pillows or bedspreads can add colour and fun to a room. Using fabric to achieve a particular texture is not always necessary. Wallpaper, textured paints and finishes may achieve the desired effect. 
You can play with colours, textures, and much more!
A few exposed ceiling beams add instant contrast, warmth, and texture.
Light It Up
High vaulted ceilings contrast beautifully with chandeliers. By replacing floor lamps with chandeliers, you can create a beautiful focal point and free up more space in a room. There are, however, additional options available. 
You can find options when it comes to lighting.
You can choose a lighting style that complements your interior design and budget. A standing lamp, for instance, can serve as both an ornament and a light source.
Show off slanted ceilings with lots of lighting.
Increase the lighting in a room with a sloped ceiling to prevent shadows and dark corners. Even the darkest corners can be illuminated with a few small lamps, making the room appear more organized.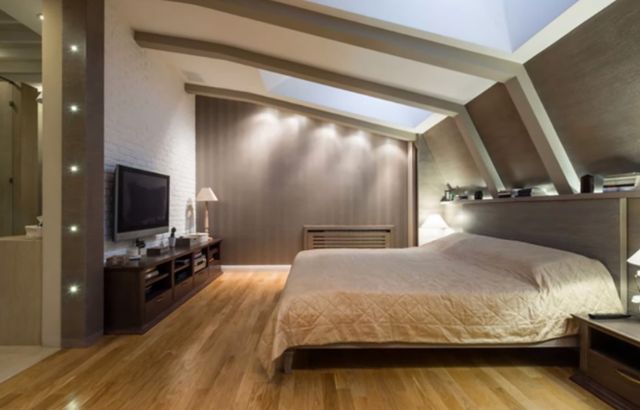 Light can give up freshness, space, and cosy feelings
For instance, you can distinguish a reading area, a sleeping area, and a work area. Even beams can be illuminated with indirect lighting.
Add some movable furniture.
Whether it's a table, a bed, or a stool, contemporary designers are making their products more versatile than they initially appeared. For instance, you can transform a desk into a sofa bed, and a chest of drawers can serve as a coffee table and additional seating.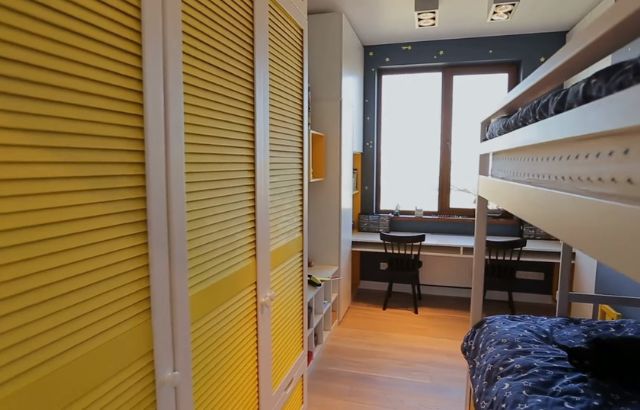 Furniture gives you a classy touch.
The more mobile one is the better. The wheels are ready to roll with a simple push to the side of the furniture.
Frequently Asked Questions
How do you organize a room with a slanted wall?
Colour blocking in contrasting hues can help compensate for the wall's asymmetry. Options include stripes, geometric patterns, and even colour blending. The wall's slope may help highlight the wall and make the room feel less confined.
How do you decorate a room with a slant?
Instead, search for slanted-ceiling shelving systems that must be adapted to any space, even the most asymmetrical. Even if the room's corner is at an odd angle, you can maximize every square inch of wall space with custom-fit shelves.
What do you hang on a slanted wall?
Due to the brackets and screws inserted into drywall anchors, removing a frame from a wall is impossible without special equipment. This hardware is cost-effective and can be used to secure the artwork on sloping walls.
How do you make a room with slanted walls look bigger?
Natural light is essential for a room with sloped ceilings to appear more prominent. You can utilize natural light by hanging sheer or light-coloured curtains on windows that let in sunlight. Using mirrors to reflect light and create the illusion of more space is possible.
How do you hang pictures on a slanted wall?
Slanted walls present unique challenges when it comes to photographing them. Slanted walls and ceilings attach a keyhole fastener to each of the image's four corners. The hardware should include both small and large screws. Use a screwdriver or cordless drill to attach the smaller screw to the frame of the fastener.
Bottom line
Bedrooms with slanted walls are especially appealing because they exude mystery and exoticism. They bring to mind an artist's studio or a Dutch windmill home. For many adolescents and young adults, they can evoke feelings of "escaping" or "being private and cozy," as well as being playful and flirtatious.
This may be because caves and large tree hollows once served as the primary form of human shelter. In reality, a bedroom with slanted walls consists of a series of intersecting triangles. However, decorating a bedroom with sloping walls can be challenging.
Due to the absence of natural light, these rooms have a cave-like appearance, which can be hazardous if not properly managed. Light and space are crucial when decorating a bedroom with a slanted wall.
Decorating a bedroom with slanted walls should present an exciting challenge. You will need the imagination to achieve the desired outcome, but the rewards will be well worth the effort.