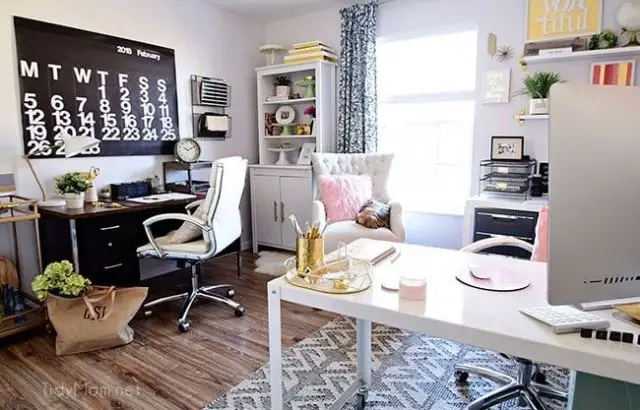 How to Decorate A Home Office | 8 Simple Ideas Make Your Office Superb
Disclaimer
Articles, products, and services offered on this site are for informational purposes only. We are part of the Amazon Services LLC Associates Program, an affiliate advertising program. Amazon.com is compensated for sales resulting from links on our website.
Please review our disclaimer before acting based on anything you read or see.
Nowadays busy people need a home office but they are often confused about how to decorate a home office. Today, we can see that more and more people are setting up a home office. Whether in an apartment or a house, installing a workspace at home allows you to concentrate and create a partition between private and professional life.
The home office is particularly suitable for freelancers and business creators. For feeling good there, it is necessary to arrange and decorate the room exclusively. Thus, below are some small home office ideas to apply that will make your workspace perfect?
How to Decorate a Home Office
Read the below steps in order to decorate a home office beautifully.
Choose the Right Part
The choice of the room in which you set up your office is essential. This space – where you will spend a good portion of your day – must be welcoming and practical to boost your productivity.
If you have a large family, consider soundproofing. It's also best to choose a room away from the rest of the living rooms so as not to be disturbed by ambient noises and the movements of your loved ones. Remember to protect your eyes: bet on natural light by opting for a work spot near a window or a glass door. Believe us, it will be much more pleasant and less tiring for your eyes. 
At nightfall (for the most motivated among you), bet on a desk lamp or a suspension light, cleverly chosen according to its inclination, its color, and the power of its bulb.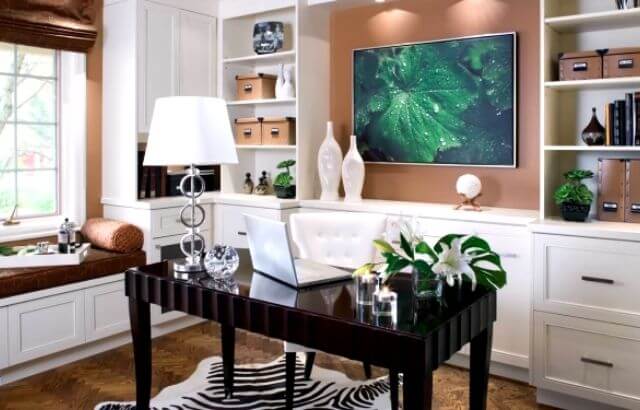 Choose a Quality Office Desk
In the second step, make use of desk ideas for home office suitable for your working style. Some will opt instead for removable desks that allow you to work seated or standing. Others would instead prefer a more traditional table. The material chosen is also essential: glass is, for example, more elegant but less substantial while wood is comfortable but more expensive.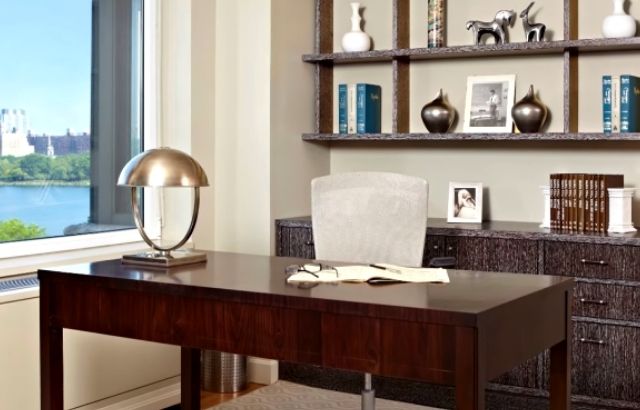 Pick a Comfortable Chair
For working from home, it is necessary to feel comfortable. Several choices are available to you. For short work sessions, opt for a comfortable chair or an office chair, which will allow you to work while relaxing. And for longer sessions, think about your back and favor the ergonomics of your seat. Furthermore, the office chair is an essential part of your office. It is preferable to choose an ergonomic model to enjoy real comfort when the day promises to be quite long. And if you have to travel or turn around regularly to look for documents, for example, bet on the wheels.
On the contrary, if you plan to make occasional use of your desk, a simple chair will give a much more designer look to your home office.
If space allows it, it is also possible to integrate a rest area near the desk, with an occasional chair.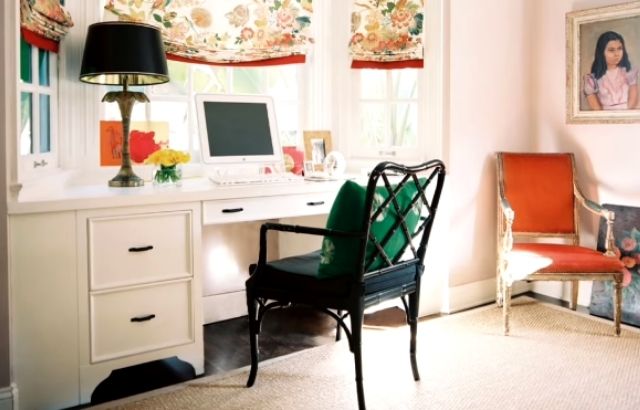 Select Practical and Colourful Storage
When we work with many different materials, we always lack storage space. But if you don't like the typical shelves for your home, you can use this technique. Stack boxes of different sizes and paint them in different colours or line the bottom with wallpaper to create a custom storage space. To make sure they won't crumble on your head when you have them in their final position, you can glue them together with double-sided adhesive. Next, anchor them to the wall as if they were a single piece of furniture. It's also best to be aware that your security should be placed before every other thing.
Several basic types of storage exist to tidy up your home office. For example, you can get an office locker (or an office bin) that will be used to store your documents and papers. Try to sort out at least the type of document you will put in the lockers: urgent and less urgent. You can also opt for a colored pencil holder to add some warmth to your office.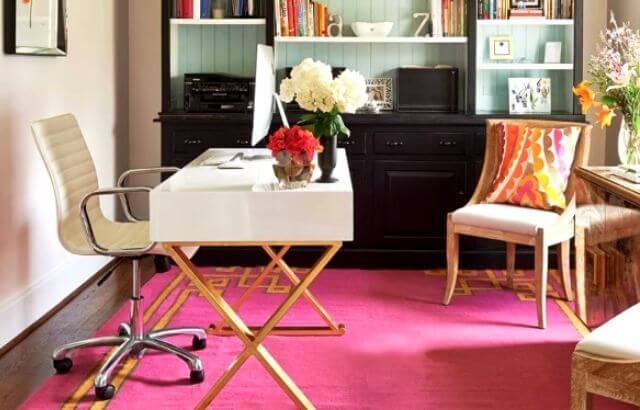 Hide what you don't want to show
When you share the space where you live with the workspace, it is an excellent idea to hide what you do not wish to have insight into. Would you like to keep looking at the printer and the filing cabinets once your workday is over? The cabinets and drawers will be handy to have everything collected. When you need it, you have to open the closet and take out strictly what you need at that moment.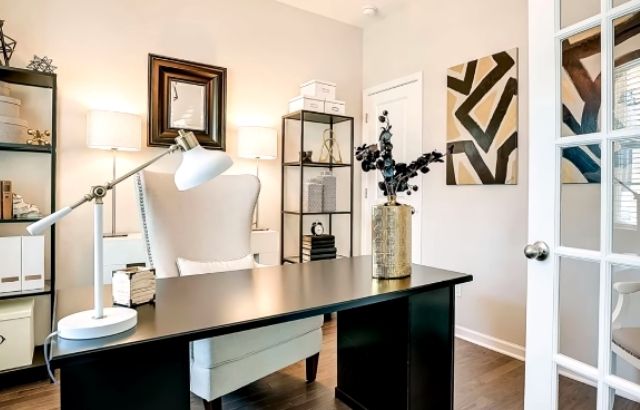 Outline your Home Office with Paint
Don't have a room of your own for your desk or empty closets at home? That doesn't have to stop you from dedicating a space to your work. Once you have cleared the area and put away what should be – particularly a mess of documents, you can go ahead and give free rein to your imagination to enhance this workspace. You can opt for cards and posters embellished with feel-good messages and motivating mantras, which can be hung with colorful Masking Tape on the walls.
You can also outline the area dedicated to the desk with a strip of different colored paint to set up an elegant home office. If you liked this idea, you could take it a step further by matching the wall's color with the furniture. This is a perfect trick to unify furniture of different shades or even of different styles. Explode your handyman's vein and decorate your own office in this spectacular way.
Furthermore, specific colors would have a particular influence on memory, concentration, and motivation. Zoom in on six colors and their respective symbols to find the one that best suits the decor of your workspace.
Yellow
Thanks to its stimulating action on the mind, the yellow can wake foggy brains when invited by keys. 
Blue
As for blue, it would have the advantage of boosting creativity and imagination. It is, therefore, the ideal color for crafts, art, and creative activities. 
Purple
Suitable for concentration, purple is particularly useful for minds that tend to flutter.
Pink
Do you know pink releases positive emotions? This shade would also have an impact on stress and could even decrease it.
Orange
The orange color gives energy and promotes communication.
Also, while intense colors can energize when used sparingly, it's best to avoid going heavy with some of them. For example of such colors as red, as it tends to be irritating.
Decorate your Office with Plants
Greenery is a significant trend in decorations for office, which will be more than beneficial to you. We know that plants have a thousand and one virtues, and we must take advantage of them. But if you don't have a green thumb, some gorgeous human-made plants look like real ones, but without the hassle. 
In all, this stands as a great way to add a touch of nature to the room. You can bet on artificial plants for the visual side or on real plants if you desire to benefit from our green friends.
Bet on Small Everyday Objects
All the small everyday items you use at work would usually take on a designer look. Office accessories such as scissors, rulers, pencils, adhesive tape dispensers, notebooks, etc., are reinvented and have become small ultra-design objects.
Frequently Asked Questions
How do I make my home office cozy?
The advantage of the home office is also to mark a break with one's professional environment. So it's best to create a cozy and ambient space and a warm climate in which you will want to work. To do this, opt for a rug and suitable curtains, as these will make you feel good and protect you from the cold. Comfortable furniture would also go a long way in making your home office cozy as well.
How do I decorate my home office for a budget?
Today, with so many people working from home, the home office has become an indispensable space for many people. However, not everyone has a massive budget for decorating a home office. Significantly few people can spend money on a professional space planner to design an efficient home office space. As a result, you can decorate your home office for a budget through the following ways:
Make use of what you have
To decorate your home office for a budget, consider moving furniture or accessories from other house parts to the new home office. If you don't have to buy certain things such as furniture, you can save a lot of money.
Shop around for cheap office items
To decorate your home office for a budget, you can find cheap office items such as bookshelves and desks in garage sales, consignment stores, flea markets, and thrift stores. You can also opt for online options such as Craigslist and Facebook Marketplace.
Exchange with friends 
If you desire to decorate your home office for a budget, you can opt for trading your used furniture with friends. If your dining table is not suitable for your family, you can exchange it with a table that you need. You can also provide your decorating skills in exchange for chairs; Or make curtains for neighbors who can build a table for you. Everyone has something valuable they can provide.
How can I make my office look nice?
You can make your office look nice by incorporating the following items into it:
A beautiful chair
A home office design layout
A vase with flowers
Cable clips
A Chic desk organizer
Cute coffee table books
Matching pen
A beautiful cup and coaster
How can I professionally decorate my office?
You can professionally decorate your office in the following ways:
Opt for soft furnishings
Use the right lighting 
Don't ignore the floor
Put meaningful and personal art on the walls
Keep things simple and fresh
What should I put in my home office?
Working from home is quite captivating because it allows you to set the office as comfortable and efficient as you want. Thus, some things you can put in your home office to achieve this includes:
Adjustable Desk
Some Personalized Decorations
Surge Protectors
Comfortable Chair
Good Computer
Filing System
Good Printer
Safe
Last Words
In conclusion, working from home comes with great merits. Upon using the steps on how to decorate a home office highlighted above, you can further energize your space and make it a source of inspiration when working from home.
Read More: How to Hone Marble