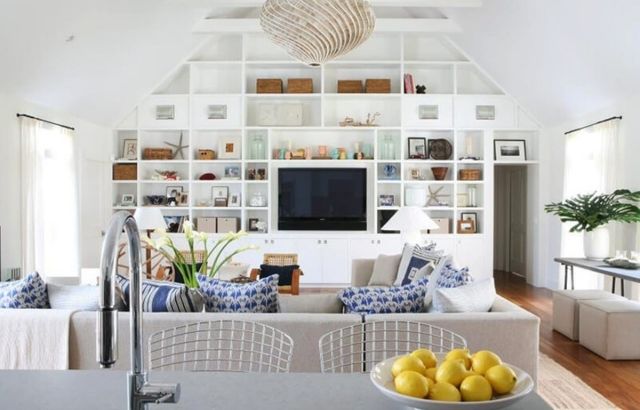 How to Decorate Home with Built-Ins to Save Space | 9 Smart Ways
Disclaimer
Articles, products, and services offered on this site are for informational purposes only. We recommend using caution and seeking professional advice. This site provides general information. We are part of the Amazon Services LLC Associates Program, an affiliate advertising program. Amazon.com is compensated for sales resulting from links on our website.
Please review our disclaimer before taking action based on anything you read or see.
Decorating small spaces can seem like an unfeasible puzzle. You want to fit in as much as possible, but the room shouldn't feel cluttered. You want it to be full of personality, but it can't look chaotic and confused. But it's feasible to have a small space that's just as cute as its spread-out counterparts. That's why we bring to you 9 smart ways how to decorate your home with built-ins to save space.
Beyond the fact that it may seem like the planet is outnumbered by McMansions everywhere you look, their houses are getting smaller and smaller. From 2016 to 2019, the average size of a new family home in the United States declined by approximately 79 square feet. The size of an average studio apartment decreased by 18 percent over the past decade. 
However, that doesn't mean your spaces have to feel crowded and cramped. So how do you make your small homes feel spacious?
The first thing to do is ask you, 'What is the capacity of this room? It is very likely that in a smaller house or apartment, space will be multifunctional.
However, it is essential to put pieces in a comfortable room, which can be used every day. In highly condensed spaces, there is no place for anything unusual.
This makes the smaller proportion of items you choose to place in your small space even more relevant.
How to Decorate your Home with Built-Ins to Save Space
Keep the Floor Clear
It takes space for the basics, but even the best-decorated tiny room doesn't work if you can't walk across it.
You can make use of floating pieces, such as nightstands and shelves, to keep the floor uncluttered, so you can also make room for added accommodation underneath if required. Opt for sconces and wall sconces instead of free-standing lamps.
Opt for folding pieces
It's possible that you need a workstation and a dining room table, but do you really need them all the time? Think about how to arrange furniture that collapses when not in use.
It will clear up floor space and stop the mail and work that unavoidably accumulate in mounds on these surfaces. Folding doors may be able to conceal the mess in a single-wall kitchen when not in use.
Focus on lighting
Small spaces often have the potential to end up feeling dark thanks to little or non-existent windows.
You can replenish the lack of natural light by adding diverse light sources in every room, from the living room built in wall units to the bedroom. Mix attractive ceiling fixtures, whether it's a pretty pendant or a pleasant flush mount. According to the ceiling height, with sconces or table lamps to make an excellent, bright environment is helpful for decoration.
Mirrors are your friend.
If you are not blessed with a considerable amount of natural light, mirrors can help you fully exploit what you have by reflecting it in the room. Mirrors additionally can help make space feel more critical, giving the illusion of a few more square feet.
Consider lining one wall with a large mirror or making a gallery wall of different sizes and shapes. Antique French mirrors and a Colombian fan enliven the guest bath; the wainscoting and sink are coral stone, and the sink fixtures are by Axor.
Choose the right rug.
A rug is the one item you won't want to skimp on in terms of size. A small rug is going to make the room feel small anyway.
Choose a floor covering that is large enough for most furniture to sit on or go wall to wall.
Don't be afraid to be bold.
Having a small space doesn't mean it has to be a white box. These could be living room built INS ideas. 
For now, you can go bold with color and embrace the volume of your apartment.
A darker shade of paint on the walls and ceiling can make space feel like a jewelry box.
Keep it cohesive
In this sense, it is known that there are too many things to see in a small space, which is why you should make sure that they all fit. Stick to a limited color palette, whether it's light and airy or dark and dramatic.
Viewing the elements with an editor's eye will help ensure that the pieces genuinely belong and keep the space from becoming cluttered.
A cohesive color scheme, a capable interface plan, and fun embellishments transform a bungalow from small heights into a space that lives large.
Find pieces that earn their place.
Make full use of your space by trying to find pieces of furniture that also have generous space. Opt for a bed with drawers or built-in benches and ottomans with room to hide complimentary blankets or sweaters.
Every part must pull its weight in a small space: a daybed can be useful as both a sofa and a guest bed.
Built-in bookcases are often the anchor of a room. In contrast to furniture that can be moved in and out of space, these elements are an integral, unmoving section of your home; they also add character and set the tone for the room's feel.
"Built-in bookcases are a colossal interface element," says Kimberly Handler, interior designer, and Kimberly Handler Design owner.
Let the pieces breathe.
Nothing screams "I don't have enough room," like furniture pressed against the wall and so tightly packed that it's stacked.
If you can, move the pieces of furniture away from the wall and make sure there is space between elements. You may need to get rid of something you don't use daily, such as side tables or decorative chairs.
Even though we are in a digitized age, no technology can compare to the feeling of having a great book in your hands. While public and university libraries tend to be vast and full of splendor, home libraries are more intimate.
The room can be formal and cute or colorful and cozy, and distinguished focal points like a fireplace, desk, or practical sitting room keep things as inviting as the volumes on the dressers.
You can look for ideas or tips on how to make shelves for home libraries that display your favorite books in a well-designed, well-read space.
A classic study with mahogany pictures
Among the updates that designer Friederike Kemp Biggs and architect George W. Sweeney made to their penthouse on Manhattan's Upper East Side was a mahogany picture library.
She has related in the past that her partner's preferred retreat, the bedroom, has an obsolete desk and a flat-screen TV hidden behind faux book bindings.
An attractive library staircase
After Cyclone Katrina, designer Richard Keith Langham reacquainted himself with and renovated a Mississippi home he first decorated 20 years ago.
Dealer Kinsey Marble developed the library's varied book collection in the homeowner's best interest; he also supplied the 19th-century staircase and obsolete globe.
How to Decorate a Bookcase
The best bookshelf decor commonly comes from items you already have. Shop around your home to find artistic marvels, picture frames, vases, and other add-ons in cohesive color conjunction or style.
Put essential items on the shelf first, staggering things between dressers. Fill in with the rest of your items, adding stacks of books or magazines and potted plants to add color and texture.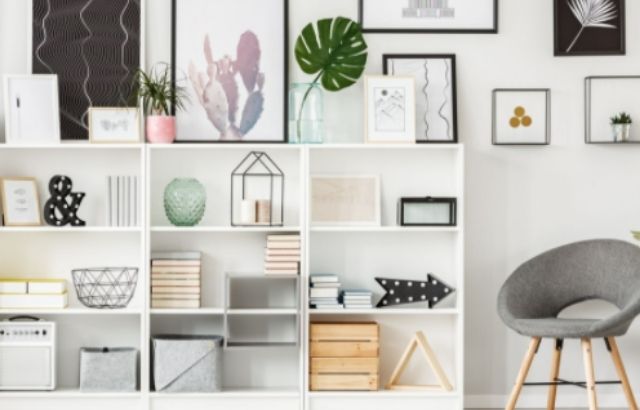 Clean display
Take full advantage of built-in shelves' housing and style by filling the shelves in the living room.
Arrange shelves by color for a decorative facade without add-ons. Remember that you can additionally hang decor from the sideboards. These mounted art pieces help break up the lines of the books.
Advantages of built-ins
Built-ins blend with your décor rather than stand out, creating a cohesive facade that makes a room feel open and airy.
However, some internal elements can also create a smooth transition between living spaces, expanding a room's options.
Ideally, built-in-furniture looks like part of the home itself, blending seamlessly for an overall minimalist façade.
Is there a perfect time to use built-ins?
Especially for small and awkwardly shaped spaces (such as under stairs or a curved ceiling line), built-ins are an impeccable way to edit underutilized space into valuable surfaces in your living space.
Built-in furniture offers plenty of accommodation. Are you hiding your precious collection? Right now is the instant to show it off.
Whatever your passions are: antiques, glassware, paintings, or books, you can fit space to display them and show them off in style.
Plus, it can take up an entire wall without making the room look smaller. Built-ins create a cohesive look throughout your living space.
Everyone knows that built-in shelving and custom cabinets weren't just designed for the kitchen at the moment; think how fabulously functional they would have the potential to be in every room to guide you in maximizing space and exuding luxury.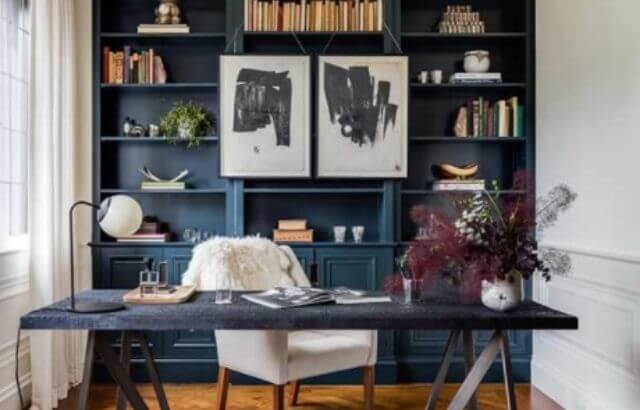 A splendid living room
You need to organize one of your family's most used rooms that feature sideboards and built-in cabinets. You can customize them to store, display, and hide a flat-screen TV, DVD, family games, books, and wonders of art, photos, or souvenirs.
A structured home office
Make your home office more exciting and efficient with custom built-in dressers and cabinets, which works as a study site for the little ones in the house or an office for you.
Consider built-ins near the door to store items you use day in and day out.
How to Decorate your Home with Built-Ins to Save Space: FAQ
Do built-ins add value to your home?
Built-ins can be an investment relative to how custom you want to go and are a persistent addition to your space. 
How much does a custom built-in cost?
On average, owners spend $2,500 on a group of cabinet for the living room built-in. However, relative to numerous components, most people pay between $500 and $15,000, but the average price range is $2,000 to $5,000 when installed by experts.
Are built-in bookshelves outdated?
Built-in bookshelves are commonly the anchor of a room.
In contrast to furniture that can be moved in and out of space, these elements are an integral and unmoving section of your home; moreover, they add character and set the tone for the room's feel.
Conclusion
It can be said that adorning a built-in dwelling is not something simple. Nevertheless, it is something that several require to make the aesthetics of the living place better. It is substantial to consider all the elements present in this text and learn to choose what you genuinely require. Now you know how to decorate your home with built-ins to save space.
Read More: How To Make A Home Office In A Small Space