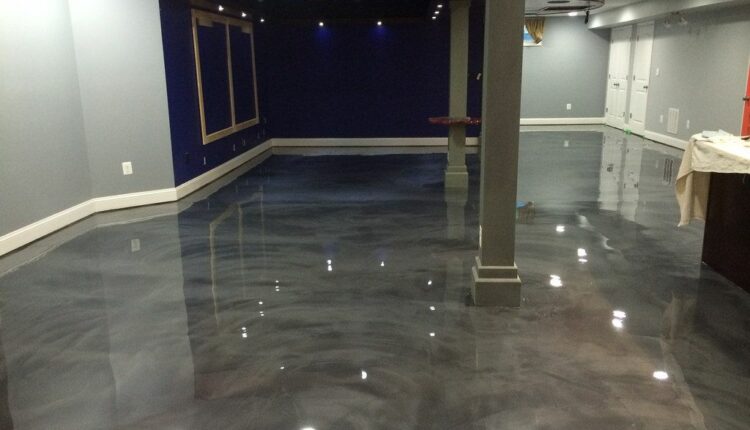 How to Epoxy Basement Floor | A Step By Step Guide By Expert
Disclaimer
Articles, products, and services offered on this site are for informational purposes only. We are part of the Amazon Services LLC Associates Program, an affiliate advertising program. Amazon.com is compensated for sales resulting from links on our website.
Please review our disclaimer before acting based on anything you read or see.
When it comes to basement flooring alternatives, epoxy is one you should never overlook. This material has several advantages over other types of flooring, some of which make it ideal for use in basements. Let's take a look at the characteristics of epoxy to see if it's the correct choice for your home. Also, we will learn how to epoxy basement floor.
What is an Epoxy Basement Floor?
Epoxy flooring is a hard, plastic substance made from synthetic polymers. You can use epoxy to coat a concrete floor, like the one found in the basements of many homes. Because epoxy floors can create a smooth surface, they can sometimes cover rough or damaged concrete foundations.
Epoxy coatings are extremely durable and strong once applied. They can withstand long-term use and withstand exposure to many chemicals. Due to these characteristics, epoxy is the material of choice for many basement remodelling jobs. 
Features of Epoxy Basement Floors
Protect the floor from moisture
Epoxy is practically waterproof, which means it can protect the floor below from moisture. If your basement is damp, it can be very important to protect every part of the structure from moisture, as mould can develop in this environment. Epoxy flooring is also a good option to protect against spills and leaks, as it can prevent large amounts of water from penetrating the concrete foundation of your home, reducing potential damage.
Epoxy, unlike wood, does not deform in humid surroundings, so you won't have to worry about your basement floor being distorted due to poor ventilation. In addition, you can spend time in your basement whether the weather is rainy or dry because your epoxy floor can endure a wide range of humidity levels.
Make your basement floor easy to clean
Epoxy flooring is a great alternative if you want to spend as little time and effort as possible preserving the cleanliness of your basement, whether you want to use it to increase the living area of your home or simply to store things you don't use very often.
Dirt and dust may be simply vacuumed or swept away, while spills and stains can be quickly and easily wiped away with a damp cloth on a flat surface. If your floor starts to look dirty after a period of intensive use, to restore it to its original state, simply use a foam cloth and a dilute solution of ammonia and hot water.
Provide a strong and durable basement floor
For many homeowners, the essential feature of a basement floor is its durability. The last thing you want to do is revisit your basement remodelling project in a year or two because the floor you selected has begun to show signs of wear and tear. Epoxy is becoming a very popular choice among many homeowners because of its durability. You can enjoy using a high-quality epoxy basement floor for many years without worrying about wear and tear stains or peeling from the substrate.
How to Epoxy Basement Floor
What You Need to Apply Epoxy
Paintbrushes
9-inch roll and column
Self-adhesive tape
Plastic bag
Rollers and columns are the most important part of an epoxy application. It is recommended to purchase additional rollers as the epoxy will harden and risk destroying the rollers.
Cleaning and preparing the surface through floor cleaning is the first step. First, clean the basement of any furniture or obstructions. If there are stains on the floor surface, take the time to remove them until they are no longer visible.
Cracks should also be repaired with an epoxy or polyurethane repair agent. Once these errors have been corrected, you can move on to the shaved floor. This will give the concrete surface a certain texture to ensure the adhesion of the coating.
Ensuring you monitor the Presence of Moisture
Moisture on the concrete floor should be avoided at all costs. This can be difficult because basements are prone to moisture. Most failures on epoxy floors are caused by moisture, so you will need to take the necessary steps to get rid of it. If moisture cannot be removed, it is advisable to consider another type of coating.
Apply a primer
Once the floor surface is properly prepared for coating, the next step is to apply a primer. It is applied as you apply the paint with a roller. Follow the instructions on the primer label carefully. Let the primer stand for a few hours or according to the manufacturer's instructions.
Application of the first epoxy coating
Make sure your epoxy compound is well mixed. Using a brush, apply a thin, equal layer of epoxy. Use a bristle brush to properly distribute it as you go. After covering the entire basement, you can allow the epoxy to harden. It usually takes five to six hours, but follow the manufacturer's instructions to be sure.
Applying Second Coat
After the first layer has had enough time to harden, a second layer can be applied. Simply apply a second coat of epoxy as well as the first. Again, let it stand and dry. You must wait at least 24 hours before accessing the basement. Wait at least a week before returning heavy equipment and other items to storage.
The process of applying epoxy floors can be quite laborious. As a result, most people will decide to leave this task to the contractor. If you agree, consult your local epoxy floor contractor.
Frequently Asked Questions
How long does an epoxy basement floor last?
2-3 years
How many square meters does a gallon of epoxy cover?
With a capacity of 231 cubic inches, 1 gallon of mixed epoxy will cover roughly 1.6 square feet 1 inch thick and approximately 6.5 square feet 14 inches thick.
Is epoxy floor cheaper than tile?
Floor tiles will cost between $ 3 and $ 12 per square meter, whereas epoxy will cost $ 3 and $ 12 per square meter. Garage tiles cost an average of $ 2-4 per square foot, making materials more expensive.
Can you make yourself an epoxy garage floor?
Epoxy garage floors are a great project you can do to beautify your home. Epoxy will make your floors look great, easy to clean, and give your garage a finished look. You may choose epoxy instead of paint for garage floors because it is a much more durable and long-lasting finish.
Is the epoxy floor slippery?
Epoxy floors are relatively non-slip. This is specific only for oil-coated epoxy as it can be very slippery. But they can also become very slippery when wet, creating a dangerous situation. Therefore, they are not a good choice in areas prone to shedding or water on the ground.
Why is epoxy so expensive?
Because of its strength and formulation requirements, epoxy is often more expensive than resin. Resin is more popular for making crafts and jewelry because of its lower cost. 
However, remember that you are getting what you pay for. Epoxy is very resistant to moisture, and some formulations can be applied even underwater.
Will epoxy floors crack?
Epoxy floors are very rigid. Because epoxy is a durable product, even little changes in the substrate can cause cracks in the epoxy coating, leaving you with broken floors that are impossible to fix without reapplying an expensive layer of epoxy. 
Conclusion
Adding epoxy to your basement is a simple project. In most cases, installing epoxy yourself is like rolling paint on the floor. However, if you want to get the most out of your epoxy basement, it's best to hire professionals to get the job done. Their expertise can mean the difference between re-giving money for repairs and enjoying a durable floor that lasts for years.