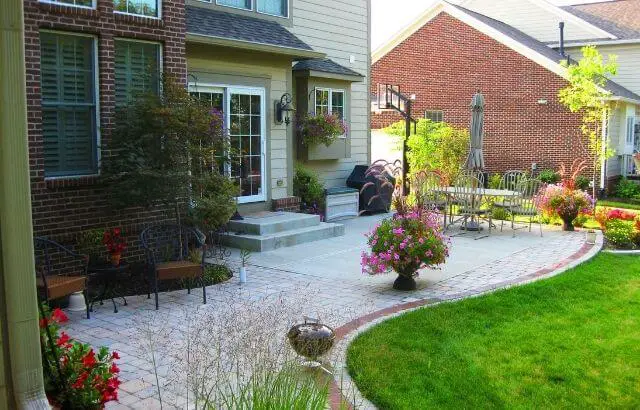 How to Extend Concrete Patio | A 13 Step Guide By Expert
Disclaimer
Articles, products, and services offered on this site are for informational purposes only. We recommend using caution and seeking professional advice. This site provides general information. We are part of the Amazon Services LLC Associates Program, an affiliate advertising program. Amazon.com is compensated for sales resulting from links on our website.
Please review our disclaimer before taking action based on anything you read or see.
Do you know how to extend concrete patio?
One of the most versatile materials in construction is concrete. This is because it can be used for everything, from structure to walls, ceiling, beams, and floor. Today we will talk about one of its most popular uses, which is in the making of patios. 
Thus, you can get much more benefits from the mixture of cement, water, sand, and gravel, which makes up the plain concrete. You will also know which concrete variants are available when working on extending the concrete patio. In this way, your investment will be safer and more durable.
Furthermore, summer is logically the period when your home terrace and patio are most often occupied. This is also the time when its configuration flaws jump out at you. This space may be too cramped and thus prevents you from comfortably hosting all your guests. If that's your problem, below is our advice on how to extend the concrete patio.
What is a Concrete Patio?
Defining a concrete patio is very simple. It is a floor design in the home, which is usually made with concrete instead of asphalt. This is thus obtained by formulating a special mixture that is much more durable and solid.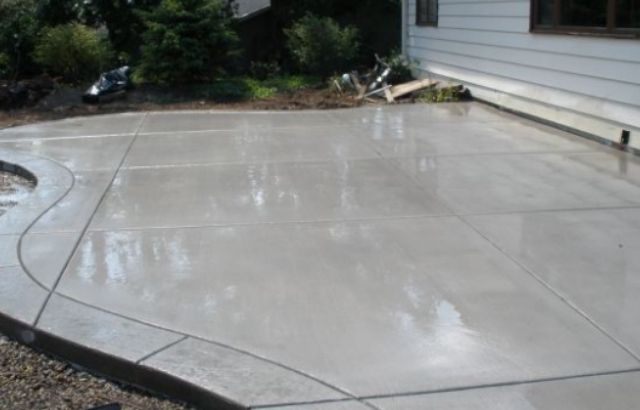 Characteristics of Concrete Patio
Using concrete for a patio comes with some characteristics. This includes:
Greater load capacity: Unlike asphalt, the concrete patio has a greater load capacity especially if it is built using the technique of reinforced concrete pavers with metallic steel structures. This makes it ideal for places where there is heavy traffic, such as trucks or buses.
They are accessible: Contrary to what many might think, concrete is quite accessible. While this will depend on the construction and finishing technique, the concrete patio is generally an inexpensive option. This allows you to pave a space without having to spend a lot of money.
Long service life: Concrete is one of the most durable materials. Compared to asphalt or oil patios, potholes and cracks are rare in concrete. This allows your investment to be much more durable, as well as being able to carry much more weight without breaking.
Structural strength: If you plan to cover an area with concrete and unstable, the concrete patio is your best option. This is because concrete is a very solid material, especially if steel reinforcements are added. Also, concrete is resistant to earthquakes and weather.
Accessible maintenance: The maintenance of a concrete patio is very simple. With different techniques to keep your concrete in good condition, you don't require much money or time. If you carry out the maintenance with short and firm tiles, the process is very fast.
Aesthetic solution: As if that weren't enough, the concrete patio is very aesthetic. This thanks to the fact that you can find all kinds of techniques and finishes such as stamped or deactivated concrete. So you will not have to suffer for having an ugly path or space because, with concrete, this does not happen.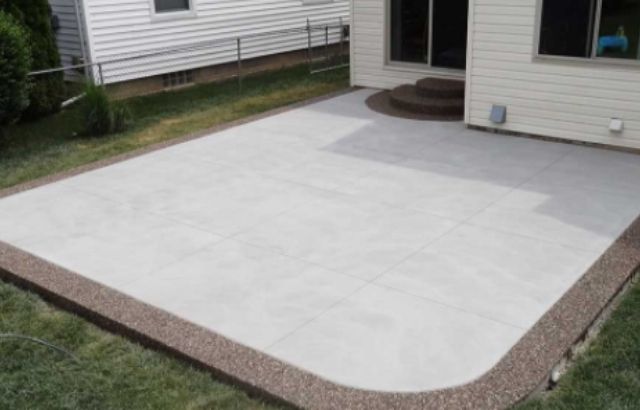 How to Extend Concrete Patio: Tools Needed
When working on how to extend the concrete patio, some tools are needed. This includes:
Marker 
Landscaping paint
Manual manipulator
Shovel
Heavy-duty plate compactor
Rake
Hammer
Concrete mixer
Trowels
How to Extend Concrete Patio: The Steps
You may utilize the following procedures if you want to expand your concrete patio:
Mark the location where you want to expand the patio using a highlighter or landscape paint, being careful about keeping the lines straight.
• After that, dig down at least 8 inches underneath the present yard level inside the marked area using a shovel. This is crucial since you will be adding the same height of pebbles and cement slab in total.
• Compacting the earth using a heavy-duty plates crusher or a manual operator, among other tools.
• Next, spread at least 4 inches of crushed pebbles over the area.
• Squeeze the pebbles after leveling it with a shovel or fork.
• Utilizing two 6 foot pieces of timber, align the edges of the gravel to create a form for the replacement slab.
• Make sure the timber is straight and keep lining it up around the border until it is even with the existing patio you are enlarging.
• To offer assistance for pouring concrete into the molds, pound the wooden decking out of the framework. The stakes must press against the framework and be very sturdy. This is also the most effective approach to add a wood deck to an existing concrete patio.
• If you want to put the cement personally, it's preferable to fill a stand mixer with the ingredients and mix them in accordance with the instructions on the bag.
Put the cement into the shape when it has been properly mixed. Attempt to prevent spills in general as well.
• After the liquid has been poured successfully, scoot a 2×4 over the breadth of the form. This will reduce the amount of spots where you need to add more cement as well as the form of any extra cement.
Now;
Utilize trowels to level the form's top till it assumes a polished look. The easiest way to create ripples in concrete is to forcefully "stab" it with a spade. This will aid in appropriate compacting.
The cement must remain moist for at least 4 days as it cures, however it is best to avoid touching it for a week. Placing vinyl over the expansion is the simplest solution. Additionally, the wooden form may be retrieved after around 2 days.
What are the Types of Concrete Patio?
There are different types of concrete patio. Next, we will inform you of the main ones.
Stamped concrete patio
This type of concrete patio stands out for following the line of conventional concrete flooring with a slight difference. Instead of having a simple finish, like a grey rectangle, it has a great design.
This design is achieved by using a special printing technique on concrete. For this, molds or templates are used to add patterns to the concrete and textures. Also, some techniques add color and shine to the stamped concrete patio.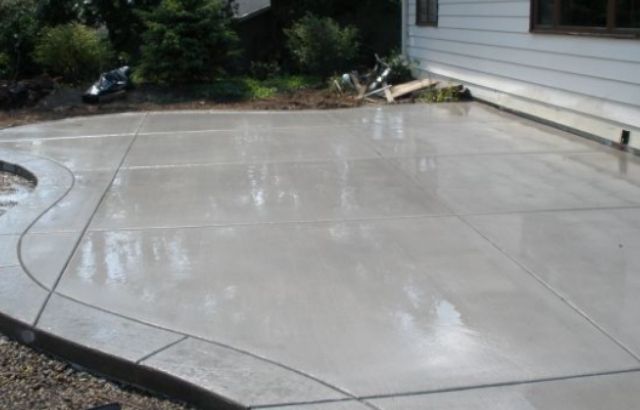 Polished concrete patio
Another type of flooring finish is the polished concrete patio. Unlike the previous option, this one does not have a printed pattern. While it is both textured and finished, the pattern here is smooth, flat, like a mirror.
This is accomplished by polishing the concrete patio once it begins to set. There are many advantages of a polished concrete patio, such as its low cost and fast-finishing, in addition to its durability. This type of exterior concrete flooring is very common in homes due to its low price.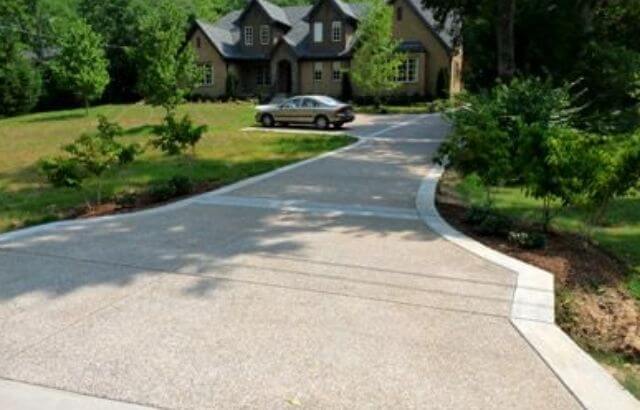 Pavement concrete patio 
This is the most widely used concrete for paving, especially in parking lots and gardens. Describing it is very simple because it is simple to cast and set concrete without finishing. This exposes the aggregates, making the concrete appear bare.
Although the rough appearance of concrete, having its aggregates as engraves exposed, is not very attractive. This type of concrete patio has many advantages, such as the fact that it offers a greater anti-slip grip. As if that were not enough, its assembly is very simple and fast, in addition to its affordable cost.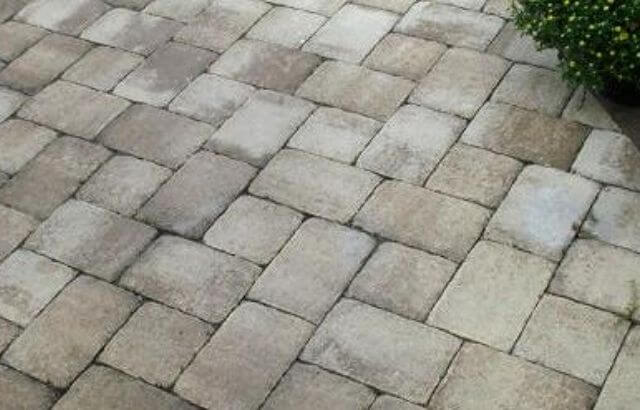 Frequently Asked Questions
How much does it cost to extend a concrete patio?
The median cement patio is almost 288 square feet and averages $9 per square foot; depending on a number of variables, your cost will probably range from $1,300 and $5,100 ($3-$15 per square foot). According to recent study, the average cement patio is 288 square feet in size and costs $9 per square foot; your price would likely range around $1,300 to $5,100 ($3-$15 per square foot), depending on a number of variables.
In terms of new terrace vs. old patio, installing a new patio will likely cost between $3 and $15 per square foot, maybe more. According to a different study comparing a new terrace to a current patio, installing a new patio would likely cost between $3 and $15 per square foot, maybe more.
In addition, the price of the supplies and the kind of labor needed impact the cost. The price of a pavers terrace may range from $4 to $20 every square foot, based on the scale and complexity of the layout. In similar research, Because of the nature of the labor involved and the cost of materials, a patio made from pavers can cost an estimated $4 – $20 per square foot, depending on the design's size and detail.
Can you add to an existing concrete patio?
As earlier highlighted, you add to an existing concrete patio.
How do you attach concrete to old concrete?
To attach concrete to old concrete, do make use of the following steps:
Use a chipping hammer to remove all damaged or loose parts of the existing concrete. 
Wet the old concrete properly using a garden hose.
Apply a layer of cement paint on the older damp concrete. 
Add water to new concrete or ready-mixed concrete, and then apply it to old concrete.
Conclusion
In conclusion, having a concrete patio in your home or outdoor space has many benefits. Furthermore, if you desire to learn how to extend a concrete patio without a concrete contractor or patio contractor's aid, the steps highlighted above would be indispensable.
Read More: How to Install Flagstone Patio with Mortar