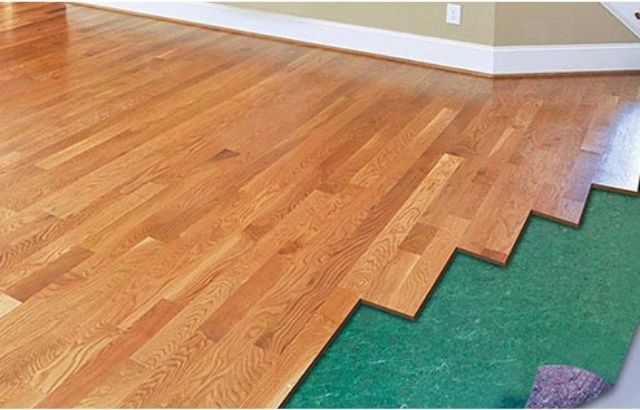 How to Find Best Underlayment for Hardwood Floors | Expert Guide
Disclaimer
Articles, products, and services offered on this site are for informational purposes only. We are part of the Amazon Services LLC Associates Program, an affiliate advertising program. Amazon.com is compensated for sales resulting from links on our website.
Please review our disclaimer before acting based on anything you read or see.
Yes, it is vital to use underlayment materials to use hardwood floors or any other type of flooring. One of the most important reasons to have underlayment is the added stability and durability. In addition, the underlayment provides support for your floor and helps smooth subfloor imperfections and damages. Underlayment installation can also protect your hardwood floors from moisture damage. Therefore, this article will be beneficial to know how to find the best underlayment for hardwood floors.
Is Underlayment Necessary for Hardwood Floors?
The simple answer is yes! 
If you already have wood subfloors or plywood subfloors, you may not need to have underlayment under the floors, especially when the subfloor is smooth. In addition, plywood is moisture resistant as compared to solid wood and has a smooth surface. Therefore, it is not necessary to install underlayment for plywood, but it still has many advantages.
Learn More: How Many Coats Of Water-Based Polyurethane On Hardwood Floors
Best Types of Underlayment's for Hardwood Floors
There are not so many options to think about the materials used as underlayment for hardwood floors. You should choose the best type of underlayment material used by most homeowners, and ultimately you will be happy with your choice.
So let's discuss some of the materials used for different types of flooring.
Learn More: How To Remove Candle Wax From Hardwood Floor
Felt
This is the most commonly used underlayment for hardwood floors.
If you don't have the floating floor and the solid hardwood floor, one of the best options for underlayment is felt because it is heavy and black.
This material can protect your subfloor from moisture and water damage.
Black felt underlayment is best to use in the confined areas of homes and looks more like roofing underlay but does not contain asphalt and tar.
It is good to provide protection and does not have bells and whistles. 
It is a thin layered sheet and does not provide cushioning under your feet.
Rubber
Rubber is an excellent option to use as underlayment as it is easy to install and is an excellent source to prevent moisture and reduce noise.
It is the third most popular underlayment for hardwood floors because of its lower cost.
The installation of rubber underlayment is accessible without glue, as it can be fixed only by cutting and setting it down.
You should measure the floors by adding 5% more for cutting allowance for the finished square footage before starting the process of installing. But the contractors add 5% to 12% as a cutting allowance for the square footage for a waste factor usually leftover.
tonchean Laminate Flooring Underlayment, 3.3X33Ft...
【HIGH QUALITY MATERIAL】The main material of the moisture barrier film is aluminum film and rubber, comparing with the fibers or other material, our product is hard to tear, provides better warmth performance , easy to cut, there is no messy cutting get into the air while unrolling. Never tear even as you walk, squat, stretch, etc on it while installing the hardwood.
【SOUND REDUCTION】This underlayment is built sound reduction in mind. It not only can add good cushion to your floor, but also take all of the echo/hollow sound out of it.You won't hear people walking above you anymore and the sound from voices is nearly gone. You can get the beautiful new floors and a quieter house after your remodel.
【SAVE ENERGY】 The laminate flooring also acts as thermal insulation as well as a vapour barrier to help keep your home warm in winter. Saves energy by reducing the stress on heating and cooling systems which can reduce utility bills substantially.
Cork
Cork underlayment is another option but is not famous like felt and rubber.
It has the best sound reduction characteristics and is used in film studios and recordings.
This material provides properties, sound absorption, and temperature insulation. 
QEP Natural Cork Underlayment Roll - 1/4" (6 mm) -...
For use with ceramic and porcelain tile, stone, marble, engineered hardwood and laminate floors
Crack isolation membrane that resists the transfer of stress cracks from subfloor through to flooring surfaces
Acoustical sound control under ceramic tile and stone for less sound transfer throughout the room
Foam
It is one of the most affordable types of underlayment for hardwood floors.
It is easy to install and offers a high level of sound insulation and avoids excellent noises.
400SQFT AMERIQUE Premium 3 mm Thick Flooring...
Mold and moisture protection, non allergenic, 3mm closed foam technology for sound reduction
Anti-crush technology for excellent performance & long life;
Perfect for wood, bamboo and laminate floors Easy installation with self adhesive strip.
Cost of Hardwood Underlayment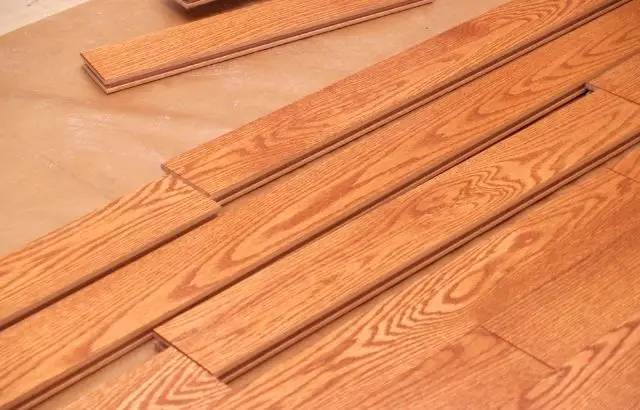 Whether you use hardwood flooring or any other type of flooring, the cost varies according to the quality but usually expects to cost between 0.50 $ to 1.50$.
According to the home advisor, most homeowners expect to pay $4 to $8 per square foot for labor to install hardwood floors and $3 to $10 for engineered wood floors. In many cases, the sellers are likely to recover their project cost up to 9%, according to the remodeling impact report issued by the National Association of the remodeling industry.
The cost of some solid hardwood types is less like oak, and American cherry ranges up to $5 to %10 per square foot, according to a home advisor. Low engineered hardwood cost is between $£ to%5 per square foot, the mid-range cost is %5 to 10$ square foot, and the high-end cost ranges from $8 to 13$ per square foot.
To calculate the total cost, figure out the total per square footage and add 5% to 10% for cutting and waste.
Benefits of Underlayment for Hardwood Floors
If you want to know why underlayment for hardwood floors is essential, there are mainly two reasons.
Read More: How To Match Hardwood Floor
For what features you want to pay.
You have to decide where it is not necessary to use.
So let's have a look at the essential benefits of using underlayment for hardwood floors.
Moisture Barrier
One of the significant advantages of using underlayment for hardwood floors is that it acts as a moisture barrier for floors to keep them away from damage.
You can also search for the underlayment with an added vapor barrier that can protect your floors from water damage.
So it is suggested to keep your homes at the moisture level between 35% to 55% or according to installer suggestions.
Subfloor Imperfections
One of the basic requirements for uneven subfloor is to install the underlayment for sure.
The finished wood will become uneven when the nail or glue is applied to pose damage, and a beautiful wood-look will be affected.
Major imperfections should be removed before installing hardwood floors, but small cracks and dips should be ignored.
You can use the underlayment with a high thickness level to hide the small cracks and dips or even uneven areas, and it will be less cost enabling.
Noise reduction
Most homeowners complain that a busy household on any hardwood floor creates a lot of noise. 
From pets and kids running, background noises of voices, playing in the living room areas, television, and other household appliances, sounds add severe noise pollution.
Therefore, to get rid of this problem, it is better to use the sound absorption underlayment for your floors, which helps absorb sound coming from the air and bouncing to the room's walls. 
Comfort
One of the significant drawbacks of the hardwood floors is that they cannot walk on and stand on them for a more extended period.
So if you want to make them more durable and long-lasting, it is better to install the underlayment beneath them.
It is a significant investment you should opt for to provide yourself a small amount of comfort, especially in winters when you want to walk on your floors without rugs.
Underlayment provides a cushion to your feet and insulates them from intense heat and temperature levels.
Stabilizing floating floors
If you have engineered hardwood floating floors in your homes, then there should be underlayment installation is a must.
The reason is that the floating floors are not attached to subfloors, so they are easy to expand and contract, especially when exposed to heat, air, and moisture.
Moister can quickly go through the gap of subfloors, thus floats in the engineered wood and can cause severe damage to the hardwood flooring.
How to Find Best Underlayment for Hardwood Floors: FAQs
What is the recommended underlayment for hardwood flooring?
If the subfloor is plywood, opt for a semi-permeable underlayment. This best type of underlayment allows the hardwood floor, the wood floor, the wood subfloor to function well without tricking mold and mildew or causing the material to damage. If you have the subfloor made of concrete, choose an impermeable underlayment instead. 
Read More: How To Remove Orange From Wood Floors
How thick should engineered hardwood underlayment be?
An engineered wood floor, which is the base of under-floor heating, is typically recommended to be a maximum of 15mm thick. This is because boards of this thickness will allow the heat to pass into the room more efficiently than a thicker board.
What underlayment to use for linoleum?
Plywood underlayment is a thin plywood material most commonly used under resistant flooring materials like vinyl and linoleum sheets and tiles.
How do I choose an underlayment for flooring?
The higher the R-value of the underlayment, the less heat will be able to move through it, while the lower the R-value is, the less insulation the underlayment provides. A high R-value underlayment will make the floor feel warmer underfoot in the winter.
Do you put anything under hardwood flooring?
Paper or felt are the two best materials that are traditionally installed between hardwood flooring and the subfloor. These materials help minimize squeaking between the bottom of the floorboard and the top of the wood subfloor. 
Why do you put wax paper under hardwood flooring?
Wax paper is suggested to put under the hardwood and engineered wood nail-down flooring. The wax paper provides a professional grade thickness and performance. It helps ease the installation and reduce squeaks in wood floors. 
Is it better to glue or float an engineered wood floor?
We would highly recommend gluing the floor down if you are using solid wood flooring rather than floating it. Hence, floating is only a real option if you use engineered wood flooring to withstand natural movement pressure.
Read More: How To Clean Cherry Wood Floors
Conclusion
So it is evident from the above article that underlayment is essential for your hardwood floors. With the bit of investment and time factor, you can get benefits like moisture barrier, sound barrier. It increases your comfort and hides the imperfections in your hardwood floors.