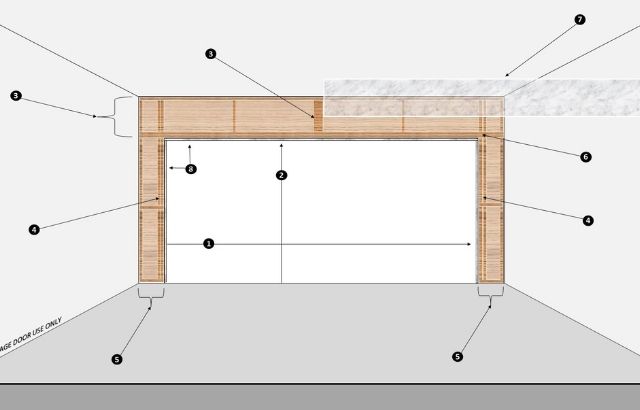 How to Frame a Garage Door Jamb | 11 Step Guide To Follow
Disclaimer
Articles, products, and services offered on this site are for informational purposes only. We are part of the Amazon Services LLC Associates Program, an affiliate advertising program. Amazon.com is compensated for sales resulting from links on our website.
Please review our disclaimer before acting based on anything you read or see.
Your garage door is essential, as it is to make sure that no one can steal your vehicle. Many other valuables are kept in a garage, and it would be silly to leave the opening free for everyone to wander in. Regardless of the security reasons for a door, it's essential to have one because it looks aesthetic for your home. It's also best to learn how to frame a garage door jamb to avoid hassles.
Why Choose a Wooden Garage Door?
Has it been a long time since you had your garage door installed, and it's finally time to replace it with a handcrafted wood garage door? Learn to make wooden garage doors. Want to give your home a new elegant look but don't know where to start? Don't worry, being confused is a normal thing; after all, there are so many options to choose from to improve your home's look that often you don't know where to turn your head.
Furthermore, wooden garage doors are undoubtedly the most popular choice for door material. They are incredibly inexpensive and are much cheaper to buy and install than any other material. There are different types of wooden garage doors available out there, and they can be so beautiful.
Before looking at how to Frame a Garage Door Jamb, below are some reasons why you ought to choose a wooden garage door: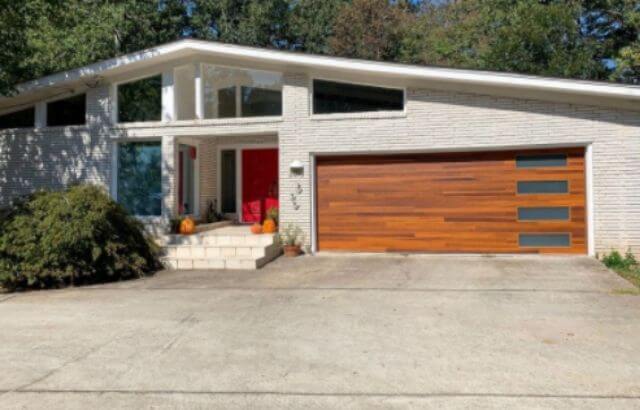 Age
Wood is good as it ages well. While a steel door would show dents and horrible scratches, a wooden garage door almost seems more of a character with this type of damage. It's also a lot easier to mend damage to a wooden garage door using sanders, varnish, or paint. With that said, wooden garage doors can make look extraordinary, and there are so many different things that you can do with them. Another benefit to wooden doors is that they will not rust as steel or aluminum doors would.
Color
You can paint them any color you desire or varnish them with a specific stain to match the color of the other wood cladding on the outside of your home.
Insulation
Wooden doors are excellent insulators. They keep your garage warm, which is very good if you live in a cold climate. There's nothing worse than getting into your car in the morning and it won't start because the engine is too cold! You can even buy pre-insulated wooden doors! In terms of climate, some people worry that wooden garage doors will rot and become damaged due to the elements over time, but that's not a significant concern.
For one thing, it will take years for this to happen. Second, it should be noted that composite wood that does not rot is half as readily available. You can also have a fully solid wooden door that will live well for an incredibly long time.
Endless Option
The options with regards to wooden garage doors are endless and can be exciting to choose from. There are many beautiful types of wood out there to choose from, with areas in cost. The cost will also be in a low range, though this depends on the area you live in and how easily accessible the type of wood you want. Most good wooden garage door companies have the wood you will need and have a brochure of all of the different doors you can buy. The door will then usually be perfectly adapted to your garage opening. In the brochure, you will also find the different patterns you can get on the wood, as a good pattern can make all the difference.
Learn More: How To Paint A Roller Door
Easy Designing
The wooden material is very easy to work with, so it is no problem to design the wooden garage door as desired. Beads, patterns, and other applications can be made. The possibility of combining the wooden elements with different materials is also intriguing. For example, a garage door with a steel frame and wooden panels can be created. This creates special effects and makes the gate an eye-catcher. There are hardly any limits with regards to design. Wood is very versatile too. Due to the weather, there may be color changes, as earlier highlighted. If the wood becomes discolored, this process is called patina. Silver-grey hues are the result. Since you can always repaint wood, you can occasionally change the color of the door without great effort. 
That's a big plus.
On the other hand, with a door made of steel or aluminum, the color change is much worse. Gates that have only been clad with wood can be provided with synthetic insulation if necessary too. A door made of wood can be formed with or without a bead, with a cassette lock or herringbone pattern, or any other individual design. There are no limits to the design options here.
Ecology
Finally, the last advantage of a wooden garage door is that it is made from renewable and biodegradable material. By opting for such equipment, you are making a good gesture for the planet, which is not the case with PVC garage doors constructed from petrochemical materials.
Variety of prices
Prices for wooden doors range from an average cost to a higher price. In many workshops, they produce both less expensive solutions and extremely refined solid wood products. The ability to customize the work on the customer's requests is one reason that allows this door option to have a variable price that can be modeled on the customer's actual needs.
Solidity
Wood is an exceptionally robust material that withstands temperature variations perfectly well. Thus, whether in summer or winter, your door will not suffer any damage related to the weather.
Ease of maintenance
Of course, you will have to regularly maintain your wooden garage door, varnishing it so that it continues to be protected, or even repairing it if the need arises. But wood is a very easy material to process. Even if you are new to DIY, you will achieve your goals without any problem.
Thermal insulation
Wood has long been favored since it perfectly insulates a home. This will keep the heat inside and the cold outside, saving you money on your energy bills.
Sound insulation
Wood is also an excellent sound insulator. This can be very practical if you want to DIY in your garage without disturbing the neighborhood, for example.
How to Frame a Garage Door Jamb
The garage door jamb usually extends from the floor to the header boxes' underside on both sides of the opening. In some design versions, a piece of finished wood or ornaments bridges the bottom of the header. The door jamb is usually used to provide a stop for the external wall at the opening and a platform for the roller track or hinge. You can install and frame the garage door jamb through the following steps:
Step-1:
Erect a ladder on the side of the framed door. Next, measure the distance from the floor to the bottom of the header at the vertical frame's outer edge to determine the door jamb's height.
Step-2:
Place two sawhorses in parallel, about six feet apart. Next, lay two 2×8 pieces of lumber flat on top of the horse. Measure and mark each part of the front edge of the door jamb. 
Step-3:
On the side of the opening, place the adjustable square handle against the wooden frame's outer edges, with the blade on the bottom side. Next, adjust the square blade so that it points into the garage.
Step-4:
Slide the square handle down until the blade touches the floor. The garage floor is slanted for drainage, so be sure to consider this when marking the door jamb to be cut. Adjust the blade so that it slides on the floor surface too.
Step-5:
Place the square handle against one side of the door frame. Next, slide the square to align the blade with your mark. Ensure that the square is in the correct position so that the toes (longer points) are on the mark. Next, mark the angle of the floor on the front of the door jamb. Repeat this step and mark the angle on the remaining door jamb.
Step-6:
Put on safety goggles and cut the door jamb to a certain length with a circular saw. 
Step-7:
Erect a door jamb on one side of the opening, lay it flat on the frame, and cut it at an angle on the floor. Adjust the side panels' position so that the outer edge extends one inch from the wall frame's outer surface. This provides a stop for the side panels. If the exterior wall is plaster, stucco, or masonry, place the edge flush with the frame.
Read More: How To Install PowerPoint On Plaster Wall
Step-8:
Use a 20-ounce finishing hammer to screw in two 16d galvanized nails 3 inches from the top of the door frame. At this point, nails should be partially used to secure the door jamb in place. 
Step-9:
Plumb the door jamb vertically by clicking the inner or outer edge as needed. 
Step-10:
Drive in galvanized nails over 24 inches along the surface of the door jamb, and use the threaded end of a 3/8 inch bolt to secure the mail.
Step-11:
Install the second door jamb on the opposite side of the opening, using the same procedure as the first.
How to Frame a Garage Door Jamb: FAQs
How do you rough opening a garage door frame?
To rough opening a garage door frame, do make use of the following steps:
Collect the needed supplies
Measure the rough opening of the garage door
Install the head jamb
Measure the height from floor to ceiling
Install the side jambs
Attach the center support frame 
What kind of wood do you use for a garage door jamb?
Cedar or mahogany can be used as high-quality materials for garage door jambs.
What is a rough opening for an 8×7 garage door?
The rough opening for the 8×7 garage door needs to be over 8 inches. In other words a 7′ high garage door is likely work with a 6'10-3/4″ opening. Furthermore, if you have already purchased the 2×6's, it's not averse to using a 2×8 header if the 2×6 is unsafe or is likely to sag. Not likely will you ever need the full 7′ opening, so if the 2×6 header is too wimpy and the garage door will work with a shorter opening, then that would seem the way to go.
Conclusion
In conclusion, wooden garage doors have become very popular, thanks to their numerous benefits. If you desire to learn all about this and frame a garage door jamb, the highlight above would be indispensable.