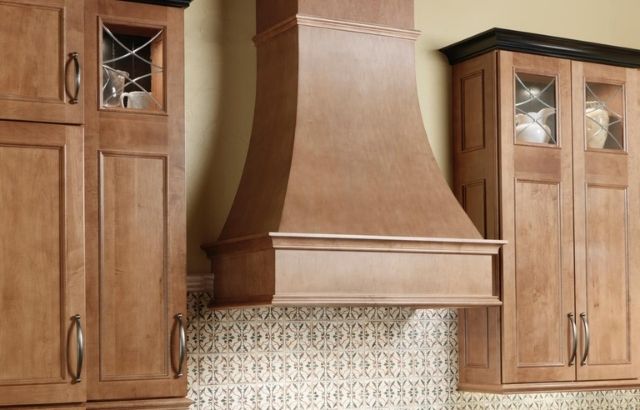 How to Install a Range Hood Vent through the Ceiling | Follow 5 Steps
Disclaimer
Articles, products, and services offered on this site are for informational purposes only. We recommend using caution and seeking professional advice. This site provides general information. We are part of the Amazon Services LLC Associates Program, an affiliate advertising program. Amazon.com is compensated for sales resulting from links on our website.
Please review our disclaimer before taking action based on anything you read or see.
You know all the benefits of the range hood. It becomes an essential part of the kitchenware. The numerous benefits of this device make it a necessary choice of cooking. When you turn on the range hood during cooking, it sucks all grease and food odour. But how to install a range hood vent through the ceiling? This installation process is not as complicated as you think. Now I am going to acknowledge you about the full installation process. I will also tell you how much cost you will spend if you install yourself or an expert's help.
Read More: How To Install A Farmhouse Sink In Existing Cabinets
Are you troubled by the kitchen blubber and not finding any solution to coping with this problem. The range hood is the best choice for the kitchen as it prevents grease on top of the cabins. Through this device, your kitchen doesn't have any smell nor any blubbers on kitchen shelves. 
Lear More: How High Should Range Hood Be From The Stove
For installation purposes, you don't have to hire anyone. It's not as difficult as you think. You can all process by yourself. The only thing you need to install is the tools.
Some stuff is mentioned below:
Electric wires
Iron piping
Ven cap
Screw anchors
Cable clamps
Rangehood
Roofing Tar
Duct flashing
Duct straps
Pipe flashers
Tools You Need to Install a Range Hood Vent Through Ceiling
For installing, you will need some tools. We had recommended all of them below in the boxes. If you don't have these on your home get and start installting a rng hood vent rhrough cealing.
Glasses to save your eyes from any injury
Sale
Gateway Safety 6980 Cover2 Safety Glasses...
One-Piece Polycarbonate Lens Fits Over Most Prescription Glasses
Lightweight Design, With Adjustable Length Temples For A Customized Fit
Flexible Temple Tips Minimize Pinching Behind The Head
Gloves
G & F Products - 3100L-DZ-Parent 12 Pairs Large...
This bulk pack of reusable knit work gloves are perfect for people who always need a pack of durable work gloves in hand. These latex dipped gloves are handy for construction, warehouse work, gardening, mechanic work, moving, landscaping, taking out the garbage, and other manual labor type activities that require you to keep your hands protected and covered
Double dipped latex coating provide extra heavy duty
Cotton blend technology, rubber coated with Blue latex
Tape measure
25 Foot Tape Measure by Kutir - Easy to Read, Both...
✔ 7 Feet Stand Out Made Measuring Easy: With a sturdy matte blade measuring 0.15mm thick stand out till 7 FEET, this 25 foot tape measure is strong and durable, making it an essential for everyone from everyday homeowners, interior designers to professional handyman, carpenter, metal or wood workers and architects.
✔ Accidental Drop Protection With Shock-Absorbent Case: The casing of our retractable measuring tape is made out of a top grade rubberized material that is conveniently shock-absorbent. It has even been tested for quality assurance purposes in our labs.
✔ Working Alone Became Easier with Magnetic Hook: The end of the measuring tape is outfitted with a powerful magnet, allowing you to get a proper measurement without all the fuss. Simply attach the end of the ruler to any metal surface to keep it in place while you get the measurements you need.
Hammar
Sale
Electric Drill
Cordless Drill with 2 Batteries - GOXAWEE Power...
🎁 Thanksgiving Day Gift for Men and Women, Husband, Housewife, Friend, DIYer 💝
👌 READY TO GO Drill Set: GOXAWEE Home Drill Set comes with a complete drill bit sets that can work on both wood and metal. The Masonry Drill Bit is especially for drill concrete hole. The extra up to 100pcs accessories enable the electric drill more functional & practical. It's a You Cannot Miss everyday Drill/Driver for home users.
👍 NO INTERRUPTION on Project: You can constantly work your task. This cordless drill came with 2pcs 1500mAh Li-ion Batteries and 1-hour fast charger that can use for a long time after each charge. The additional battery is a bonus that makes the cordless screwdriver drill always ready to use without restriction. It's also a good investment for the jobs around the house and garden.
Caulking Gun
Sale
SolidWork Professional Hand Caulking Gun with...
PERFECT POWER FOR EVERY SITUATION - The possible adjustment between the powerful 24:1 or the more accurate 12:1 leverage makes our cartridge gun the perfect caulk tool for every use case. Depending on the setting the silicone can be applied slowly and finer or faster and thicker.
STRONGEST AND MOST STABLE CONSTRUCTION - The high quality riveted steel construction of the SolidWork caulk gun guarantees perfect handling and long durability, even under extreme conditions.
BROAD FIELD OF APPLICATION - The caulk gun is suitable for cartridges with a size of up to 1/10 of a gallon. So it can be used for working with all common sealant and adhesive cartridges.
Reciprocating straw
Reciprocating Saw - KIMO One-Handed Reciprocating...
✄【Lightweight and Compact for Ultimate Portability】At only 2.5lbs, 37% lighter than the traditional reciprocating saws, the lightweight and compact design of KIMO Electric Saw allows for one-handed use across a wide range of cutting applications, fits in tight spaces and delivers easy overhead working. Featuring the cordless design, it delivers the power of a corded reciprocating saw with the convenience of a cordless saw, easily cut into those hard-to-reach areas. No the hassle of pull cords.
✄【Clamping Jaw Provides More Effective Security Guarantee】 Equipped with clamping jaw can increase friction in the operations and provides smoother cutting for your projects as well. What'more, the tool-free blade release system of KIMO 20V Power Saw allows for quick and easy blade changes.
✄【A Beast for All Cutting Needs】Why would you want a 7/8-inch stroke? 7/8-Inch stroke length removes more material with each stroke resulting in the faster cuts, especially for pipe cutting, controlled cutting and narrow areas. Thanks to high-quality motor providing up to 2500 SPM no load speed and 6-Piece Wood/Metal Blades, KIMO Cordless Power Saw slices through heavy plastic like a hot knife through butter, barely slows down for 6-inch thick tree limbs, even handles plunge cuts easily.
Sheet Metal shears
Electric Metal Nibbler, ZFE 380W Electric Sheet...
WORKS WITH A VARIETY OF MATERIALS - ZFE jaws cut steel, aluminium, plastic or other metals. Steel plate: 0.5~1.8 mm; stainless steel: 0.5~1.2 mm. Economical, slim body design, easy to grip, and comes with a tool case for easy portability.
Cut Various Shapes - Metal cutters can rotate 360 degrees while cutting material. Can help you achieve a variety of different cutting shapes.
Outstanding Cutting Performance - The metal nib cuts material at 1700 rpm with no sparks and no burr-free cutting edges.
Drill bits
Sale
DEWALT Titanium Nitride Coated Drill Bit Set,...
DEWALT drill bit set has connectable accessory storage system to optimize storage space
Patented bit-bar design of the drill bits set allows easy removal of bits and customizable placement
Clear lid of the Titanium Nitride Coated drill bit set allows you to easily see contents at glance
Amazon is providing the best quality drill bits at low prices. 60 pcs drill bits set is only in $12.99. Small Drill bits for soft metal, wood, plastic, steel within 5mm thickness, aluminum alloy, and other soft metals. Ideal for DIY projects, household maintenance, and repair.
Wirecutter
Sale
Drywall Saw
Amazon providing top quality drywall saw at low rates, only in $9.97. 
No products found.
Screwdrivers
No products found.
The following table will show you a perspective of how long you will take to complete the installation process. 
| | |
| --- | --- |
| Beginner level | 6-8 hours |
| Intermediate level | 4-5 hours |
| Expert level | 3-4 hours |
The installation process will entirely depend on your skills.
Cost: 
If you do all methods by yourself, then you only have to pay for tools. Other techniques will be free of charge. While if you are going to hire someone, then the only labor cost is $250-$500. It means 1st you have to pay for all equipment types and pay for labor.
If you are worried about installing a range hood vent through the ceiling, follow this article; you will learn the whole process.
Types of Range Hoods
There are various types of range hoods:
Undercabinet hoods: In this type of range hood, it's right under the cabinet that its hood is wholly covered in cabinets, chase, or soffit.
Wall chimney hoods: Chimney hoods can be installed free-standing or wall-mounted above a range. 
Island hoods: An exhaust hood is a hood containing a mechanical fan, hang about the kitchen stove in the kitchen
Downdraft hoods: A downdraft is located behind the stove area. It sucks all heat and grease coming from cooking.
Ductless hoods: It's a kind of hood that purify greasy air into pure air. You can say it as a filter that purifies the greasy air and leaves it in the room after purification.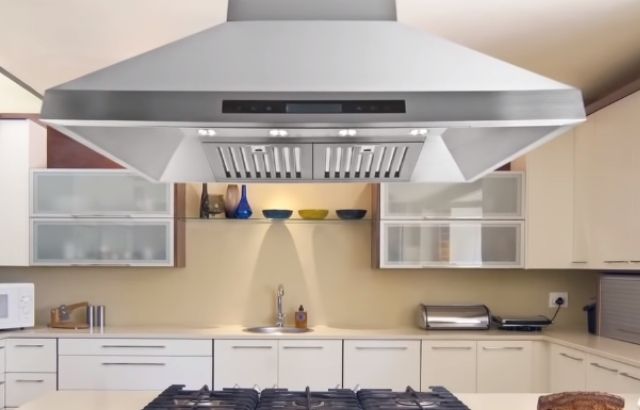 How to Install a Range Hood Vent Through Ceiling
By following down steps, you can install a range hood like a professional.
Separate it's all pieces
To make the whole process easier, you have to detach all of its parts to carry and install a hood easily. The parts you to detach are the fan, filter, lights, and electrical housing. After disconnecting, you must ensure to keep all of these things in a safe place to prevent any damage.
Outline the ceiling: Now next step is to outline where you have to fit the range hood vent. Take measure tape and measure the size of the duct—Mark precise points with a marker. Now put up the range hood vent to check the size.
Electrical Drilling
After marking, the foremost step is to make holes with an electrical driller. Must make holes accurately, here if you made any mistake, there would be no solution for this mistake, and range hood will fell. Make two more holes for passing wires.
Use a reciprocating saw to cut the holes from one point to another.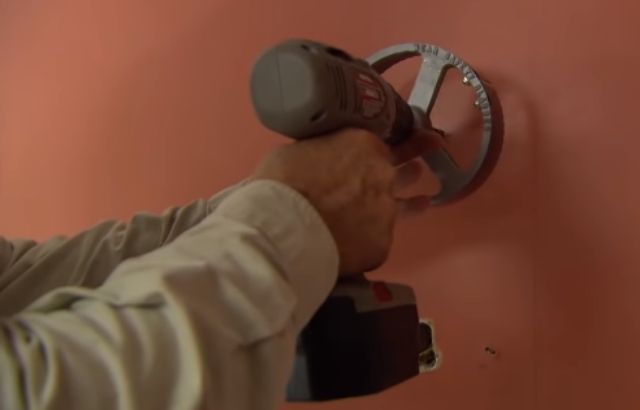 Make a hole on the roof
After making holes with the electrical driller, the next step is to make a hole on the roof to see the roof's range hood vents. You have to choose the exact and nearest location to the range hood vent to make holes in this step. Now take the cutter to make the hole.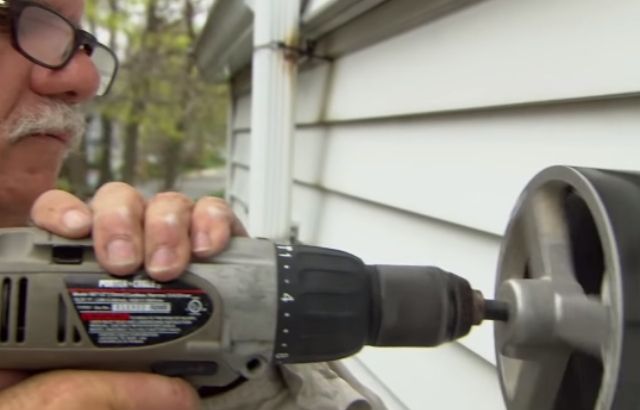 Fix the detached parts
In this step, you need someone to help carry the cable clamp to install the wire carefully. Now put all parts in its exact position. After fixing, the next step is the mounting of a range hood.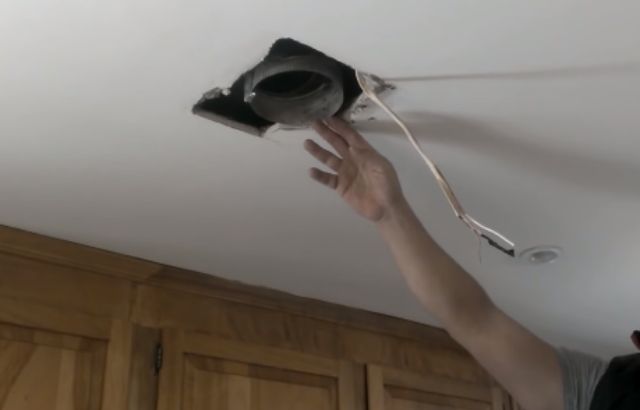 Mounting of range hood
Now the primary step for which you made this whole effort is installing a venting range hood. Pass the upper part from the holes and fit it there. To prevent any hazard, make sure all parts are fixed correctly. One tip is don't wrap this duct with any wrap and let them move to make its position by itself.
Vent cap over the duct: To prevent passing any particles, it's essential to put a vent cap over the chimney with roofing tar to effectively seal the parts. Learn repairing chimney cap.
Final step: now, the last step is to see all parts are attached correctly? If the fan is detached, then connect it with exact connecting wires. Now turn the range hood on.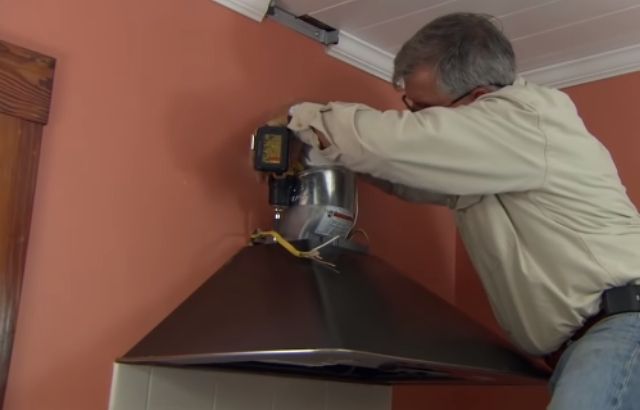 Frequently Asked Questions
Can you vent a range hood into the attic?
Yes, it's not a good idea to range hood into the attic. As the air will still circulate into the room. If you still want to vent a range hood into the attic, then the best method is to use a ductless hood as it will purify the greasy and food odor into clean air.
Do range hoods have to be vented outside?
Yes, it's important to vent the range hood outside due to many reasons. It leaves all greasy air and food odour in the air. But if you don't want to vent outside, then use a ductless range hood as it will purify the air by recirculating the air.
Read More: How Many Return Air Vents Do I Need
Do you need an electrician to install a range hood?
This question has dual answers:
If you think you can't do this all effort to install a range hood, then call an electrician for installation. It will cost you $250-$500.
My 2nd answer was no; this process is not complicated if you do it with good stamina and motion. Once you are installed by yourself, I can feel your happiness from now.
How do you install an interior range hood vent?
To install an interior range hood vent, you have to install it in the following eight steps:
1st of all, separate all parts
Mark the exact vent size precise points where you want to vent.
Use electric drilling to make holes. Check this guide to learn to mount speakers on the wall without drilling hole.
Make a hole on the roof: the next step is to make holes on the roof. Select the exact position where you want to see the vent exhaust. 
Fix the detached parts: In this step, you have to reattach the detached parts.
Mounting of Rangehood vent: In this step, you have to install the range hood to make a hole for the vent.
Vent cap over the duct: by using roofing tar to seal the parts firmly. To prevent passing any particles, it's necessary to put a vent cap over the chimney.
Final step: Now, check all parts are fixed correctly. If the fan is still detached, then attach it with proper wiring. 
Now turn the electric switch on and see the results.
What type of duct is best for venting a range hood?
Rigid duct is one the best duct for venting range hood. Most rigid ducts are made from stainless steel. It's durable. It doesn't need any maintenance. If you take proper care and clean, it's filtered regularly. This venting typically vertically ventilated hoods. They easily trap the amount of grease and unwanted odor outside. Ducted installation cost $1000-$2000.
Summary
To sum up, this topic, If you read all the crucial steps to installing a range hood vent through the ceiling, you can install the range hood correctly. Installing a range hood is not tricky but needs proper attention. When you mark, holes must mark accurately. At the time you make holes throughout the ceiling, make it according to the exact size of the marking. When you are installing, install it properly and seal it to prevent it from falling. If you are a beginner, you must study all rules and regulations, search all techniques properly, and do it with proper sequence.