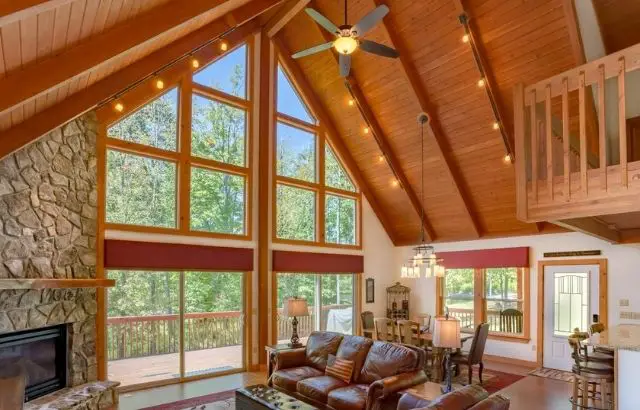 How to Insulate Exposed Beam Ceiling | An Expert Guide
Disclaimer
Articles, products, and services offered on this site are for informational purposes only. We recommend using caution and seeking professional advice. This site provides general information. We are part of the Amazon Services LLC Associates Program, an affiliate advertising program. Amazon.com is compensated for sales resulting from links on our website.
Please review our disclaimer before taking action based on anything you read or see.
The beamed ceiling looks beautiful and claiming. We can also use beams usually made up of timber, but you can use beams made off with the combinations of other materials. But the problem with the beamed ceiling is poor Insulation and leakage that can damage your home roofs, and you need to pay exorbitant bills to keep your house heated. This problem can be solved by using Insulation. Do you know how to insulate the exposed beam ceiling?
Why is Insulation important?    
Insulation keeps the home warm in the winter and cool in the summer and saves energy bills. It allows you to save up to 30% on utility bills payment. Moreover, it reduces sound and makes the home a more peaceful place to live. It also helps increase the property's resale value, and if you want to make the globe an excellent place to live for future generations, Insulation helps reduce the carbon print.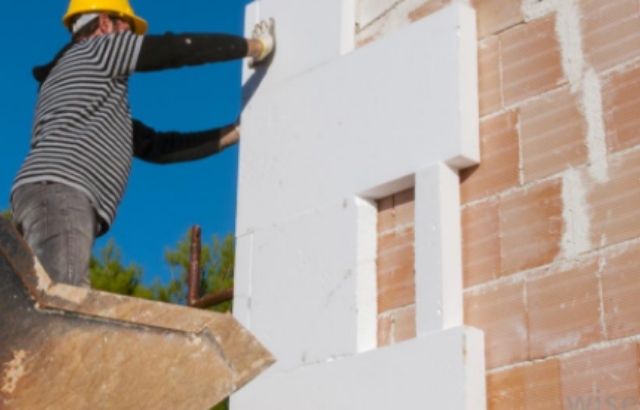 How to Insulate Exposed Beam Ceiling
In this article, I'll try to help you with how to insulate exposed beam ceiling.
There are two popular clarifications to this problem: 
Foaming spray insulation
Foaming sheet insulation
Read More: How To Get Spray Foam Insulation Off Hands
Foaming spray insulation
Foaming spray is popular for Insulation and best for new construction projects. But it has its pros and cons. Foaming spray is a complicated process, and it would be better to call a professional and experienced person for this task. Still, if you want to do it by yourself, we need the following tools for foaming spray insulation, and you can get all these tools from amazon by just tapping on the tool name:
Wall scrapers
Protective suit
Respirator 
Eye protective glasses
Moisture Meter
Instructions
Foaming spray insulation involves many chemicals that can be a hazard to your health, so you need the proper gear to prevent this health hazard. Always use wrap-around goggles, a protective suit, and chemical resistant gloves. And if you have any allergies to chemicals, please don't do foam insulation by yourself.
Before applying spray foam, make sure the surface is ready for Insulation. For this, make sure the surface is dry and not having moisture over 20 and you can check the surface's moisture by using a moisture meter and clean the surface with a wall scraper.
Before starting, keep one thing in mind: if you stop spraying for 30 seconds, you need to change the spray gun nozzle as the foam will clog inside the tip. Although the spray kit comes with some extra nozzles, it would be better to set up everything, like setting up the ladder and choosing the area you want to spray before starting.
Shake the foaming solution well before use and keep shaking cans after some time.
Instead of spraying directly on the surface, always use it in an empty basket until the foaming chemicals start flowing smoothly.
Spray on the perimeter of half an inch; it will expand to a 1-inch layer and fill up the wall cavities.
Always lubricate the nozzle on every change with some lubricant like (petroleum jelly).
Insulate exposed roof trusses, open up the ceiling, first cut the strip, remove existing Insulation if there is any, then spray foam, and apply drywall patch.
Once all the Insulation is done, leave it for 24 hours to settle and not enter that area to prevent any chemical reaction.
Spray foaming is considered being one of the best solutions to insulate open ceiling rafters. 
Tips
Always read the instruction comes up with spray foam kit.
Choose foaming material according to your requirements.
Add an extension tube with a can to reach the narrow cavity.
Check the expiry date of the foam sealant.
Use a jagged knife to cut the excess foam.
Be careful around windows and doors.
Leave accidental mistakes. Don't wipe until it's dry.
Pros
Seal all the gaps and corners
Reduce utility billing cast
Tight air seal 
Longer life span
Eco-friendly
Make walls and roofs more durable
Cons 
Cannot stop water damage
May not provide the required R-value
Expensive
Read More: How To Repair Water Damaged Wall Studs
Last but not least, Foaming spray insulation is more reliable for newly constructed houses and exposed rafter ceiling construction but not so steady for remodelling.
Foaming Sheet Insulation
Foaming sheet is also called rigid foam and foam board. Using rigid foaming is very popular for building exteriors, Insulation, and remodeling of houses. The foaming sheet provides more Insulation as it comes to foil facing.
How to Apply Rigid Insulation?
You can insulate your roofs yourself if you have proper tools and follow the instructions. To insulate the ceiling with exposed rafters, you will need the following tools:
Rigid Foam Sheet
7″ screws
Foil Insulation
French Cleat
Drill Machine
You can buy all these tools from Amazon.
Tips
• Avoid exposing stiff sheets to sunlight, which might lower their R-value.
• Use a vapor barrier or any other kind of plastic cover to protect your sheet. It is available on Amazon.
• For improved insulation, place foil face among stiff foam sheets.
Method:
First, measure the distance between the rafter and count how much insulation material is needed to cover the area. Now bring the rigid insulation sheets and cuts in angle according to the surface you need to cover, and for that, you can use angle tools. 
Straight surface insulation is much easier than vaulted roof insulation or insulating a ceiling with exposed rafters. 
Now mark the lines on the rigged foam insulation sheet, and while cutting, don't forget to accommodate the cross-beam so that it can fit perfectly. After that, apply adhesive glue behind the foaming sheet, place it carefully where you want to put it, and hold it for two to three minutes for a firm grip.
Place two 6 inches long and 2 inch wide wooden blocks, then place the second rigid sheet and put the screws to attach both insulation foaming sheets firmly together. Put silicone caulk at the edges of the foaming sheet to seal the gap.
Now continue doing this until you cover everything you want to insulate.
Once you have fixed all the rigid sheets where you want, it's time to put drywall between exposed ceiling joists to protect the Insulation, and then you can use French cleat. It's the perfect and easiest way to insulate the exposed beam ceiling.
Pros
Foaming sheets provide a high R-value of between 4 and 6.5 per inch.
Provide good water resistance
No Air Leakage
Easy to Install
Cost-Effective
Cons
May not fill all the gaps and cavities
Joints between boards
Use HCFCs may cause harm to the ozone layer
(Polyisocyanurate boards) Foaming boards use the worst HCFCs
Rigid foaming has its pros and cons, but it's a cost-effective solution for roof insulation and easy to install, and provides better resistance against water.
How to Insulate Exposed Beam Ceiling: FAQ Section
What are exposed ceiling beams called?
Exposed ceiling beam, also called exposed rafter ceiling, ceiling beam, exposed trusses, and exposed timber beams. The ceiling beam is usually made up of timber or a combination of some other materials. Exposed ceiling beams give a pleasant visual effect, and the beam usually ends with a wood stain pattern or paint. Sometimes other extensions are attached to the beamed ceiling for giving a beautiful look.
Can I insulate the underside of my roof?
Yes, you can insulate the roof's underside, and we mostly use mineral wool and rigid insulation sheets for underside insulation. Insulation sheets are best because sheets can fit perfectly under the roof, and mineral wool can be used between beams. 
You can do Insulation by yourself also if you have the required tools and follow the instructions. When you are doing Insulation of the underside roof, don't forget to count the other factors like the roof's thickness and inner lining. The roof's inner lining also helps to stop the moisture as moisture is not good for Insulation.
Should you insulate your ceiling?
Yes, it would help if you insulated your ceiling as it keeps your house heated in winter and cool in summer. Insulation also reduces your energy billing cost, as less energy is required to maintain the house's temperature. Ceiling insulation helps you save around 30% on energy spending, and wall insulation saves around 15% of billing costs. But check the required R-value rules of the state before going for the Insulation of your house. You can check here R-values required by different states in the USA.
Conclusion
To conclude this topic, we discuss why Insulation is important and how it saves money. We also saw how to insulate the exposed beam ceiling. You can do rigid foaming insulation by yourself with proper tools and by following the instructions, even if you have no experience. But foam spray insulation is a little tricky, as it involves chemicals. Despite that, you can do this by yourself by taking proper precautions and having the right tools to do the job done. We put all the required tools links you can buy them from Amazon.