How to Insulate the Garage Ceiling with the Room Above | Expert Guide
Disclaimer
Articles, products, and services offered on this site are for informational purposes only. We recommend using caution and seeking professional advice. This site provides general information. We are part of the Amazon Services LLC Associates Program, an affiliate advertising program. Amazon.com is compensated for sales resulting from links on our website.
Please review our disclaimer before taking action based on anything you read or see.
Do you know how to insulate the garage ceiling with room above? Having a garage in your home is essential. Its great job of taking care of such a necessary asset, as is your car, makes it indispensable in the home. Being the least crowded space, it generates a low climate; compared to the temperatures of the rest of the houses.
For this reason, it must be insulated to establish an adequate temperature. Most buildings have one, and in turn, a room above it that absorbs the temperature it generates, becoming an uncomfortable room if the roof is not properly insulated. Therefore, we will offer all the necessary information to solve the inconvenience of insulating the garage ceiling with the room above.
How to Insulate the Garage Ceiling with the Room Above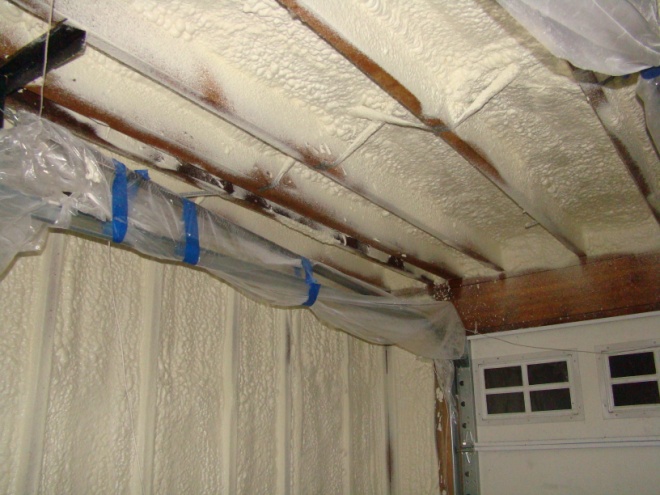 If we count, with a room above our garage, it is essential to insulate the ceiling, so; you will have space heaters in winter and cool in summer. In this way, you will contribute considerable energy and economic savings, reflected in your electricity and heating bills. The steps to insulate the ceiling of the garage with the room above are as follows:
To begin, you must have the necessary tools and materials:
Tape measure, heavy-duty.
Fiberglass batting or spray foam.
Knife or large scissors.
Electric or manual staple gun.
Goggles, gloves, mask or mouth cap, and safety boots.
Using the tape measure, take the exact measurement of width and length of the ceiling, establishing the square meters. In this way, we have the measurements and amount of insulation needed. In this case, we will use fibreglass batting. Since this process begins, you must use boots, glasses, and safety gloves; we do not want injuries or accidents.
Make cuts appropriate to the size of the roof, which you can handle easily.
Install the fibreglass batting, starting from the ends of the roof, secure the ladder properly; to avoid injuries and accidents. With the backing paper in front, evenly place the cutouts.
Using the stapler, secure each edge of the insulation material. It would be best to do this patiently, verifying that the pieces are joined and cover the entire roof evenly. It is necessary to move the ladder. If it is possible to have an extra person, it will make the job less tedious.
Spray foam insulation; can be installed around existing insulation or can replace old insulation once removed. Install the spray foam, and the ceiling drywall will need to be removed and redone later. The process e the ceilings of homes and garage; is the same as fibre, the difference is the direct application, no chunks or staples; and its cost is a little high compared to the other insulation. Rigid foam insulation can also be used for exterior walls and ceilings. If drywall is present, it should be removed carefully and judiciously for later reinstallation.
Insulate upstairs bedrooms.
Applying insulation or heaters to the garage room floor is the next process; it is usually inexpensive and necessary. In the market, we get a variety of insulation for the counter floor, and it is the part to insulate for proper operation, in combination with the garage ceiling insulation. The materials you can use are synthetic cork or polyethene insulation. To perform this process, you must carefully remove the last layer of flooring for later reinstallation without using floor joists.
When we refer to the subfloor, we refer to the layer below the floor we walk on. This one is usually of wood, ceramics, and vinyl, among others. Whose function; is to provide a uniform and smooth surface without holes for the finished floor.
Types of Insulation for Garage Roofs
Not all types of roofs have the necessary thermal capacity; to control the temperature of the site, for lack of insulating component, as reducing duct. For such reason; we will name the currently popular ones with great performance and efficiency:
Fibreglass batting or mineral wool
They are mostly inorganic fibres forming a flexible material. They offer effective insulation for extreme temperatures, fire, are water-resistant, and reduce noise. Common ones are volcanic rock and glass wool. Therefore, they are ideal for garage ceiling insulation and wall cavities.
Polystyrene insulation
These thermal insulators have two ways of working, expanded and extruded. The expanded one is the one used in roofs. Due to its high resistance to humidity and water, it supports large amounts of thermal energy.
Polyurethane foam, known as foam rubber, is composed of a porous plastic material. It is an insulating material widely used in roofing due to its versatility and economy.
Insulating echoes
Very used nowadays, based on the care of the environment. Products are made of natural, recyclable, and non-polluting materials, such as wool and cork. With great insulating capacity, ideal for garage roofs for its easy handling and ideal weight. They form a kind of conservative air barrier. Although others call it a vapour barrier, they fulfil the insulating functions and take care of nature.
Panels
It is composed of metal plates that form light and modular insulation, also called sandwich panels. Their prefabricated presentation is very easy to install, ideal for roofs of any type and design.
Insulation for sheet metal and cellulose roofs
It is popular in recent years due to its material composition and low thickness. In this way, they function as thermal bridges; they exchange temperature with the exterior, altering and damaging interior comfort. To counteract this effect, it is a good option for thermal insulation.
Frequently Asked Questions
What is the best way to insulate a room above a garage?
Construction companies commonly use fibreglass batts to insulate garage ceilings. This form of insulation, however, leaves holes through which chilly air in your garage can flow. Spray foam insulation is far more effective since it covers the whole ceiling space, cutting off airflow routes.
Do I need to insulate above my garage?
If your home's HVAC system extends into the garage, you should insulate the attic above just like any other room.
Why is a room above the garage so cold?
Hot air rises and travels to colder places. In the winter, warm air escapes easily from that room than from the rest of the house. In summer, the opposite is true.
How much is an extension on top of a garage?
An over-the-garage addition will typically cost $18,000 and $30,000 to build, depending on size (single or double).
Is it possible to add a fourth bedroom on top of my garage?
Before beginning a project, make sure to verify your local building laws and zoning ordinances. Because the garage already has a foundation, you'll save money on some of the building.
Are bedrooms above garages safe?
Bedrooms above garages are usually secure. Therefore, we recommend meeting with a building or housing inspector to ensure that the house has the proper insulation.
What is the best way to insulate my garage ceiling?
Purchase a set of fibreglass batts that span the distance between your ceiling joists in height and breadth. Staple the fibreglass batts so that no gaps are using the stapling flange. Allow for a little extra space on your paper to accommodate for this.
Does a garage ceiling need a vapour barrier?
Most garages do not require vapour barriers since the quantity of vapour that diffuses through the walls, ceilings, and the floor is insufficient to produce wet walls and moisture damage.
Why is it so extremely hot in the upper room of the garage?
Hot air rises and travels to colder places. Warm air escapes from that room more easily than it does from the rest of your house in the winter.
Should you insulate over an unheated garage?
Because your home's heating and cooling system do not generally extend into the garage, insulating this area has minimal effect on the cost of running the system. The insulation of the attic room above the garage will help to keep garage temperatures more constant, but it will not have 
How do you name a room over a garage?
A bonus room is a room in a house that is not a kitchen, bathroom, family room, corridor, or closet but does not qualify as a bedroom for one or more reasons. For example, this room may appear over a garage or indicate attic or basement space in some jurisdictions.
How much does a ductless HVAC system cost?
The cost of ductless air conditioning may vary depending on various aspects, but in the United States, the range is between $3,000 and $5,000 or more (about $4,000 to $6,500 in Canadian dollars). This sum should include the cost of the ductless ac unit as well as its installation.
Bottom Line
At this point, we have the necessary information to solve the enigma: insulating the garage ceiling with the room above. The correct use of the material will allow us to carry out the process and adequately choose the type of insulator to lead you to a successful project to improve the spaces and areas of your home. In addition, you will obtain economic and energetic savings. These will affect your electricity and gas bill.
We recommend using safety measures and implements to avoid accidents and injuries in the process. To perform this work requires at least two people. It is risky and tiring to perform the work individually. The information and steps guide is provided. The correct execution depends on you. Remember that unheated garages generate ongoing costs and cold floors.