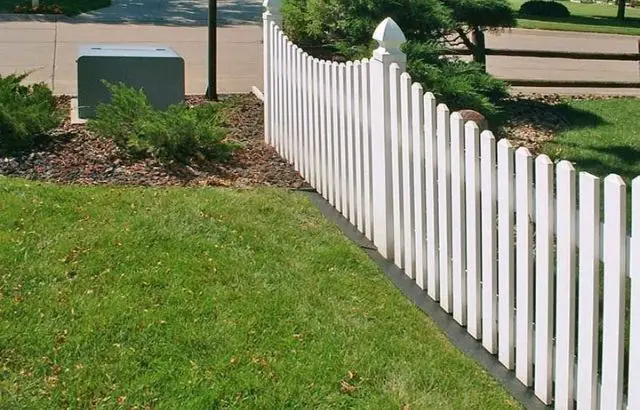 How to Keep Weeds From Growing Under the Fence | DIY Guide
Disclaimer
Articles, products, and services offered on this site are for informational purposes only. We recommend using caution and seeking professional advice. This site provides general information. We are part of the Amazon Services LLC Associates Program, an affiliate advertising program. Amazon.com is compensated for sales resulting from links on our website.
Please review our disclaimer before taking action based on anything you read or see.
When you have a lawn to maintain, you need to have a fence also. The primary purpose of having a fenced lawn is to protect your plantation from external factors. The most common security problem related to chain link fences is weeds growing under or near them. So in the article, how to keep weeds from growing under the fence, we will discuss some of the ways to keep your fence away from unneeded plants and keeps it neat and clean.
Besides, it looks beautiful and well-maintained from the outside. The most commonly preferred type of fencing used all over the world is chain-link fences. It has many functional features, such as viewing the wall and minimum maintenance requirements, making it unique and the first security line for many facilities. However, these features can be useless and expensive if it lacks proper maintenance.
How to Keep Weeds From Growing Under the Fence
Follow the below steps to learn how to keep weeds from growing under the fence.
Keeping grass outside of chain fence
If you have planned to set the unwanted plants on fire, you have two more important options to keep weeds away from the fence.
Use of weed eater.
Treatment of vegetation with herbicide.
Weed eating
The weed eater can be the right solution for keeping away many types of weed seeds, grasses, and other soft tissue plants that grow along fence lines.
Weed eaters do not work well with the woody plants with stiff stems and live above the winter season's soil level, like underbrush and thick vines.
It does not kill the plant, but the process should proceed regularly to stop the plants from growing back.
If you have less area of the yard and fence line and do the process every alternative week, during the growing season, a weed eater is the best option you can do.
Herbicide treatment
The effective spray of proper herbicide can remove weeds along a fence line, and you can get an excellent result.
Usually, one or two treatments are a must for specific acres of fence per year to keep them clear of brush and weeds.
This is because some treatments are essential for killing grass along a fence line and the plant roots.
If you plan to do the herbicide treatment by yourself, make sure to have a pesticide license that should be up to date and follow all the instructions given on the label.
You can also opt for the natural grass killer for fence lines, like non-selective herbicides such as glyphosate, over the weeds to kill them. The product should be carefully sprayed directly on the weeds, or you can also use a paintbrush for application.
The salting fence lineis another type of treatment to kill weeds under fences.
Put salt under the fence line, as it dehydrates plants and disrupts plant cells' internal water balance. 
Spray on the fence lines helps remove weed eating, makes mowing more comfortable, and protects your property well maintained and clean.
If you want to enjoy life-long results to stop neighbor's weeds from coming through a fenceby treating it 1 to 2-foot wide strip along the base of your fence two times in a year is not an expensive task to do.
Benefits of Having Chain Link Fence
One of the best security advantages of chain link fencing is that it is easy to see through it.
Your fence does not prove to be the hiding place for anyone because it is essential to see what is going on the fence's outer side.
If you allow the plants to grow along the fence's sides, it will reduce its security purpose.
Create a clear zone:
Simple areas on either side of the fence, which do not have vegetation and provide a clear view for the improvement to detect intruders, are clear zones.
The size of the clear zone differs depending upon the level of security.
A clear zone is 1 to 3 feet wide in the commercial area while it is 30 feet or more than this level if you want to provide a little higher security level.
Types of Fences
If you have planned to have a fence for your yard, different types of fences are available. It depends upon what you have the priority, what purpose it will fill, how much you will spend on it, what types of fences are in everyday use, and your homeowners' association rules you have to follow.
Wood Fence
Wood fences can provide better security and greater privacy than the other types. 
If you want to save money, you can simply opt for pressure-treated pipes.
On the other hand, if you can invest more in it, you can choose tropical wood-like, redwood, or cedar.
A stockade privacy fence consists of wooden boards placed tightly next to each other; there is no gap between them.
Typically the tops of the stockade fence pickets are pointed.
The pressure-treated fences are the most economical of the wood options.
You can also opt for rubber under the fence, as it is the durable rubber strip that lies beneath fencing or long objects to prevent the growth of grass and weeds.
It is made from recycled materials; this green product reduces landfill waste.
Steel or aluminum fence
Steel and aluminum fence is the example, more attractive and long-lasting too.
The aluminum fence is not healthy as the steel but suitable for holding humid conditions and provides a useful security element.
On the other hand, steel is a strong material and needs good maintenance like sanding and repainting to avoid rust building.
Vinyl fence
These fences are entirely maintenance-free and can last for a longer time.
They are five times more potent than wood and weather-resistant too.
Landscape fabric fencing
Landscape fabric is an essential tool in any gardener's arsenal.
It helps stabilize soil, saves on mulch, retains moisture, helps filtration, and prevents weeds growth.
The most common use of the landscape fabric is weed prevention.
It is suitable for use than chemicals because they are harmful to other pets and plants. 
Landscape fabric can protect the weeds from growing by starving them from light. 
This is an excellent tool for planters to borders and even for decking.
The use of fabric is better than plastic because plastic can suffocates soil, while material prevents weeds from growing, as it is not harmful to the other living organisms in the ground.
It allows water to pass through it and prevents water evaporation quickly.
It is good to use it in the summer season, where there is a hosepipe ban, and you need more water for your garden.
The addition of mulch can be a good option under the fabric to improve the soil's quality and avoid weed growth.
Single-layer of fabric can give you a significant impact on the stability of pavers and decking too.
It can prevent gravel from tempting into the soil.
It helps prevent pavers from sinking too far into the subsoil and also reduces frost heave.
The experts and professionals use it under concrete pavers, even after the ground preparation.
Fabrics are suitable to cut out stresses and can hold the even drive or pathway.
How to Keep Weeds From Growing Under the Fence: FAQs
What is the best tool to clear brush?
The following are the best tools to clear brush:
Chain saw
String trimmer
Axe
Shovel
Tree pruner
Scythe
How do you get rid of underbrush in woods?
You can remove the underbrush in the woods by preparing the area first and then avoid disturbing the soil before you start. Remove the debris from the site. Mark trees, shrubs, bushes you want to remove. Weaken weeds with herbicides. Wear long sleeves of protective clothing to clear underneath. Cut the weeds grasses and shrubs and cutting of back weeds in the straight weeds should be done. Clear the unwanted grass and small weeds with a line trimmer. You should mow the lawn using the highest setting on the lawnmower. Till the soil and dispose of yard waste. 
How do you clear the wooded lot?
The wooded lot like brush and brambles can be cleared by hand. You should wear protective gloves while doing the task and using equipment such as a weed whacker or string trimmer. Smaller vegetation can be raked away. You should take a dumpster at rent to dispose of all of the weeds, brush, and vegetation you end up removing.
Conclusion
To conclude this topic, how to keep weeds from growing under a fence, the above-discussed facts and procedures will help know about preventing the weed growth. Because weeds are difficult and painful to manage, weeds reach the fence and touch the property line, then talk to your neighbor to solve the problem. So it is necessary to use herbicides or pesticides to kill them. Alternatively, you can opt for many other procedures to prevent them from growing. If you want to get rid of them, the above article will be beneficial and informative, as the few methods are expensive, and some are budget-friendly.