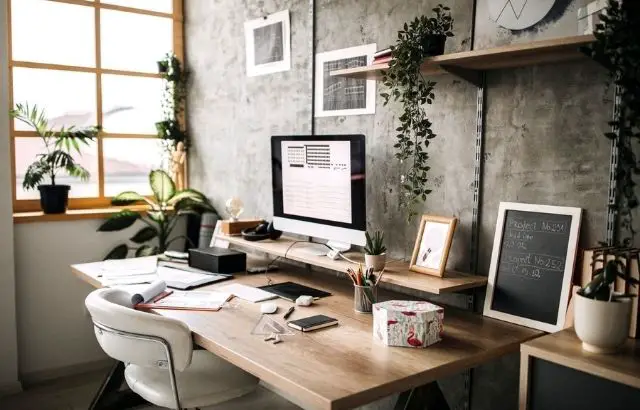 How to Make a Home Office in a Small Space | 9 Most Advanced Tips
Disclaimer
Articles, products, and services offered on this site are for informational purposes only. We are part of the Amazon Services LLC Associates Program, an affiliate advertising program. Amazon.com is compensated for sales resulting from links on our website.
Please review our disclaimer before acting based on anything you read or see.
A modest home office may be accommodated in compact areas like apartments or one-story homes. They need it even more now that more people are working from home in a world where computer technology are becoming ever-more-essential and timeless tools. People who work from home more often than ever before need a space to keep track of their paperwork and do their daily activities. As a result, people are increasingly looking for a private, quiet space at home where they may focus and be passive. But in tiny homes, this is not always simple. We provide you with some suggestions below on how to create a home office in a small area as a result:]
How to Make a Home Office in a Small Space
Location and Dimensions
The first step in making a home office in a small space is to sort out location and dimensions.
Select the room in your house that accommodates all the aspects that you want your office to have. That is, it allows for electrical supplies and equipment to work with.
Once you choose the location within your home for your office, begin to analyze the place's dimensions. As a parameter, consider that professional designers work with minimum dimensions of 150 and 210 centimeters in designing a workspace.
Your desired location may not meet these measurements, but you must consider and ask yourself how you are going to move within your small office:
Is there enough room to slide the chair?
Is it possible to comfortably complete daily tasks?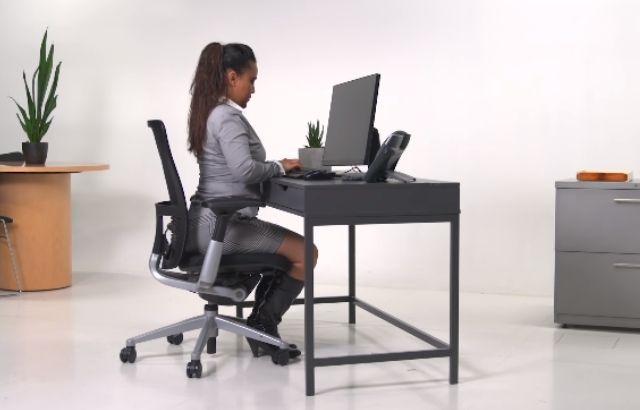 Create the Right Atmosphere to Work
What will the small home office are used for? This may entail:
To think
For meetings
To work
In other words, when determining the position of the small office in your home, ask yourself if you are going to use the space for meetings and entertain clients, co-workers, just for you, and so on. In this way, you can easily decide if the most appropriate environment is something incredibly intimate and personalized or something more neutral.
It's also best to ensure that the atmosphere of the office does not mix with the house. A workplace, like that of a small office, can easily distract you upon making contact with other family members, so it's best to create an atmosphere where you can distinguish between work and life.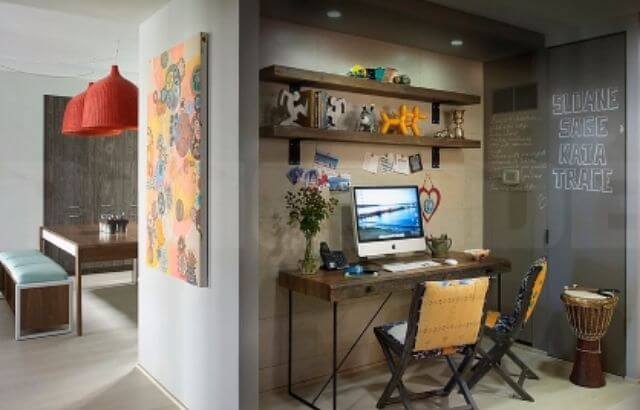 Storage within the Small Home Office
Storage is quite essential, especially in small home offices, and if not carried out efficiently, it can lead to a problem: clutter. However, there are several ways to attack this disorder:
Build and make use of tall vertical or modular shelves.
Buy furniture that also serves as storage.
Assign a closet or other place in the house to store things separately.
Rent a storage space outside the home.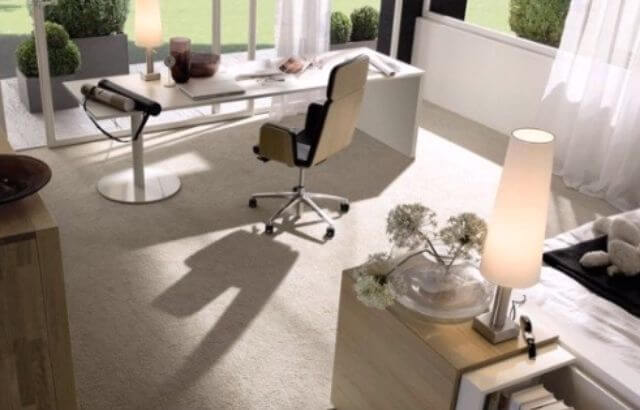 Technology Requirements of a Small Home Office
It is essential to invest time in configuring the required and necessary technology in the small home office:
Look at the power outlets: are there enough of them? Does the location of the furniture allow access to them?
Is the Internet service at home adapted to your consumption needs? Is the Wi-Fi signal good?
Also consider home automation and smart lights, audio, printer, and so on.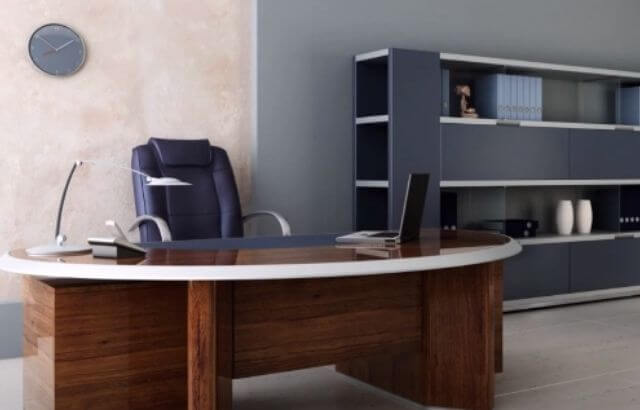 Choose the Most Suitable Furniture 
Without a doubt, when setting up a home office in a small space, it is necessary to think about furniture. There is no point in using that old stored table, a deteriorated cabinet, or even a chair that is not suitable for those who spend many hours sitting.
The office must be pleasant to stay in during office hours. But rest assured: for comfort, you don't need to invest a lot of resources. Here are some examples of furniture that should be included in the decoration:
cabinets and drawers for filing documents;
table with smaller drawers;
chair with backrest and armrest, in addition to height and tilt adjustment;
Bench or sofa for a moment of reflection and relaxation between tasks.
If you choose to set up your home office in the corner of the room, for example, a cabinet can serve as a table, and the chair can be used for other purposes when not in use, making the space collapsible. Multifunctional furniture with retractable covers can also help save more space.
If your office has its room and is still small, give preference to glass or acrylic tables, as they make the environment more modern and generate the feeling of spaciousness. If it is fixed to the wall, even better, it helps to save space with the legs of the movable table.
A piece of advice given by architects is to leave the environment almost standardized about the other spaces in the house. Often, the entrepreneur's idea is to create modern and beautiful spaces for the eyes, but try not to dare excessively.
Furniture with many curves, for example, ends up not being as functional as it should be, as they prevent future remodeling and use up much more space in the room. Also, don't forget that a very flashy environment can create distractions that hinder job performance.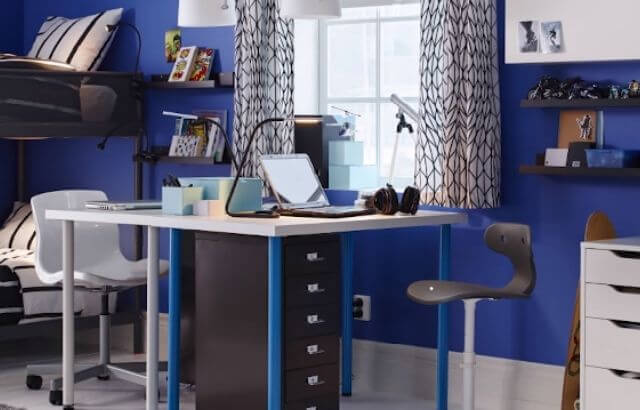 Small Home Office Lighting
Generally speaking, natural lighting is preferable. Therefore, while setting up a home office in a limited area, it is essential to make use of natural light.
In order to allow in the most natural light possible, it is also advised to choose light-colored furnishings and thin or semi-transparent drapes.
Making the most of ambient daylight in the tiny home office also depends on how it is oriented. You shouldn't forget the lights if the location lacks enough natural light or if you operate there during hours when there isn't enough sunshine.
Office lighting are necessary for you to operate more productively, energetically, and safely in tiny home offices. An workplace must have gooseneck lights to give the necessary point lighting as well.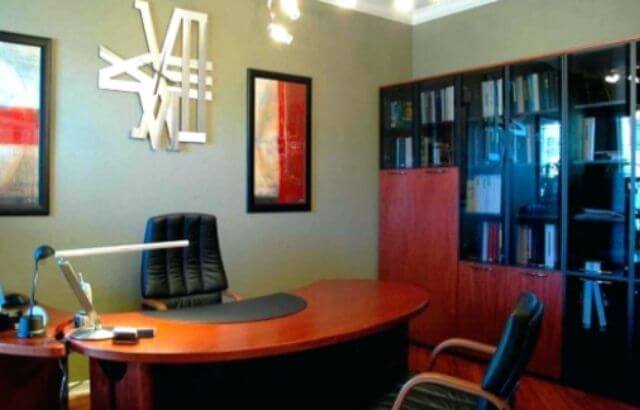 Color Psychology
Selecting the right colors for the small home office should go beyond personal preference. Since color can affect productivity and concentration levels, colors with blue and green are good options to create an optimal environment; however, if work at home is tedious or physical, colors like orange and red can energize the atmosphere.
For its part, yellow is another excellent color for decorating small home offices, as they stimulate creativity.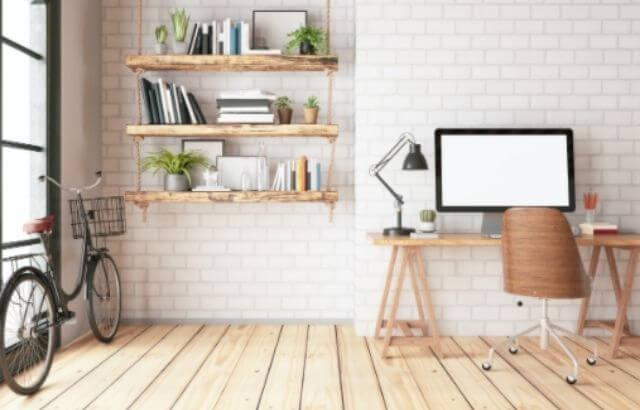 Reduce the Number of Wires 
Exposed wires leave the environment with a disheveled appearance, not to mention that they take up extra space and seem unpleasant. So, choose computers and printers with Wi-Fi to connect without the need for cables.
Also, give preference to mice and keyboards that use wireless technology. Thus, you leave your home office cleaner and visually organized. Wall ducts are inexpensive and a great alternative to hiding wires that cannot be replaced as well. 
Create a Comfortable Environment 
The organization process makes all the difference to generate well-being while also influencing the increase in productivity in a small home office. Therefore, consider the following organizational factors:
Position the table so that it faces the window. This helps to relieve stress;
leave windows and doors open to create free air circulation, allowing the environment to be always ventilated;
get rid of the noise, so televisions and radios should be turned off or moved when they are not essential for work;
use ambient sounds that relax and stimulate concentration 
Your small home office organization must also facilitate the flow of people within the room, preventing bumps and objects from being broken. Also, use shelves, especially at the top, to take advantage of spaces that are not commonly used. They can be colored, making the place cozier. Leaving the floor free increases the feeling of space.
Briefcase furniture and drawers, as we have already indicated, can guarantee this sense of organization. If you are working in a room, you can further take space in the wardrobe as a file.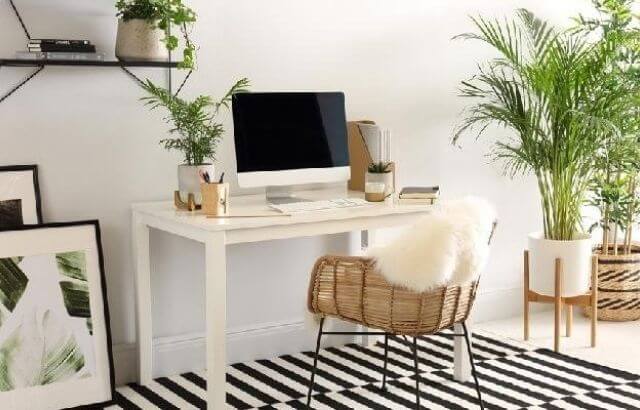 Frequently Asked Questions
What do you need in a home office?
The following are needed in a home office:
Surge Protectors
Adjustable Desk
Good internet access
Comfortable Chair
Some Personalized Decorations
Safe
Filing System
What do you put in a home office?
You can put the following in a home office:
A Good Chair
Adequate Lighting
Good Computer
A Monitor
Good Printer
How much space do you need between the desk and wall?
 You would need a space of at least 23 to 30 inches. 
How do I keep my desk clean and organized?
To keep your desk clean and organized, do make use of the following tips:
Keep all supplies close
Opt for a stacked In/Out tray
Get rid of all sources of distractions
What is a good size for a small home office?
A good size for a small home office should span between 90 to 100 sq ft.
Last Words
In conclusion, working from home is a privilege for the few. But, when you have that opportunity, an appropriate environment must be prepared to influence your productivity positively. Even if you do not have ample spaces for this, it is possible to set up a home office that is as functional as possible and, at the same time, pleasant. 
The best thing about working at home is autonomy, but balance is needed to keep pace. And believe us: living in a small space doesn't mean you can't set up an office at home. By working the spaces properly, it is possible to establish the ideal place for all your activities, as highlighted above.
Read More: How to Decorate A Home Office