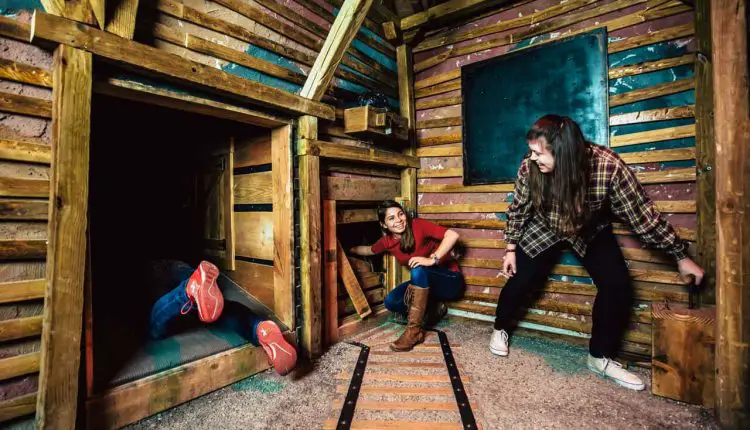 How to Make an Escape Room for Kids | An Expert Guide
Disclaimer
Articles, products, and services offered on this site are for informational purposes only. We are part of the Amazon Services LLC Associates Program, an affiliate advertising program. Amazon.com is compensated for sales resulting from links on our website.
Please review our disclaimer before acting based on anything you read or see.
Do you want to make a fun escape room for your kids? If so, then you are in the right place! Here are some tips and tricks on how to make an escape room that is perfect for kids. First, let's look at what an escape room is. An escape room is where there are puzzles or riddles that need solving in order to get out of the room. The idea behind it is based on real-life escape rooms which people go into when they want to experience something different than their normal lives. So if you're ready, let's get started with making our own!
Such rooms engage the children for the maximum period and enhance their thinking power. These places are beneficial in building the interests of children in different fields of life. Your children would have great fun by solving the puzzles, finding the clues, and solving the challenges. 
This article is mainly based on the requirements, methods, and techniques needed to make a perfect escape room. Here is all about the preparation of a basic room for your child's engagement and fun. If you are serious about building your child's mentality, invest in making such an engaging room for him/her. Let us move on to explore all about escape room. 
Read More: How To Decorate Kids Room Walls
Best Ways to Make an Escape Room
Use a Numerical Lock
A numerical lock can prove a great source of brainstorming for children. You should invest in a lock that needs 4 numbers to get unlocked. Moreover, it can be reset repeatedly, which helps to assign new challenges to the child. Set a particular lock, and give the child different combinations of numbers to find the exact one. Another way of finding the exact match can be the query system. Ask your child different queries with the unlock code clue. 
In the case of key lock, assign your different child clues to locate the exact place where the key was hidden. It would help the child to put effort into his/her work. 
Make the Clues
The clues can help your child to escape from his/her room. Assign him/her certain clues to unlock the room. You can make the clues easily at home with the help of a paper towel, cardstock, and tape.
Proceed as follows:
Loosely wrap the cardstock around the paper towel and then tape it thoroughly. Remember that your child will have to turn the cardstock so, wrap it loosely. 
After thorough tapping, take the cardstock off the towel and slice it into 6 pieces. 
Put the sliced taped cardstock again on the towel.
Write any word; say "fifteen" on the taped cardstock slices in bubble letters. 
Mix the slices and hide the clue somewhere in the room. 
Ask your child to solve the puzzle by finding the clue from the room. 
Use Different Chart Puzzles
Make the charts in the form of boxes. Fill the boxes with alphabets or numbers with a sequential gap between them. For example, you write the spelling of the word 'happy' with any missing word. Ask your child to find out the right word to fill the gap by giving him/her different options. 
Similarly, you can set a chart using different numbers that add up to make a particular digit. Don't miss any of the numbers to give your child a math test. Ask him/her to fill the gap with the appropriate number by giving different clues. Such clues will make your child able to solve mathematics problems. 
Another geometrical puzzle can be a combination of different triangles overlapping one another. Make it vague how many triangles are there in the picture. Ask your child to figure out the numbers of triangles in the chart. This would train the child for geometrical challenges. 
Make Resembling Paintings 
Under the current situation of Covid-19, it is crucial to make the child aware of the importance of hand washing. An easy method to achieve this is by making a resembling painting with certain clues to wash hands. Ensure that the paintings resemble their actions so that the child may easily learn how to do a particular task. 
Give them Intelligence Tests.
Most of the armed forces and many other institutions put a portion of intelligence tests. The purpose of this test is to check creativity. You can also do this by making particular charts with a combination of different symbols. You can also proceed in the same way by drawing different symbolic pictures referring to a particular total. Arrange their order and teach your child how to solve them. Over time, the child will learn how to use them in a symbolic sense. 
Assign the Children a Painting
Mostly, children love to draw sketches of their favorite items. Another way to enhance their creativity is by providing them all the essentials of a painting. Show them a picture and ask them to draw its sketch. Try to learn about their taste and assign a picture that matches their taste. 
Escape Room Preparation Tips
It is easy to make an escape room for your children with different clues, puzzles, painting challenges, alphabetical tasks, and so on. But there are some essential strategies that you should keep in mind while preparing a room for your child. Some of the significant essentials of an escape room are discussed here. 
Learn About Your Audience Interest
Make sure that you know the interest of your audience. You know them well, i.e., you are aware of their interests, likings and dislikes, and other habits. Decorate the escape room that attracts the children. If you make such puzzles and clues beyond your child's interest, you are going in the wrong way. Be particular about his/her choice. 
Select the Appropriate Location
Only the room doesn't need to be decorated to escape, and you can also use its context or nearby places to give your child certain challenges. Usually, children love to climb stairs, and you can add this to their tasks. Decorate the surrounding of the room for the sake of a perfect campaign. Select such a place that suits the task well.
Plan the Story
Before proceeding with the preparation of the escape room, it is best to write down your story outline. This thing will give you a chance to know all about your proceedings. Moreover, it will help in a smooth proceeding. 
Create a Real Story
Children imitate their elders, so be certain about your plans. Try to choose such a story that is based on reality. Never assume anything as it may impact the child negatively. Arrange a believable story that leads the child to learn something in the real world. 
Try to Do Something Interesting
For maximum engagement of your child, try to build an interesting escape room. You will fail to attract the child's intention if you are going against his/her will. Try to select a high standard variety of puzzles and challenges. 
Use Comprehensible Clues
Never confuse your child with something odd. Rather select such clues and challenges that are easy to understand so that the child may find it interesting. If you confuse him/her, he/she may stop struggling further. Never cheat with the feelings and emotions of the child, as the child is a sensitive blessing of God. 
Always Encourage Your Child
After some time, children may give up, and it is up to you to make them ready for the next task. Please encourage them to move on and appreciate their performance. This will build an interest in the child to move further passionately. 
How to Make an Escape Room for Kids: FAQs 
How do I make an escape room for free?
It is easy to make an escape room for free, and you can do this by following some simple steps. 
Use some tricks like a lock to escape out of the room. 
Give clues to your child to unlock it.
Make chart puzzles.
Make resembling paintings.
Assign children different charts.
Let them make paintings of their interests. 
But do all this by knowing their interest. 
Read More: How To Organize A Kid's Room With Too Many Toys
How do you make clues to escaping the room?
Leave any word hidden somewhere in the room. You may hide it using invisible writing in the Mirror Puzzle. Give each Popsicle stick a different color and put those colors in a sequence on a clue somewhere. 
What age are escape rooms good for?
The perfect age for any escape room is 10 years. However, an age of 12 years may also be considered. The recommendation is that the child must be old enough to follow the instructions and rules of the game.
How do you escape the room in zoom?
You can make a Zoom escape room in a live video. This is possible with a 60-minute experience played using the zoom. Here you can control the game master with your team in one hour of award-winning rooms; however, it needs a booking. To accomplish an online escape room, log in through zoom, share your screen with your team, and take different dares and challenges. This may include finding codes and completing puzzles. 
How do I build a classroom escape room?
To build an escape room in the classroom, proceed as follows:
Select a particular theme of your interest. 
Manage decorations, props, and other supplies. 
Set some interesting challenges and clues for your escape puzzles. 
Then try to find some creative methods and ways to find the clues and solve the puzzles. 
Conclusion
Escape Room is a great step to increase a child's creativity and brainstorming. This would help the child to accept challenges and build his mentality. The preparation of such a room is not a difficult task, and you can accomplish it by following some simple steps. The above guide contains all the serious clues and challenges that will make your child creative in every field of life. But keep in mind the essential strategies discussed at the end for a smooth proceeding.