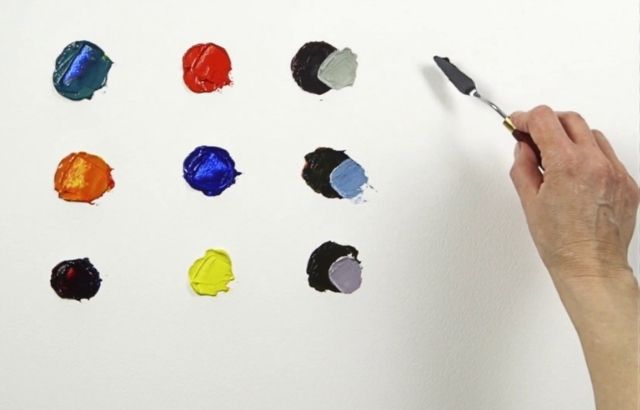 How to Make Grey Paint less Blue? | Things You Should Know About
Disclaimer
Articles, products, and services offered on this site are for informational purposes only. We are part of the Amazon Services LLC Associates Program, an affiliate advertising program. Amazon.com is compensated for sales resulting from links on our website.
Please review our disclaimer before acting based on anything you read or see.
Playing with colour is exciting and full of entertainment. But what if you are playing with colours, yet decided to paint your room with different shades. Sometimes painting on a wall come up with an awful and awkward look. It usually happens most when you make a combination of grey colour with different shades. As you expected, it would come out as a perfect grey, but the results come as a shiner. Now in this step, you have to learn how to make grey paint look less blue? In this article, I will explain the full method and the combination of grey paint with other colour shades.
Now we will mix different colours. After mixing, we will see what results will come out. Then we use the most effective colour to reflect less blue in grey paint. 
Why Grey Color turns blue?
When you paint grey colour, it can be turn out in 3 different undertone shades, like blue, green, and purple. As a result, it might look like these three colors because the undertone is missing in this colour.
Before making proper grey paint, you have to utilize it so that it will give you the desired results. 
Many factors impact your wall colour:
The direction of your room
The direction of your room will impact all the paint colours you painted. If you paint grey but either your direction is north face, then it will look bluer.
Colour effect  
If you contrast and mix dark brown and blue colour paint, it will result in a more dark brown colour. But opposite to this method, mix any light shade with Blue. It gives you lighter shades. The same thing happens with grey paint.
Light Reflectance value
It means that light effect more than anything. For a test, check what your paint colour will result in sunlight or daylight, and what will be the result in artificial or you desired room light? These both positions will reflect you two different shades in 2 different LRV. The range of LRV is from 0-100. It will reflect you how much lighter and darker shades will result from diverse light range.
The higher the range, the lighter will be the shade. This discussion means that if higher the range of LRV illumination, the grey colour might wash out.
Mass Tone/ Undertone
Mass tone means what colour you see when looking at the wall's 1st time. If you are using any colour must choose an undertone closer to the mass tone. It will give you a more accurate result. The undertones of grey colour are blue, green, and red, as I mentioned above. Now the contrast of the green colour is yellow while the contrast of the red is pink. Undertone will ultimately affect how cooler or warmer your wall will look.
Benjamin Moore Coventry colour
This colour is a medium grey colour with Blue. If you are in a north-facing direction, then whatever grey you paint will reflect as blue.
Flooring
Flooring also impacts on wall paint directly. As if you have darker the floor, your walls will have a lighter tone. But if you applied a lighter floor, then dark wall paint will go with it.
By following these three factors, you will determine the undertone easily; it will help you stop clash in walls colors:
Cool undertone: The wall paint is grey with Blue, which will result in a cool undertone. By this factor, you can determine undertone is cool.
Blue cast: Focusing on the direction such as north direction will reflect you as a blue cast wall.
Warm Furnished room: If your room is furnished with a warm tone, it will clash with cooler tones. So when you choose a more relaxed style for your walls, you must select furniture in a calmer tone. Otherwise, it will clash. 
Mixing of grey Colour with other shades:
There are different shades found when you mix different shades to come out with various blue shades:
Sky Blue: Mix 6:1, 6 portions of white and 1 portion of blue colour, You will get the sky blue colour.
Cornflower Blue: Now take the same sky blue mixture and put 2 portions of blue colour, and mix it. This proportion will be 7:2 as 7 for sky blue and 2 for blue colour.
Now test it on the test surface.
Grey Blue: 
Now as you get sunflower blue. You have to take the same sunflower blue mixture. And put one portion of black and one portion of white in sunflower blue mixture. Mix it nicely; now you will get the dark blue shade. Its proportion is 9:1:1. As 9 is for Cornflower Blue, 1 ratio is for white, and 1 ratio is for black.
Grey with less Blue:
As the dark grey-blue mixture is ready, now if you want to make it light then mix 1 portion of Orange and 1 portion of white in the dark grey-blue mixture. You will get less blue shade. Now you have proportion 11:1:1, 11 ratio is for dark blue, 1 is for white, and 1 ratio is for Orange.
Warm vs cool grey:
There are many neutral colours, including grey, black, white and brown.
You can consider it as:
If you take black and white = grey, it will result in grey.
You can mix any colour in black while making a grey colour, but the white colour is completely white.
How to make a black:
To make a black colour mix blue+brown shade then it will come out as a black tone.
If you have two portions of Blue and 1 portion for brown, i.e. 2:1, it will result as cooler black colour.
If you mix 1 portion for Blue and 2 portions for brown, i.e. 1:2, then it will result as warmer black.
Result:
Now from all of these results, if you mix cooler black with white, it will result in you like a cooler grey.
And if you mix warmer black with white, you will get warmer black.
Final result:
If you see the final result. The warmer shades will go to darker grey shades. At the same time, the lighter grey is turning to blue shades with the result as a cooler grey.
How to Make Grey Paint less Blue?
Get the paints Ready
If you want the desired paint colour on your walls, then gather two colour shades from the market, which will lower the blue colour in grey. Gather Orange and white colour from the market as it has good results on the dark grey-blue shade.
Mix the paints
After purchasing the desired results, mix orange and white colour in the desired proportion. The best way mix, first you put any test surface so that when you combine the colour you will you can test it on a test surface to check its tone. Now mix orange and white pigment in a dark blue-grey shade. Put in 1:1 equal proportion. This step will fully impact your overall effort. Otherwise, you have to repaint your wall.
Apply the paint in portion
Once you mixed the colour, apply it on different portions, apply it on a wall and leave it for some time to confirm the outcome.
Complete the painting and leave to dry:
Now, as you get the desired result, apply it on all walls and complete it. After completing, leave it to dry.
Frequnelty Asked Questions
What colours make GREY look less blue?
Many factors are effecting your vision to view the grey colour on the wall. By mixing white and, orange colour in grey and blue paint will result in a grey looks less blue. More, the room's direction also affects the colour tones on the wall. If your room is in the north direction, it will reflect grey with more Blue.
Why does Gray paint look blue?
Rooms direction, Light Reflection Value and room décor effect entirely the result. All of these elements reflect the lighter or darker blue shades. If the room is in the north-facing direction, it will reflect grey with more Blue. In case, you let LRV, it will reflect lighter or darker blue shade according to its 0-100 range.
If your room furnished with the warmer tone, it will directly clash with cooler wall paint tones. 
What is an excellent blue grey paint colour?
In my view, Benjamin Moore Coventry colour is a medium grey colour with Blue. If you utilize this colour correctly, then, you will get the exact desired results. After using an equal proportion, apply it on a test surface and let it dry to see the results.
After getting the exact result, apply paint on all walls and leave it to dry.
Furnished your room according to the more relaxed tone.
What is the perfect grey paint colour?
There are many colours which count in perfect grey colours:
Agreeable Gray SW 7029, Sherwin-Williams
Naturel SW 7542, Sherwin-Williams
Classic Gray O Classic Gray OC-23, Benjamin MooreC-23, Benjamin Moore
Gray Owl 2137-60, Benjamin Moore. 
Anonymous SW 7046, Sherwin-Williams
Article Summary
To conclude this topic, grey is a neutral color, you can mix different shades to make blue, either you make it by sunflower blue, white and black, or only by white or black, or can mix brown or blue shades in different portion to acquire desired results. Now you can quickly solve this problem of how to make grey paint less blue.
Read More: How to Install a Lintel in an Existing Brick Wall