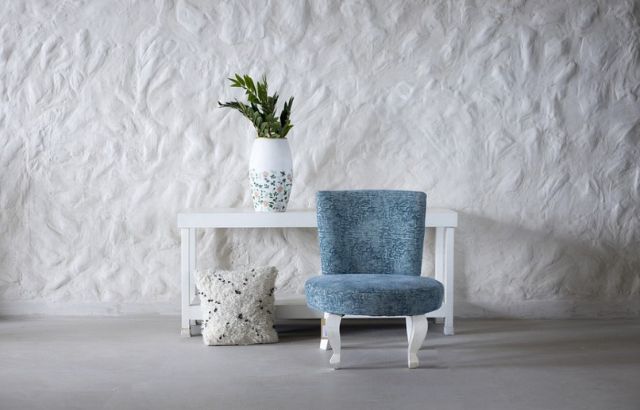 How to Make Textured Paint | Full Process Explained Step by Step
Disclaimer
Articles, products, and services offered on this site are for informational purposes only. We are part of the Amazon Services LLC Associates Program, an affiliate advertising program. Amazon.com is compensated for sales resulting from links on our website.
Please review our disclaimer before acting based on anything you read or see.
Textured paint is not only a type of paint to change the atmosphere of a space in our home or office. It also hides and covers all the defects or flaws that have a wall, and we want it to look better.
You can find this type of paint in two ways. In a premixed form or a preparation with sand and thus be able to adhere to the paint.
The textured paint is another alternative to the traditional and smooth paint. You can use it for different reasons. Also, this painting is different from others in its resistance to climatic changes. This, since it is pretty resistant and lasts for many years.
You can find this type of textured paint in different finishes: traditional, rustic, or modern.
How to Make Textured Paint
The first step is to elaborate on the textured paint. 
We can use white talc glue and some acrylic paint of your preference. The quantities are not precise; everything will depend on the consistency you structure the paint and what you will use it for.
However, we advise you to use a fluid consistency so that you can paint. You can even add a little bit of water. If you don't like the final tone of the figures you made, you can repaint them with acrylic paint.
The next step is to prepare our paint. 
We will use talcum powder, acrylic paint in the color you want, and glue.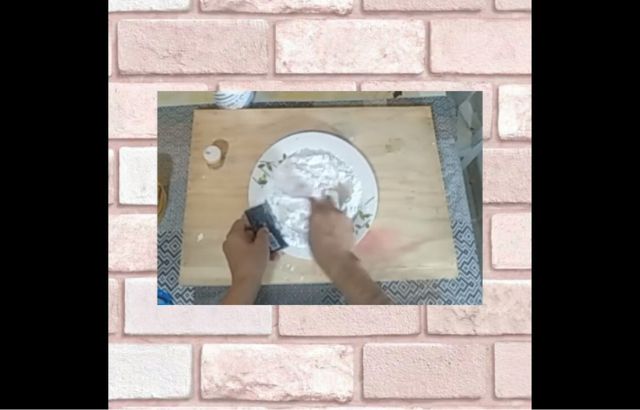 Mix the materials into a bowl or a plate and start mixing
If you want the base to be white, use acrylic paint. It would help if you did not trust that the color of the materials was white. Otherwise, you will get a grayish or transparent color as a result. 
Now that we have prepared the paint with the texture that we consider ideal, we must place it on the wooden base with the help of a plastic card.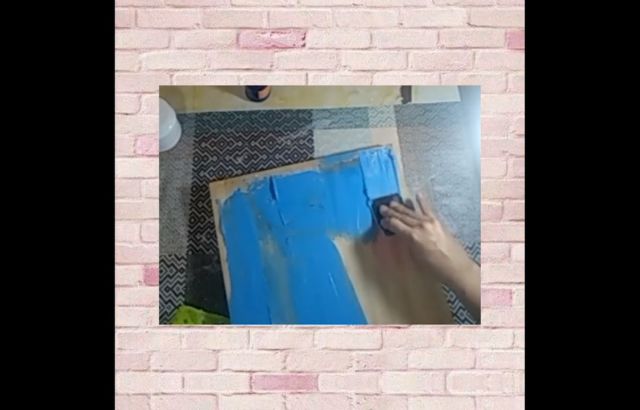 Use a plastic card (ATM) or similar to spread your textured paint.
Start painting
Now that we have finished covering the white base and the paint has not yet dried, it is time to make figures. To do this, you can use a wedge, or a telephone card cut into strips.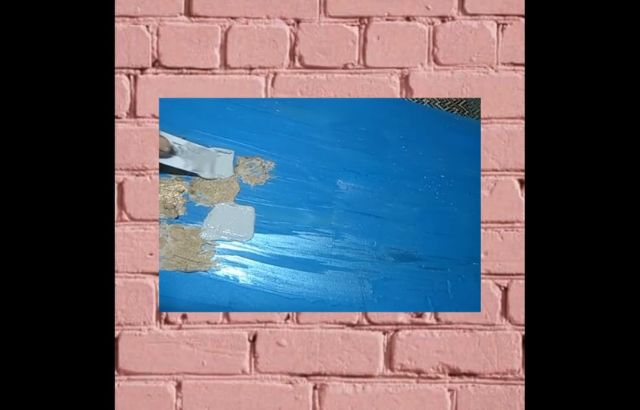 You can make other textured paint colors to start mixing them.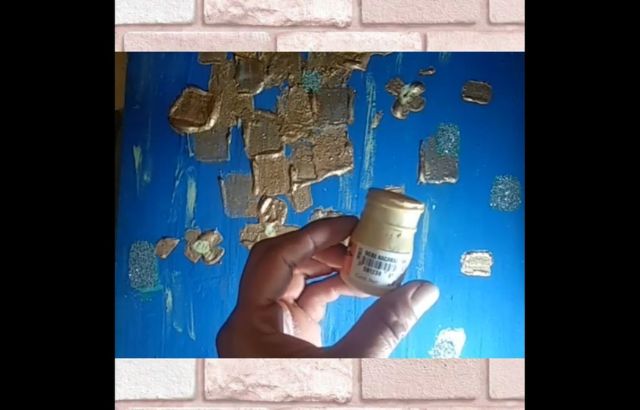 Remember to add acrylic paint into the places you see it lacks some color
Here to be able to paint on the base, it is essential to let it dry either naturally or, if not, you can do it with a hot air gun. As the idea is to make a cherry tree, we will mix some coffee with flesh color and then paint the tree trunk.
Give the final fixings.
Now with textured pink paint and the help of a wedge or a brush, we will make small circles on top of the branches to simulate that they are cherry blossoms.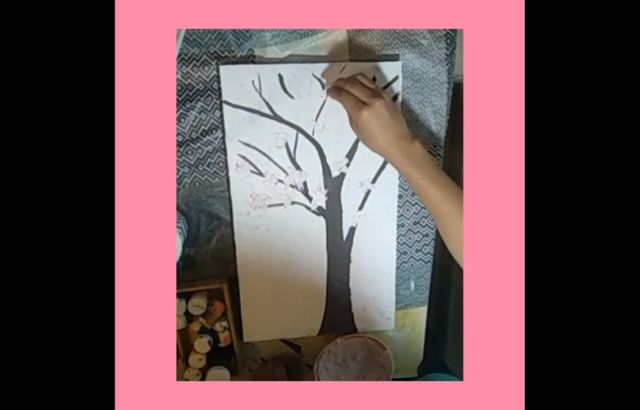 You can do this with your children. You can also do it with a spoon or with your fingers. But remember that after finishing this job, they should wash their hands well to prevent the paint from sticking to their nails.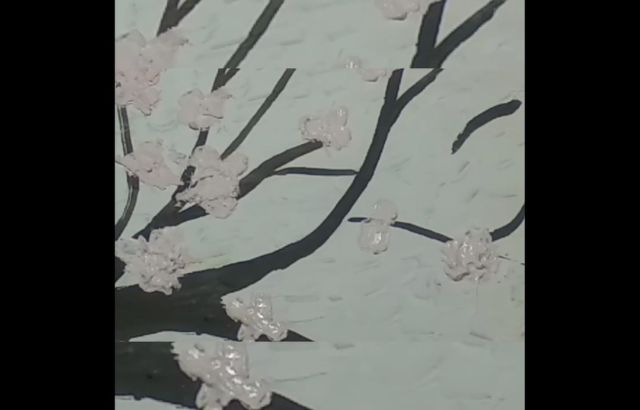 You can even use a small piece of broccoli or cauliflower. So, the children can enjoy making this painting with green acrylic paint.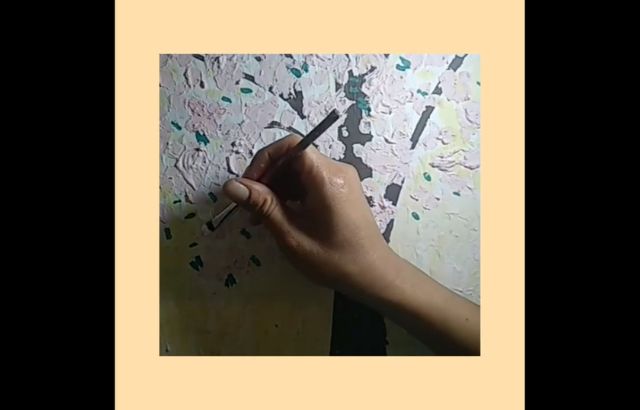 Start your textured paint creations.
You can also make small ovals simulating the tree leaves to give more color and life to your creations.
Preparation and application of textured paint
Preparing this product is a relatively simple and quick process. To begin, you must prepare the wall where you will apply the paint. Pass sandpaper or a brush to remove and clean all the old and flaking paint that could be there.
After cleaning and clearing the surface of any impurities, we apply the textured paint.
When applying it, we can do it using a roller. Pour and mix the paint in a particular container. Then, pass the roller several times over the paint to cover the area with paint. After that, carefully give the roller over the surface where we want to add it. Apply the textured paint several times until you cover the wall completely with paint.
If you buy the sand and the paint separately, you can try with the quantity of each one until you find the mixture you like the most. Try first with a little mixture on a small area of the surface to be painted and let it dry for a while. Once you decide, you can apply the textured paint directly to the entire surface.
The sand must be silica sand, and you can find it in hardware stores. Beach sand or other sand is unsuitable because it would not mix well with the paint. We recommend you use latex paint.
Do not be surprised when you apply the coats with the paint roller or brush because you will need to recharge them more frequently than with conventional paint. This is due to the density of the textured paint.
It is essential that now and then, you move a few meters away from the wall or surface to be painted to check that we are getting the desired effect.
If we want to go a step further and experiment with new textures, once the textured paint is applied and dries, we can try to modify the initial surface with a sponge, brush, or whatever we can think of. As always, the first test is in a corner, and if you doubt whether to apply the new texture to the rest, ask someone with you before the paint dries completely.
How to Add Sand to Texture Paint
Initially, people added sand to ceiling paint for a better finish on their drywalls. You can use textured paint on walls and other areas to get a unique style in your favorite place. You can use this product with incorporated sand, but this option is not cheap. A cheaper alternative could be if you add sand yourself before using the paint.
Buy latex paint. Do this if you want to add textured paint for walls and ceilings. It doesn't matter what the paint's gloss level is. It will go well with sand mixes.
Buy sand (silica). Don't mix the paint with ordinary beach sand, as it contains dirt and snails. That would damage the paint. You can find silica almost everywhere.
Take a little bit of paint and mix it with sand. Start painting and let it dry. If you consider it is Ok with the texture, use the same quantity to mix the rest. If you need a better texture, apply more sand and less sand on the contrary.
Mix it with the paint using a ruler or a shaker. Sand tends to remain in the bucket's bottom, so it is necessary to stir the color as you use it periodically.
Apply it to the area (wall, roof, ceiling) using a short-haired brush or sponge roller. To have a professional finish, you can try it with another coat.
Bottom line
The textures of various silica sand varieties vary. You can increase the surface's volume by purchasing coarser-grained sand or add texture to the paint by purchasing finer-grained sand.
Textured paint can conceal wall imperfections or draw attention to a specific element of a room. Textured paint can be purchased as a ready-made product or blended with regular paint to create textured walls. You have complete control over the appearance of your textured paint because you decide what to add and how much to do so.
Create test areas on drywall or scrap wood to observe the interaction between various textures and mixtures until you get the desired effect.
Sources: