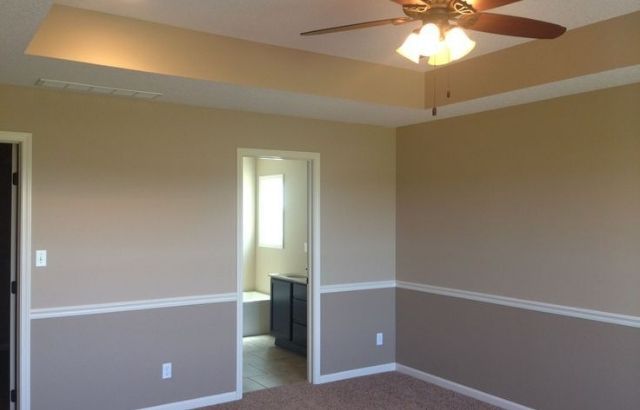 How to Paint a Room with Two Colours | A Brief Guide By Expert
Disclaimer
Articles, products, and services offered on this site are for informational purposes only. We are part of the Amazon Services LLC Associates Program, an affiliate advertising program. Amazon.com is compensated for sales resulting from links on our website.
Please review our disclaimer before acting based on anything you read or see.
The world is changing, and old habits are slowly being let go. In the past, painting your room was about adding a unique paint colour to change the atmosphere. In terms of interior decoration, one of the current trends is to paint your room by combining two colours for more originality. Are you interested in such a project? Discover practical decorating tips in this guide on how to paint a room with two colours!
How to Paint a Room with Two Colors: The Prerequisites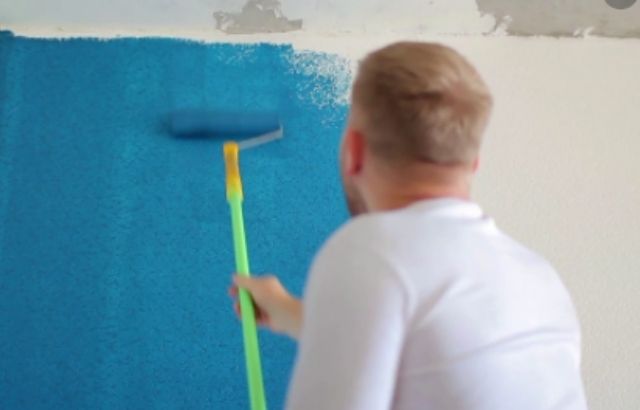 Every room is significant in accommodation. It is therefore essential not painted them at random. To successfully prepare the walls and paint to make your interior design more aesthetic, you must take the time to assess all the outlines of the necessary work properly. Thus, you can create a friendly and comfortable space. Some prerequisites for this include:
Learn More: Difference Between Ceiling Paint And Wall Paint
Clearly define the desired result after painting
Before painting the walls of a room with two colours, you need to consider the effect you want to have. Indeed, the choice of colours that you will have to use will depend on it. For example, if you're going to improve your room's brightness, you should not apply a deep colour shade. In a child's room, cheerfulness, daydreams, fairy tales, and imaginary worlds must be highlighted. In an adult's bedroom, the result may be a little different and show more maturity. 
Learn More: Can You Use Acrylic Paint On Wall
Know the various categories of colours and their roles
The colours come in two main types, namely: warm colours and cold colours.
Warm tones are usually bright colours that make your room feel more sociable. Red is one example. As for cold colours like blue, they allow you to create a soft and neutral atmosphere in your room. There are also neutral colours that bring delicacy and elegance to an interior design. White, cream, taupe grey, chocolate, grey, and black are common examples.
Choose two colours of the same tone but different intensity
Ideal for rooms that are not very large or when you do not want the tones to clash too much, you can always choose to paint in two colours of the same range but with different intensities. For example, you can paint the entire room sky blue and leave a wall for navy blue, as that will break the monotony of a single colour.
Choose a different and robust tone from the other
On the other hand, you can paint the entire room in a single colour, for example, white, and leave a wall so that it is a more intense colour, such as red or strong grey. In this way, you can highlight, for example, the wall colour on which you are going to place the bed. These types of combinations are ideal for children's or youth bedrooms.
Choose to paint dividing the wall
You can try to make a mix that consists of painting half the walls or a third of them, one colour and the rest another. A good idea may be to choose a light tone for the top, such as beige or white, to brighten the room more and add a more muted or more intense tone for the bottom part of the wall.
Take into account space
When painting with two colours, it is not only essential to take into account the tones or intensities that you are going to choose, but the space you have will also be necessary. If you have a small room, you can paint it with light colours, either one or two, to make the room look spacious and bright. In the case of having a huge room, you can choose stronger tones and even, for example, paint the room in stripes by choosing two colours that you like.
Opt for some chic associations
Not all colours blend flawlessly. For that, here are some ideas that can help you choose shades that combine easily and make a room comfortable:
Opt for the trendy sage green colour that goes perfectly with pastel pink or blue;
Choose duck blue for the decor of a chic Scandinavian bedroom in pastel tones;
Choose neutral shades by associating off-white with grey or even taupe with beige;
Pair dark browns and warm red tones to create a glamorous vibe;
Get a modern and chic look by combining gold with beige or white.
Paint the ceiling in one colour and the walls in another 
Finally, we can say that the ceiling also counts when choosing to paint with two colours. In this way, you can paint the walls in fashionable colours, such as beige, light grey, or light pink, and paint the ceiling white, so that you create more light in your room's space.
How to Paint a Room with Two Colours: Materials Needed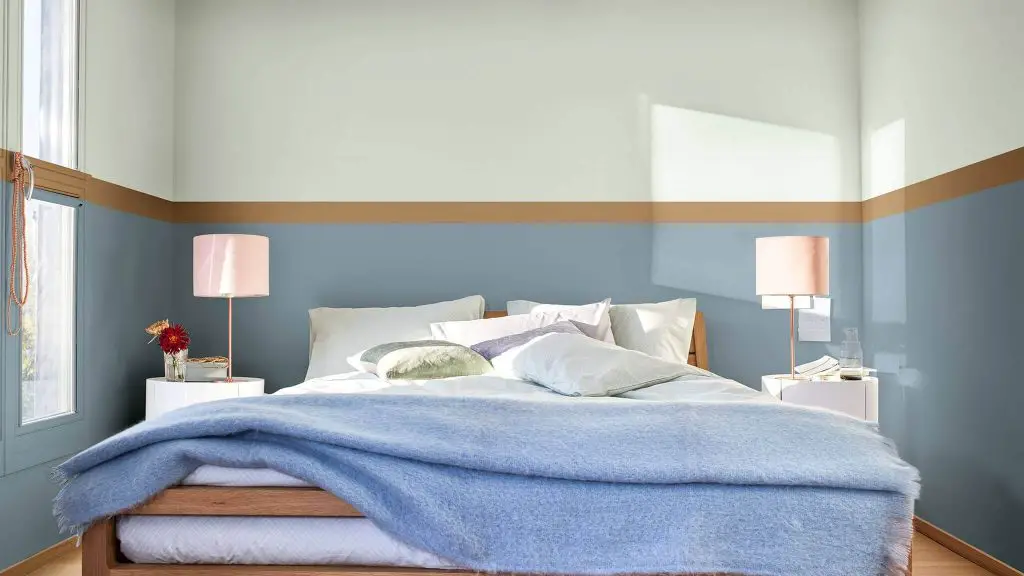 For painting a room in two colours, you will need some materials. This includes:
Paint roller / Paintbrush
Bates Paint Roller - Paint Brush, Paint Tray,...
COMPREHENSIVE SET: Package includes 11 piece: Tray, Roller Frame (9"), 2 Roller Covers (9"x1/2"), Roller Frame (4"), 2 Roller Covers (4"x1/2"), 2" Angel Paint Brush, High Density Foam Brush
PROFESSIONAL QUALITY: This paint tray set is high quality intended to be long lasting and easy to clean. Exceptional ability to get the job done quickly with a superior finish.
THICK FILAMENTS AND NAP: The synthetic filaments in the paint brush are designed to hold more paint to save you time and give you the finish you are looking for. The Naps for the paint rollers are 1/2 inch thick, perfect for painting the house. Filaments and Naps are durable and long-lasting.
Painter's tape 
Sale
ScotchBlue 2093-36EC Painters Tape, 1.41 inches x...
USE-ON SURFACES: Designed for use on multiple surfaces such as smooth or lightly textured walls, trim, baseboards, tile, and glass
PAINT LINES: Edge-Lock Technology seals out paint to deliver sharp paint lines
DAYS CLEAN REMOVAL: 21-day interior and exterior clean removal leaves behind no damage or sticky residue
Paint tray 
Pro Grade Paint Roller Cover Set,Wall Painting...
10 PIECE ALL-IN-ONE PAINTING KIT - Achieve professional painting perfection with this comprehensive set! 1 Tray, 1 9" Roller Frame, 2 9" x 1/2" Roller Covers, 1 4" Mini Roller Frame, 2 4" x 1/2" Mini Roller Covers, 1 Flat Sash Brush and 2 Angle Sash Brushes.
INTERIOR & EXTERIOR HOME IMPROVEMENT - Make your home pop with gorgeous color tones, stunning accent trims and all the customized painting motifs available with this incredible set. Perfect for painting walls, ceilings and drywall or staining floors and decks.
PROFESSIONAL RESULTS WITH LESS EFFORT - Take the struggle out of your painting and staining projects! You don't have to be a pro for professional results. Just guide the brush and rollers along and Pro Grade will get the job done right - every single time.
Pencil 
KOALA TOOLS | Bear Claw Pencils 1-Pack (6 Pencils)...
THICK & FAT GRAPHITE CORE: 0.4 x 0.4 x 7 inches. Its jumbo wood barrel and chubby lead core make this pencil strong and difficult to break.
ARTIST QUALITY 2B PENCIL: Enables artists, students, and carpenters to write, sketch, and draw effortlessly and efficiently.
TRIANGULAR SHAPED GRIP: Helps kids to grip securely and build motor skills. Suits adults with large hands who tend to overpower thin pencils.
Paintbrushes 
Sale
Pro Grade - Paint Brushes - 5 Ea - Paint Brush Set
Paint Brush Set Includes 1 Ea of 1" Flat, 1-1/2" Angle, 2" Stubby Angle, 2" Flat & 2-1/2" Angle
Paint Brushes For Interior Or Exterior Projects. Use Angle Sash Paint Brush For Cutting Crisp Lines.
Professional Results On Walls, Trim, Cabinets, Doors, Fences, Decks, Touch Ups, Arts And Crafts.
How to Paint a Room with Two Colours: The Steps
If you are thinking of painting your room with some of the colours that are currently setting trends in decoration, one of the best options in this regard may be to paint with two colours. Although we always have to know how to apply them to combine well and above all, they do not reduce the space. We will explain to you below, step by step and in an easy way, how to paint a room with two colours.
Mark correctly
To paint a room with two colours, begin by marking the lines where both colours will meet. Use a pencil and tape measure to create marks at successive intervals along the wall's length. This should also extend to the corners of the room.
Apply the light-coloured paint
Using the roller, apply the light-coloured paint to your preferred section. You can also overlap it slightly into the surrounding surface.
Allow the paint to dry.
Apply the painter's tape
Once the first paint is completely dry, go ahead and apply a strip of the painter's tape along the previous paint border. This is a must because it's putting that first colour over the tape and getting in any grooves where the tape might not be 100% secure.
Apply the dark-coloured paint
Using the roller, apply the dark-coloured coats of paint to the wall's second section.
How to Paint a Room with Two Colours: Practical Advice and Mistakes to Avoid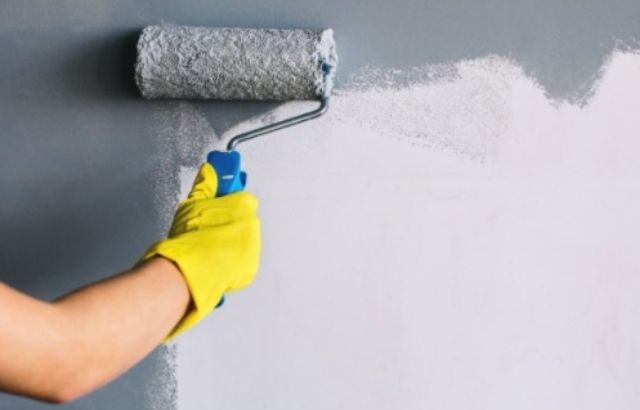 There are some tips to follow to apply satisfactory paint in a room to have two colours in a room.
Prepare the room to be painted before starting the work to avoid soiling the furniture and other decor elements.
Do not mix too many colours in the same room. 
Use no more than three colours for decorative items and upholstery.
In a bedroom, warm hues such as red and orange should not be dominant on a painted wall. This is quite important so that you can sleep well. Also, avoid using colours that are too dark, like dark grey, black, or chocolate, so as not to get a dull vibe. You can also paint the coved ceiling of the room. But for this, choose a soothing colour to create a relaxing atmosphere. Remember that you will often have to stare at the ceiling when you are lying on your bed.
If you have fitted wardrobes, you can paint their doors so that they don't diminish the beauty of your interior design. For example, depending on the dominant colour on the walls, why not paint large purple and lavender stripes on the cupboards to punctuate the space better? Cabinets with complicated millwork require more paint, too; Minchew suggests purchasing about 10 per cent more than calculated.
Learn More: How To Paint Oak Trim White
Frequently Asked Questions
When painting a room with two colours, which wall should be darker?
If you desire to paint a room in two colours, it's always best to use the darker colour on the lower part of the wall (close to the floor). On the other hand, the lighter colour should be placed above.
Is it OK to paint the room's different colours?
Yes. Choosing a single colour to paint our room can be tedious, so it has become fashionable to bet on different colours. And the truth is that with this, the possibilities multiply, and we can make any room look modern and completely renovated.
What is the best colour to paint the inside of a house?
From research, it has been observed that there is no best colour choice to paint the inside of a house. However, the following colours have been proven to work significantly:
Lilac Gray
Muted Pastels
Charcoal grey
Dark Green
Mustard
Soft Clay
In the end, you can apply the rule of thumb or use a paint calculator to help you with regards to your choice.
Does GREY make a room look bigger?
Gray is a colour that can make your room feel like it's inside of an actual cave, but when used in the right way, you can create views to expand and take up more space. For example, if you use grey paint on all four walls or as part of your decorating scheme with other colours such as white or black, this will give off an optical illusion, making the area seem larger than its measurements indicate. This effect would be significant for small spaces where exterior conditions may limit size because even though there are limitations due to outside factors, they're not so noticeable!
Should curtains be darker than walls?
Many people choose to hang their drapes on rods that are closer together for less direct sunlight. Others prefer wide spacing so as not to obstruct natural daylight when needed. The best colour for curtains is at least one shade lighter or darker than the walls with similar undertones. By this standard, light-coloured window treatments look great against darker walls in blue, green, grey, or brown shades.
Conclusion
In conclusion, there is no doubt that the right colours for wall painting projects can transform a room and its interior design radically. Do you want to paint your cosy room in two colours? Fall for this decoration trend! With the highlight above, you now know how to paint your room in two colours successfully. To create a unique living space, you can also call on an interior designer or a professional painter to help you with more original decoration ideas. He can also choose a painting pattern that meets your expectations. Thus, with professional advice, you can have comfort and appeasement in your room.
Read More: How to Match Ceiling Paint