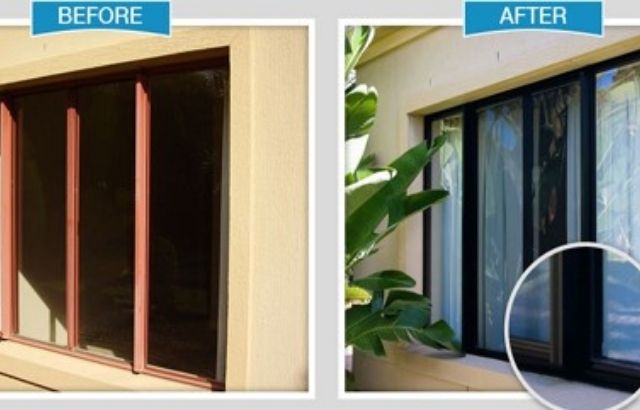 How to Paint Aluminum Window Frame | A Brief Guide With All Info
Disclaimer
Articles, products, and services offered on this site are for informational purposes only. We are part of the Amazon Services LLC Associates Program, an affiliate advertising program. Amazon.com is compensated for sales resulting from links on our website.
Please review our disclaimer before acting based on anything you read or see.
This article's primary aim is to educate us on how to paint aluminum window frame. The aluminum frame of windows and enclosures is one of the most traditional due to its resistance and ability to protect from heat and cold.
Although there are different opinions, there are many experts who recommend aluminum carpentry, compared to PVC.
In any case, it seems that it gives an old or outdated look to the house, or your aluminium is already many years old. If you are not at a time where you can invest money and change the window frames, you should know that painting aluminium windows is possible and not complicated. Are you interested in how to paint it? Follow these articles to learn how to paint an aluminium window frame.
How to Paint Aluminum Window Frame: Tools Needed
Screwdriver
We will need it to disassemble the windows. Although it can be painted without disassembling, it is best to do so. In this way, we ensure the best finish.
No products found.
Necessary Materials
Masking Tape
The masking tape for many things: protect some junctions of the window frame, fix the transparent film in some places, fix the cardboard paper to the ground so that it does not fly, etc.
Amazon Basics Masking Tape, 0.7 Inch x 180 Feet -...
Masking tape for painting projects or light duty non-critical applications; for indoor use
Includes 3 rolls of masking tape made of beige crepe paper with pressure-sensitive rubber adhesive for easy placement
Not meant to be "sticky" to perform well; specifically designed adhesive ensures easy removal
Transparent plastic protective film paper
This has been quite a discovery. It is a super-thin transparent plastic, about 40 centimeters wide, which protects the walls next to the window. The film has an adhesive strip used to fix it next to the window. The rest is the transparent film itself, which is extremely thin and electrostatically sticks to the walls, protected in 1 second—excellent idea.
Diamond Painting Protective Film Dustproof...
Types: Diamond painting protective film
Use for: Diamond painting kits, Cross Stitch Kits, Painting with Diamonds
The Best Partner for Diamond Paintings: Prevent dust accumulation and keep diamond paintings as new
Cardboard Paper
Cardboard paper protects the floor and walls in the area where we are going to spray paint. It is essential to avoid painting them.
Sale
Brown Kraft Paper Roll 17.75" x 1200" (100ft)...
✅ Your Sustainable Choice - Our 100% recycled kraft wrapping paper meets your needs while staying kind to the planet. It's made of a material that's both recycled and recyclable. Plus, it decomposes naturally. Better alternative of plastic bubble wrap, foam cushioning and shrink wrapping.
✅ Thick & Durable - Proudly made in the USA, our 40lb industrial-grade recycled kraft wrapping paper does not rip or tear easily. Feel free to use it for projects and crafts that require durable paper. Comes in size 17.75 inches wide and 100 feet long roll, best fit to 18" paper roll dispenser/cutter.
✅ All-In-One Art & Packaging Roll - Our kraft paper is unwaxed and uncoated. Not the butcher type, it can be used for crafts, gift wrapping, packing items, protecting floors and as a box filler or liner. Must have in your packing, boxing, moving and shipping supplies.
Primer Paint
It is essential to paint aluminum because it is a very smooth material, so adherence is always a problem. It is a solvent-based primer to ensure more outstanding durability. We have also chosen it in the spray version because it is much easier and faster to paint. The finish achieved is magnificent: uniform, smooth, and without brushstrokes or anything.
Sale
Rust-Oleum 7582838 Professional Primer Spray...
Ideal for use on ferrous, non-ferrous metal, wood, concrete, masonry and other such surfaces to prepare surfaces for painting, provide rust protection and a tough finish that withstands weathering
High quality, durable oil-based formula maintains consistent, corrosion-resistant color despite the elements and provides twice the protection of paint alone
Covers up to 14 sq ft, dries to touch in 15 minutes and ready for immediate topcoat application ; Indoor/outdoor
Spray primer bottle
Enamel. It is the final finishing paint. It gives a last look: the chosen hue and shine depend on the enamel. We have also used a solvent-based version, for the same reason as in the primer's case: the more outstanding durability. We have also chosen it in a spray version for the same reason as before. The finish will be perfect, even looking like a factory lacquer at some points.
How to Paint Aluminum Window Frame
Step-1:
Takedown the windows. As we spray paint, the best way not to paint the window's surroundings is to unhook it. It is effortless: sliding windows are usually lower by pushing them upwards until they remove from the rail where they supporters.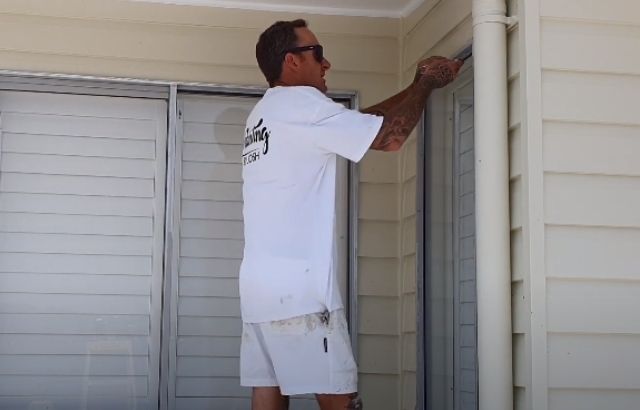 Step-2:
Remove the windows. It can be painted without disassembling, adequately protecting the crystals. But the finish is much better if we disassemble them. With this, we make sure to paint all the points homogeneously and that no unpainted or painted lines are seen here and not here. 
Also, with this, we make sure that all the following steps are executed in the best way and more straightforward, for example, cleaning, which will be more comfortable by cleaning small profiles than the entire window; or the spread of paint, which is better in short pieces than in a whole sheet, etc. 
The leaves are disassembled, leaving the profiles that make up the leaf. Each sheet has four profiles, forming the frame that surrounds the glass. In our window, the profiles are screwed together, so we only have to unscrew them.
Step-3:
We remove the supporting impellers from below and the anti-dust gaskets from the profiles. These elements are embedded in the profiles. To avoid painting and damaging them, it is best to remove these small pieces and then reassemble them. It is straightforward.
Step-4:
Protect the walls and the floor in the painting area of ​​the profiles. This is very, very important. 
Wasting a little time here will save you a lot, later on, removing any paint stains and drips. We will use cardboard fixed to the floor and wall in the area to apply the spray. We use masking tape to improve the edges of the cardboard.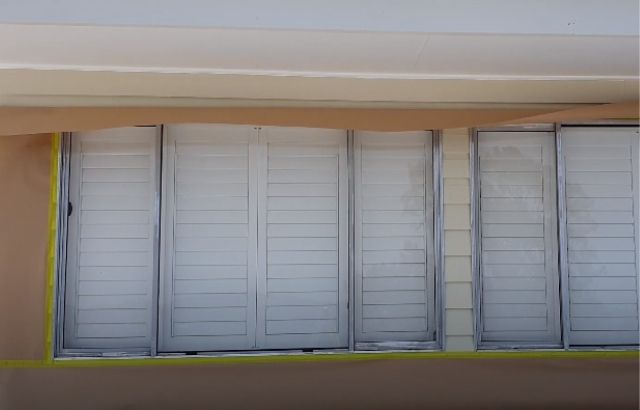 Step-5:
Protect the outline of the window frame. For this, we use transparent plastic wrap, and we will help ourselves in some specific points of the masking tape under challenging encounters and areas. 
It is also beneficial to use painter's blankets to protect the hole so that paint does not come out. We will also need cardboard of a manageable size, which we will use as protection just in the area behind where we are painting with the spray.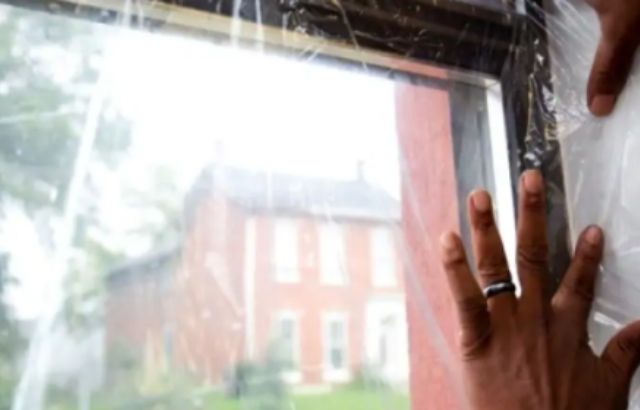 Step-6:
Cleaning of profiles. We must thoroughly clean the profiles to avoid dust, dirt, or grease. These elements are the enemies of the adherence of our paint. We must remove them to achieve perfect commitment. Then we will have to dry them.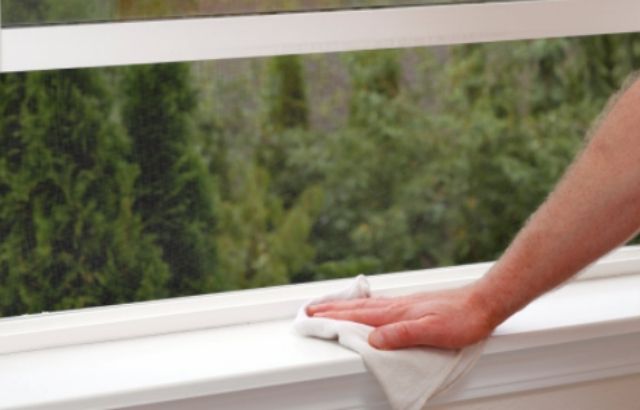 Step-7:
Profiles primer. We now start painting. For this, we place them in the protected area mentioned before.
The good idea is to put them vertically, resting lightly on the wall. Then apply the primer, which we have chosen, is a synthetic spray. 
You must use it accurately, so we dedicate a later section to the proper spray painting technique. Let the repainting time wait, in our case, 2 hours to paint with synthetic enamel (with solvent).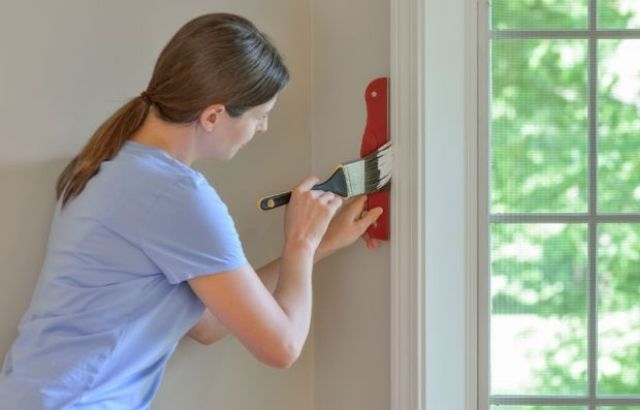 Step-8:
Painted with synthetic enamel. After 2 hours, we apply the first coat of synthetic enamel. We have chosen spray because it is much easier and faster, and also, the finish is much better if we use the technique correctly. In our case, with a 2nd hand, we get the perfect finish we are looking for. We must wait for about 30 minutes to apply this second coat and disassembled 1-leaf profiles of a window. We just gave him the enameled hand.
Step-9:
Priming and painting of the window frames. After painting the profiles and dry, we can start to prime and then paint the window frame. The procedure is similar to that of painting the profiles. It only differs in that we must be careful not to paint the neighbor! To do this, we must close the hole in the window or use small cardboard as a screen.
Step-10:
Finally, we must mount the windows again and place them back on their rails. When mounting the windows, the placement of the rubber gaskets is essential. We must always put them in the correct position, with the joints' tips pressing against the glass, to fix it properly to the aluminium frame.
How to Make Aluminum Window Frame look better
An aluminum window outline is a protecting material for windows; it can spare energy and hold temperatures. However, an aluminum frame can be a delicate part of your home's exterior décor. Paint, as always, can add that pop of color your home needs to stand out in the neighborhood; below are some of the steps you needed to make our aluminum window looks good:
Step- 1: Clean the aluminum window outline. 
You have to clean the window outline altogether, blend a foamy water container, and take a spotless fabric to rub. You should also bring a glass cleaner to the windows before starting this project.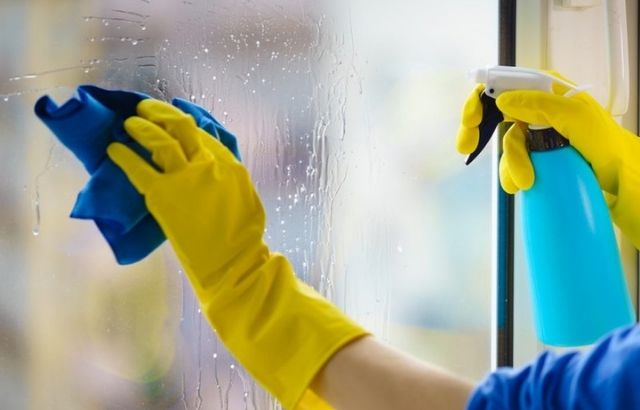 Step 2: Remove Stains
Any stains on the metal, mostly rust, can interfere with the finished paint color; therefore, they should be removed before proceeding. Oil-free steel wool and water-based detergent should be just what you need for any stain. Rust can be removed with various household items, such as vinegar or baking soda if appropriately used. An old toothbrush can help remove rust from any hard-to-reach spots. Once the aluminum is transparent, rinse it with clean water and dry it with a clean cloth.
Sale
Bring It On Cleaner Hard Water Stain Remover,...
HARD WATER STAIN REMOVER – This innovative cleaning solution contains powerful oxygen bleach. Unlike chlorine bleaches oxygen bleach is completely safe and non-toxic. It contains no harmful chemicals so it's safe for use around kids and pets. Bring It On Cleaner will safely and effectively remove hard water spots and residue on just about any surface in your bathroom.
SHOWER DOOR CLEANER – Bring It On Cleaner was formulated to remove the toughest stains from many different kinds of surfaces. Over time hard water buildup and residue will form on and around your shower door shower head bathtub drain toilet bowl and bathroom tile. This innovative cleaning solution will leave all of these surfaces spotless.
REMOVES CALCIUM, MINERAL, & RUST STAINS – Hard water can contain high concentrations of minerals like limestone, calcium, and magnesium. These minerals can cause buildup to accumulate around your bathroom hardware and on other surfaces. Metal bathroom hardware can also cause rust stains. Use Bring It On Cleaner to effectively remove these mineral stains and rust stains.
Step 3: Glue the frame around
The tape protects the surroundings from excess scratches and paints drips that result in an unprofessional appearance. Put strips of masking tape on the window, where the glass meets the frame, and around the outside of the frame to prevent your painting from getting anywhere other than the aluminum.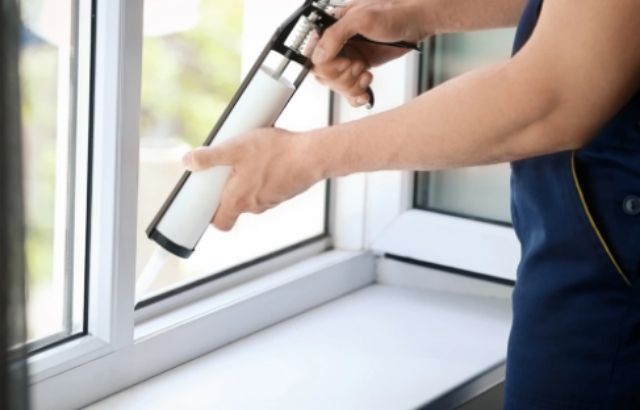 Step 4: Print the window frame
The metal must be prepared for the paint to adhere correctly. Use a metal primer according to the manufacturer's instructions, which should be somewhere on the can, and allow the primer to dry before proceeding to the next step.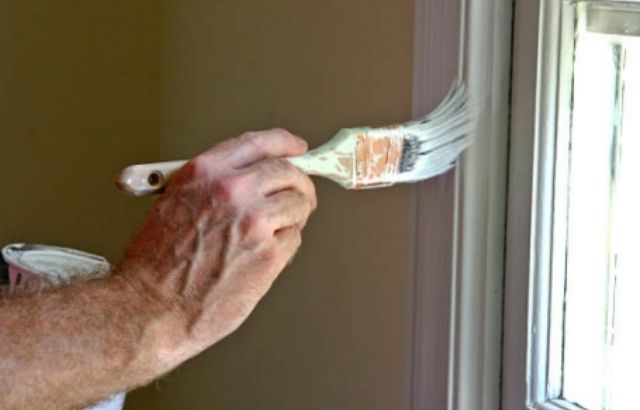 Step 5 – Paint the topcoat
Open the paint and stir for about a minute to match the color. Dip a small paintbrush in it and scrape any excess off the side of the bucket. Gently drag the brush up and down the window frame to get an even layer of paint. Reapply multiple coats of paint until the aluminum is fully colored, with no metal shining through. Ensure that paint dries up before cleaning your frame.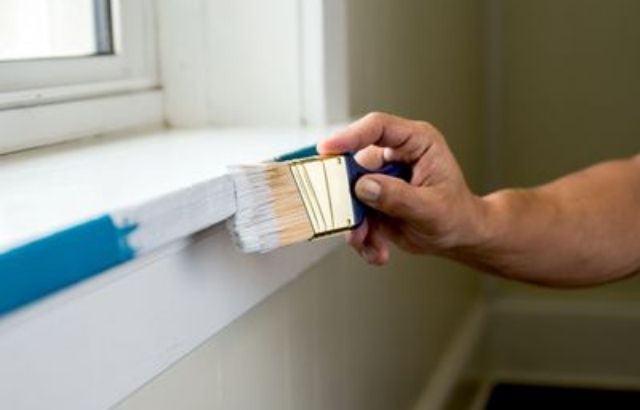 Step 6 – Remove the tape
To remove the tape, pull it out at an angle, away from the painted area. If your tape wasn't perfect, never fear. You can use a razor to remove any paint on the window, but be careful not to scratch the glass.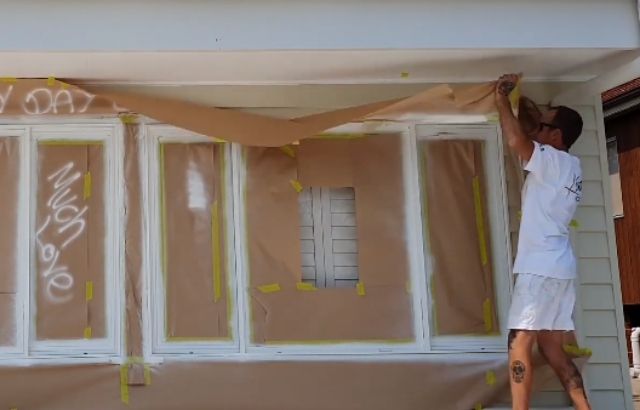 How to Paint Window Frames
Step-1: Consider the current weather
It seems like a joke, right? Well, it isn't. You must bear in mind that you must look at the weather conditions in your area if you want to paint your windows. And because? Well, because when you finish painting the window frames, you must leave it open to dry completely.
It happens that, as we mentioned in another note, the weather can play a trick on us when it comes to painting. Taking into account that rain, for example, can spoil our progress and we have to repaint the frames, as it is the place that is most exposed to this type of problem. Therefore, it is advisable to paint during the day and with natural light to have better visibility of our work.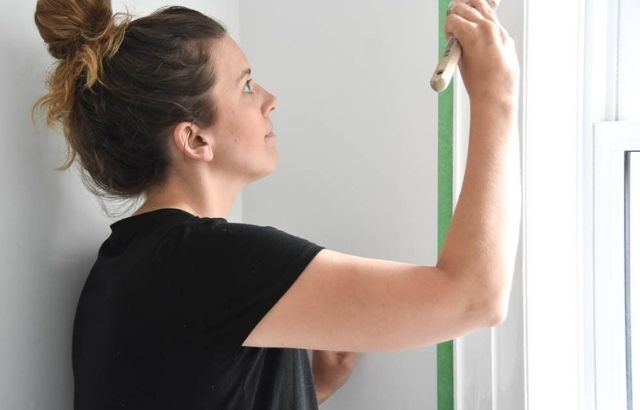 Step-2: Choose the paint you want
It would help if you considered what environment it is. If it is an area with high humidity, such as the bathroom, you could consider a gloss paint (since gloss paints tend to have more resistance than matte color, and they are also easily cleaned).
Painting a window frame is a necessary investment that is worth it if we want to give our home a better atmosphere, as doing so will change the aesthetics of the room and generate a visual impact with great style.
Choosing the perfect color to paint the window frames allows us to play with the different color ranges, we may want to use a more risky color, but a complete wall may seem too much; in this way, we can satisfy our wishes by choosing that color for the frame from a window, without having to recharge a room with it.
On the other hand, do you have a wooden frame? It is then necessary that you remove the old paint. To achieve this, we suggest you use a chemical stripper. After stripping the surface, you should sand the area with medium-grit sandpaper, taking the opportunity to smooth the body to your liking if you find many imperfections. If you find holes, you could use a select wood paste to cover the cracks (remember to sand later to smooth everything out).
Step-3: Select the appropriate brush
Pick the right brush and take a good look at the surface you are going to paint.
Make sure that the brush or roller to be used is of outstanding quality. The final product depends mainly on a useful tool.
We recommend starting with the horizontal part of the frame, both the bottom and the top, and then continue with the rest when you have achieved the desired color.
Meanwhile, if you have an aluminum frame, we also have techniques to paint such edges. We know that it may seem very difficult, but it is not impossible. 
To start, sand the aluminum surface very well so that the paint you will apply later can adhere properly. Then wipe with 96-degree alcohol dampened cloth to remove impurities and dust.
When you have the surface ready, go on to paint the first coat with a short-nap roller. This will allow the surface to better grip the paint and last over time. Let dry for at least 6 hours.
After that time, apply a layer of polyurethane enamel. This product is very durable and, although it has a more pungent smell than other materials used, it will help you a lot.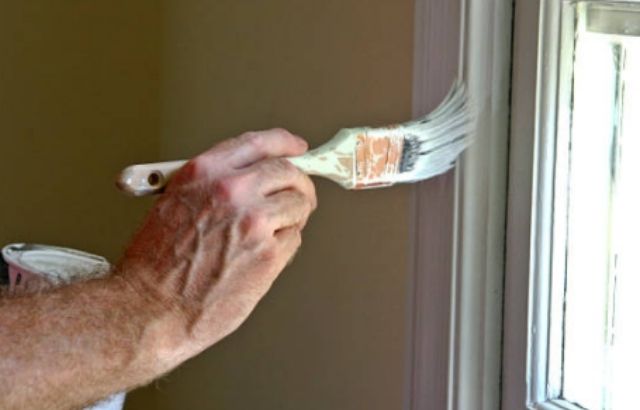 Step-4: Use the duct tape
It is a crucial material. Tape the edges so that, when you start painting, the paint does not exceed them, and you have a very professional job.
Also, take great care not to paint the glass because it is a massive problem in most cases since it is complicated to remove.
Step-5: Remember: in paint, two are better than one
Always paint the same surface twice, thus applying two coats of paint. Therefore, you will be able to cover the entire area professionally. If we are looking, for example, to break the monotony of the purest white, we can take a risk with a black window frame, achieving a more significant impact than with any other color.
Black also fits in warm environments with natural textures and tones such as white, natural wood. It is prevalent to incorporate it into classrooms.
Last Words
We believe this article has helped a lot in understanding how to paint aluminium window frames and other necessary topics discussed in the articles. In short, aluminium windows can be painted. In a simple but not fast way, it is quite laborious.
Read More: How to Paint a Mirror Frame Antique Silver