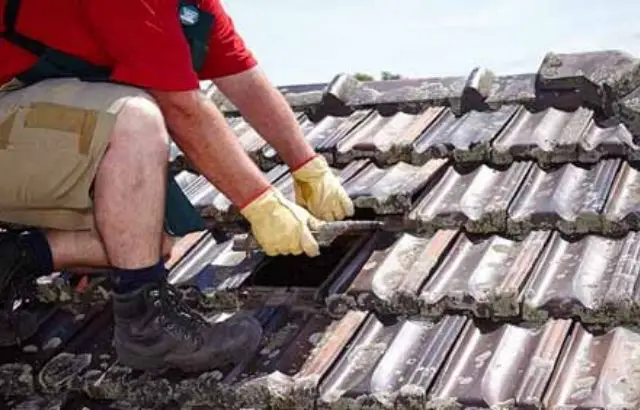 How to Remove a Roof Tile | A Step By Step Guide From Expert
Disclaimer
Articles, products, and services offered on this site are for informational purposes only. We recommend using caution and seeking professional advice. This site provides general information. We are part of the Amazon Services LLC Associates Program, an affiliate advertising program. Amazon.com is compensated for sales resulting from links on our website.
Please review our disclaimer before taking action based on anything you read or see.
You may be wondering how to remove a roof tile today. Working with roof tiles is much simpler when you know a few basic tricks. Here's how to remove a tile and replace it correctly. You will also see how to remove neighboring tiles from the path and what to do when the tiles are nailed down.
Tiles belong to the several different types of roofing materials you can select to secure the roof of your living space.
It must be remembered that this type of material also suffers from wear and tear and freezing and movement. Commonly, repairing a crack in a tile is more superficial than trying to replace the part. 
Don't wait for lost or broken tiles to become a serious inconvenience. Act promptly to fix the problem. The roof tile repair sealant is an essential part of this process.
Lost or broken tiles accept water entering the roof space and wind picking up more tiles from neighbors. Addressing the problem on the spot will not result in serious repairs later.
How to Remove a Roof Tile: Repair or Replace
For a roofing expert, replacing a damaged tile is usually a significant problem that lacks a universal solution. Identifying what the damaged sector stands for is crucial.
Use a precise matching adhesive in cases when the damaged corner is exactly 1 to 2 inches. This practice is often utilized on surfaces with transitional flashing, where a little tile might be crucial to completing the appealing effect.
Wire or adhesives may be used to keep the tiny component in place. Additionally, it is used when a few tiles have a little chance of developing a fractured corner.
It is not advised to use tile glue or to fix the tile lengthwise or widthwise if there is an issue with it (either because of an overload or fracture). It is necessary to remove and swap out these tiles.
The benefit of concrete and clay tile installations is the simplicity with which broken tiles can be replaced. In many apps where slats are used, only the perimeter tiles are joined, and then moving the track up and lifting the broken tiles will leave their replacement.
Even when the tiles are attached, the broken tiles can be easily removed, and the replacement tile is held in place without disrupting the roof's stability. This will ensure the ability to return the top to its pre-injury condition.
Rooftop repair is usually a bit of a stretch. However, it is a straightforward procedure.
How to Remove a Roof Tile: You Will Need
Extensible and folding ladder with rubber supports.
A toothbrush or thin wire brush.
Soap for dishes.
Cloth.
Mineral alcohol or acetone.
How to Remove a Roof Tile: Steps
Step-1: Folding ladder
You will not want to walk on tiles because their weight can crack and break more. If we are talking about a tile that is out of reach of the eaves, you will have to use an extendable and folding ladder with rubber supports.
Roof repairing is a simple process.
Remember that you can fold it over the roof's edge at the same flat angle as the roof. The ladder will distribute its weight through the rubber supports, over numerous surfaces instead of particular tiles.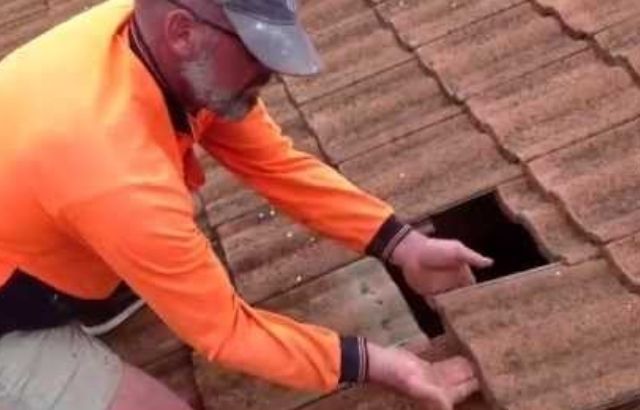 Step-2: Clean the crack.
It would help if you first cleaned the cracked area this, to ensure that the repair material adheres. Use a toothbrush or fine-tooth wire brush to remove any residue from the crack.
For best results, use water mixed with dish soap to remove dirt and debris and allow it to dry for 24 hours before patching.
Some residual water will prevent the bonding of the patch material.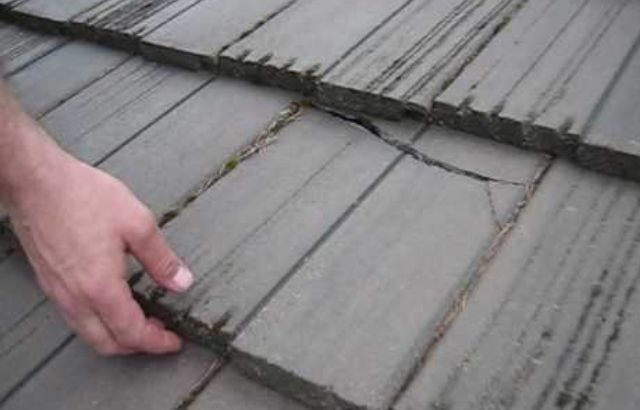 Step-3: Silicone Caulking
Silicone sealant is among the most durable and long-lasting bonds in the industry and is perfect for outdoor occasions.
Apply it directly to the top of the cracked area and push it down into the crack with your finger or a spatula, thus plugging the gap and leakage.
Clean the tile area with a cloth soaked in mineral spirits or acetone to remove any excess silicone sealant near the tile's visible edges.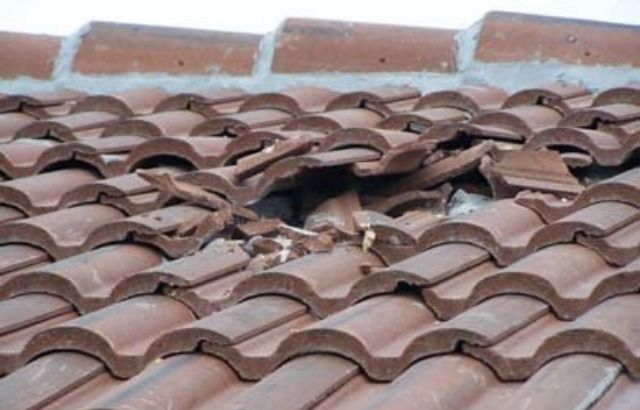 Step-4: Repair Cement
Most of the novelty stores for the living place sell roof tile repair cement used in roofing tiles. Like caulking, it usually comes in a tube and is squeezed over the crack, then pushed into the void with a spatula or finger. Similarly, you will need to clean the tile area immediately, according to the developer's guidelines. Follow the patch line not to allow the repair cement to harden in the tile area.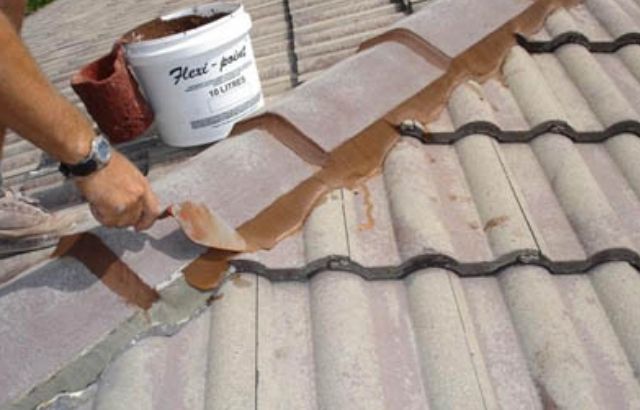 Replacing a Tile
The replacement of tiles that have cracked, broken, or disappeared is substantial to prevent roof leaks from being damaged when rain and wind show.
Fixing the problem quickly on your own is feasible as long as there are only a few tiles. The value of changing tiles can be expensive and varies with the company you use.
Most people don't realize that as long as you can find the right tile and have a decent ladder. So, you can change it yourself with minimal effort.
The tile floor's removal is a significant factor, it may seem simple, but it has some complexity.
What Utilities Do I Need?
Safety harness – if you have to go on the roof
Cube on a string
The spare tiles
Tile clips
Galvanized wire
Flathead nails
Keep in mind to have the right replacement tile as there are many different tiles on the market. The most common types of tiles are concrete and terracotta.
You have to be sure that it is the same type of tile, or it may not work and can be damaged, even if you have tried to repair it. To buy the right tile, take a sample with you. Any supplier will give you a right choice.
Secure the ladder firmly on your feet and snap it firmly against the edge of the roof.
With one hand, slide the row of tiles over the one you are going to replace. While working, you can secure the tiles with either a hammer handle or wooden wedges.
To separate a tile from the interlocked tiles, it is recommended to tilt it. This should result in trouble-free removal. You should be able to release it without disturbing them. Tiles on roofs can be damaged over time, and it is up to you to correct them or not.
How to Remove a Roof Tile: FAQ
Do roof tiles need to be nailed down?
All edge and eave tiles must be nailed down, and at least one in five of the rest must be nailed down.
On roofs with steep slopes (100%) or windy areas, it is suggested that all tiles be nailed down with 2″ copper nails.
How can a tile roof be walked on without cracking it?
Sturdy tiles made of concrete. They are not intended to be walked, however. Every time you walk on the tiles, you exert pressure on them which might cause them to break or become loose. Defects and broken tiles may result from this.
There may not always be a choice, in which case you must climb the roof. There are certain recommendations that reduce your risk of shattering the tiles in such circumstances.
Distribute your weight evenly.
Try to balance your weight between your feet gradually as you walk. Walk on the balls of your feet: Since heels tend to be the thickest part of the shoe, they are more likely to break the tiles when you step on them. Put pressure on your foot when you step on the tiles to make it less likely that you will damage them. Remember to take the weight off the tiles by just moving your foot and lifting it slowly.
If the tiles have curves or waves and are too close together, then place the balls and heels on the spikes.
Never jump from one tile to another.
Be sure to wear soft-soled shoes with good grip.
Superior footwork
The concrete tiles are often lifted a little from the roof and placed on wooden slats, thus creating a gap under the tiles for ventilation. When walking on your top, be sure to walk on the reinforced part, the lower third of the apparent tile.
Can it rain get under roof tiles?
Roof tiles and slates are there to keep out the rain, but there is always a chance that high winds will cause the rain to get through a hole or under the tiles. The subsoil is then designed to carry this water to the gutters, however, over time. With prolonged exposure to rain, the subsoil can begin to rot, not work effectively and eventually fail, resulting in a leak.
Sliding tiles or slates will be straightforward to see and can offer a place for vast proportions of rainwater to hit the subsoil and subject it to more significant pressure. If puddles of water accumulate in the region where a tile or slate has slipped, it is increasingly possible that a leak will be generated inside the roof.
Conclusion
We can say that a roof tile change can be something as simple as climbing on the roof, yet we understand that this is not the case. If you are not sure how to make the change, the highlight is to call an expert on the subject.
Read More: How to Waterproof a Shower without Removing Tiles