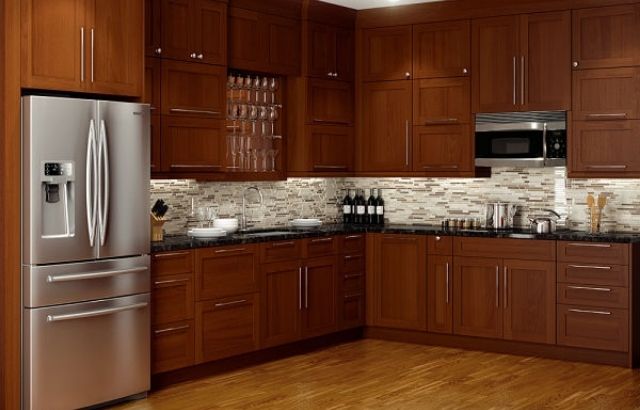 How to Remove Paint From Kitchen Cabinets | Mind-Blowing Techniques
Disclaimer
Articles, products, and services offered on this site are for informational purposes only. We recommend using caution and seeking professional advice. This site provides general information. We are part of the Amazon Services LLC Associates Program, an affiliate advertising program. Amazon.com is compensated for sales resulting from links on our website.
Please review our disclaimer before taking action based on anything you read or see.
If you want to renovate and decorate your home, start by giving another face to the kitchen cabinets and closets to make the desired decoration, remembering that they keep the necessary tools for the area and food's operation. In this guide, I will discuss how to remove paint from kitchen cabinets.
The cabinets represent our home's order, so they must be healthy and hygienic. Sometimes we often do not know where to start or remove the paint from the kitchen cabinets to restore them or change their color.
So, you wonder about other actions that will allow the change required by your kitchen. Before making changes, look at the cabinets' condition, whether they are wood, laminate, wood laminate, or metal. You can change it if following any case;
If they deteriorate
varnish or not
if you want to change the color
if the paint layer is peeling
Another vital thing to do knows the type of paint to be applied.
Suppose it is oil-based paint or lead-based paint. According to these conditions, the procedure is to do the restructuring of your cabinets. 
In this article, you will find the fastest and most effective way to renovate your kitchen following a series of recommendations:
How to Remove Paint From Kitchen Cabinets
Get Materials and tools
Please make a list of the materials and tools to be used, find them, and put them within your reach. This way you will save time and work more comfortably.
These materials are, for example, drill, spatula, sandpaper, cloth towels, cheap paintbrush, adhesive tape, ladder, brushes, sponge roller, chemical stripper, screwdrivers, scissors, wood paint, marker, an electric fixer with fine sandpaper.
Disassemble for painting
To paint laminated cabinets or wood, disassemble the coats and other cabinets' doors and put them by hand. This way, the paint will be uniform.
But care should be taken when disassembling each piece. It would be best if you numbered or mark them to remember their location and avoid mishaps when reinstalling.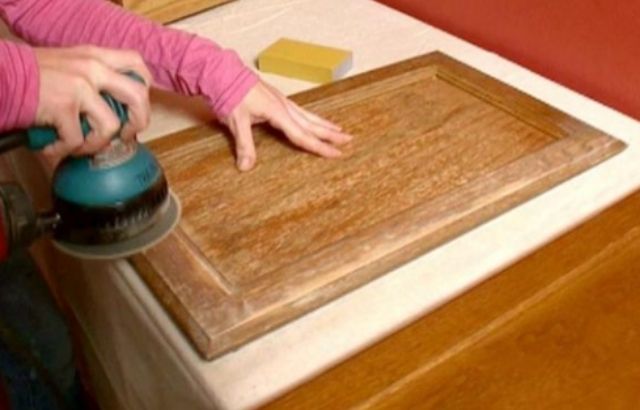 Assemble the entire area of the cabinets.
Having everything disassembled will make it easier and more efficient to clean the cabinet while observing the other details on the surface. However, this cleaning must avoid leaving the areas wet because if so, you will have to wait for the complete drying to paint.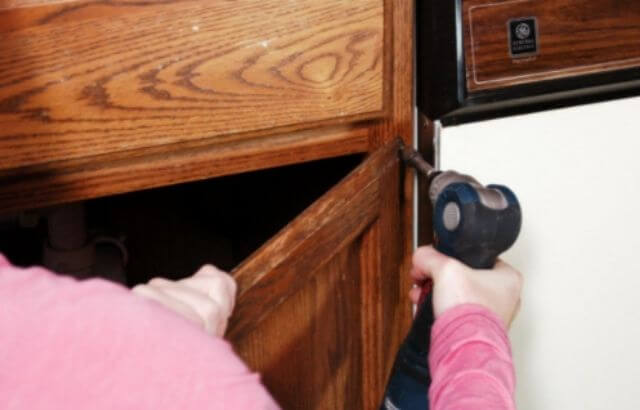 Marking to reinstall
Now mark behind the cabinet doors with the tape and the marker the order and the accessories that will be marked to be reinstalled later without stumbling. It is important to the bond between paint. Take into account types of paint too.
Sanding
When it is time to sand, do it carefully to prepare the base. Here the drawers and doors are sanded with patience, remembering that it is unnecessary to remove all the paint and not mark or scratch the surface.
Also, correct the details of the joint between paints with a spatula appropriate to the area. Finish by removing residues and dust with a wet wipe or sponge. Then dry the surface.
Painting
First, you must mark the edges with adhesive tape to avoid staining them. Then finely cover the surface, using a sponge roller in good condition. Do it from the inside area of the cabinet, sliding the roller to the outside. Remember that stripping stain from kitchen cabinets must be done step by step. Get the paints for kitchen cabinets from here.
You must do it trying not to make lumps of paint, facilitating the drying, and avoiding the accumulation of air that will prevent the desired finish. For the high areas of the cabinet, you can use different brushes.
But if you want speed in the painting, the time will be reduced if, for example, you avoid this stage of sanding. However, to avoid sanding, you must ensure that the surface is level and free of varnish. This way, you will be able to remove the paint from the cabinets without sanding.
To do this, start by wiping the surface with a damp towel. This will remove any residue it may have at the time and allow the paint to be absorbed.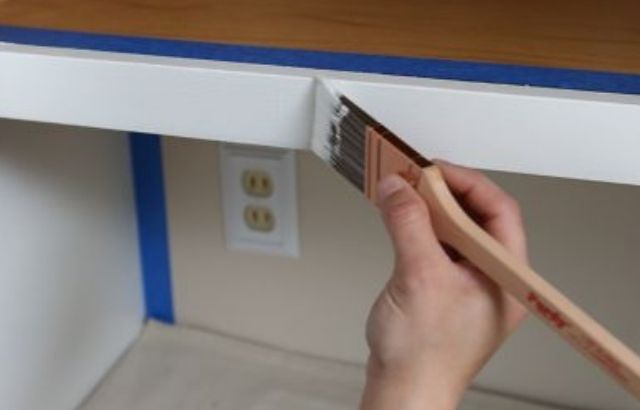 Which Product Applies then?
To know which product to apply to the cabinet and remove the paint without sanding, we must do three tests on the surface and select the product. First, use fine sandpaper scrapes, and if you observe that dust is released, the cabinet has been varnished, and we must use a paint stripper to remove the paint.
If, when sanding, you notice that some of the paint adheres to the sandpaper, it means that the cabinet has oil. To solve this, use a wood cleaner with a brush, and you will open the pores and then paint.
If the sandpaper cannot be reused, it is because the paint has stuck to the cabinet. This means that it has been waxed, and you will need a solvent to remove the wax. In other words, if you perform these steps, you will work faster and with better results because you will not damage the cabinet. 
Remember, these paints need to be lead-paint-free to avoid pulmonary diseases.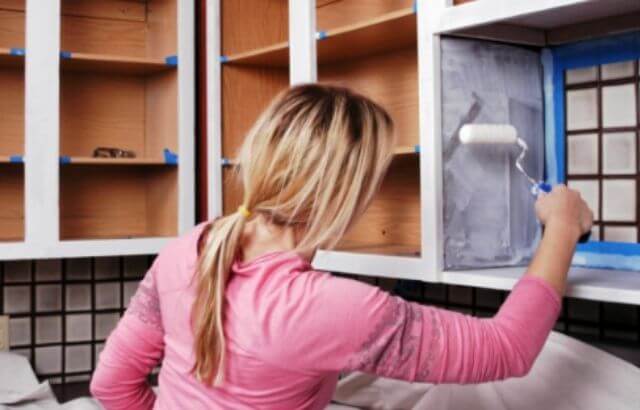 Paints
As for the paint, don't forget to test how it looks first. There are paint brands that help give an aged touch to the furniture, such as vintage finishes, highly recommended because of their chalk base.
But if you do not use this type of paint, we recommend applying the primer or first coat of paint, which is another option for the material to absorb the paint. Painting laminate cabinets with primer is excellent when you decide to apply acrylic paint.
If you remove paint from laminate cabinets, apply salt spray with alcohol, and you will see the result. It's a quick and easy method that will allow you to change your cabinets' look without effort or cost.
Be careful with this too.
On the other hand, if the problem is to remove stains from kitchen cabinets, you can use a mixture of water, soap powder, and white vinegar without forgetting that you must dry the surface with a sponge or smooth towel.
There are also other tics like vinegar in spray or baking soda, applying it directly with a soft sponge, or you can also use baking soda with lemon juice. Check this guide to learn to get rid of ants in the kitchen with baking soda. The important thing is to dry after you apply the procedure you want.
If the material your cabinets are made of is plastic, choose the paint you will use with a certified paint retailer's opinion and then test it to see if the cabinet absorbs it properly.
Dissolve organically
When you want to remove paint from wood without chemicals, we recommend two ways to do it. The first is by hand sanding or power sanding.
The second uses a heat gun that allows us to soften the layers of paint, which are then gently peeled off, and with a spatula, we finish removing them.
In this last method, you must take care to avoid burns, either on ourselves or the surface we are working on.
How to Remove Paint From Kitchen Cabinets: FAQs
How do you remove dried paint from kitchen cabinets?
Sometimes we may find that there are dried paint drips on the cabinets. In this case, depending on the cabinet's material, there are different ways to remove them.
For example, if the surface is wood, apply linseed oil by boiling or polish if the surface is metal or plastic, clean with soap and water using a brush.
What is the best paint remover for kitchen cabinets?
A paint stripper such as a paint stripper, which should be applied using a brush for about 5 minutes to take effect, then the paint peels will be removed and washed off with water, and sanded smooth. Learn to remove water stains from the ceiling.
How do you remove paint from cabinets without sanding?
This procedure depends on the condition of the cabinet you wish to paint and its manufacture, which will influence how to remove its paint.
If the cabinet has been previously varnished, painted, or waxed, you can apply a paint stripper, and as the paint is removed, remove the residue with a putty knife. But if the cabinet has had old oil applied to it, you should use a wood cleaner with a brush.
Start stripping paint from kitchen cabinets.
As you can see, making renovations to your kitchen can be very simple if you consider the suggestions we have given you here. They provide you with the tools you need to work on your cabinets effectively. They also save you time.
There are no more doubts about the strategy you will apply. Because you already know the elements that need to be checked. Now you can make decisions about the materials needed. You will know the type of paint that will work best for you according to your preferences.
You will check the condition of the closets and cabinets. Next, you will disassemble and mark all your cabinets' components to maintain order. When reinstalling, something you may never have thought of.
You will not start without first cleaning the entire surface, avoiding moisture. You will decide whether or not to sand the surface to be painted.
Start now!
You can identify how the cabinet has been treated at the moment of sanding and remove the paint, wax, or oil. Moreover, you will be able to more efficiently and quickly remove stains and paints without damaging the cabinet.
Now go ahead! Join the group of determined and practical people who are remodeling their kitchen. They are giving their cabinets another face quickly, efficiently, and safely. No hassle!
When you do it, everyone will ask you how you did it and provide them with your remodeling strategies.