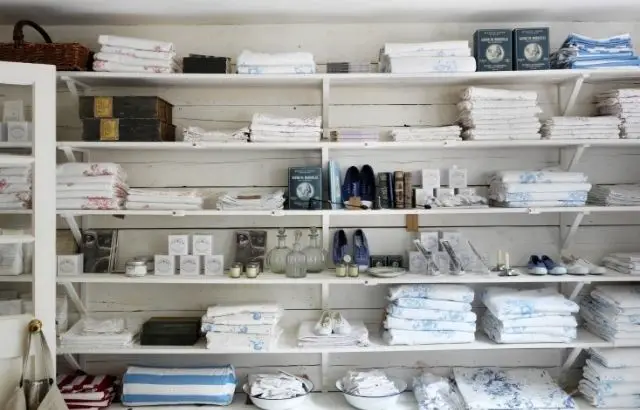 How to Store Linens Without a Closet | A Step By Step Guide
Disclaimer
Articles, products, and services offered on this site are for informational purposes only. We are part of the Amazon Services LLC Associates Program, an affiliate advertising program. Amazon.com is compensated for sales resulting from links on our website.
Please review our disclaimer before acting based on anything you read or see.
Well! Storage capacity in your house is essentials, especially if you have small kids at home. You have to make sure that all the toys, clothing, and stuff are arranged in the best manner. For that purpose, you need to have ample storage cabinets. You might be worried if you don't have a linen closet. Or maybe it's just a matter of short space. So in the article, how to store linens without a closet, we will suggest you some pretty ways to store and organize linens, thus leaves you satisfied and inspired. Keep reading to know more about how to store linens without a closet.
Considering the growing demand for in-built wardrobes and closets, now there is a wide variety of in-built cupboard options. Yes, you can still store linens even if you do not have a closet. For example, I have searched for the best door hardware, beautiful lighting, and of course, some lovely piece of artwork. But the problem I was facing that what to do with the space outside the bathrooms.
How to Store Linens Without a Closet
Linen storage!
I have been searching for something different and unique for few months, until one day I had an idea those were so perfect that I couldn't believe I hadn't thought of it before. It not only gives you the excellent sense to have larger storage space to store linens all over your homes without a proper linen closet but can utilize your different areas, which were empty all the time. So don't think about linen storage woes the following ideas will help you a lot.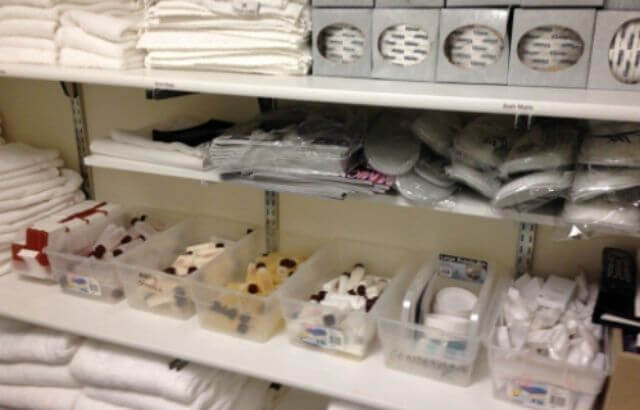 Ways to Store Linens without a Closet
Although it is good to have a proper closet for perfect linen storage, it not necessary at all; you can choose many other alternatives for this purpose.
Repurposed furniture
If your apartment does not have a linen closet, the most common linen storage solution is to look for a small dresser or any piece of furniture with shelves or drawers to store extra linens. On the other hand, you can choose an open bookcase for linen storage. Setting the matching items together like sheets and towels can be placed in the bathroom shelves decorative bins.
If you are an organized person, you can fold the sheets in their pillowcases and keep them neatly on the shelves to make a pretty storage solution.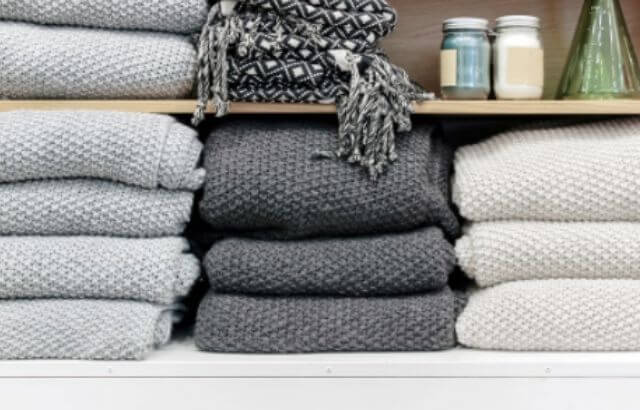 Use of baskets
Another right way to store linens is the use of baskets. Place the big-sized baskets on the floor and use them to store sheets, towels, and other necessary items. You can add gestures of hospitality as well if you place extra baskets in your guest rooms. To keep smaller items such as hand towels and washcloths, place the basket in your bathroom's vanity or beneath the sink if it is easy for you.
To create a more appealing look, you should roll towels and sheets instead of folding them to save extra space.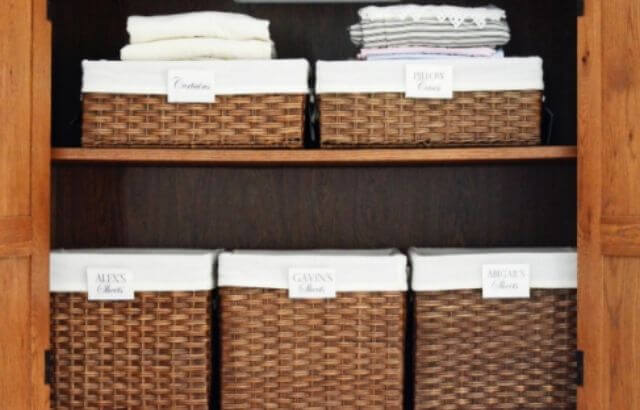 Decorative ladder
If you have bought a new house with no linen closet, a decorative ladder leaned against the wall of a home can be a good option. It would help if you wrapped the heirloom quilts over the rungs, making a useful and attractive method for showcasing them, which are meant to be seen and enjoyed.
This technique is also an excellent way to store towels in the bathrooms if you have a space in walls and floors. Therefore this would be a great idea for storing linens in bathrooms.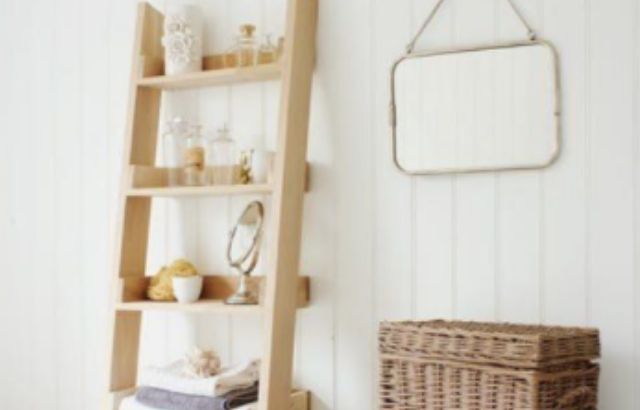 Store linens in Chest or ottoman
You can use the chests or ottoman for storage of linens. Fold your items, place them inside and close the lid so that to hide them from view.
The additional benefit of using chests as storage is that you can use them for sitting purposes and store your extra items like socks and shoes in them means you can use an ottoman for the multi-purposes.
Storage above door frames
If you chose the bed linen storage places, build the shelves above your bedrooms and bathroom doors, it is a place that is not in much use. Roll and fold your towels, sheets, and linens on the shelf, or place them in baskets and bins directly.
This hiding place will serve you a lot if you want to store linens in a small apartment because they are easy to access when you need them. Ensure that these shelves should have enough support to bear a load of linens while building them.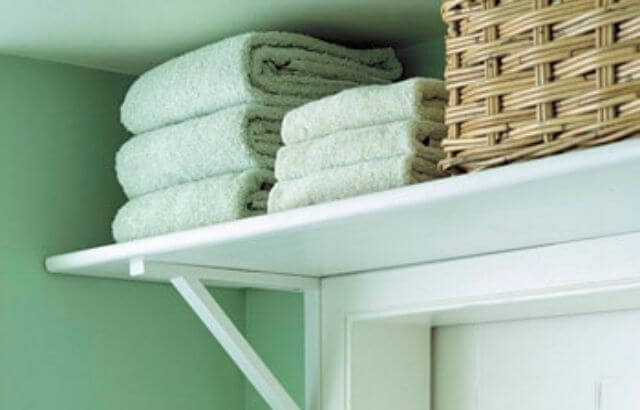 Use of Etagere
If you want to opt for linen storage ideas for small spaces, like bathrooms, build an étagère. Learn to make a home office in a small space. It is like a shelf that stands vertically on floors and fits with the toilet's back tank. They are offered in different sizes and heights that match your space and decorations. You can store other bath items other than towels and washcloths if you have less storage place in the bathrooms.
Storage underneath beds
Bespoke storage bins under the beds fully serve to store sheets, blankets, pillows, and comforters. Because a bed is a place where you need all these items at a time, it will be easy for you to access these items.
Moreover, if you have sufficient space under the beds for storage, you don't have to lose other items kept in this area. If you don't have room under the bed, you can fold your sheets and keep them under the mattress as well.
Use your bedroom closet
Setting the clothes in your bedroom closet is not the ideal solution for storing extra items, but if you want to keep them in your bedroom's wardrobe, you can do the same. You can store your bedroom items in the clothes closet in any of the ways you want. Also, you can use your wardrobe's upper shelf for bedding items because it is not the perfect place for your clothes.
You can buy a vacuum storage kit for more significant items like fluffy comforters and pillows. They are good to use because you can suck the air out of them to place them flatter and work for storage purposes.
Storage behind the doors
If you want to stock smaller items, you can consider the storage place behind the doors. These are the shelves that can hang from the top of the door, depend on your requirements.
Moreover, the handy storage option uses a multi-level towel bar at the back of the door. You can place this bar on the door of the existing closet or at the backside of the bedroom or bathroom door; it all depends upon what you need.
Alternative storage options
Now when you are less with space and want to store your linens better, and your supplies are the bare minimum, it's perfect to search for practical ways to keep them. Before you purchase the new items for you can consider the following alternative ideas.
You can use the storage cabinets in your laundry rooms that can serve you for storage purposes. Organize all the necessary items in a better way on the shelves of laundry.
IF you have an extra bathroom in your home or a half bath with the under-space, use it for storage purposes.
You can keep the extra bed sheets, comforters, and towels in your clothing almirah as well.
Hanging organizers are best to store your linens in your bedrooms. The advantage of using this option is that you can see everything you need at one glance.
The practical bedding storage idea is to opt for a dresser; the best part of this storage idea is that you don't have to find your required item, saving your time and keeping you away from tension.
If you find the easiest way to keep your linens better, you can take help from file sorters; whether folded or rolled, these can help you a lot.
How to Store Linens Without a Closet: FAQs
What is the best way to store linens?
Get rid of all the extra items to best organize the linen storage. After that, arrange them by category. Maintain the divided linens in bins, boxes, and baskets. Spatially bags, textile bags, and polycarbonate pouches with zippers are additional options. Keep your sheets and towels in pillows and tag them.
How do you store a comforter without a closet?
Without a closet, how do you contain a comforter?
The best storage options for comforters are cotton and plastic bags because they keep out dust, humidity, and air while still allowing them to breathe. Airtight memory bags are another option for this.
How do you store sheets in a closet?
Fold your sheets, organize them with their pillowcases, and store them under the mattresses and cabins underneath your beds.
Conclusion
To conclude the topic: how to store linens without a closet, I recommend that the linen storage ideas discussed above serve all your essential purposes. If one of these ideas does not fill your needs well, I am sure that a combination of two or three out of the above will give you sufficient space for winning the battle of space to store linens.