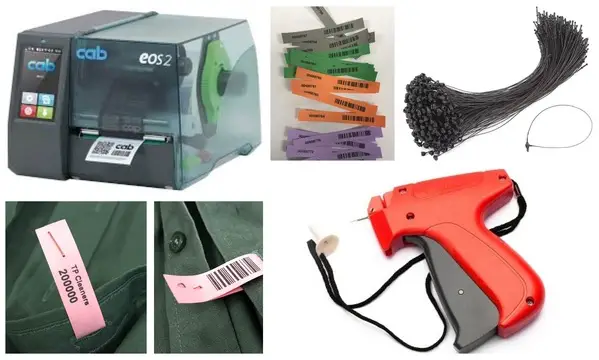 How to Tag Clothes for Laundry Business | A Step By Step Guide
Disclaimer
Articles, products, and services offered on this site are for informational purposes only. We are part of the Amazon Services LLC Associates Program, an affiliate advertising program. Amazon.com is compensated for sales resulting from links on our website.
Please review our disclaimer before acting based on anything you read or see.
Do you know how to tag clothes for laundry business? This blog post will teach you how to ensure your clothes are put away in the correct spot when they come back from the dry cleaner or laundromat. You must identify what type of fabric and colour it is so that it can be handled correctly. You should also use a permanent marker on all items, especially if there are many colours involved. By following these steps, your laundry business will run smoothly, increasing productivity and decreasing mistakes! 
This blog post teaches readers how to tag their clothing with individual tags according to colour and material, so they know which area of the house each belongs in once washed or cleaned. The post also provides some tips about using markers instead of tape and correctly colour code based on the type of fabric.
How to Tag Clothes for Laundry Business: What You Need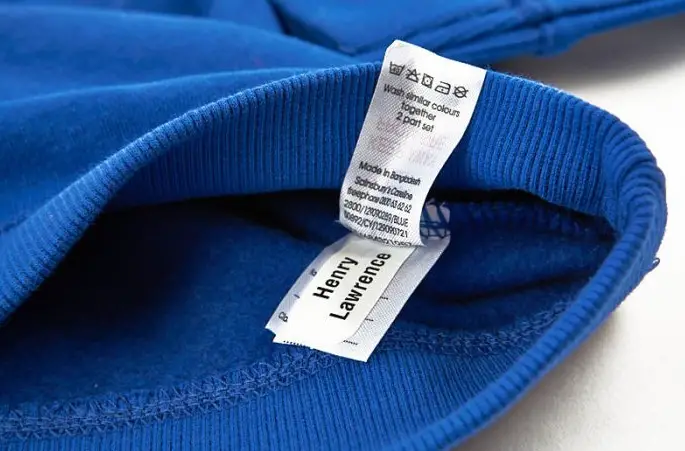 Permanent Marker or Sharpie (For tags)
Safety Pins (For Tags)
Small Individual Labels (Example: Avery 8160)
Different Colors, Labels for Each Color (As many as possible at least red, blue, green.)
Tape Gun with 3M Double Sided Adhesive Tape
Knife or Scissors 
Whether you choose a wash and fold service or laundry service, all companies use tags to optimize the cleaning process.
How to Tag Clothes for Laundry Business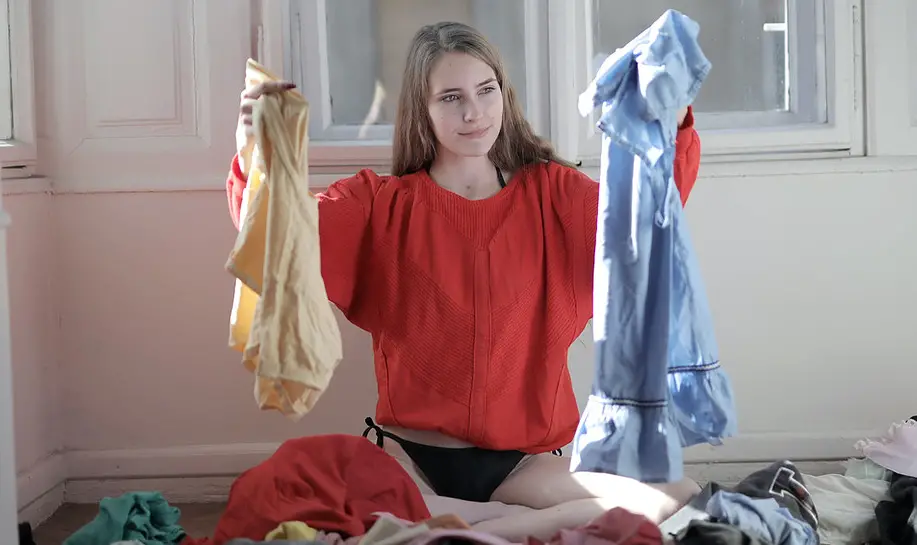 Tags in the laundry business represent the best option to have ordered within the business and give the customer the peace of mind he needs. With this, you will know well all the details that your clothes went through in the laundry cycle and specific details of your clothes.
Many entrepreneurs think that tagging clothes in the laundry business is a great innovation but do not know-how. Well, the first thing they need to know is that they need a labelling gun. 
The fundamental function of a tag is to help the processing personnel comprehend the following details:
The clothing should undergo the type of service.
Date of delivery Pickup Stains if available, according to customer's specification
You cannot handle these details on a manual tag, so a new labelling technique progressively replaces this method.
Automatic tagging is a simple technique to tag clothing. On average, assuming everything is in place, it takes 2-3 seconds to produce a tag. In comparison, a manual tag takes 2-3 minutes. No fabric, needle, thread, and marker also need to produce this tag.
All information starting with the automated tag is:
Customer Name of the Order bar ID
Service type
Date of delivery of clothing kind
If a person in the plant sees all this information, he knows what procedure he must execute. The LDC service provider can trace it simply using the bar code if it is misplaced or substituted by chance.
Here are the answers for all of you wondering what a laundry label is and how important it is for laundry services. 
Labels for laundry services can contain the following basic information:
Customer name, order number, service details, payment deadline, and other specific information. Automatic garment labelling has changed the way clothes are labelled in laundries. According to Standard Guide for Care Symbols for Care Instructions on Textile Products, these are the 6 possible ways to label clothes. 
6 Ways to Label Clothes for Camp, College, or Assisted Living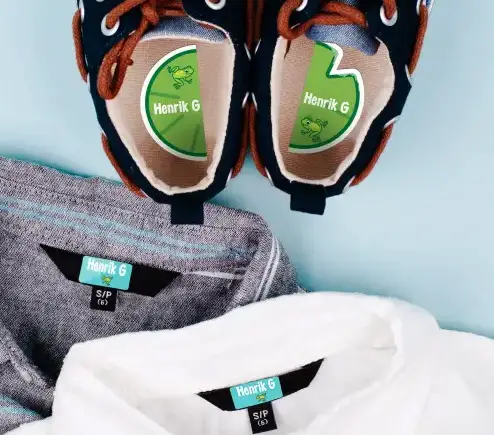 Washing or manufacturing markers
A permanent ink laundry marker or coloured fabric marker is the quickest and cheapest method to label clothing. The indelible tint is used quickly and lasts on many trips by the washing machine. The drawback is that the incense might leak outside an article of clothing through the fabric. And the stain is persistent once it does.
Ironside Labels
Many fabric stores and websites provide iron-on-material labels on a single or customized basis. With a permanent tin laundry marker, you may customize the flat labels. These are handy, not too costly, and generally endure for the life of the clothing. 
Stamps for laundry
You may purchase customized self-associating garment stamps. Again, they are fast and easy to use and have the same restrictions as a constant tin washing marker. The ink might leak through the cloth and is hard to remove.
Sew-In Markets
You may purchase beautiful woven bespoke labels to distinguish and improve your apparel. You can design them to display the seamstress or knitter who produces the garment or a name or monogram for identifying reasons.
Plastic Tags
One of the newest ways to label clothes is with a plastic tag similar to a price tag attached to an interior seam, hem, or care label. The tag does not fade, is resistant to high temperatures, and can be removed. You must order in advance and utilize a specialized gadget to attach and remove the tags.
Fabric labels stick-on
There are labels for peeling and sticking fabric for a dress if you don't even have iron-on clothing labels but still need to name garments. These are not as durable as iron-on labels. After several washing sessions, you may see them peel off. However, if you want to put in garments or equipment, they are easier for removal than iron-on labels.
Clothes Captioning: Complying with the Care Labeling Rule
Although some consumers like the convenience of dry cleaning, others prefer the economy of washable clothing. Surveys indicate that customers desire instructions for washing. Some producers aim to target both markets by cleaning clothing using either process.
The rule allows you to offer more than one set of care instructions if each instruction is based on a reasonable basis.
Some manufacturers include guidelines for both procedures, although they add "Dry-clean for the best results." That says consumers may wash the clothing without any harm, although you prefer an aesthetic and durability, dry cleaning look. The Care Labeling Rule mandates that makers and importers link clothes and some parts to care instructions.
Who's covered?
Textile producers and importers of clothing and importer of parts offered to customers to make clothing for any individual or businesses that manage or supervise the production or import of textile clothing or parts products to create clothing?
What textile clothing is used for covering or protecting the body?
Shoes, gloves, and caps are excluded.
Items that have been excluded:
Crazy pairs, belts, hangers, and collars.
Unwoven clothing for one-time use.
Personalized Laundry Labels & Clothing Tags for Nursing Homes
Now, a robe that dominates department shops may have started from a new, trendy designer's living room as a tiny enterprise. Due to e-commerce and internet marketing, it isn't easy to start your clothing line but only to transform a brand that was started in a tiny online store into a beloved clothing brand nationwide.
Custom-designed labels provide your company with a unique feature and help it distinguish itself from the rest. Hundreds, if not thousands, of ideas and opportunities, allow you to build your own branding story.
There are numerous advantages of customized labelling for clothes! A great brand awareness. It is vital to create a branding story considering which brands of custom woven garments are suitable for your designs. Consider where and how you will be connected to them and what additional branding materials you may require.
For personalized labels, the natural choice is to utilize them in a retail environment. This implies that the same design options are accessible for you regardless of the size of your company.
Using these simple procedures, design and order your unique labels of clothing:
Color: Choose your label size first and then the background color of your label.
Label: You can select the Pure Color option. This stage is also the Pure Color option. The pure color option adds a thread to the background to increase color and prevent the text color from "blinging out." Choose to sew on or to iron-on labels.
Content: Insert up to 3 lines of your text. Choose your font and modify the size of your text. You can also explain the right, the left, or the center of your content. Choose the color of the text next.
Frame: If you wish to enhance your design with a frame!
Custom Clothing Labels That Make Your Work Stand Out
The woven label is woven into the clothing immediately behind the necklace and continually displays your company's trademark. The primary point of clothing for brand and frequently size and care instructions that people generally know.
That is why they play a very significant role in your general marketing, brand recognition, and clothing branding.
Woven labels are made in much the same manner as any cloth utilizing weaving fabrics that blend electronically designed strands and woven strands.
Image Label Systems can revitalize your concept by developing products that represent our over 40- years' expertise in fabricating woven labels if you regard woven labels as a method to showcase your identity.
What we do is crucial to collaboration. It also applies to the process of the woven label, which begins with identifying your graphical and functional demands and focuses on appropriate yarn colours, fabric quality, and label finish.
In the form of finished artworks, the final product 'brief' is then shown. This two-dimensional display illustrates how the label will look and provides the foundation for prototypes and samples.
When creating a successful final result, we recognize the significance of flexibility, cooperation, and communication. When brand identity is embedded in the product we produce, you can feel sure about what it means for your brand's success and its values.
Design Your Clothing Labels & Tags Now
When designing your clothing labels, choose the correct label size is critical and depends on your product's location.
The most prevalent label sizes depend on the item and its positioning. There are specific criteria for the main shops, and it's always a good idea to employ them when they pick you up. Let's look at the folded garment labels of these clothes.
Simple cut
Straight cut (also known as no-fold) markings are excellent when you sew the marking on your side or around it—used mostly on the neck, iron-on applications, and purses.
Clip at the end
If you sew the label on the sides, folding end labels is your best choice.
It is mainly used in neck and pant labels. When you put the label on the outside of your goods, we propose this.
Fold Miter
A mitre pliant had two end folds, at an angle of 45 degrees, then upwards at an angle of 90 degrees, forming a seam tab. You should assist in demonstrating if you check the samples given on our gallery page.
Your ability and preferences are the ideal approaches to attach your label, but the defining element is the requirement for your label to be permanent or not.
Sewing labels will always be the finest technique to affix them to your goods permanently.
An Overview of Wunderlabel Fabric Labels
Iron-on labels are a good alternative to sewing labels and are one of the most popular items at Wunderlabel. For your hotmelt labels to be perfect and durable, they must adhere well.
Wunderlabel offers a variety of pressure-sensitive labels. Choose from printed labels (46 x 12 or 50 x 20 mm) or woven labels (60 x 15 mm or 60 x 20 mm). You can design our hotmelt labels with name, text, and symbol (glossy), your logo, or laundry symbols. These labels are quick and easy to iron on, with no sewing required.
Step 1: Fold one corner of the label.
Hold the label so that the front side faces down (the back of the paper faces up). Fold one corner of the label and pinch to create a crease.
Step 2: Peel the backing off of the sticker.
This will help the backing paper separate from the sticker. Hold the label and sticker together and carefully remove the paper. 
Step 3: Attach the label
Set the iron to medium / high heat and remove the steam. Allow the iron to heat up completely and lay the garment flat on the ironing board with the area where you want to apply the label accessible. Returning the garment may help.
Step 4: Cover the label with parchment paper.
Place the heat seal label, adhesive side down, on the garment, and cover with a sheet of parchment paper.
Step 5: Apply with an iron
Using a circular motion and constant pressure, apply the iron to the top of the parchment paper for 10-15 seconds. Check that the edges are secure. If the edges are not secure, replace the parchment paper and reapply the iron for an additional 5 seconds.
Care Labels Make all the Difference
For care labels, consumer guides are provided on garment care and wet cleaning best practices for a particular combination of fabrics, yarn decorations, and construction techniques.
Following the instructions on the care labels will ensure that the garment retains its appearance even after repeated cleaning treatments.
From the manufacturer's point of view, garment damage due to improper cleaning systems can lead to complaints, costly customer returns, and poor image.
Clearly and accurately written care labels can prevent customer dissatisfaction. From the customer's point of view, accuracy and written instructions are clear advice and a reason to buy.
Easy care garments are often preferred to more complicated or difficult to understand processes.
The label that you will discover in your T-shirt, pillowcase, garment, tapestry, etc., is the care label if you didn't know that. Nearly every product has an inside label that informs us how to treat it.
Why precisely should we be careful about this?
They enable us to know how the product was made using the fibers and components. Find out if the fibers are biodegradable and not synthetic. It is a decision of lifestyle and a genuine transformation of the environment to choose the natural and biodegradable fibers!
The symbols for laundry on a care label tell us how to wash your items appropriately. If you follow the instructions, you will effectively extend the lifetime of this product, and waste generation and use of water reduced during washing processes.
Online Clothes Label Maker
High, portable, and extremely adaptable clothing designers can utilize these to label your garments and any other items with different 'tape' possibilities. Using suitable iron-on tape, you may write the name, brand-mark, or wash the instruction you want and select the font or kind of size you want on the handheld online label maker!
The label manufacturers use thermal printing technology that offers crisp markings to resist smudge and smear to provide professional results consistently. Once they print the sheets, just iron inside, and they are rapidly and securely gripped to make them suitable for washing and wear.
You may obtain leather, fake leather and cotton labels, iron-on labels, and traditional fabric design with the best quality. If this is what you miss, you can even buy care and size labels. This would be a wonderful choice with so many possibilities for quick mass printing for a wide range of garments to label or your brand. You can do this through an online clothes label maker!
Read our post: Best Time To Do Laundry.
Frequently Asked Questions
What is laundry tagging?
Washing tags help you wash all your materials to ensure that your clothes are in the best possible condition for a long time.
What is the purpose of laundry tagging?
Washing marks are ideal for tracking washings, clothing, and uniforms, essentially anything regularly laundered or dry cleaned. These tags have that kind of design to resist extreme temperatures, water, chemicals, and raw processing due to industrial washing machines, dryers, and dry cleansing tumblers.
What does triangle mean on clothing tag?
You can put bleach on your piece of clothes when you are looking at an empty triangle. The diagonal lines inside the triangle mean that you should use non-chlorine bleach. However, it would help if you did not use bleach when two lines cross the triangle.
What does P mean on clothing tag?
The circle contains a letter 'P' for garments that are dry clean only. There will be an 'F' letter in the circles in the garments to be washed dry under traditional settings. An out-of-the-box circle does not dry-clean the item.
Why is it important to read labels on clothes?
Read the instructions about care before you buy clothes will assist you in keeping costly goods. A label that states "Dry Clean Only" indicates that keeping it clean might cost a lot. Care labels also include vital information to save time.
What is the dry cleaning symbol on clothes?
This Dry Clean Symbol is a circle and shows that a professional dry cleaner best cleanse a garment. Do not wash anything in the washing machine labelled with this emblem since it may harm or destroy specific textiles.
What type of clothes should be dry cleaned?
You should dry Taffet, silk, wool, velvet, acetate, and fabric mixtures including rayon, silk, and wool properly unless you see otherwise by the label of care. 
How are price tags put on clothes?
Put tags on the wardrobe in remarkable places so that retail or private retail shops may detect them immediately. A tag attachment fits a tiny barrel through a tubular needle designed for piercing cloth and card holding marks onto a plastic thread barrel.
What do the signs for washing clothes mean?
The maximum temperature of a dot, that is, 30°C (indicating that you should wash your robe with cold water) is 2 points (40°C) and 4 points (60°C) in the water, if your robe is washable by machine, then the symbol will show you dots or numbers within the bucket symbol.
How do you dry your laundry?
Place the rolled clothing from a drying rack or lay them flat inside the house while air-drying. Keep clothing separated for better drying and air circulation. Set clothing in front of an air-dryer fan or heat vent faster.
What does P stand for in washing instructions?
This sign implies that you should dry your product professionally. This sign refers to the sort of solvents that you may use during cleaning when using letters, A, P, or F.
Bottom Line
Washing clothes is very important, especially for those who don't have time to do anything. Moreover, labelling clothes is one of the most important factors in this industry, as any mistake can deteriorate.