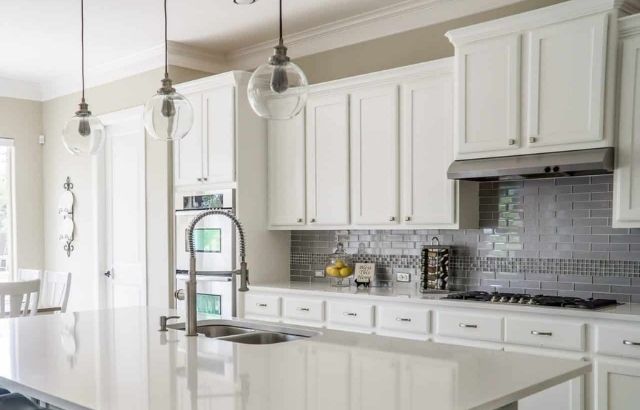 How to Trim a Cabinet | 15 Easy Steps With Images & Recommended Tool
Disclaimer
Articles, products, and services offered on this site are for informational purposes only. We are part of the Amazon Services LLC Associates Program, an affiliate advertising program. Amazon.com is compensated for sales resulting from links on our website.
Please review our disclaimer before acting based on anything you read or see.
Cabinets are an essential part of the home; instead, it's in the kitchen, rooms, or toilets. Without trim, cabinets only look like boxes attach to the wall. Trims give a finishing touch to the room. Trim is a small, long and flat piece of wood used for a certain prominent room area. It may be used on the wall, cabinets, ceilings, or floor. Same way, trim molding is a piece of wood used to give a finished appearance to a cabinet. But do you know how to trim a cabinet? Now we will discuss the whole procedure step by step.
Before starting, you must be familiar with the trim's uses and possible ways to use a trim.
It is used for decorative purposes.
It can be used to conceal any gaps or inconsistencies in the building construction.
Can be used in place of trim tiles in rooms or the kitchen.
Trim molding is thin and narrow.
Some trims may have curves or designs cut into each piece. 
You can use trim according to your room's interior design, or you can use painted or stained to match the room's style and decor.
Plastic Polymer trim: it is more expensive than wood trim, but it's easy to handle and long-lasting.
It can be cut and painted to match the room's dimensions and style in which it will be installed.
Tools Used to Trim a Cabinet
For trimming a cabinet you will need some tools. In case you do not have these you can get it from bellows boxes and links.
Horse saw stand
Sale
WORX WX051 Pegasus Folding Work Table & Sawhorse
[WORKTABLE & SAWHORSE] Holds up to 300 lbs. as a work table, supports 1,000 lbs. as a sawhorse. And it's easy to transition between the two
[CUSTOM CLAMPS] Two quick clamps are integrated and stay attached even when you fold the table into a sawhorse. Because they're designed specifically for the Pegasus, they'll be stronger and last longer
[LIGHT AND STURDY] It's only 25 lbs., and its foldable design makes it easy to move and store
Palm Sander or Sanding Block
Sale
DEWALT Palm Sander, 1/4-Inch, 2.3 Amp, 14,000 OPM,...
2.3 AMP motor of the electric sander sands at 14,000 OPM
Rubber overmold texture will provide a smooth and comfortable control while sanding
Improved paper clamp of the 1/4 sheet sander features for better paper retention
Mitre saw
Sale
Paint Roller
Sale
Magimate Paint Roller Kit with Tray Large Paint...
【Paint Tray Set includes】Large Microfiber Paint Roller Covers 9inch x 3/8" naps x 2; Small Microfiber Paint Rollers 4inch x 1/2" naps x 2 and thin Velour Rollers 4inch x 1/4" naps x 2pc; A Patching Paint Brush 1.5 inch long handle; A Paint Stir Stick; A Roll of Painters' Tape; A Durable Washable Paint Tray; A 9" Paint Roller Cage Frame and a 4" Paint Stick Roller Handle.
【Threaded Roller Handle】The Big Heavy Duty Paint Roller Handle with Threads can screw on an extension pole or a broom handle for easy paint on ceilings and ground, fast paint roller applicator. Rubberized Soft Roller handle, comfortable to grip.
【High Density Roller Naps】Perfect for latex, epoxy, stucco and all other paints and stains on smooth, semi smooth surface or rough surfaces. Shed Resistant Paint Rollers. Proper Paint Pick-up and Release Evenly. It will bring you a professional result for your home improvement projects.
Wood putty
Brush or vacuum
How to Trim a Cabinet Steps
Step-1:
1st of all, put tape to label the front and backside; it will help you hang back as you know which side is front and which side is back.
Step-2:
In the 2nd step, remove all the screws and open all cabin clips and keep it in a safe place because when you have to put the door back, you have to use it again.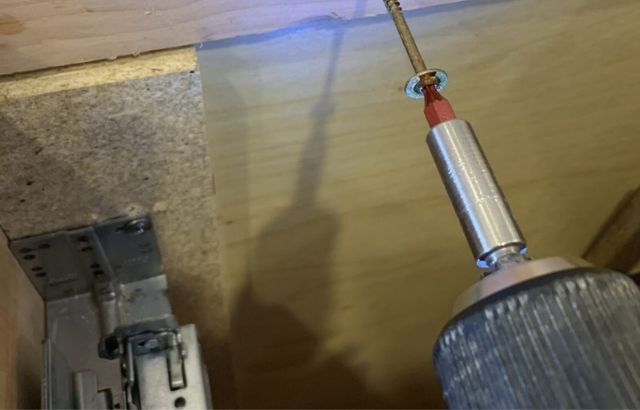 Step-3:
Put the doors on a high-level place, or you can use a horse saw as it will balance the cabinet-level.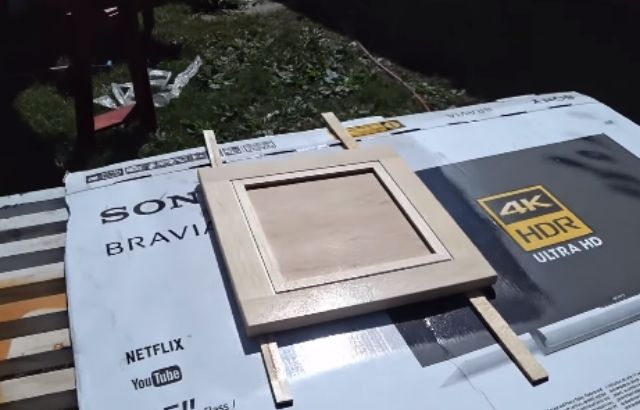 Step-4:
Use the Clorox wipes; it will help you in cleaning all dirt and grime.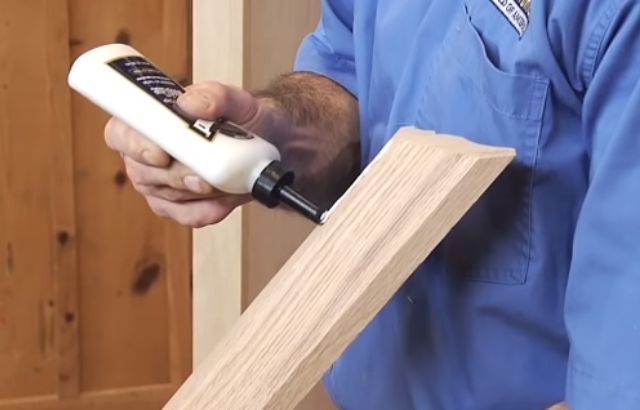 Step-5:
You can put tape on the back door's edges if you don't want to paint it.
Step-6:
Sand the doors front side with a palm sander as it will smooth the area. Sanding will help the primer to stick to the cabinets.
Step-7:
Cut your trim with a woodcutter saw according to the exact measured size you need for your cabinets as you are using these trims for decorative purposes. If you want to increase your cabin's size, then apply trim, as I mentioned different trim molding types.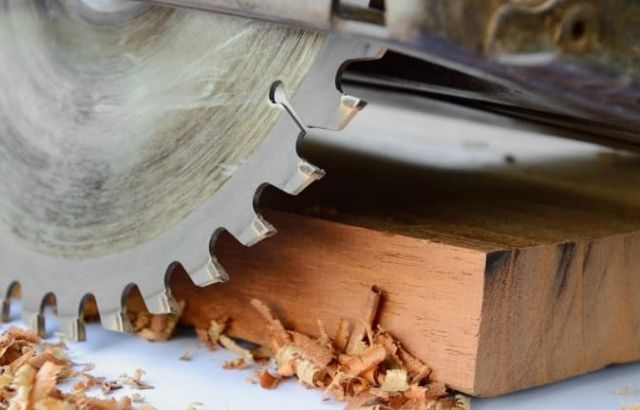 Step-8:
Now on each door, spread glue on the top and down edge horizontally and right and left edge vertically to stick the trim as you put the glue.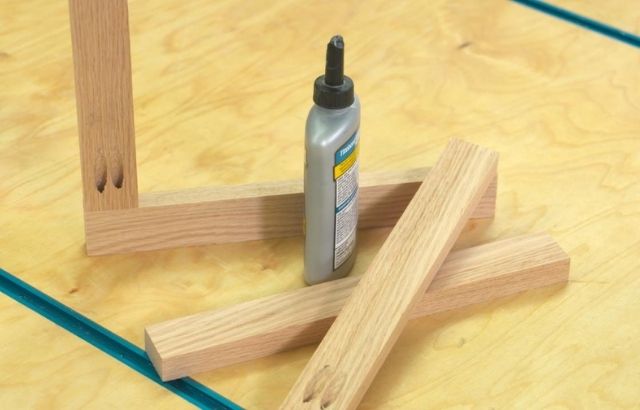 Step-9:
After glue, let it dry. Now use filler or wood putty filler to fill the gaps between the jointing points of all trims.
Step-10:
When it dry's, sand it with a palm sander to make unequal edges equal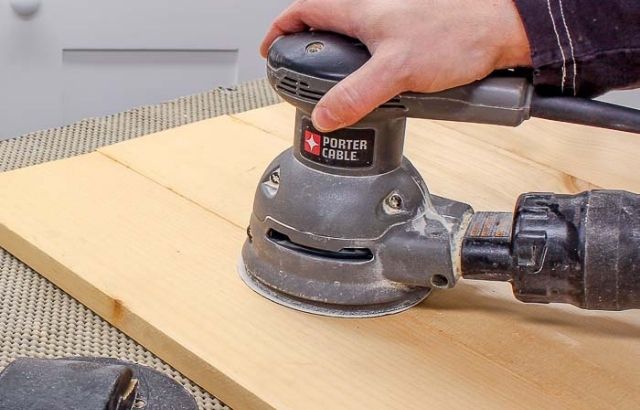 Step-11:
Now apply primer and apply one thin coat. After 2 hours, apply another coat of primer, and then leave it dry overnight.
Step-12:
Now, if you want to paint the doors, apply your desired paint. 1st apply this coat after 2 hours, apply another coat.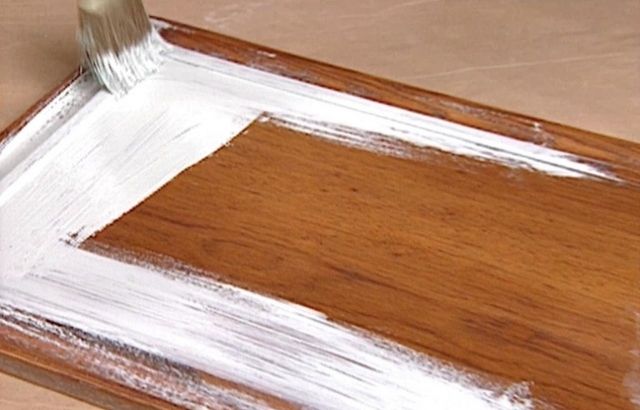 Step-13:
Leave it dry for two days. If you don't have enough time to wait, then leave it under the full fan. It will help in dry.
Step-14:
Now put the cabins back in the kitchen. Because you put the trim on edges, so old holes become fade for putting cabinets door back. Fill the empty holes with trim and make new holes.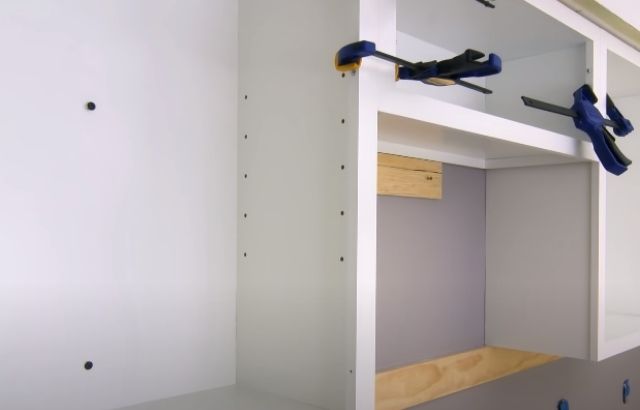 Step-15
Fix it with screw drives. If you see its outside corners, empty, then fill it with corner molding.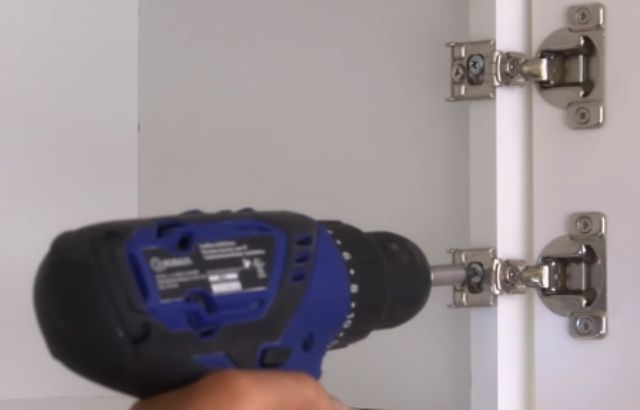 Frequently Asked Questions
What saw to use to cut cabinets?
If you want to resize your kitchen cabinets or room cabinets, then cut the cabinet's side with a wood cutter saw or table saw, attach trim where need, sand it, fill the gaps with trim, put primer, apply paint and let it dry. When it dries, put the cabin's side back and attach its door with screws and clips.
How do you put trim on the bottom of kitchen cabinets?
Using base trim as it used to put trim to base level or floor level cabinets. Down the cabinets, it used to support the toe and act as a support for the cabinets.
How do you install trim on plain cabinets?
If you want to install trim on plain cabinets for decorative purposes, then reattach its doors from the cabinets, and put it on a horse saw. Then cut trim according to the size or the cabinets as you have to put 2 trims horizontally and 2 trims vertically. Attach it with glue. Fill the gaps with filler glue; when it dries, sand it. If you want to paint it, follow the primer and paint procedure; otherwise, put it back to the cabinets. After finishing, if you see any gaps, then fill it with trim filler. Or any trim type that suits better on your cabinets.
What is trim under cabinet called?
Light trail trim is used under the cabinets. : In this type, trim is installed right on the bottom. You can install it for a decorative purpose, but it's basically for the light rail molding. You can install ceiling or pendant lights under the light rail molding, which can be used as a light barrier.
How do you cut open cabinets?
Cutting cabinets is not a difficult process as these are plywood boxes. The process of shortening a cabinet involves cutting out a section or cutting outdoors to fit the shortened cabinets.
Last Words
To finalize this topic, adding trim is not a complicated process; you must know the trimming types and which trim is used to insert. It will help you a lot throughout your adding process. More, it will act as a finishing touch in your kitchen. But to complete all of these procedures, you must learn how to trim a cabinet.
Read More: How to Vent a Range Hood on an Interior Wall