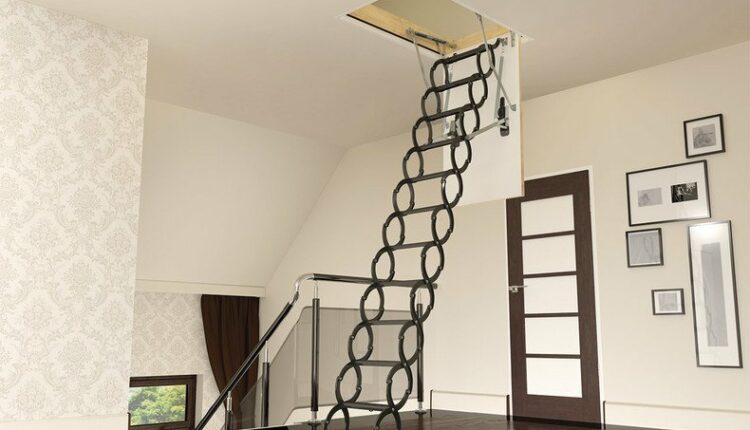 How To Use A Loft Ladder Safely | Full Guideline and Safety Measurement
Disclaimer
Articles, products, and services offered on this site are for informational purposes only. We recommend using caution and seeking professional advice. This site provides general information. We are part of the Amazon Services LLC Associates Program, an affiliate advertising program. Amazon.com is compensated for sales resulting from links on our website.
Please review our disclaimer before taking action based on anything you read or see.
A loft ladder is a common but essential tool for daily activities. But you need to use it safely. Otherwise, you may face unwanted accidents and difficulties. In this situation, a question can arise: how to use a loft ladder safely? 
To use your loft ladder safely, you must maintain some common measurements. Besides, you have to consider some most crucial matters related to the ladder, the hatch, and the loft. 
However, this article will provide a proper guideline for securely using your loft ladder. Besides, you will get some safety measurements that will exceedingly help you. 
Let's start our journey. 
How to Use a Loft Ladder Safely?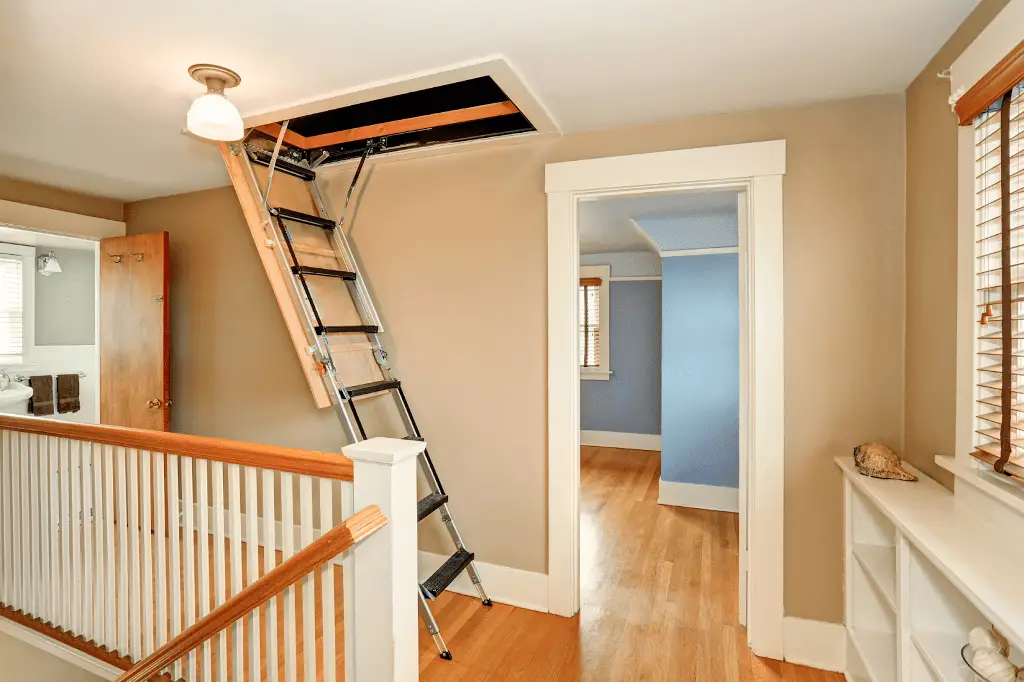 Though using a loft ladder is not a challenging task, you need to do it systematically. Besides, you have to keep a keen eye on some common considerations. Perfect fitting, compatible hatch, and ladder materials are the most common considerations. 
Now, let's learn some techniques about using the loft ladder safely. 
Choose the best ladder. 
In the beginning, you have to choose a perfect ladder. A perfect ladder will give you blessed services. Moreover, the best ladder will protect you from unwanted situations. 
On the other hand, there are many types of loft ladders available. Some prominent ladders are heavy-duty loft ladders, sliding loft ladders, telescopic loft ladders, etc. Besides, you need to choose a ladder based on your spaces. 
Consider the materials of the loft ladder.
If you need to use your ladder safely, you have to choose sturdy materials constructed ladder. Three materials are mainly used for building the ladder. And they are timber, aluminum, and fiberglass.  
However, never forget to select a loft ladder that has separate sections. You can use a loft ladder for ample space and small space by this consideration. And you don't need to get an individual loft ladder for small spaces.
Create compatible hatch 
Getting a suitable hatch will be an excellent matter for using the loft ladder safely. If the hatch of your loft is not perfect for the ladder, you can face accidents at any time. 
So, make a compatible hatch. However, to make a suitable hatch, you must trim the loft joist perfectly. Never forget to calculate the size of the ladder.
And make the hatch based on the size of the ladder. Importantly, make the hatch a little bit bigger so that you can adjust and detach the ladder comfortably. 
If you already have a hatch, but it is tiny, never hesitate to enlarge it. Otherwise, you can't use the ladder securely. 
Fit the ladder perfectly.
You must fit the loft ladder in a suitable way for using it safely. If you fail to attach the ladder perfectly, you will never get a safe ladder. And you can face accidental situations undoubtedly. 
However, to fit your loft ladder suitably, you have to ensure tight ankles at the top and bottom of the ladder. Importantly, you have to adjust the upper side of the ladder to a board or joist. In this step, a stand can be used attached to the ankle of the ladder, and you have to adjust it with the beam.  
However, most ladders contain extra ankles, stands, and springs. Hence, you don't need to be much worried about them. You just need to adjust them suitably. 
Use locking system 
Some loft ladders contain a locking system at the top. You can use this way for better safety. Just create an extra hole on the loft beam and secure the ladder with a stand by screwing it in the created hole. 
Try it before use 
Finally, you can make a trial before the final use of the ladder. After screwing the ladder on the loft or ceiling, recheck the overall process for any kinds of errors. And then use the ladder comfortably. 
Frequently Asked Questions
Can a loft ladder be used as a normal ladder?
The straightforward answer is yes, you can use it. But remember that you can use regular ladders for any purpose, but loft ladders have specific features and are specially made for loft. 
Is it easy to fit loft ladders?
Yes, the process of fitting loft ladders is too easy. But you have to go through a step-by-step process as we described in this article. 
Is a loft ladder safe?
Definitely, loft ladders are safer than regular ladders. But, you must adjust them perfectly. 
Is a loft ladder slippery?
Loft ladders are not slippery because they contain non-slippery ankles. 
Verdict 
While adjusting a loft ladder, you must ensure that it is spaced correctly. It is the primary matter of safety measurement. Moreover, other crucial considerations are ensuring three contact points, checking for any faults on the ladder, and wearing compatible footwear. 
Now, everything on your mind about using a loft ladder safely should be cleared. 
So, try to maintain the considerations as mentioned earlier. 
Importantly, never forget to adjust the ladder flawlessly. I hope, by ensuring these matters, you will be able to use your loft ladder safely. 
Good luck!