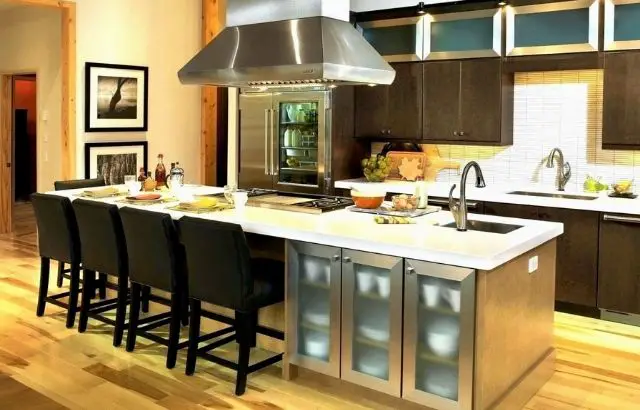 How to Vent a Range Hood on an Interior Wall | 4 Steps by Experts
Disclaimer
Articles, products, and services offered on this site are for informational purposes only. We recommend using caution and seeking professional advice. This site provides general information. We are part of the Amazon Services LLC Associates Program, an affiliate advertising program. Amazon.com is compensated for sales resulting from links on our website.
Please review our disclaimer before taking action based on anything you read or see.
A neat and clean kitchen always tends you to cook something special for your children or your partner. But if the same kitchen turns greasy and having a bad odor, nobody will like to eat from such a dirty place. But how you can cope up with this situation? I have one solution for you. Afterward, you will give me pray. The range hood is the only solution to your problem. As a range, the hood sucks all of the grease, bad odor, and hot air from your kitchen. It will enhance the air circulation in your kitchen. In this article, we will discuss how to vent a range hood on an interior wall.
With time, many companies give outstanding and best quality products. In the old-time people use the chimney, that throw all smoke outside. Now, there are electrical hoods available that sucks grease and throw smoke and bad odor outside the house. Many people prefer a range hood throughout the ceiling, but some prefer to have a range hood on an interior wall. This issue is also resolved as companies giving you an unvented range hood.
Types of range hood for the Interior Wall
Vented Range hood: In this type of range hood, it contains a fan that throws the spoke out of the ceiling or wall.
Unvented Range hood: While the unvented range hood is not containing a duct, and it has its own purify filters, which purify grease, hot air, and food odor into clean air.
Which one is better: A vented hood completely clean grease and hot air and make your kitchen cold. While an unvented hood can filter and purify the air, but it can't make your kitchen cold.
It's better to circulate the air outside rather than inside the room. So it's a better suggestion if you choose a vented range hood.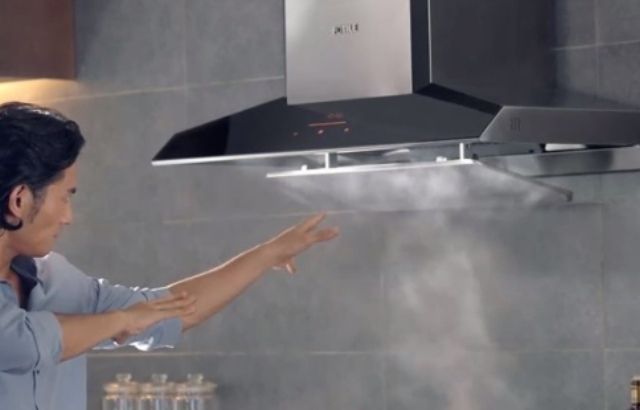 What should be considered while buying a Vented Range Hood?
There are the following properties you must follow while buying a vented range hood:
Cubic feet per minute or CFM
This term refers to the fan quality of the range hood. As in how much time it will filter air through the range hood.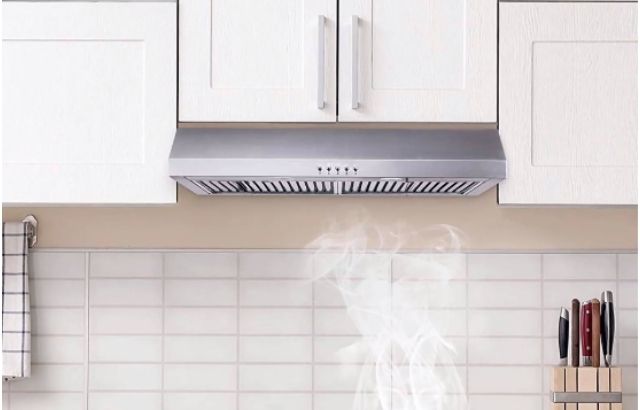 Size
Size also matters a lot while buying as it must cover the entire area above range. Measure the size of the stove so that it captures all the heat from the stove.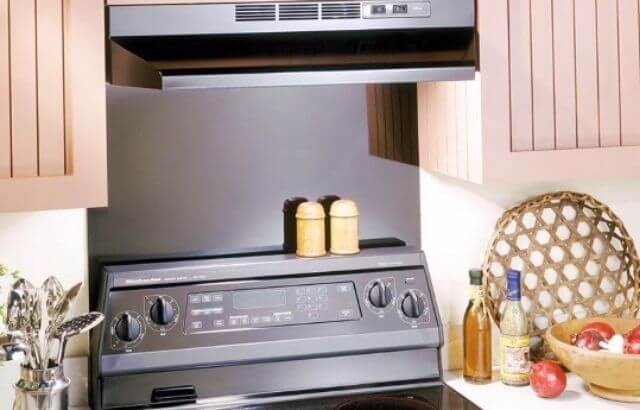 Design 
Nowadays, there is a variety of designs in the market. Only choose that design that matches your interior and gives an extremely attractive look.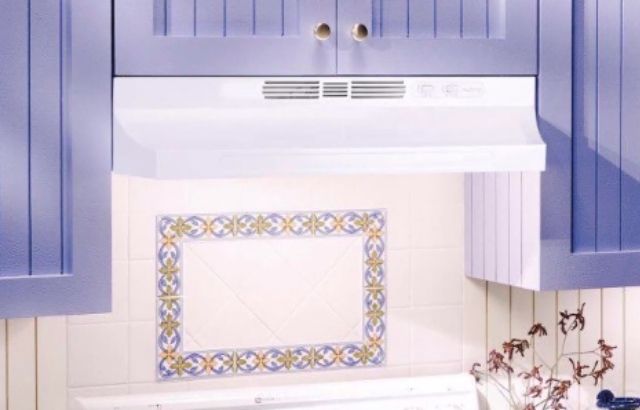 Noise level
Most people prefer less noise range hoods. But if the fan of a range hood is stronger, then it will produce more noise. One thing you can do, check different models, and see which one is less noisy. In this way, you can buy a less noisy range hood.
User comments and reviews
It's my personal experience. Whenever I bought any electronics, I always research its reviews for seeing how many peoples are buying it and how many peoples prefer to refuse it. These things also tell you about range hood quality. To apply this method when you are going to buy a vented range hood.
Tools Required to Vent a Range Hood on an Interior Wall
Measure Tape
Drywall Saw
Sale
DEWALT Jab Saw (DWHT20540)
Aggressive Tooth Design of the hand saw cuts up to 50% faster than traditional tooth designs
The handsaw has multiple material usage for use on drywall, plastic and other building materials
Induction-hardened teeth stay sharp for long life
Drywall Tape
Sale
Screwdriver
Sale
Klein Tools 32500 11-in-1 Screwdriver / Nut Driver...
Multi-bit screwdriver / nut driver shaft holds 8 popular tips and converts to 3 nut driver sizes
Includes industrial strength heat treated bits: 3/8-Inch, 5/16-Inch and 1/4-Inch nut drivers, 1 and 2 Phillips, 1/4-Inch and 3/16-Inch slotted, T10 and T15 TORX, and 1 and 2 square recess
Interchangeable blade for fast and easy switch out; comfortable Cushion-Grip handle
Wall Caps
Sale
Seam mixture
Nuts
How to Install a Range Hood on an Interior Wall
Steps:
Disband the new range hood: In this step, you have to detach all components, it's a fan, double filter, and remove the cover beneath the hood. Then remove the pipe and put all of these in a safe place to prevent any damage. 
Open a hole: First of all, mark the straight line of 8th feet. 
Now mark sidelines by 25cm length and 10cm height.
Cut a hole with the drywall saw. While cutting, avoid any hindrance. And start where no hindrance and resistance are.
Make a hole on the wall to reach barriers, then slash 15cm on top and 10cm beneath the pipe's route.
Ensuring the rubric reaches the two ends of the barriers.
Now create a two-fold sill sheet by tying up the sheet. After this, tighten its trimmer 5cm to the full size of the barrier in the wall. Adjust its size according to the rubric.
Put in the Rubric
Put the exhaust pipe in the hole to measure the size of the barrier. If you don't tighten these barriers, then the pipe will easily dropdown. So you must tighten the barriers with a screw correctly. Now cover the hole with drywall over it.
At this point fill the drywall ends with drywall tape and seam mixture and put back the unit and make a hole throughout the barrier to the outside of the interior wall.
Procedure for Installation
Once you finished all the above steps now, it's easier to install. First of all, you must be ensure you tighten the wires with the clamp. Pass the electrical wire between the oval extensions in the range hood. Before hanging the hood, you must fasten the cable to neutral. You must ensure you attached the inner nuts to its place. Now from the exterior wall, put the wall cap to conceal the patch entirely. In the end, you must ensure that the pipe on the wall cap fits into the end of the range.
Restore Electricity
Now, the range hood is installed. The next step is to reattach the detached components. Now turn on the electricity. Check the range hood is working correctly and check its lights are on. Test the installed unit by making delicious recipes and check if your kitchen still has any odor.
Another thing to remember must clean it regularly.
Frequently Asked Questions
Do range hoods have to be vented outside?
Yes, A vented hood completely clean grease and hot air and make your kitchen cold. While an unvented hood can filter and purify the air, but it can't make your kitchen cold.
It's better to circulate the air outside rather than inside the room. So it's a better suggestion if you choose a vented range hood.
If you buy a range hood that vents outside the home, it takes all harmful gases outside the kitchen. It's specifically suitable for those who are sensitive to smell.
What is a hood vent?
It has many names, including hood vent, kitchen hood, ventilation hood, or exhaust hood. It's typically an electronic device mounted above the range hood. This device aims to evaporate or suck all the gasses, odors, grease, and hot air outside. There are different kinds of hood vent. One ducted hood range other one is ductless. There is a fan that sucks all the grease and hot air from the kitchen and throws outside of the chimney in the ducted hood. It's known as a ducted hood vent.
While the ductless is not have any chimney outside the ceiling wall. Instead, it simply filters out the grease, bad odor, and hot air into it purifies filters and purifies it. It means that air recirculates in the same room as air going inside and after filter again coming in the same place.
Where does the range hood vent?
It vented on top of the stove where it sucks all smoke and throws it outside through the chimney. In general, range hoods are vented up through the roof or out through an exterior wall. A duct must be going through the cabinets above or an exhaust cap on the outer wall behind the range hood. You should feel the air is blown outside the wall cap when the fan is running. For better results, you must buy a better quality range hood vent. If you see a range hood producing too much noise, it indicates it's a good quality range.
What type of duct is best for venting a range hood?
Rigid duct is the best type of chimney to vent your range hood. It is made of aluminum and flimsy plastic. But most duct made of stainless steel, which works longer. It's easy to install and requires no maintenance even after years.
How high should a vent hood be?
Most installations require a distance of 20″ to 24″ between the bottom of the hood and the cooking surface. Over a gas range, the distance should be 24″ to 30″. This is a general view for proper measurement. You can adjust the distance according to your range.
Summary
After reading this article, I know you can now answer this question of how to vent a range hood on an interior wall. To wrap up this topic, installation is not a complicated process, but it needs proper planning and measurements to install a range hood. If you can't follow the planning and measures, it's better to call a professional who can do all of this process carefully? While choosing a range hood, you must be careful about its size, CMF, noise level, and design. Its design must be matched to your interior, or its design must be attractive enough, which makes your kitchen look perfect. After reading this full guide know you know how to vent a range hood on an interior wall.
Read More: How To Hone Marble?