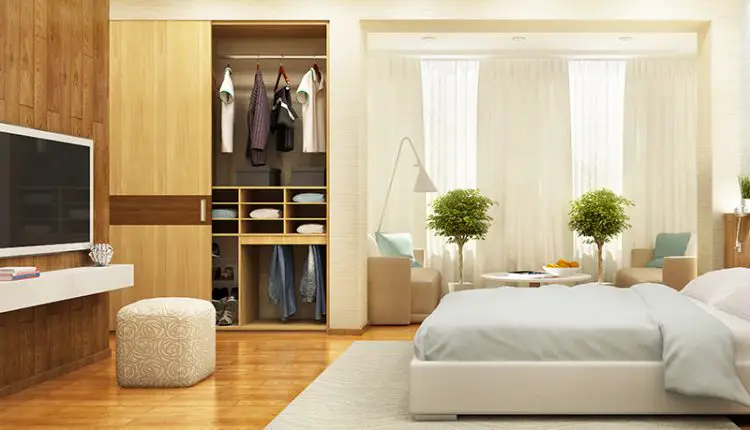 Modern Cupboard Designs for a Clutter-Free Bedroom | Latest Guide 2021
Disclaimer
Articles, products, and services offered on this site are for informational purposes only. We are part of the Amazon Services LLC Associates Program, an affiliate advertising program. Amazon.com is compensated for sales resulting from links on our website.
Please review our disclaimer before acting based on anything you read or see.
Have you ever imagine having a bedroom without cupboards? No, not at all! The perfect bedroom design must have enough storage for all your possessions and belongings like clothes, shoes, documents, cosmetics, and footwear. The ideal design of the cupboard does not compromise on quality, aesthetics, and functionality. So it is essential to have extensive planning and research before buying and designing wardrobes. If you do so, you will have clutter-free bedroom cupboards and can make your life easy. Therefore, let's have a look at modern cupboard designs for a clutter-free bedroom in detail. 
Modern Cupboard Designs for a Clutter-Free Bedroom
This cupboard has six doors and is fixed into a wall to give you extra space to store clothes, shoes, and other accessories.
It is fixed from the floor to the ceiling and stands tall, making your room bigger and airy.
It completely matches with the brown-toned veneer floor tiles.
A corner cupboard for the bedroom
You can efficiently use the awkward corners of the room that are often overlooked and make the modern styled wardrobes at their place.
The corner cupboard is available with the side closet cabinet with multiple shelving options, in which you can keep small and big items of daily use.
Four-door sliding bedroom cupboard
The four-door bedroom cupboard for the bedroom is very easy to use, as this is the best design in considering saving floor space.
It looks modern, spacious, luxurious, and stylish too.
commonly fixed on the wall and thus frees up space in the bedroom, and it is easy for you to move freely in the bedroom without any difficulty.
It has a metallic door handle with a firm grip.
A plywood cupboard for a stylish bedroom
If you are searching for the cheaper option of a cupboard made of wood regarding budget, it will be the best option.
These cupboards come with fine finishes and earthy-colored doors that will completely complement your home decoration.
You can select a wide variety of stylish designs with laminated designs over them.
A cupboard with attached dressing table
If you want to save your time running from one corner of the room to the other to get ready while using your dressing table, the wardrobe with the dressing table will be a good option. 
You can keep your cosmetics, grooming, and beauty products in the dressing table drawers provided.
The cupboards with the dressing tables are pretty in demand, trendy and stylish, and modern.
Cupboard with the attached study table
The cupboard provided with the attached study table is an excellent option for your dear kids as it has a prominent storage place for their books, toys, clothes, and shoes.
In addition to the storage place, it has a dedicated space for reading, writing, and doing assignments.
The cupboard with the study table looks trendy because it has extended and opens shelves; beige-tone makes your room more energetic, attractive, and creative as well.
A cupboard with the mirror provided
If you want to glam up your bedroom space, add the cupboard with the built-in mirror.
These mirrors will help reflect light to every corner of the room, thus making your room more spacious, more extensive, and brighter.
A designer laminated cupboard
A decorative laminated cupboard makes your room look classier; elegant adds a bold statement tour bedroom space.
The laminated cupboards are in trend and popular, available in unique finishes and eye-catching colors so that you can select the design and color according to your whole home décor.
They are super easy to clean and scratch-resistant also.
A designer cupboard 
The designer cupboard comes in black with open shelves where you can keep your books, souvenirs and store your accessories with ease, thus provides you extra storage space.
This design has glossy door panels, smooth and even door closing, making your cupboard more attractive and matching the furniture in your bedroom.
A narrow cupboard fixed with the window
These narrow cupboards having multiple drawers are fixed with the bedroom window, adding the seaside and coastal views to your bedrooms.
The low seating arrangements in between the cupboards add light and freshness to your space.
A wooden cupboard for the bedroom
 The cupboard made with pure solid wood is a perfect example of durability and versatility.
It can suit any theme of the bedroom interior and makes them modern and stylish.
Wooden cupboards are a great storage solution and addition to your home décor and give the warmth and earthy looks.
The cupboards made of wood are expensive compared to any other material and can become excellent and new with a fresh coat of polish.
A cupboard with the sliding doors
A cupboard with multiple shelves
As you know that the shelves are known as space savers and 
Often used as alternatives to drawers.
You can make shelves on the bedroom wall to put your books, clothes, shoe boxes, CD holders, computers, trophies, and other necessary items.
You can use your shelves according to your need and an added color scheme that matches your furniture items.
Make multiple shelves on the wall and use one of them for decorative purposes and the other for placing your items.
Contemporary cupboards
The contemporary cupboards are designed with the best outlook that is made with old and modern look gives your bedrooms the elegant appearance.
These cupboards with excessive drawers provide you the extra storage space for your necessary items.
A cupboard with the single door
If you have a small bedroom, then the cupboard with a single door is the best option.
The mirror on the front side provided is specially designed for the single-person bedroom.
It has a transparent color scheme that can suit any home decoration and provide 50% more space than a single-level rack.
A cupboard with a hinged door
It is a cupboard with a wall design, and you can add space to it with various types of internal fittings.
This cupboard has excessive drawers in it to give you extra storage space for your bedroom.
The drawers are made of extraordinary wood material along with German hardware.
A cupboard with 3 L-shaped doors
If you are looking for a cupboard for your kids, it will be the best option with 3 l- shaped doors in it.
The space in it is perfect for storing handy items like toy accessories keeping in mind the safety measures.
Modern Cupboard Designs for a Clutter-Free Bedroom: FAQs
How can I make my bedroom clutter-free?
You can make your bedroom clutter-free by taking the following steps.
Make the three piles of your items separately.
Tackle the chest of drawers and wardrobe shelves.
Organize your clothes according to your need.
Pack all the out of seasoned clothes.
Make a habit of giving clothes to the needy.
Declutter your bedside and cabinets.
How do you make a small bedroom less cluttered?
You should think like a minimalist and keep your nightstand clear. Use the space under your bed to keep your items, maintain a decluttering habit. Use the vertical racks for keeping clothes and arrange the shoes in one place.
What is a clutter-free design?
The clutter-free design of your home becomes when you remove the excessive possessions that are stealing our lives, time, and energy. 
How do I organize my bedroom clutter?
Purchase the plastic containers and put the extra items in them. Please fill up all of them with your items and stack them in the closets. Wall shelves are an excellent alternative to nightstands or tables.
What is cluttering a sign-off?
Clutter is a sign of depression, attention deficit disorder, hoe self-esteem, or lack of personal boundaries. Better planning causes clutter; these, the behavior and psychological driven clutter are the hardest to drive.
How do you declutter when overwhelmed?
You should remove the easiest things in the first place and discard the more oversized items. Donate the items instead of selling them. Break the ample space into smaller size challengers.  
How you make your room look bigger?
You can make your room look spacious and more significant by using contrast, light colors because these colors are more reflective. Make the space feel open and airy helps in maximizing the natural effect of light. Dark shades tend to absorb light and make room. Accent walls to make a room bigger are another way to go.
Conclusion
When it comes to the bedroom, the cupboards are essential because you cannot store your clutter and things anywhere without having these. So if you want to organize your things neatly and adequately, you can opt for any cupboard made with the material you wish to on an affordable budget. There are as many options as you want, like laminated wood, solid wood, plastic, hardwood, plywood, and many more, which can be an excellent addition to your home decoration and space. Hope you have learned about the modern cupboard designs for a clutter-free bedroom.