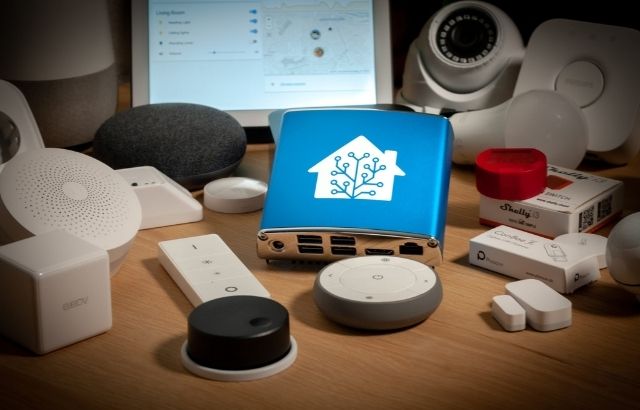 Raspberry Pi Smart Home Hub | Everything You Must Should Know
Disclaimer
Articles, products, and services offered on this site are for informational purposes only. We are part of the Amazon Services LLC Associates Program, an affiliate advertising program. Amazon.com is compensated for sales resulting from links on our website.
Please review our disclaimer before acting based on anything you read or see.
With the advancement in science and technology, innovative home systems have also revolutionized, with the IoT devices like humidity and temperature sensors, to check the internal temperature of your homes. Smart home devices like smart home hubs make a bridge for allowing the different instruments to talk with each other. Also, discuss about everything Raspberry Pi Smart Home Hub.
In this article, to collect the light intensity data of the home, we will use the BH1750FVI light intensity sensor and EMQ X Kuiper to check and operate the light intensity data and control the LED light the pre-defined rules.
Reason for Building Smart Home with Raspberry Pi
One of the main reasons to build up a smart home is to get a home that is easy to control and function automatically, making your life easy and convenient. 
Well! Several mainstream software systems do this task very efficiently. With the use of Web Things Gateway, you can build your home automation Raspberry Pi server.
Things you need:
You can use a Raspberry Pi board, preferably a Pi 3 or Pi 4 board with the Wi-Fi built-in.
A clean micro SD card with a minimum of 4 GB storage.
A Zigbee USB cable or a Z-wave USB sticks to connect to the other devices.
For more addition, some compatible devices. 
Power supply.
Raspberry Pi smart home OS.
Get started:
You should install Web Things Gateway software on your laptop.
I will suggest installing Etcher, now attach the micro SD card to your PC, select the copy from your hard drive, and hit the flash. This procedure will take few minutes to proceed, but after this, you will right to go.
Installing the Raspberry Pi
Now it is the proper time to set up Raspberry Pi; before you switch it on, you have to insert the SD card having Things Gateway software. Now you have to insert Zigbee and Z- wave devices like Digi X-Stick. If there is no Wi-Fi built in your Pi, you can use a USB Wi-Fi adapter. You can operate this device as a headless machine, and you don't have to attach a monitor, keyboard, or any other appliance to the Pi.
Connecting your system to your Gateway
This is the time when the clever parts of the system will start their operation. After few minutes, you will see a Wi-Fi network known as "Web Things Gateway XXXX," where XXXX denotes your four-digit MAC address. Now connect this network id to your computer or smartphone, and you will have a pop-up window acquiring you to input the password and SSID for your open-source home automationsystem. The pop-up will disappear when you connect the Gateway to your home network. After the reconnection to your home's network, fire up a browser, enter the address: http://gateway local, andconnect to the Web things Web management page.
Now you have to make your domain name enter into any browser to monitor your home. After this, you have to provide your email address, confirm your selection through the link in your email address, and create a username for your system.
Adding more devices
You will have to add more devices, make your Web Things more valuable and efficient, and buy how you will do it all depends on the type of devices. If you want to add a third-party system, you want to connect through a network like Hue lights through a bridge you should add differently, but you can add Zigbee or Z-wave devices directly. You can see the smart Pi Raspberry display on the Things Gateway home screen when the set will complete. Now you can see a "+" in the right bottom corner, and the Gateway will image for available devices.
I tested it with Zig-bee IoT standard well-matched with the Sylvania Smart Plug, which you can identify with the Digi X-Stick USB stick. You can give it a modified name and can save it. The switch now will appear on the home page and can be power on and off as marketing. For the addition of already set up devices, you should go to the main menu and click settings by using the original manufacturer's app. When you click Add-ons, click the button at the right bottom of the screen. Now you can see all the devices, like Sonos and Philips Hue. 
Learn More; Cheap Solar Power Options For Your Smart Home
On your network, add the plug-ins you want to operate, go to the things, and click the plus button to search for items on your web. If you are using Philips Hue, you have to click the button on the front of the Hue Bridge in the first place. In this way, you will get the list of devices and click the save button to add to the Web Things. Then click done when you finished the process.
How to Control Raspberry Pi
You can see all the devices connected to your server on the Things page. You can check for the power supply of any device by clicking the icon to control it. 
To get more control, you should click a little smack icon to look at the list of commands. For example, you can change the brightness and colour of your screen with Hue bulbs. You have to click on the main menu and select rules to get the home automation service. You can see a plus icon at the bottom of the page; now drag the devices listed at the lower space of the page to get through the output or input screen. 
You will notice that there are some built-in extras like time of day and other additional devices. The trigger section of the system is the input section; you can select the properties you want. The rule will trigger if the rule says that it is 9 am, and then there will be a motion in the sensor too. You have to turn on two lights in the output section.
Home Assistant Raspberry Pi
Home assistant Raspberry Pi is a top choice for the open-source Raspberry Pi smart home automation software option. Raspberry Pi smart home OS is a device that can operate everything from the managing of the home assistant user interface to its installation process. 
Moreover, the smart home devices will likely work with customer products like Hue, Lifx, Google Home, Alexa, Eco-bee, Z-Wave, WeMo, KEATradfri, and son many DIY appliances that use things such as python or MQTT.
The Raspberry smart home automation is a great option, as it scripts for checking items that need the remote control. These devices have command capability and can perform functions like recording TV shows, turning on and off lights, and even announcing phone calls.
Calaos- an excellent Raspberry Pi Home automation System
The smart home automation OS provides an extensive amount of support, as it allows for the touch screen and native Android Apps. For this app, you don't need instructions. I suggest having a Calaos for a smart home automation system due to its simplicity.
Open HAB is a fantastic Raspberry Pi project
Open HAB on a Raspberry Pi project is a great hardware choice because it is energy efficient and a tiny footprint. This is a well-known smart home automation device and is open-source for a dedicated community.
Extra functionality of Raspberry Pi Smart Home Hub
Please have a look at the Add-ons section, and there are options of handy extras in it. For example, you can install the weather section to get the update about the weather forecast. It is a very user-friendly setup, which, once installed, you should click the configure button, then give the address in the longitude and latitude section, and provide an API key.
Moreover, you can connect your smart home, switch off your TV and the lamp of your living room, and simultaneously operate them. You can also switch on the bedroom lamp and the coffee pot connected to the smart switch placed in the kitchen at the same time.
Raspberry Pi Smart Home Hub: FAQs
How do I make my Raspberry Pi a smart home?
To build a Raspberry Pi, a smart home, you should connect a Wi-Fi hotspot to your laptop or smartphone, automatically connecting you to the setup page. Alternatively, you can connect Raspberry Pi directly with your system cable and type Gateway local into your browser to start the setup process.   
Does Raspberry Pi have Zigbee?
Yes, the latest Raspberry Pi 3 has Wi-Fi and blue tooth support built-in and access to GPIO ports for direct hardware connections. The Gateway supports many different types of smart plugs, sensors, and smart bulbs from many other brands using Zigbee, Z-wave, and Wi-Fi.
What is the best home automation hub?
The best home automation hubs are:
Amazon Echo is the best smart home hub for Alexa users.
Samsung Smart Things Hub is the best smart home hub.
Amazon Echo Dot. 
Hubitat Elevation.
Amazon Echo Show 10.
Apple TV 4k.
Samsung Smart Things Wi-Fi.  
Conclusion
The easiest way to install the Things gateway software image is to check it for your Raspberry Pi and its characteristics. You can get help from our source code and can file issues on GitHub. I hope the information about Raspberry Pi smart home hub will be helpful to you.