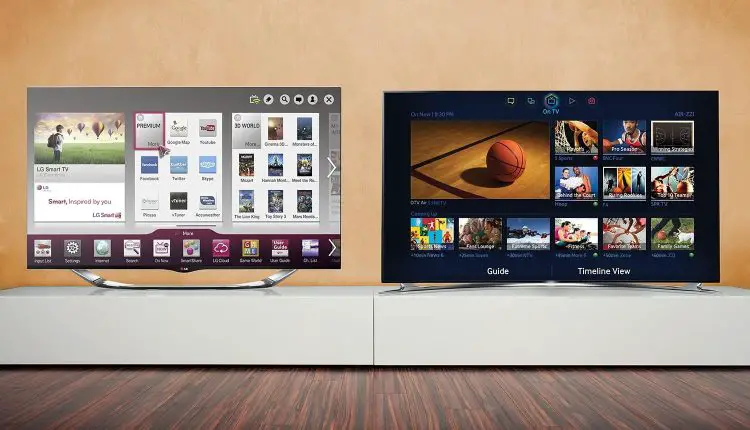 Samsung vs. LG TV | Basic Differences Between Samsung & LG TV
Disclaimer
Articles, products, and services offered on this site are for informational purposes only. We are part of the Amazon Services LLC Associates Program, an affiliate advertising program. Amazon.com is compensated for sales resulting from links on our website.
Please review our disclaimer before acting based on anything you read or see.
Nowadays, choosing a TV is complicated by the variety of brands and models that abound in the market. Typically, by default, we have our preferences; concerning manufacturers for already having used their products or attracted by the benefits; that some advertisement offers. But, regardless of your motives, when it comes to television, you should never disregard Samsung or LG. In this guide, I will discuss samsung vs. LG TV.
These South Korean giants have currently dominated the Smart TV market without leaving aside the traditional televisions they manufactured, which have excellent reviews from their users. In this context, there has always been the battle of Samsung vs. LG for being excellent manufacturers of televisions.
We see many opinions on whether one is better or worse than the other, but the truth are that out of their differences, they also have specifications in common that you should know, and we don't mean that both come with remote control:
Pay attention to energy efficiency. Both models are rated with energy efficiency class A. This means that it will consume about 50% less energy than other TVs with average consumption.
Connectivity is important. Both models offer a good experience with devices like Alexa or Google Home. Granted, if you want to connect with other appliances, you're more likely to have Samsung than LG, but it's still possible to connect as the remote will be at your command. Accessing apps and finding information on these TVs is a breeze, thanks to voice control.
The modern TV era is dominated by smart TVs, where Samsung and LG are very well positioned. Below; we will name considerations and comparative aspects of both brands, which will help the outcome of the war; Samsung vs. LG:
Basic and Relevant Information
A smart TV; can connect to the web to transmit content through the screen in high definition. The only essential requirement is to have an internet connection via wifi or Ethernet LAN to perform this task which will serve as means of data transmission to the applications that are responsible for the reproductions, allowing streaming services.
In this way, you can connect different devices such as smartphones, tablets, and pc. They have various applications that can transmit from movies to music, everything you use on the network, displayed on your TV screen. You can also use your social networks and voice commands. The operating system has these intelligent functions.
Samsung vs. LG
These TV manufacturers are the leading distributors of Smart TVs, offering various sizes, designs, and models. In this way, they have captured the attention of consumers, meeting their needs and tastes. We will show you comparative tips that will help you define your choice:
Samsung and LG are among the few that have generated their own operating systems to manage their applications and operation of the Smart TV devices. LG has LG WebOS, potent and offers Alexa and Google assistant integration, a current form of voice command. With a fast browser, app support, and live and open streaming function. On the other hand, Samsung has Tizen, excellent; with a fast browser and you get free channels with TV plus.
LG uses OLED screens, excellent color definition, black levels, and contrast; the best at present. Samsung applies QLED technology, not equal in quality to OLED, but offers optimal and satisfactory performance. The high-end QLED; comes with better full matrix local dimming, bright reflections, and better viewing angles, absent in low-end models. OLED offers better contrast, brightness, and black level.
Samsung vs. LG Comparison Chart
Samsung
LG
HDR 10+ system you can appreciate details during playback
Full HD resolution
Easy to use and set up
Elegant design
Excellent price/performance ratio
Easy to set up
Ultra HD 4K resolution
4K UHD quality with
self-illuminating pixels.
Vivid color images
Voice control
WebOS 5.0 operating system
Bluetooth 5.0 available
Quad Core 4K processor
that eliminates noise in images
The panel is made with Quantum Dots. Quantum Dots technology intensifies the various shades
Delivers crisp colors, even in dark in dark scenes
It integrates a powerful processor. The quantum Lite processor that calibrates brightness
Samsung uses QLED panels
LG opts for OLED technology
Ultra-thin edges
Thin edges
Allows you to duplicate the image  of your cell phone on the TV
A energy rating
One Remote Control
(syncs TV with other apps)
Compatible with Google and Alexa voice


Other applications available
No headphone output
Multi View (allows you to see the screen  of your Smartphone on the panel)
Good compatibility with
all USB devices
Does not detect some files
hosted on a USB memory stick
Full 360º surround sound
simulating that of the cinema
Which LED TV is best, Sony or Samsung, or LG
Innovators today, with their 8K TVs, offer screens with sharp and bright images. It is a unique experience. Samsung applies the technology in MicroLED TV screens, eliminating backlight and color filters and producing light and color from its pixel, with a lifetime of 100,000 hours. In addition, they feature the split-screen complement, where you can watch two different contents in any screen size. On the other hand, LG has QNED, a technology that combines quantum dots with mini LEDs as a light source. Combining these technologies improves brightness and contrast, providing unparalleled LED quality in the reproduction of content.
LG has Dolby Vision; it generates a spectacular image quality, but the cost is very high. On the other hand, Samsung has HDR10 at an affordable cost and a perfect image. If we join the points of comparison, LG is superior to Samsung, not by much, in terms of image quality and reproduction. However, in terms of price, Samsung offers inexpensive equipment that meets the requirements.
General Comparisons
When choosing Smart TV or LED TV, questions arise, framed in the manufacturers, models, and prices. Some of the popular ones are: Samsung vs. Sony LED TV, which is better; focusing on the generalized criteria we would give as an option to the Samsung, for its continuous improvements in the quality LED, they are pioneers in this type of models. However, Sony has evolved and offers a good context in their LED TVs being economical, easy to access.
LED TV is better than Sony or Samsung, or LG; everything will depend on the size of the TV. If it is bigger than 45 inches, we recommend; LG its recent models provide a productive image quality. On the other hand, if the inches are smaller, we would have the Samsung TV, and their current models bring the desired advantages to the users. And in terms of price, Sony is the right choice. They are the most affordable in the market.
Samsung vs. LG LED TV 43 inches; an LED of this size, we recommend Samsung for its image quality similar to the LG and an accessible cost. On the other hand, the LG has good picture quality for its sharp contrasts and high brightness, with a higher price.
The bigger, the better
LG vs. Samsung 4k TV 55-inches; in terms of image quality and content reproduction, LG is the option. The graphic representation exhibited by their 55-inch or larger screens is a spectacle. However, its disadvantage is the high price that is quoted in the market. On the other hand, Samsung presents an excellent resolution the sound quality at an affordable price, fulfilling the necessary functions and features.
LG UN7300 analysis; our opinion about this model is good; an excellent Smart TV for the family enjoyment, with smart features with all the provision; of content to the internet. It has an exquisite color graphic resolution, which gives life to the exclusive content of the network with wide variety of applications, compatibility with most devices on the market, and the necessary connectors.
LG vs. Samsung LED TV 32 inches; everything will depend on the ability to pay; both fully meet the functions required by the consumer. Only that Samsung is more economical than LG; in the 32-inch LED model.
Samsung crystal UHD and LG UHD; are Smart TV 4K, with excellent resolutions in audio and video in high definition. They meet; with requirements necessary to meet the current needs of consumers. The difference lies in the price of LG is expensive compared to Samsung.
Frequently Asked Questions
Why are LG phones so cheap?
LG strikes carrier arrangements to lower the price at launch but then fails to provide long-term support. As a result, despite having good hardware, their prices plummet fast.
Whatever the case may be, nothing beats the LG V60 ThinQ regarding the finest LG phones. However, some additional high-quality LG devices are available, like the LG Wing 5G (number five), the LG Velvet, and the LG G7 ThinQ.
Which is better, UHD or LED?
Because brighter LEDs may be developed in the future, the brightness and peak whites generated by LED TVs are limitless. To summarize, an Ultra HD screen has four times the number of pixels as a Full HD screen and is thus much superior, assuming all other parameters stay constant.
Which is better, Samsung Smart TV or LG Smart TV?
LG produces OLED displays, which are the most color and contrast-rich on the market. On the other hand, Samsung continues to employ QLED technology, which falls short of OLED in picture quality. In 2021, however, QLED TVs will be a severe competitor for OLED TVs.
Are OLEDs the best?
The finest OLED TVs have stunningly cinematic image quality thanks to breakthrough OLED (organic LED) panel technology, which Sony has adopted, Panasonic and LG for their premium television lines.
What is the most reliable TV brand?
Samsung! For years, Samsung has been the world's largest TV maker, selling most TVs and other consumer goods such as phones, monitors, and appliances.
Aside from panel types like IPS vs. VA, is LG Nano Cell technology the same thing as Samsung QLED?
The two technologies are similar in that they both strive to make pixel sizes smaller and denser to increase the number of pixels per inch (PPI) on your display. However, they differ in terms of technology and usage. For example, whereas Samsung's QLED utilizes quantum dots to increase brightness and color gamut, LG's NanoCell technology employs a light-absorbing filter to exclude undesired wavelengths of light, resulting in more exact color reproduction.
QLED TVs: Hisense 55U8QFTUK vs. Samsung QE55Q95T?
These TVs are towards the bottom of their respective brands' 2021 lineups, but one is £40 more expensive. The Hisense costs $299, while the LG basic set costs $340. It's a smaller gap than last year, but the narrowing price gap is due to LG's basic range being less costly and Hisense's becoming more expensive, with little else changing to explain the difference.
LG vs. Samsung TV: which is better?
LG produces OLED displays, which are the most color and contrast-rich on the market. On the other hand, Samsung continues to employ QLED technology, which falls short of OLED in picture quality. Furthermore, QLED is brighter, but OLED offers superior uniformity and viewing angles. This applies to some models, such as LG un7300 vs. Samsung tu8000.
Are Samsung QLED TVs Worth It?
In general, if you're looking for a new TV, Samsung's QLED TVs are a solid choice and provide good value for money. If you often stream movies, games, or programs, QLED TVs are a good investment. If you're searching for a TV with a higher brightness display, the quantum dot layer helps to produce more vibrancy than a standard LCD screen. To get the most bangs for your buck, go for models Q70T.
Which is better, LG Nano Cell TV or Samsung's QLED?
QLED, on the other hand, has a higher contrast ratio and deeper blacks as a general rule. On the other hand, your viewing position should be more or less opposite to your screen for the most remarkable effects. NanoCell has a broader viewing angle and is less affected by reflections from the sun.
Bottom Line
At this time, we have the information necessary to determine the winner of the Samsung vs. LG battle. The correct implementation; of these resources will help you to choose nicely. Finding the TV; that meets all your needs, established at this time.
We recommend you; evaluate your needs based on the criteria you have formed by having this information. For example, if your priority; is to have an excellent resolution, unparalleled LED picture quality regardless of price, your choice is LG. Otherwise, it would be best to have a good TV with beautiful pictures and sound, at an affordable cost; you should choose Samsung.
The truth is that this decision is very personal and will depend on your preferences. For example, if you prefer more quality in the image, you like it in the sound. It also depends on the budget you have available; we will not be wrong. However, we are faced with two very complete models that offer an experience quite close to what high-end models provide us.
Now the choice is yours. If you give more importance to image quality and do not want to spend too much with Samsung, you can recover that feeling of realistic scenes that you are looking for so long. Do not worry about the sound because, in this article, we commented that LG is winning the game, but it is nothing mediocre. It can continually be improved with good speakers or a Home Cinema system. So, you already know everything about Samsung vs. Sony LED TV, which is better!