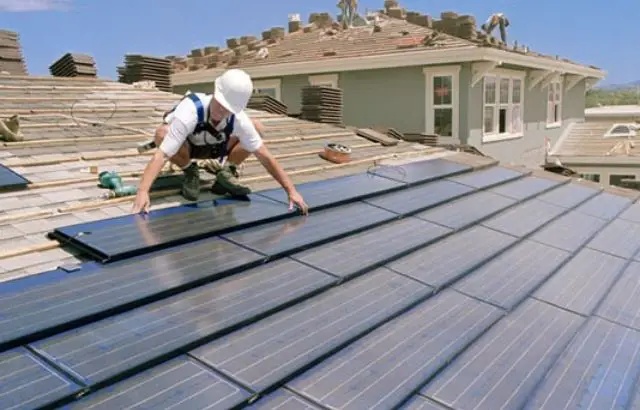 Solar Panel as Roof | Learn Is Solar Panels As Roofing A Good Idea?
Disclaimer
Articles, products, and services offered on this site are for informational purposes only. We are part of the Amazon Services LLC Associates Program, an affiliate advertising program. Amazon.com is compensated for sales resulting from links on our website.
Please review our disclaimer before acting based on anything you read or see.
Rooftop solar panel mounting is a complicated project that many people across the country are beginning to explore. Every day, an increasing majority of people wonder if installing a solar panel on their roof is advantageous or not! Though most people know what rooftop solar panels are, many do not know about installing a complete rooftop solar power system. This article describes whether is solar panels roof is good or not. Different roofing materials are involved in installing a solar energy system, not to mention the various steps involved in the actual structure of the solar panels.
It is always best to hire a certified professional installer to do the job correctly. Proper installation of a solar panel on your home can save your home energy costs.
Learn More: Weight Of Roofing Materials
Types of Solar Energy for Home
Installing solar panels can generate energy to power a home in several ways. It is essential to understand your options to set up your system and benefit from solar power properly. And your solar installer should be fully trained.
Contact a contractor should you want more help in deciding which option is best for your home. They will provide you with the additional information you need. Another thing to evaluate is the type of roof where you plan to place your solar panel.
Typically, solar power systems rely on three main types of domestic solar energy. These include:
Grid-Connected (no Batteries)
Such installation is the simplest and least expensive type of installation. With this type of solar power, the solar cells system is connected to the grid without any backup. The reason is it uses the grid instead of the battery. If your home requires more power, it will simply consume what it needs from the grid.
When your system generates more electricity than it can consume, that power feeds into the grid (local utility). Depending on the electricity supplier, you may be credited for this excess energy.
Before choosing this type of solar power, one thing to keep in mind is that if the grid shuts down, so will the power in your home.
Read More: What Size Plywood For Roof Is Perfect
Grid-Connected (with Batteries)
The major way it differs from systems of this sort is by having batteries in addition to a transmission network. This implies that the batteries will serve as energy storage, keeping the lights on in the event of a grid failure.
If your solar system produces more energy than it uses, would it still go into the grid? This kind of system may be rather pricey and is more harder to set up.
Off-Grid
Does it exists but is not currently linked to your public service? The system will generate, store and consume its energy without the help of external resources. This installation is complicated because the contractor will need to know the exact amount of power required.
Mainly, such a system operates in rural areas, where the cost of bringing in power from an electric company is very high. It is not suitable for those who live in a large city or a populated area. Before your contractor can begin any installation work, you must decide which type of solar panel is best for your roof.
In most cases, your contractor will suggest what he thinks will work best with your roof. However, it is a good idea to know and understand your options before making a final decision.
Learn More: How To Vent A Dryer Through The Roof
In general, the solar panels on roofs cost are usually not that high. However, when they are, this will depend on the company you install your system with. However, this cost is considered a long-term investment. There are many different types of solar panels and technologies on the market. The most common solar panels used in rooftop installations include:
Photovoltaic (PV) Solar Panels
These types of solar panels are also known as crystalline silicon panels. They are the most common type of solar panel technology because they generate a lot of electricity (up to 20% efficiency). Since some roofs do not have a lot of space, these panels are generally an option to maximize the amount of power generated.
Thin-film Solar Panels
These solar panels are skinny and much more flexible compared to photovoltaic panels. However, they only achieve an efficiency of between 6% and 11%, and therefore more panels are required (especially for commercial businesses).
Solar Thermal Panels
While photovoltaic and film solar panels generate electricity, solar thermal panels typically serve to heat water.
The reason is that these panels make heat transfer rather than heat generation. These panels help offset the cost of gas, and they occur most commonly in commercial buildings.
Types of Mounting Systems
There are several mounting systems that contractors can use to install solar panels on a roof. The mounting system used on your roof may differ from your neighbors depending on the size and shape, as well as the types of solar roof tiles you have on your top.
Direct mounting is the most common solution for residential roofs.
Direct Mount
Most solar panels are installed directly on the roof of your home. Some contractors say the best roof for this type of installation is south-facing (plus or minus 10 degrees true south).
The tilt of the solar panels is also significant because it helps them work more efficiently during the winter season, especially when the sun is not high. It is essential to ensure that the solar panels are tilted do not create an elevation effect.  This is important because the tilt can allow the wind to catch your solar panels and rip them off your roof.
Flat Roofs
To install your panels on flat roofs, you can use ballasted racking. Cement blocks support the entire solar panel structure.
The advantage of this racking is that you can adjust it, even at a 30-degree angle, to capture as much sunlight as possible. Solar panel installers can do a great job at this point.
Basics Frame
There are some basic steps on how to install panels correctly so that you have suitable solar roofs. Keep in mind that, depending on your top, these steps may change.
It is always best to ask your contractor any questions regarding your installation project.
The basic steps for proper solar installation of the solar panel on the roof are;
Place the brackets four feet apart and on joists.
Drill holes in the rafters
Secure the bracket with steel bolts and seal the surrounding area.
Attach the solar panel to the bracket
Connect the solar panel to the power supply.
A certified professional installer or contractor should perform all solar panel installation work.
Ground Frame
Additional types of solar installation include Ground Frameworks, which occur in situations where a roof may not be suitable for direct mount solar panels.
Ground Frameworks are installed on the ground and can follow the sun for optimal power generation, or they can remain fixed (meaning they do not move). Solar panels installed in this manner still function like direct mount panels. It is simply the location that is different. This type of mounting is a better option if you have a lot of open space with a view of the horizon from sunrise to sunset.
Should a new Ceiling come after the Installation of the Panels?
Most homeowners worry about what to do if they need to replace their roofs after the solar panel installation. The issue here is to make sure you thoroughly check the pre-installation of your roof. If you notice any damage, make the renovations at that time. Otherwise, you will have to pay for all removal and replacement costs later.
Can Lousy Weather Damage your Solar Panels?
Do not worry about the weather damage to your solar panels or tearing them off the roof. Manufacturers make solar systems so that they can withstand even the strongest winds. Solar panels can withstand winds up to 120 mph.
Getting maximum benefit from your panels, buy them from a reputable company. The advantage of using a company of this kind is the quality and warranty to support it. Most solar modules have a warranty of up to 25 years.
The only problems with rooftop solar panels are when the installation is on a deteriorated roof.
Is Solar Panels Safe for your Roof?
One of the great features of solar panels is that they offer protection for your roof. They prevent your roof from being damaged by severe weather and, as a result, your roof will serve you longer.
No need to concern about overheating if you have an attic in your home. Why? The solar panel will provide you with much-needed shade.
Temperatures in your building could even drop by five degrees Celsius. To avoid problems with solar panels on roofs, hire a qualified contractor to install your solar panels.
Solar Panel as Roof: FAQs
Is it possible to use the solar modules as a roof?
Yes, solar panels could also serve as a roof. The installation location is critical. If there is enough access to the sun and the direction is perfect, you are ready to install them on your roofs.
You can also make use of solar energy shingles as roofing materials for siding or roofs.
Is getting a solar roof worth it?
Whether you live in a high energy price zone or correctly solar-rated and you can afford the initial investment, it is well worth installing solar panels on your home. At the same time, the 26% tax exemption applies for the sake of the environment and your wallet.
But don't expect to eliminate your energy bill overnight.
Are Solar Panels too heavy for roofs?
Rest assured, the answer is No—no need for you to concern with the weight of the solar panels on your roof. Solar panels, including all mounting hardware, weigh between 2 and 4 pounds per square foot.
Conclusion
Today having solar panels as roof covering can be an environmentally friendly way to save money. They bring comfort, style, and elegance to your roofing, and at the same time, save you money on your energy bills.
You must leave this job to the specialists if you do not have the experience or the right equipment for the job, as they know the right roof type for each case.