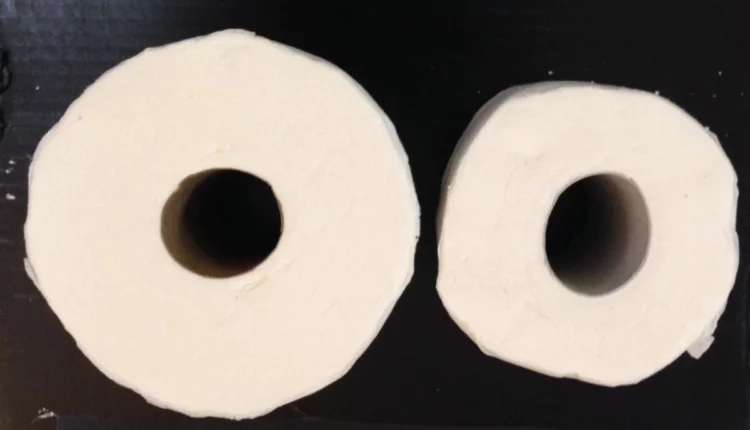 Toilet Paper Roll Size Comparison | Expert Guide
Disclaimer
Articles, products, and services offered on this site are for informational purposes only. We are part of the Amazon Services LLC Associates Program, an affiliate advertising program. Amazon.com is compensated for sales resulting from links on our website.
Please review our disclaimer before acting based on anything you read or see.
Once one company reduces the size of its products, others follow suit so as not to appear more expensive. The manufacturer of Angel Soft boasts that its double roll has 60% more sheets than Charmin Ultra's double roll. Let's find out toilet paper roll size comparison.
However, these brands have different sizes, and sheet count is not the only way to assess value; sheet size and thickness also enter into the equation. Some rolls have been reduced by more than 20%.
Toilet paper manufacturers have been selling fewer products for years, hiding the decline with hyperbole and implausible claims. According to John T. Gourville, professor of marketing at Harvard Business School, they get away with it because customers are more concerned with the price of an item than the size it should be, according to John T. Gourville.
He justifies this. He explains that "they think this toilet paper costs 79 cents while the other costs 89." "They don't take into account that one has fewer sheets." Many claimed that their products had improved so that consumers needed less.
Some Rolls have Shrunk More than 20 percent.
According to a customer representative of Kimberly-Clark, maker of Cottonelle and Scott, the downsizing was a marketing decision due to rising manufacturing and distribution costs. A subsequent statement claimed that product advancements had resulted in "a better, stronger fabric, requiring fewer sheets to complete the job."
According to the Procter & Gamble customer representative, by reducing the number of sheets, the company increased the quality of its flagship Charmin TP product. According to the rep, the new version is more adaptable than previous versions, and consumers should need far fewer of them.
| | | | | | | |
| --- | --- | --- | --- | --- | --- | --- |
| Brand | Weth Strength | Absorbency | Softness | Lint | Breakdown | Average |
| Scott 1000 | 1 | 1 | 1 | 8 | 10 | 4.2 |
| Seven Generation Natural | 3 | 5 | 4 | 5 | 7 | 4.8 |
| Angel Soft | 2 | 6 | 5 | 4 | 9 | 5.2 |
| Kirkland Signature Bath Tissue | 6 | 7 | 6 | 5 | 6 | 6 |
| Silk n' Soft Bamboo Tree-Free | 8 | 8 | 5 | 3 | 2 | 5.2 |
| Cottonelle Ultra ConfortCare | 10 | 10 | 8 | 6 | 8 | 8.4 |
| Charmin Ultra Storm | 7 | 9 | 8 | 9 | 6 | 7.8 |
| Quilted Northern Ultra Plus | 10 | 10 | 10 | 6 | 6 | 8.4 |
Average evaluated on a scale from 1 to 10, where 10 is the highest value and 1 the lowest
What is the Actual Size of Paper Rolls?
"A sheet of tissue used to be 4 and 1/2 by 4 and 1/2 inches, a perfect square," he explained. Some tissue manufacturers have modified the length of the sheet to 4 inches, with a width of 4 1/2 inches; the sheet is no longer square.
Others, such as Consumer Reports, have taken notice and are now working to publicize the "pattern." According to the consumer advocacy group, the rolls are getting "narrower," the cardboard tubes are getting "bigger." Thus, they claim, toilet paper rolls may look the same at first, or even at a second or third glance, even though they contain less actual toilet paper.
Desheeting reduces the quantity of toilet paper sheets or tissues while maintaining the same retail price. It refers to a process in which toilet tissue (TP) manufacturers gradually lessen the volume of the product unless the packaging specifications are examined side by side.
However, this is not a novel concept. You may already know that the food industry employs a similar volume reduction strategy. Here are two examples. Have you noticed the changes?
Snicker bars, which used to weigh 2.07 ounces, now weigh 1.86 ounces.
Tropicana Pure Premium orange juice used to be sold in 64-ounce cartons.
Sheet counts then and now
Consumer Reports has conducted many tests on toilet paper since 2009. And several manufacturers have reduced the size of their rolls during that time. We compared the number of sheets per roll and sheet size of nine current items to the previous ones to determine the difference. 
We use the so-called "double roll," the most common size in most situations. You should note that some brands, such as Kirkland Signature, reduce the number of rolls in each package.
However, the story is more complicated than what is beneficial to the industry. Ironically, consumers and the environment may benefit the most from this transformation over time. In contrast, their current observations are getting less volume in their product. 
So, they are also getting a newer, more effective product in the form of the soft, robust, and absorbent fiber structures coming out of new machines that produce slightly thinner sheets.
Bottom line
Over the years, the dimensions of paper rolls have shrunk on average over the past decade. Nor has this method been limited to a single toilet paper manufacturer. Most major brands, such as Charmin, Cottenelle, Quilted Northern, Angel Soft, and Scott, have recognized it. Angel Soft, for example, has found that it can significantly reduce sheet size and modernize packaging.